Albania 24 June: Pogradac - Ohrid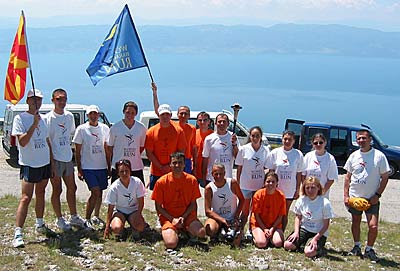 After a chilly night in the Bitola mountains, the first half of the team prepared itself for a new day of running with a Macedonian breakfast and hit the road at 9.30. Very soon we were joined by the other half of the team, who had spent the night in Kruschevo. A scenic hilly field-studded drive led us to Resen, where some young athletes accompanied us to the square. There we were welcomed by the city representative, who gave us a nice speech and provided us with lunch bags.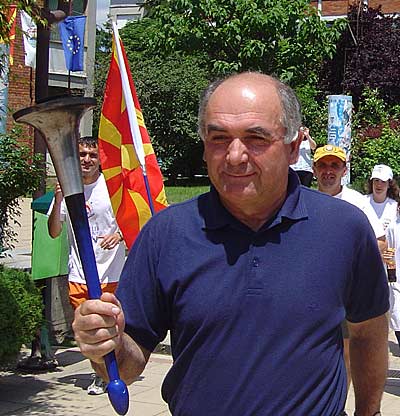 Our path took us over a big and beautiful mountain, 1600m high, its slopes overflowing with the verdure of deciduous forest, its summit a carpet of green grass. It was a long and tough ascent to be sure. Here we could also enjoy the play of nature in the mystical forests. At the corner of my eye I glanced a flying creature which looked like a hummingbird. It turned out to be a huge oak beetle. Other treats included various other insects and spiders, and lizards scurrying across the roads.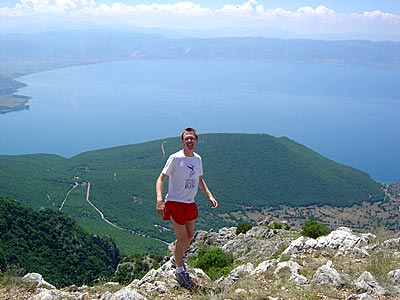 Albania
Today was an historic day. It was the first time the World Harmony Run torch arrived in Albania. A plethora of fishing boats floated away in Lake Ohrid on our right as we ran towards the border town of Pogradac.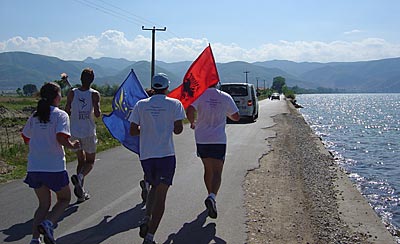 Many a face, young and old, gazed curiously at this spectacle of a run. After 6k some cheery bright-eyed girl athletes were handed the torch and escorted us for the last kilometre into the town.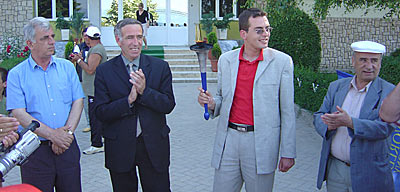 Here we were very warmly received by the town officials. They were truly delighted to have the World Harmony Run visit Albania.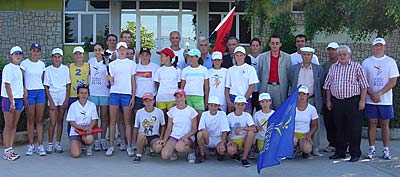 Our singing must have been extra sharp this day, because we got very high praise for it. They said it was very beautiful. Hurray! Afterwards they invited us for some refreshing drinks and we talked more about the World Harmony Run and of running through much more of Albania next time. After this we made our way towards the Macedonian border again.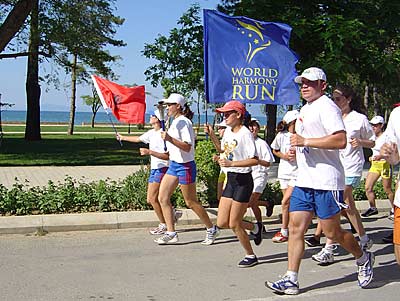 Lake Ohrid is located at a height of 700m altitude, and has a maximum depth of 280m. Twice this cool mountain lake provided us with some refreshing recreational swimming: the first time by a monastery, and the second time by a waterslide. Here the boys had lots of fun sliding down into the lake in different styles.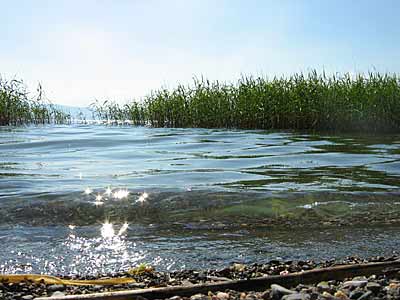 In the late evening we arrived in the city of Ohrid, where the City Hall provided us with lodgings and dinner in a cosy camping ground.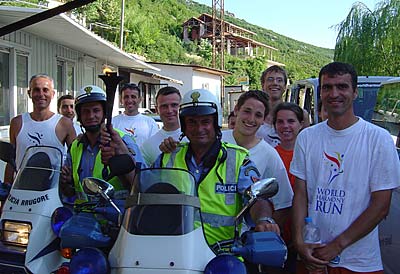 ---
Distance: 150km
Harmonemail:
You can send a message to the runners or read the messages.