Australia 26 March: Geelong - Melbourne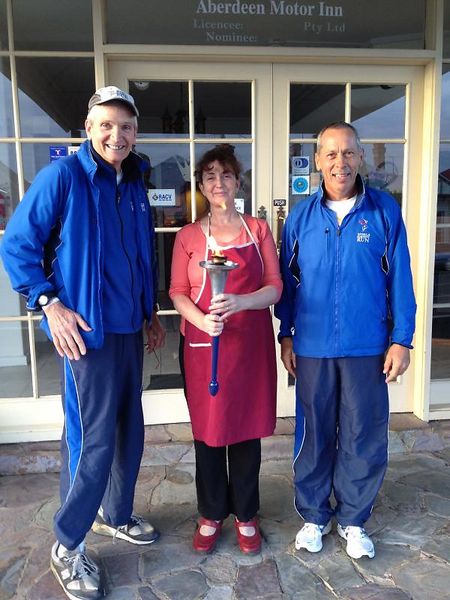 Gratitude to Shellie from Aberdeen Motor Inn for sponsoring the team's accommodation in Geelong. This is the second time they have supported the World Harmony Run, as team members also stayed with them in 2010.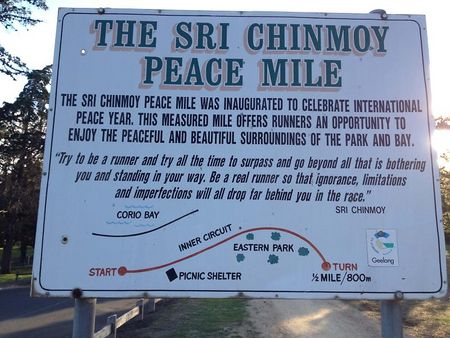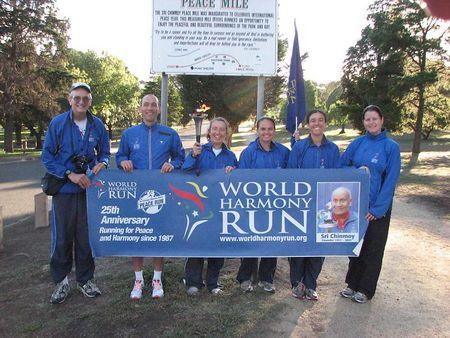 We started our day in the heart of the Geelong City parklands, running from the Sri Chinmoy Peace Mile which was dedicated during the World Harmony Run (known then as the Sri Chinmoy Oneness-Home Peace Run) in 1988.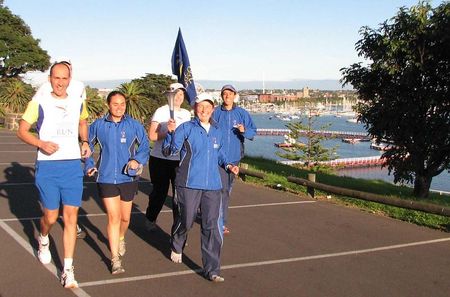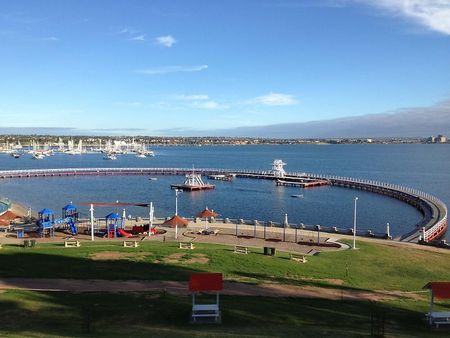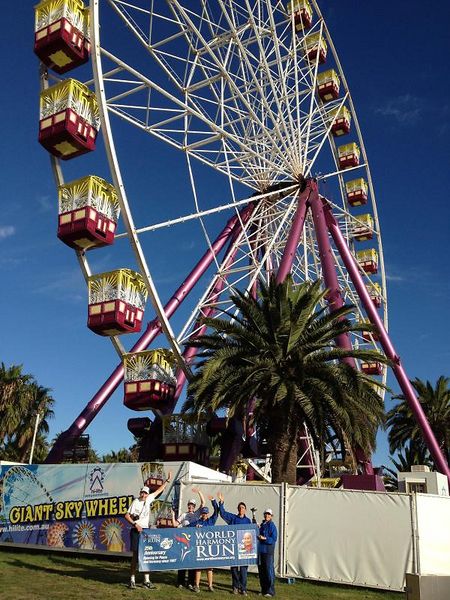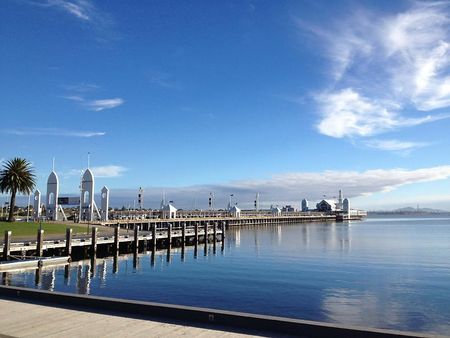 A stunning run, in perfect conditions, along the city esplanade of Geelong.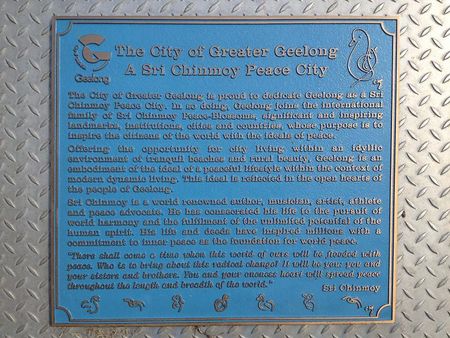 We stopped on the pier by the plaque dedicating Geelong in 1998 'Sri Chinmoy Peace City'.
The quote on the bottom of the plaque by Sri Chinmoy reads: "There shall come a time when this world of ours will be flooded with peace. Who is to bring about this radical change? It will be you: you and your sisters and brothers. You and your oneness heart will spread peace throughout the length and breath of the world."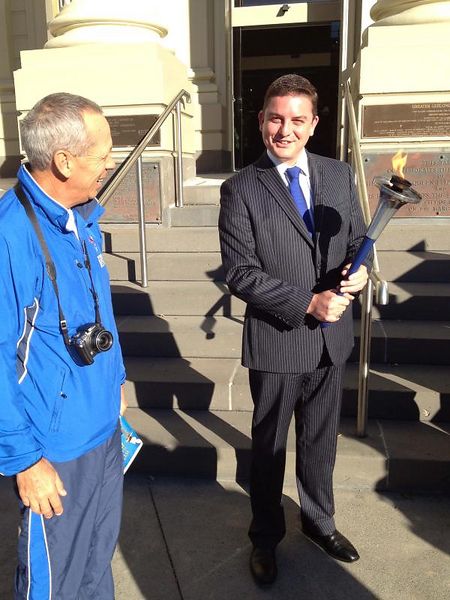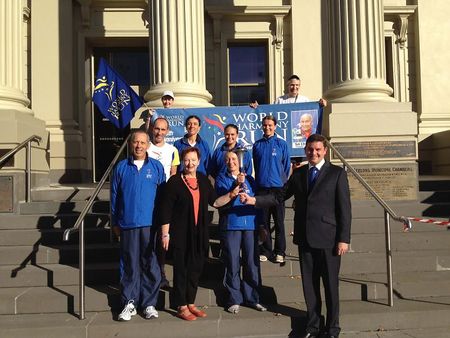 First official stop was at the City of Greater Geelong Council where we were warmly greeted by Acting Mayor Mr Cameron Granger.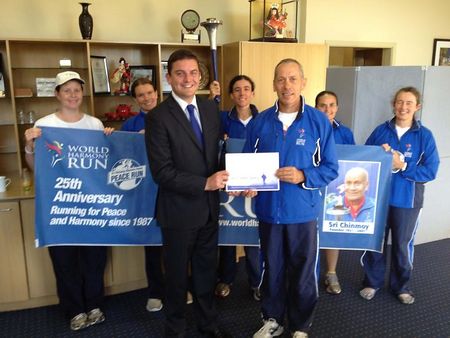 We had a tour of the Council buildings and enjoyed the generous offerings of refreshments.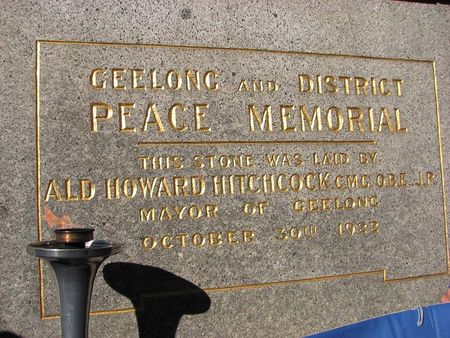 Geelong is a peace-loving city. It is the tenth largest city in Australia and rather than building a 'War Memorial' like most major cities in Australiam it built a 'Peace Memorial' honouring those who have sacrificed their lives in the pursuit of peace.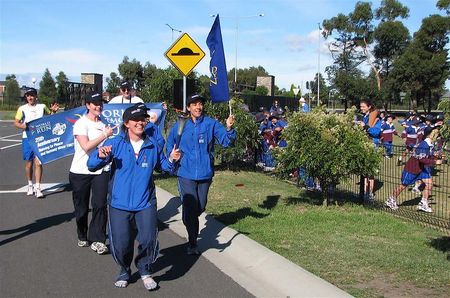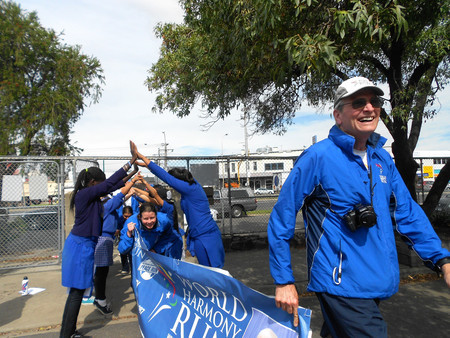 What a phenomenal welcome from Kardinia International College. We could hear the screaming kids a couple of hundred metres away. Impossible not to be enthused by this recption.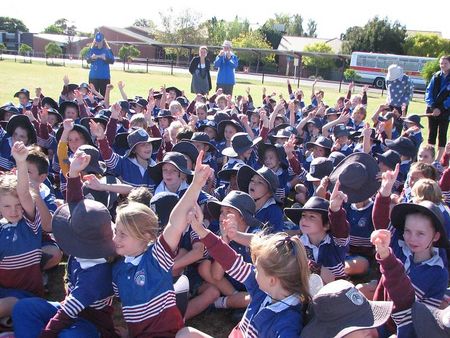 Hands high in support of world peace.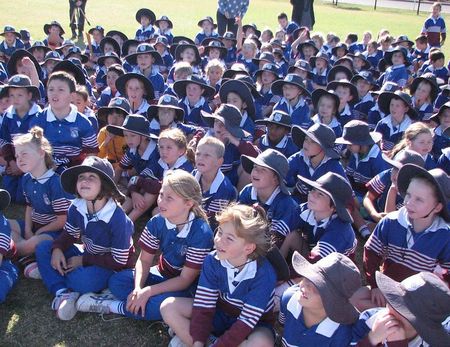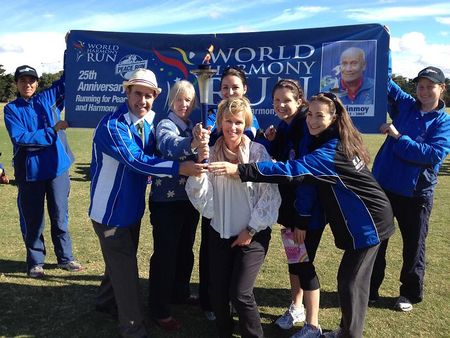 The teachers from Kardinia made sure they also held the Torch.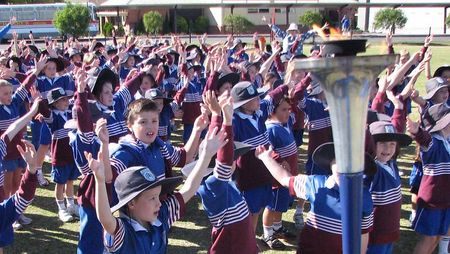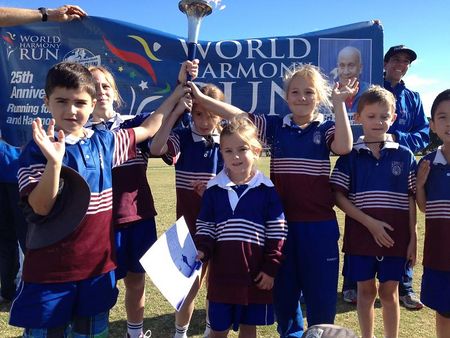 Australia's shining future...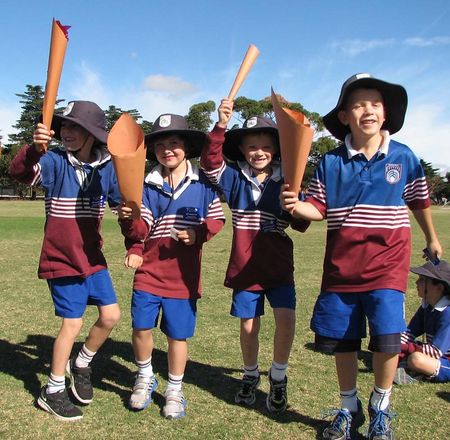 They made their own World Harmony Run torches.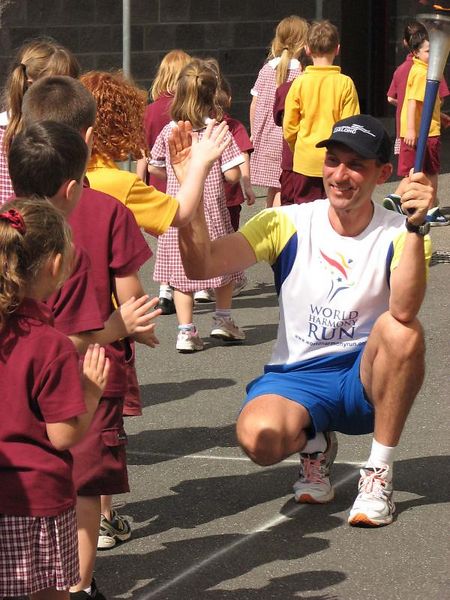 Herne Hill Primary School, our second school in Geelong – little children with giant hearts.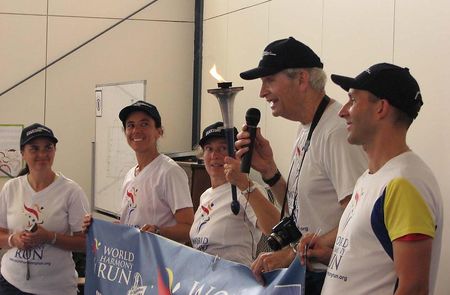 Our New York-based team member delights audience and team members alike.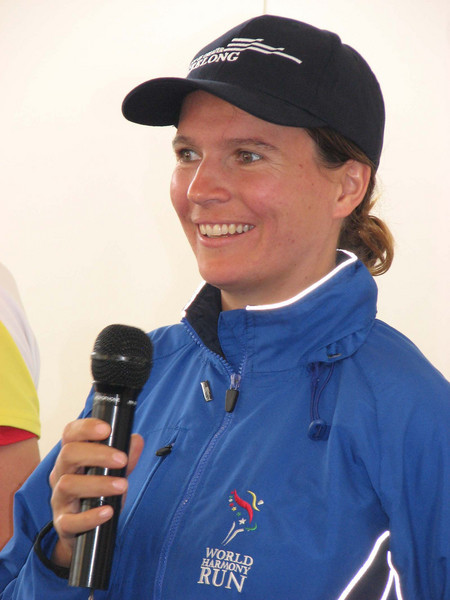 Guess where I come from? "I come from a city where there is a house on a big hill where the Prime Minister of Australia spends a lot of her time."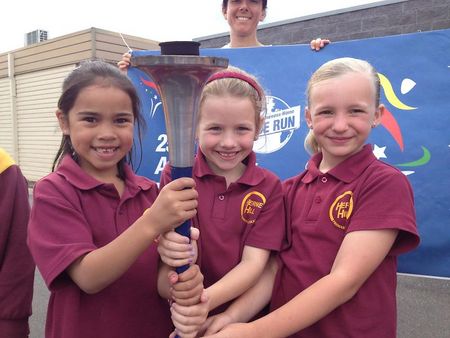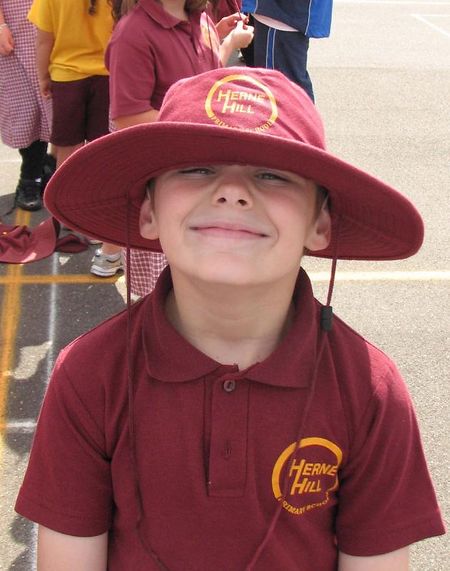 Life is sweet...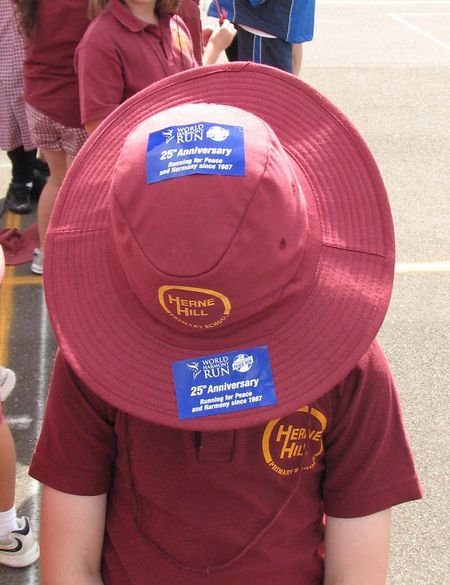 ..from top to toe!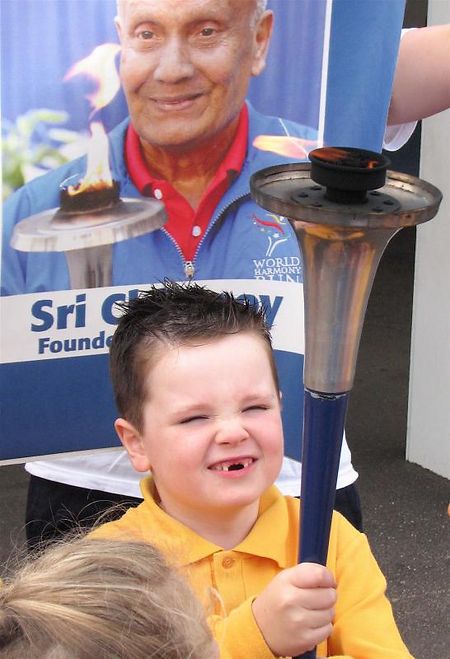 "This is so cool."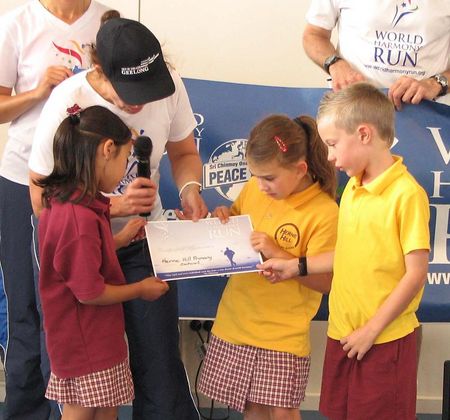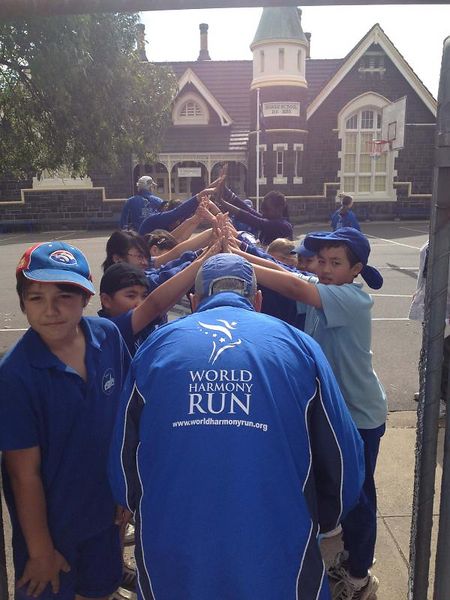 Our first school in Melbourne – Footscray Primary School. A great welcome to our final city.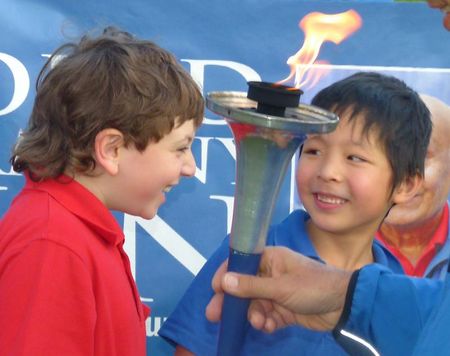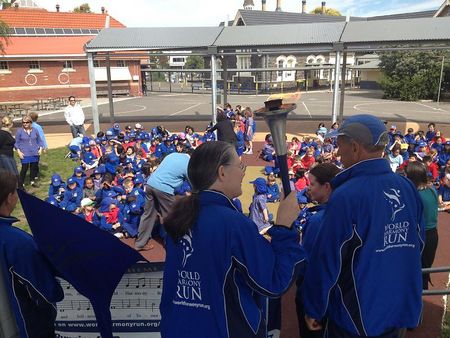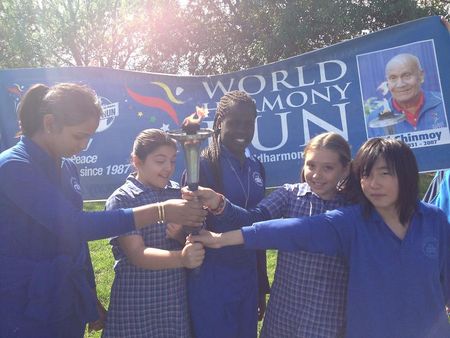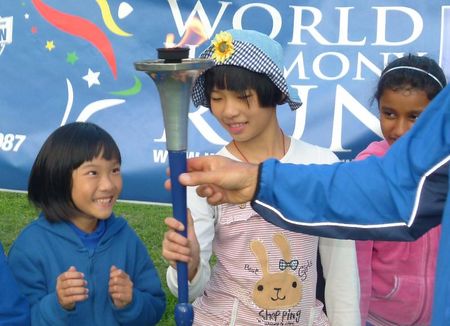 A truly international school that proudly embodies the international spirit of the World Harmony Run.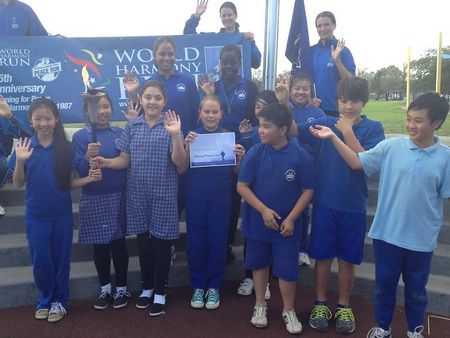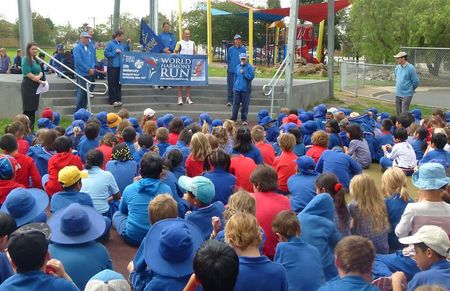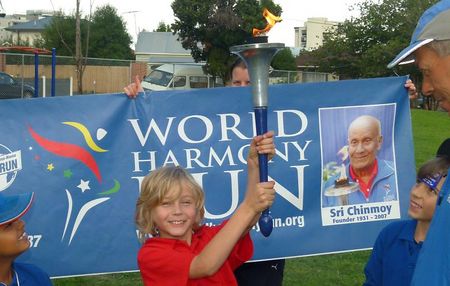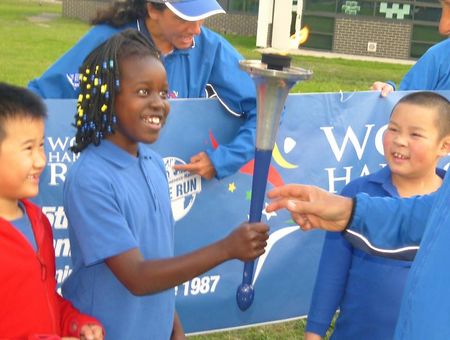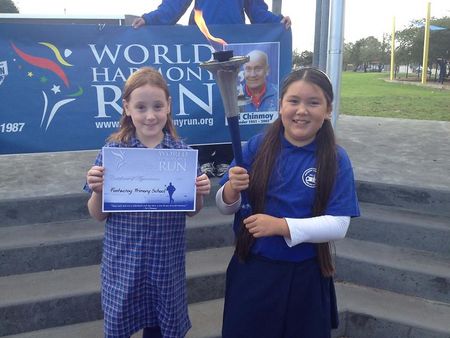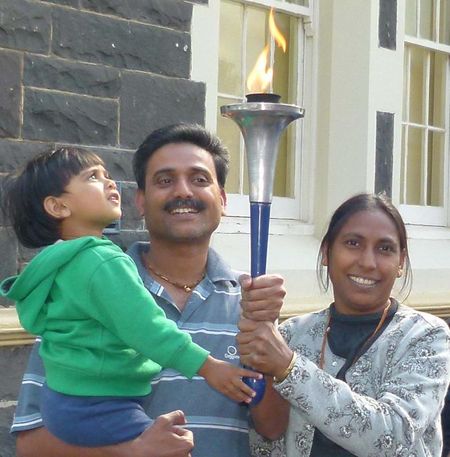 Parents waiting for their children at the end of the day join in the fun.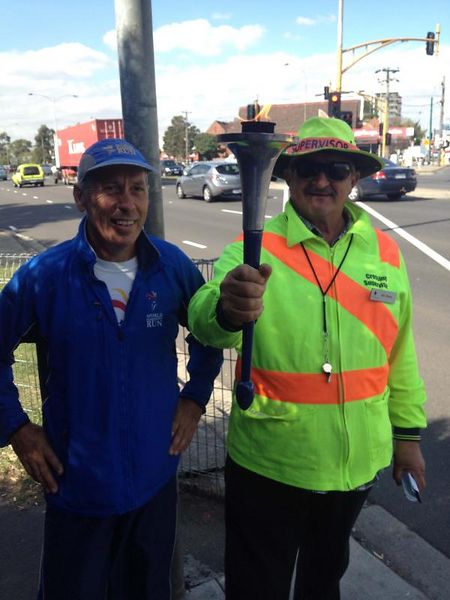 The traffic supervisor, a recent immigrant from Croatia, cheered us on as we departed Footscray Primary.
---
Video Message from Davidson Hepburn, President (2009 - 2011) of the General Conference of the United Nations Educational, Scientific and Cultural Organization (UNESCO) for 25th Anniversary of the World Harmony Run and a vision for the decade: "Toward a Oneness-World".
Full Text of the 25th annversary message and link to 25 language informal Translations: http://www.worldharmonyrun.org/25
or Click on language button for separate youtube videos wth sub titles in varous languages
See also: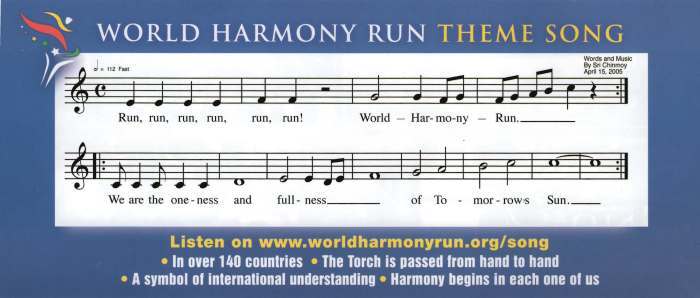 ---
Distance: 80 km
Team Members:
Ashadeep Volkhardt (Canberra, Australia), Hastakamala Diaz (Perth, Australia), Anubha Baird (Adelaide, Australia), Preetidutta Thorpe (Auckland, New Zealand), Adhiratha Keefe (New York, USA), Prabuddha Nicol (Perth, Australia), Prabhata Schrader (Heidelberg, Germany), Saranyu Pearson (Geelong, Australia), Sushmitam Rouse (Geelong, Australia)
Harmonemail:
You can send a message to the runners or read the messages.
Gallery: See more images!