Austria 09 October: Bratislava - Vienna
The tower walls of the Bratislava Castle stood imposing in the grey morning light.
Our Slovak friends bid us a reluctant farewell and we made our way to the Slovak Austrian border.
We would like to thank our Slovakian coordinators and running friends for accompanying us as we made our way through their country. They provided us with a delightful few days that now seem all too short. Still we left Slovakia with many fond memories and new friends.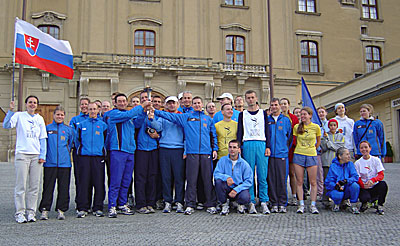 As we approached the border some of our Austrian friends began to appear in their cars to accompany us. As always crossing the border is an exciting experience with new people waiting to join the relay and help us with the miles as well as farewells of runner-friends who had accompanied us for the past five days.
Neatly planted rows of corn bordered by rolling green hills greeted us as we took our first few Austrian steps. Soon we were in the middle the quiet village of Engelhardstetten and it seemed the whole town, including its uniformed brass band was out to meet us.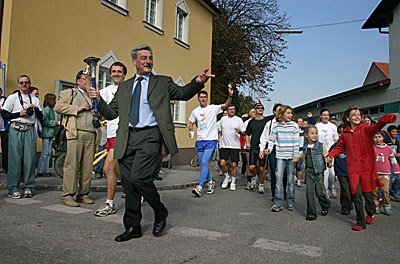 They gave us a most heartfelt welcome including poetry from children, the brass band played our World Harmony Run song, which we sang along to.
We also had lots of the obligatory bread cheese and were presented with a care package with copious amounts of other local produce.
As always, we had to leave to sooner than we wanted to but more people were waiting up ahead. We stopped it at an impressive Castle in Orth and then continued onto Vienna.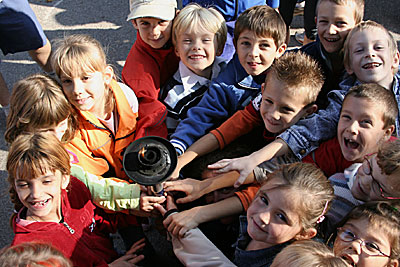 Coming into Vienna we had accumulated more than 50 runners and we were creating quite a stir even on a Sunday.
The welcome ceremony was held in the main square just near Stephansdom (the most famous church in Austria I'm reliably informed).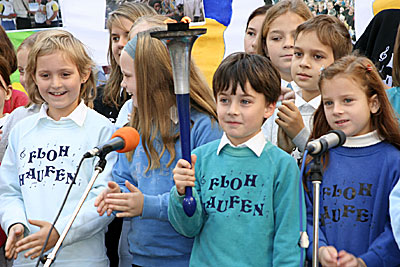 As you would expect of Vienna, the entrance of the torch and runners was serenaded by a classical orchestra.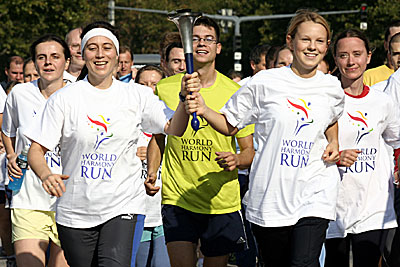 We received an official welcome from a local Viennese politician. Another good friend who joined us was an ultra distance triathlete who told us of his journeys around the world.
We then ran around the city ring, a distance of about 3 km finishing at the Stephansdom for some photographs, and then off to a delicious dinner.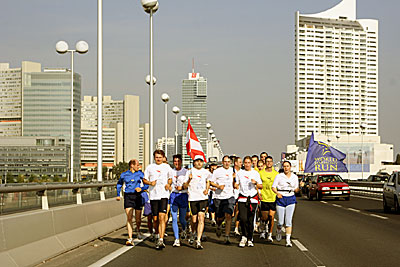 ---
Harmonemail:
You can send a message to the runners or read the messages.