Finland 25 July: Luumaki - Lapinjärvi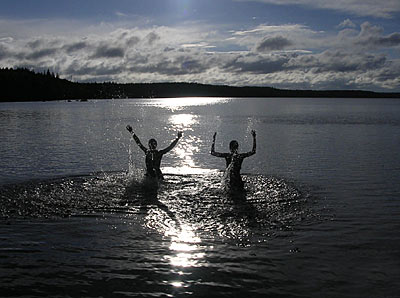 A thick blanket of mist covers the camping ground in Luumaki. Gradually robust trunks of pine emerge out of vapour as some early birds, softly trampling on the fresh grass drenched in morning dew, wander to the lake for a cool morning swim. In the lake, untouched, still, the hazy sun reflects a golden, glimmering sea of light. Seated on wooden benches part of the team are already munching their breakfast: bananas, muesli, sandwiches, fried eggs and liquorice.
9.30 - a reporter meets us in Luumaki. The wide black asphalt roads are kept in excellent condition, and the roadside is spotless, rarely do we see any rubbish. Crystal-clear nature spreads out all around in a striking panorama of purity and power. Strong, healthy, dark-green moor forests of pine and fir, interspersed with soft, hanging pastel birches, stand under the tangible crispness of northern blue skies.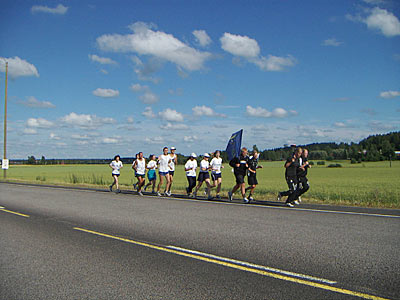 Some local running girls show us the meaning of the Finnish Sisu by running many kilometres with us in Kouvola. Cameramen and journalists record our journey as we run. It is clear that Finland is a nation of sport. Our runners are met with sincere, dynamic appreciation and with a vigour and freshness characteristic of sport-loving and sport-practising Finns.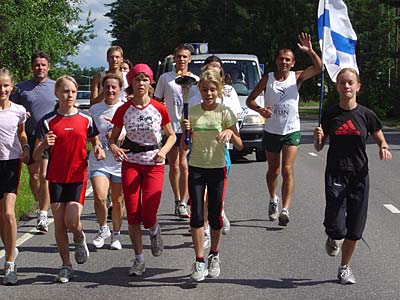 In a sunny cobbled square we meet the city representative, who after the ceremony joins us out of the city with the girls. Along the way to Lapinjarvi we run with some sporty youths and are invited for some refreshing drinks at a roadside cafeteria in Elimaki, by two bright-eyed, hospitable city representatives.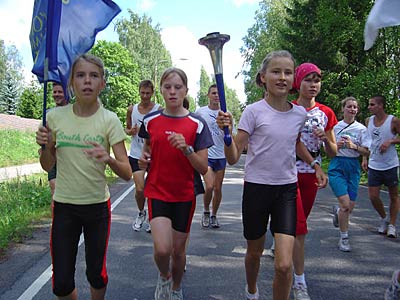 Flat fields spread out in all directions. In Lapinjärvi is located the training ground for the civil service workers. Instead of doing 6 -12 months army training, boys in Finland can choose to do 13 months of civil service. For one month they are educated here amidst the natural beauty of Lapinjärvi before they are to tackle a job from a variety of different posts, ranging from health-care to education, all around the country. A group of boys runs with us into the camp through forest roads, fields, and birch alleyways. The grassy roadsides dance with a multitude of pastel-coloured flowers. They look fragile, but are in fact incredibly strong. At the camp a few hundred boys are waiting for us. They are very receptive to our message, and the next day we are told that a lot of inspired conversation had arisen among the boys about what we are doing and what we all can do to work for harmony and understanding.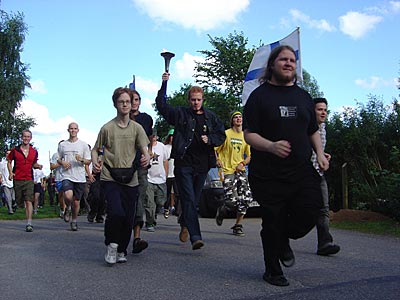 We hit the sauna with the boys who ran with us, before swimming in the lake. Then we are served an evening snack. As the night approaches some of us set up a small fire by the lake and chat with one of the camp teachers who is very warm and inspiring. As the last flames of the fire lash their last into the night we also retire to our rooms for sleep.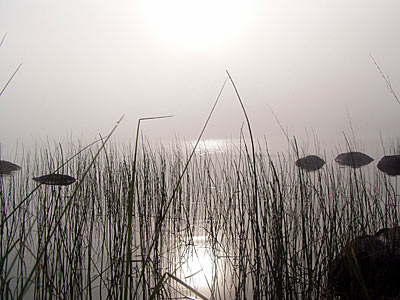 ---
Distance: 90km
Harmonemail:
You can send a message to the runners or read the messages.