France 24 March: Marseille - Nice
Today the World Harmony Run covered its longest distance in the span of one day so far. We divided the route into two halves and two teams. The runners in the white car began running from Marseille, while we in the silver car drove almost 150 km ahead and started running from there.
The Silver car story: We were blessed with some heavy rain and headwind from the very beginning. Luckily "the Force was with us" and the rain stopped after two hours. We also came to the beautiful coast of the French riviera. In summer it's probably packed with tourists, but now we were free to admire the wild mediterranean atmosphere.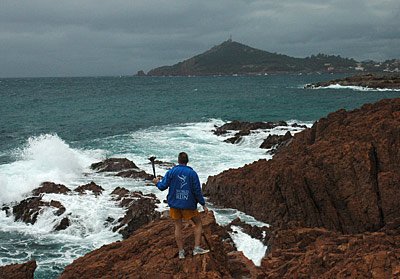 During our run along the busy N98 road, many people honked at us and gave us greetings. Soon we went through the famous cities of the Côte d'Azur: Fréjus, St Raphael, Cannes and at the end nice Nice. Two movie stars took time to pose with the torch in front of the stairs to the auditorium of the famous Cannes movie festival.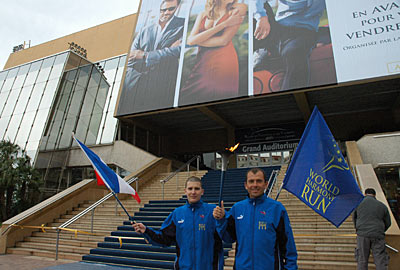 We met a group of surfers who did not hesitate to run with us on the beach with their surf boards. Then Mathilda and her mother also joined us, carrying the torch for a few meters near the harbour of Golfe Juan.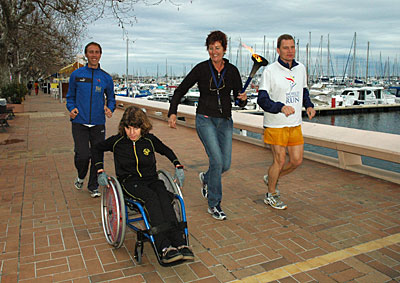 The Ambassador of O.S.M.T.H. Josef Van der Velden held the torch just afterwards and was very supportive of our initiative. After today's long run we finally arrived at our final destination in Nice with our French friends.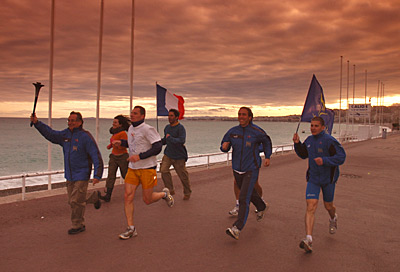 The story of the white car: We ran like crazy all day. We reached Nice at ten o´clock. We expended all our energy on the road and met a lovely group of people at the nautical society of Toulon.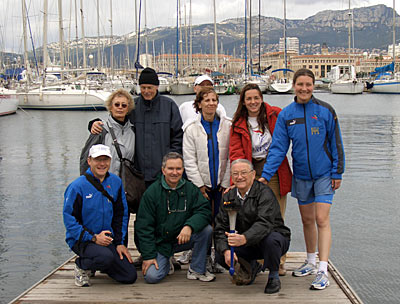 So this story is pretty short, but tomorrow we will share more adventures with you.
---
Distance: 294km
Harmonemail:
You can send a message to the runners or read the messages.