Indonesia 30 April: Ubud Gianyar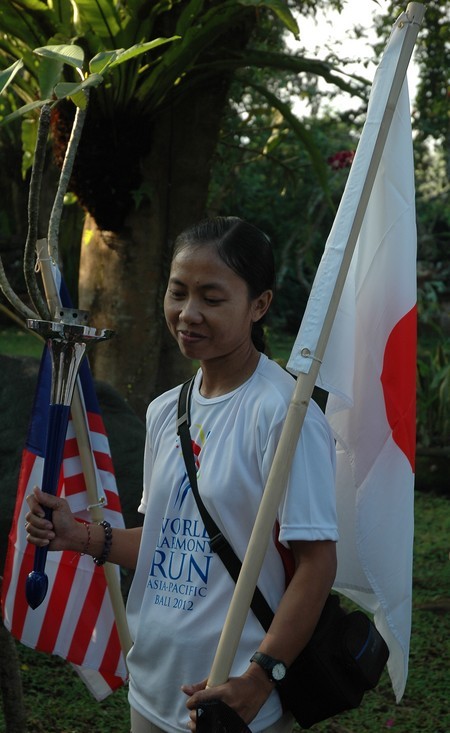 The first day of World Harmony Run Asia-Pacific 2012 in Bali was held at ARMA Museum. Before the run started, the team gathered and prepared the run. Hari pertama World Harmony Run Asia-Pasifik 2012 di Bali diadakan di Museum ARMA. Sebelum dimulai, tim berkumpul dan mempersiapkan diri.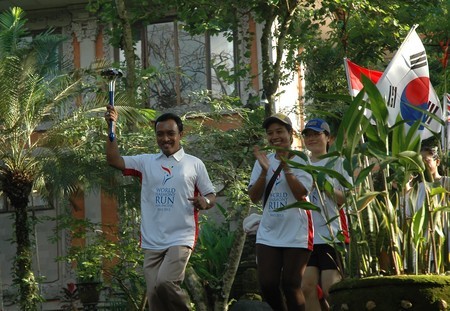 Arya from ARMA held the torch and started the World Harmony Run, followed by the runners. Arya dari ARMA memegang obor dan memulai World Harmony Run, diikuti oleh para pelari.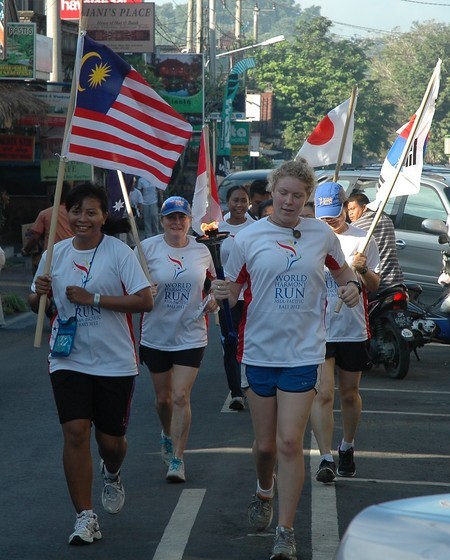 The team then went straight ahead the first school. They run passing the famous monkey forest. Lalu tim pelari bergegas menuju sekolah yang pertama. Mereka berlari melewati monkey forest yang terkenal.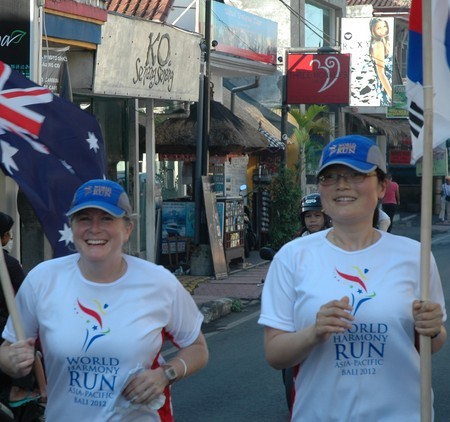 International team from Australia (Uddyogini), Korea (Hemabha), Japan (Harashita) and United States (Olivia and Glenn) joined the run. Tim internasional dari Australia (Uddyogini), Korea (Hemabha), Jepang (Harashita) dan Amerika (Olivia dan Glenn) ikut serta.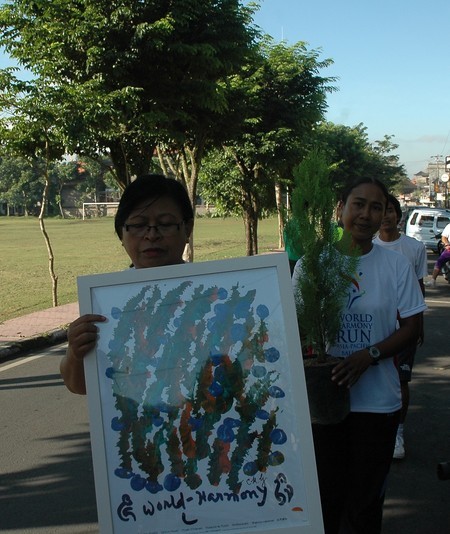 World Harmony painting and fir tree for school. Lukisan keharmonisan dunia dan pohon cemara untuk sekolah.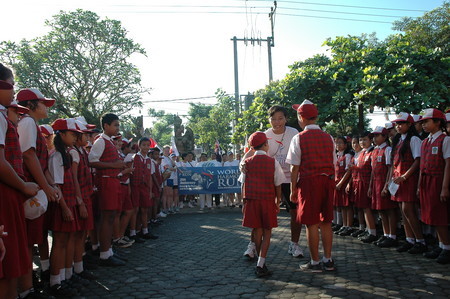 The students at SD 1 Ubud welcomed the runners in their school yard and sang the World Harmony Run theme song in two languages English and Indonesian. Para siswa di SD 1 Ubud menyambut para pelari di depan halaman sekolah dan menyanyikan lagu tema World Harmony Run dalam dua bahasa yaitu bahasa Inggris dan Indonesia.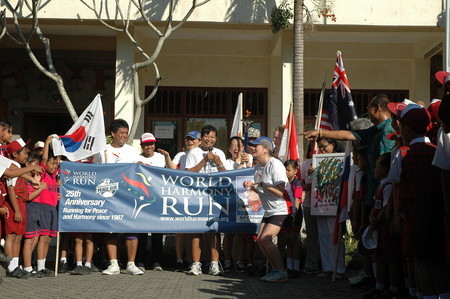 Uddyogini from Australia lead the introduction of World Harmony Run runners. She jumped like a kangaroo and the students guessed where she was originaly  from. Uddyogini dari Australia mengawali perkenalan pelari World Harmony Run. Dia melompat seperti kangguru dan para siswa menebak dari mana dia berasal.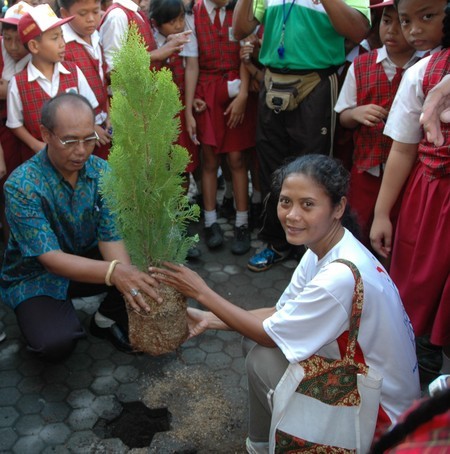 We also planted the fir tree which was witnessed by the students and teachers. Kami juga menanam pohon cemara yang disaksikan oleh para siswa dan guru.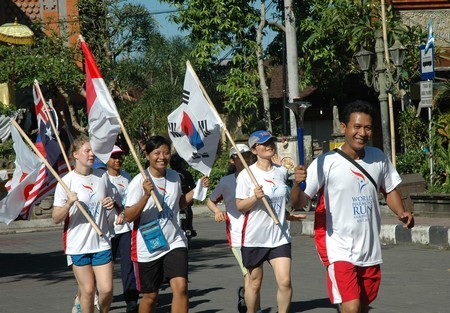 Next, we run to the next school. Selanjutnya, kami berlari menuju sekolah berikutnya.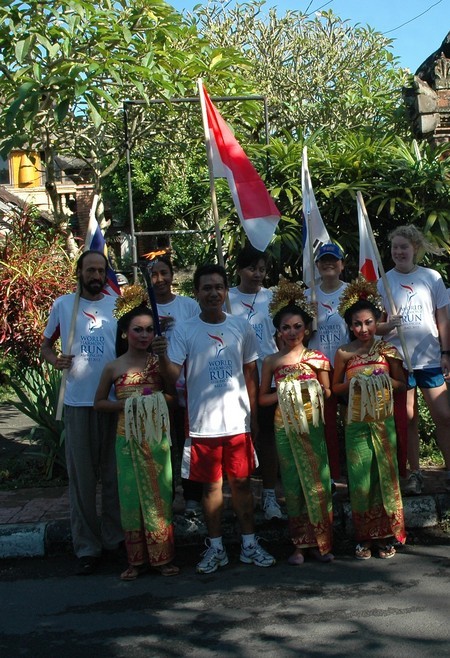 On the way, we met these young beautiful dancers. Di tengah perjalanan, kami bertemu dengan penari cilik yang cantik.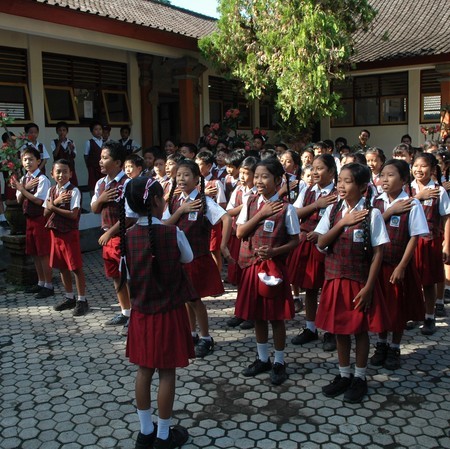 When we arrived at SD 5 Ubud, the students already line up and sang the theme song with the motion. Ketika kami tiba di SD 5 Ubud, para siswa sudah berbaris dan menyanyikan lagu tema dengan gerakan.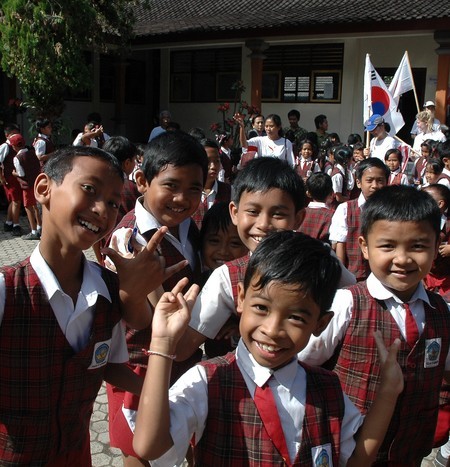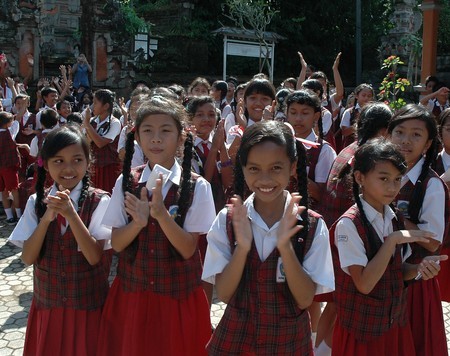 Not only that, the boys and girls also welcomed us with their smiles and cheefulness. Tidak hanya itu, anak laki-laki dan perempuan menyambut kami dengan senyuman dan keriangan.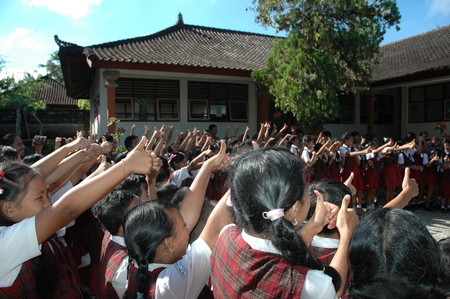 We played two skit about harmony and disharmony. They gave two thumbs up for the harmony skit. Kami memainkan dua drama pendek tentang keharmonisan dan ketidakharmonisan. Mereka  memberi dua jempol untuk cerita tentang keharmonisan.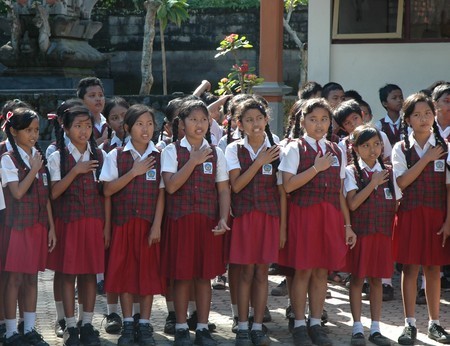 They learned the motto of World Harmony Run to be part of the team  and they  said it out loud "Peace begins with me". Mereka belajar tentang moto World Harmony Run untuk menjadi bagian dari tim dan mereka mengucapkannya dengan suara lantang "Peace begins with me" ("Kedamaian mulai dari diri saya")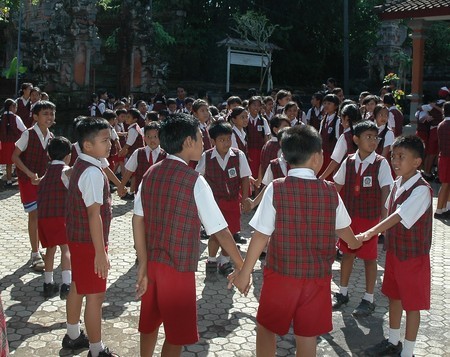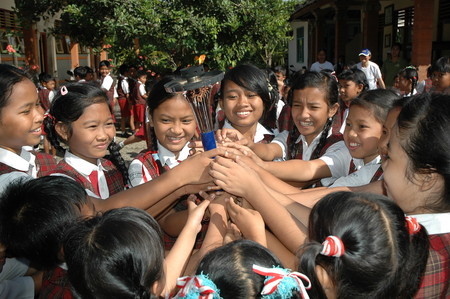 After that, they made circles and got a chance to hold the torch together. They smiled and offer their prayer for world harmony. Setelah itu, mereka membuat lingkaran dan mendapat kesempatan untuk memegang obor bersama. Mereka tersenyum dan berdoa untuk keharmonisan dunia.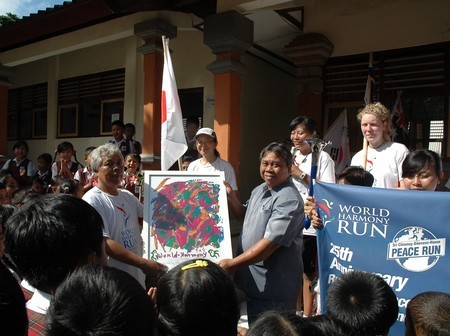 The principal of SD 5 Ubud, Bapak I Dewa Putu Oka recived the world harmoy painting for the school. Kepala SD 5 Ubud, Bapak I Dewa Putu Oka menerima lukisan keharmonisan dunia untuk sekolah.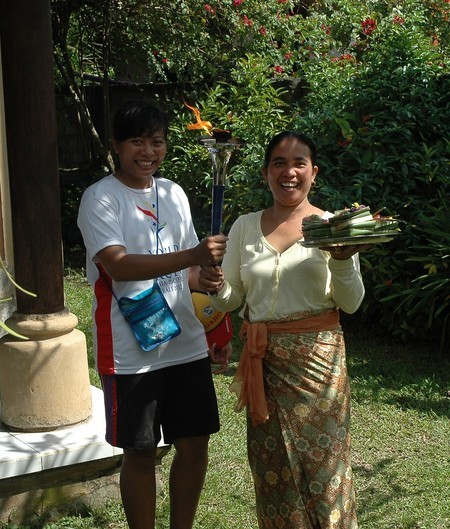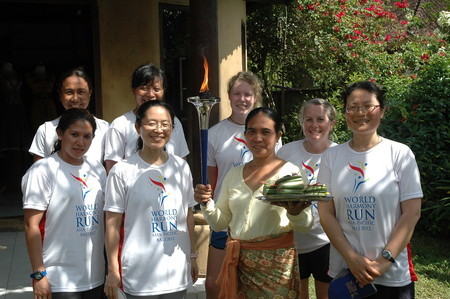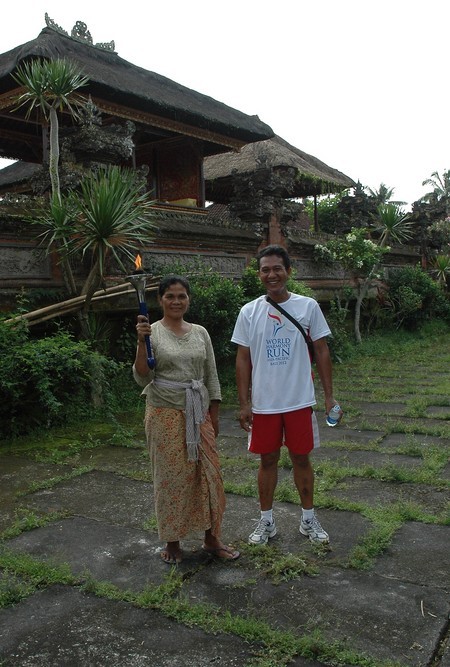 The runners not only run and visited the school, but also run and met the local to share the spirit of friendship. Para pelari tidak hanya berlari dan berkunjung ke sekolah tetapi juga berlari dan bertemu penduduk lokal dan berbagi dalam semangat persahabatan.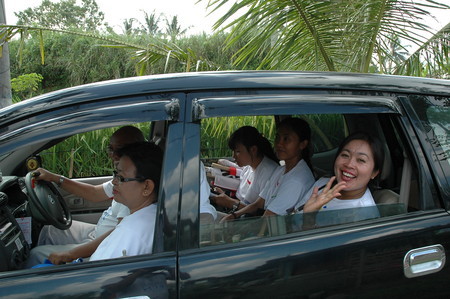 If the runners need water and snack, the team in the car always ready to open the trunk and served them. Kalau pelari perlu air dan makanan ringan, tim di dalam mobil selalu siap membuka bagasi dan melayani mereka.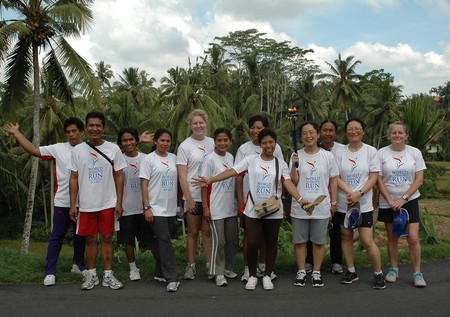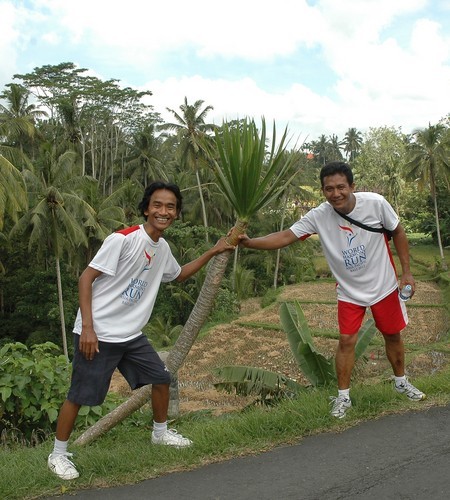 During the break they may enjoy the magnificent landscape and captured the moment of oneness. Selama berisitirahat, mereka bisa menikmati pemandangan yang indah dan mengabadikan saat kebersamaan.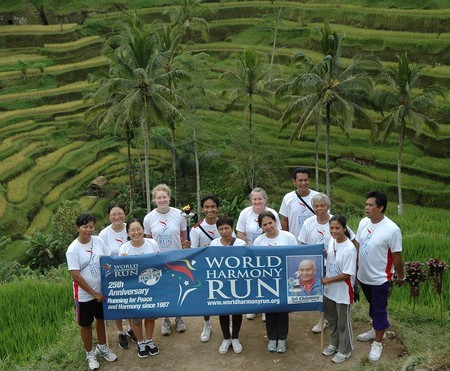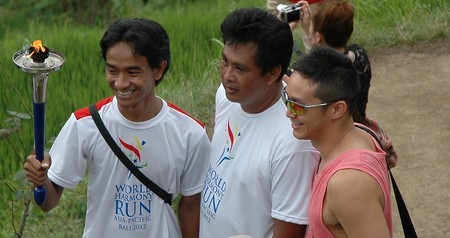 When it was too hot to run, we jumped into the car and continue our journey to the next destination. We visited the famous paddy terace at Tegalalang, Gianyar. Karena terlalu panas untuk berlari, kami masuk ke dalam mobil dan melanjutkan perjalanan kami menuju tujuan kami selanjutnya. Kami mengunjungi persawahan yang bertingkat-tingkat di Tegalalang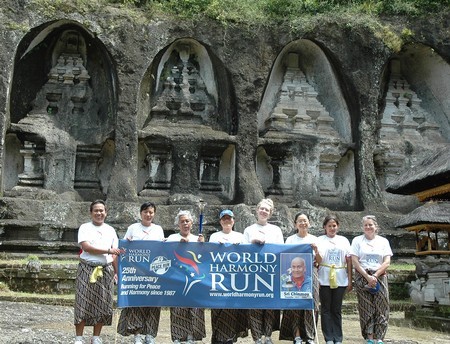 We finished the run on the first day by having a silence moment at Gunung Kawi, one of many archeological sites in Gianyar. Kami menutup hari pertama dengan mengadakan hening bersama di Gunung Kawi, salah satu dari banyak situs arkeologi di Gianyar. 
---
Distance: 15 km
Team Members:
Harashita (Japan), Hemabha (Korea), Uddyogini (Australia), Akshada (Indonesia), Burhan (Indonesia), Glenn (United States), Hemanka (Indonesia), Jaya Prabha (Indonesia), Jyoti (Indonesia), Kanyaka (Indonesia), Narottama (Indonesia), Nityagopal (Indonesia), Olivia (United States), Rudrawan (Indonesia), Shasibala (Indonesia), Sudika (Indonesia), Suhasini (Indonesia), Sulasih (Indonesia), Surekha (Indonesia), Widhi (Indonesia)