Mongolia 15 May: Khavirga Border Point (Хавирга боомт)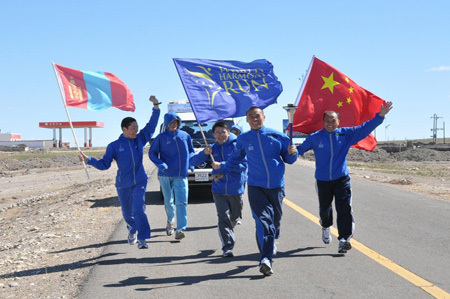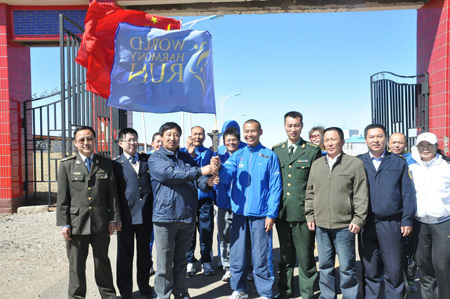 Эв найрамдлын гүйлтийн баг Хятадын Архашаат хилийн боомт дээр
World Harmony Run Team at the Arkhashat, border point of China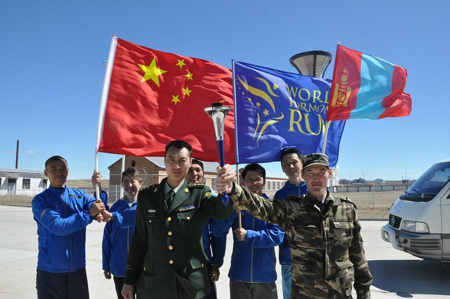 Монгол Хятадын хилийн боомтын ажилтнууд хамтдаа эв найрамдлын галт бамбараас барьж байгаа нь
Mongolian and Chinese border patrols of guard together hold World Harmony Run Torch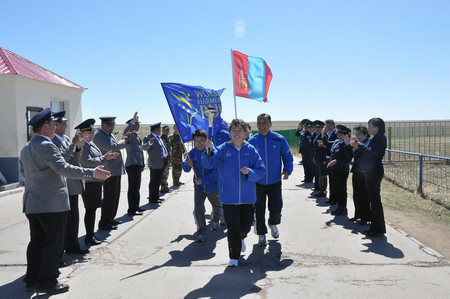 Даян дэлхийн эв найрамдлын гүйлтийн галт бамбар Япон, БНСУ, БНХАУ-ын нутгаар 2000 орчим км замыг туулан Монгол улсын Дорнод аймаг дахь Хавирга хилийн боомтоор өнөөдөр (5.15) орж ирлээ. Хавирга хилийн боомтын салбарын эрхлэгч Ж. Дэлгэрсайхан, хилийн шалган нэвтрүүлэх албаны дарга хошууч Гэрэлхүү болон хил гаалийн ажилтнууд угтан авлаа.
Having covered thousands of kilometers through Japan, Korea and China, the World Harmony Run Torch arrived in Mongolia. The Head of "Khavirga" Border Point Mr.J.Delgersaikhan, the Head of Border Inspection Authority Major Gerelkhuu and their staff warmly welcomed the runners.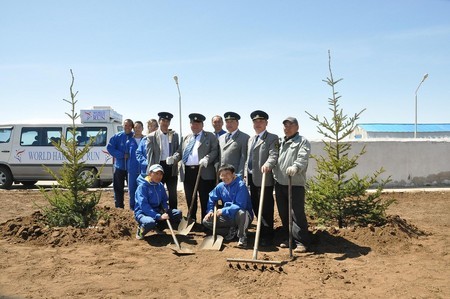 Гүйлтийн багийнхан болон гаалийн ажилтнууд хамтдаа хил дээр эв найрамдлын дөрвөн мод суулгалаа.
Harmony Run members and the border staff planted four peace trees.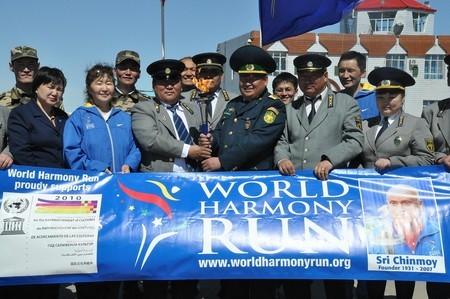 Ийнхүү Хавирга дахь хилийн боомтоос эхлэн Монголын газар нутгаар 2.600 км гүйж дэлхийн эв найрамдлыг тунхаглах галт бамбарт "Даян дэлхийн эв найрамдлын гүйлт"-ийн олон улсын баг Монголд орж ирлээ.
This was the starting point of our 2,600-kilometer journey throughout Mongolia with the Torch of Harmony and Peace.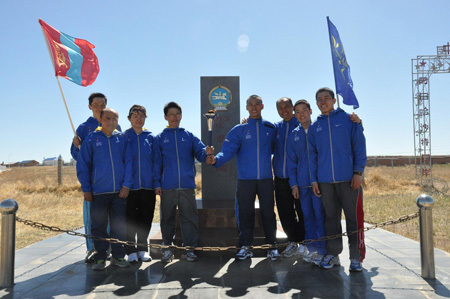 Монгол улсын хилийн баганы хажууд
The team beside a boundary post of Mongolia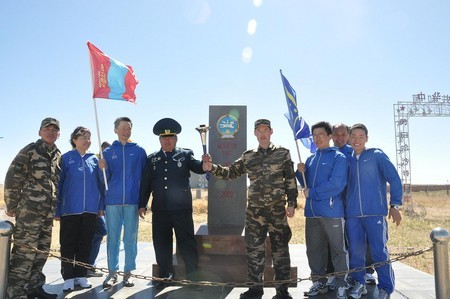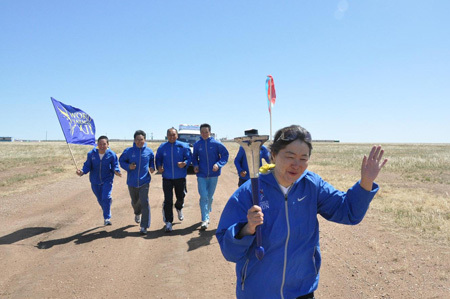 ---
Distance: 90 km
Team Members:
Н. Аканда Цогтбаатар, С. Дийлдар Билэгт, Б. Сатьяврата Доржбат, С. Ганхүү, А. Өлзийсайхан, Г. Эрдэнэбаатар, Ж. Саранхүү, Ц. Аванаяаха Түвшинжаргал, Б. Мөнгөнцоож, Пранлоба Калагиан (АНУ), N. Akanda Tsogtbaatar (Mongolia), S. Deeldar Bilegt (Mongolia), B. Satyavrata Dorjbat (Mongolia), S. Gankhuu (Mongolia), G. Erdenebaatar (photo) (Mongolia), J. Sarankhuu (Mongolia), Ts. Avanayaha Tuvshinjargal (Mongolia), B. Munguntsooj (Mongolia), Pranlobha Kalagian (USA)