Morocco 21 March: Casablanca - Settat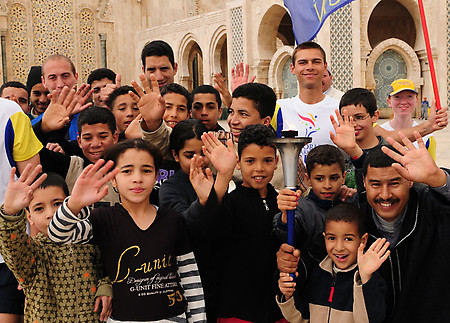 A large group of children, who are taking turns holding the World Harmony Run torch.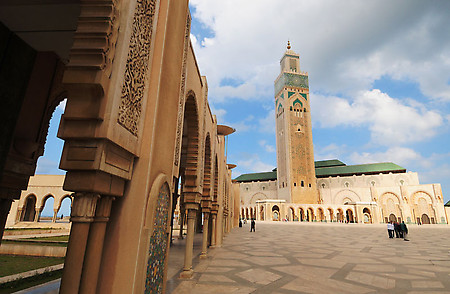 They have drifted over to us spontaneously, from the far reaches of the vast, polished marble square that sweeps out and around the Hassan the Second Mosque in Casablanca.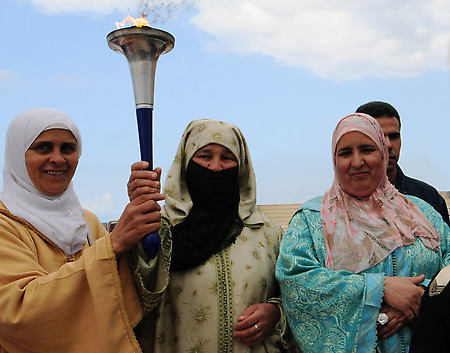 In this impressive, magnificent outside area, we have been told, 90,000 worshipers can be accommodated; this is in addition to the 25,000 who can fit inside the mosque itself.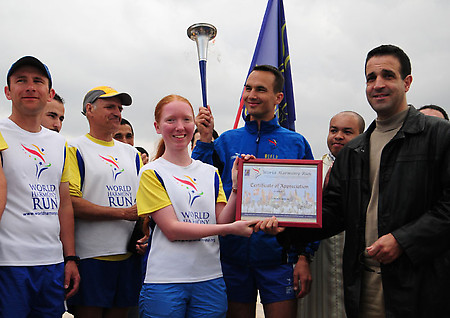 Our 9-member team is preparing to have a small ceremony here, before leaving the city to make its way inland to our final destination in Africa, Marrakech.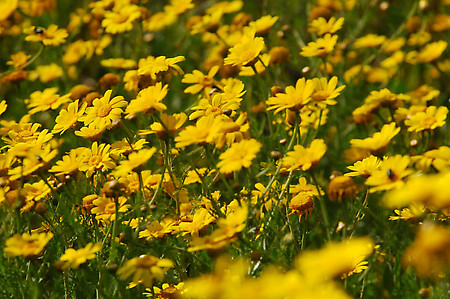 It is Friday, the Moslem holy day and the children are here with their parents to pray and celebrate the birth of Mohammed. It is still morning and the atmosphere is tranquil in this sacred place, though the ominous grey sky does not hold out much promise for a picture-perfect day.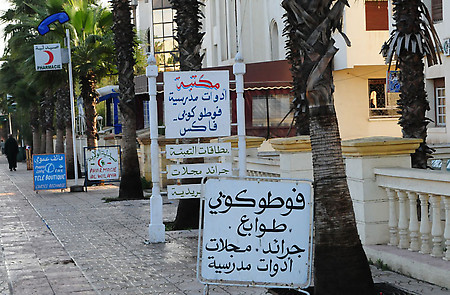 The children recite with us in Arabic the motto of the team. With bright, clear faces they chant, "Assalamo yabtadio minni".
It sounds perfect and its message is not lost on these young people, who have been drawn toward our little assembled band without coaxing.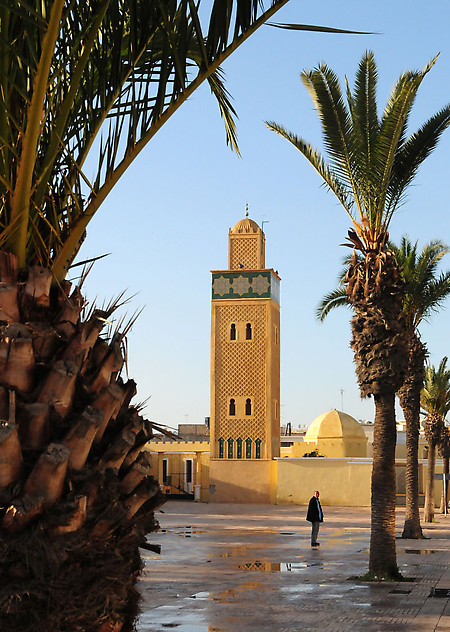 I have been on the road now in Africa and Europe for almost 3 weeks. The team - with a just few changes of faces from country to country - and I have run with the Harmony Run torch in 5 countries. In each, the words of the motto, when spoken in the mother tongue of the nation we visit, sounds like a universal mantra, though the language is very different in each.
In Portugal the expression was "A harmonia comeca comigo".
In the French-speaking areas of North Africa, the children said "L'harmonie commence avec moi".
And in Spain the kids repeated "La armonia impeza comigo".
The motto reflects the same oneness-spirit everywhere the run takes place, no matter who says it and no matter which language it is recited in. The motto resonates with the same wish, the same sweet universal dream wherever it is spoken and whoever says the words, "Harmony begins with me".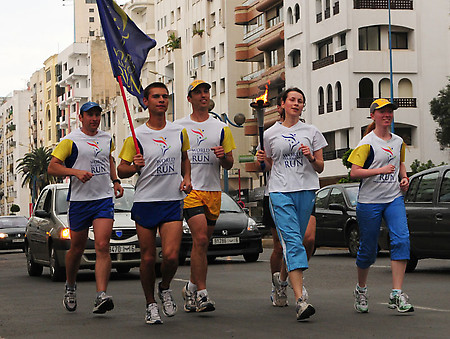 After passing out stickers and smiles in great quantities, we spill out onto the busy streets of Casablanca. There are many police, both in cars and on motorcycles, to help us through the crowded, chaotic streets. Most of the team runs with the torch while two of us drive as escort in our cars. It is wonderful and wild, and yet I much prefer the relative tranquility of being enclosed behind the wheel of one of our cars.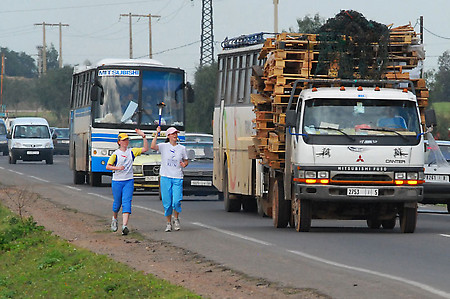 A local TV cameraman hangs out the back of his van and weaves through traffic trying to get a shot that might appear in the evening's newscast. A photographer for a news service also gives chase. He is darting here and there on a Peugot motorcycle not much bigger than a bicycle.
A policeman leans out his window and asks me in French, what country do I come from and when I say Canada, he asks me hopefully "Quebec?" I reply "Non, Toronto." "Est-ce que tu parles francais?" "Pardonnez-moi, non."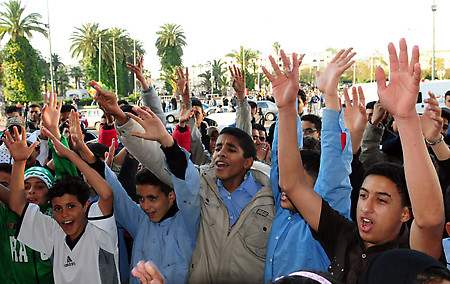 It is the same answer I have been giving continually throughout French Africa. My personal disappointment in not mastering another language is not reflected in the questioner's obvious delight that I am at least trying to communicate.
I do however curse whichever hemisphere or lobe of my tiny brain is not functioning, such that I cannot retain a language other than English. The reality though, is that in the speeding, ever-forward experience that is the World Harmony Run, lack of language is just a small speed-bump in an otherwise swiftly-moving undertaking. The true purpose of the event always supersedes any deficiencies of language. It is rarely hindered by communication breakdown when words and language skills fail.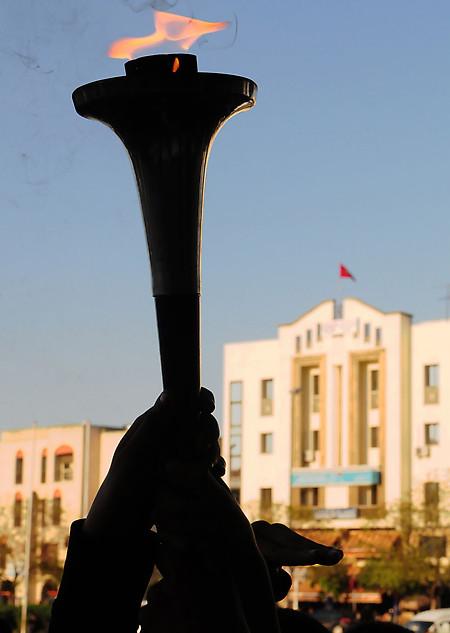 The true language of the run is the burning torch itself. Hold it in your hand and it speaks to your heart. Carry it forward and it can transport the bearer to the universal promise of peace that is being nurtured and manifested here, there and everywhere.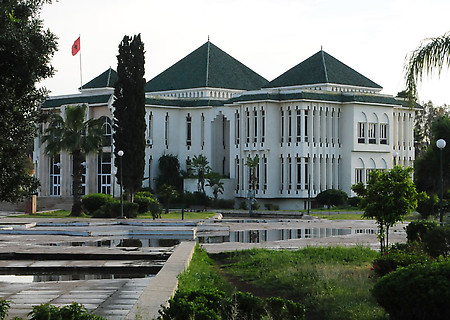 It is being revealed however, in what we call the real world, in ways that are both subtle and meaningful. It is not happening with fireworks on the outer plane but is slowly unveiling itself in the peace that exists within each man's heart. Humanity's promise from within is ultimately being fulfilled in this inner fashion. We have always been a oneness-world family; it just takes a little effort for all of us to collectively realize this.
Later, after we have moved beyond the edges of the city, we are once again in what is for me a now-familiar landscape, the Moroccan countryside. I take my turn on a quiet roadside, without the distractions of sirens and hurried drivers, and the bedlam that rushes and fills the streets of practically every city in the world.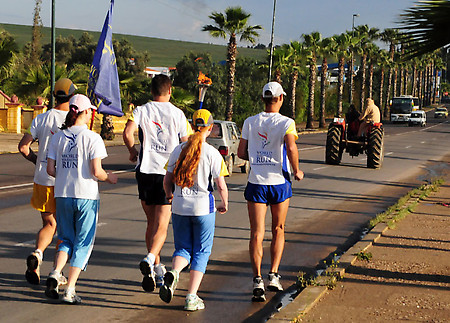 On the dirt shoulder that shadows the 2-lane highway I find solace and refuge. Both our cars have now pushed forward and are 5 kilometres beyond me. I have the road and nature all to myself. Cars still beep and I still wave, but there are long moments in which there are just the flame of the torch whispering in my ear and the sound of fresh, spring wheat rustling in a light breeze.
I see camels once again marching down dirt tracks, and flocks of sheep nibbling on dusty brush. The memories of past torch-relays that I have participated in come back and wander lightly through my consciousness. I am reminded sweetly of where I have been and some of the experiences I have had on the many past relay-run adventures.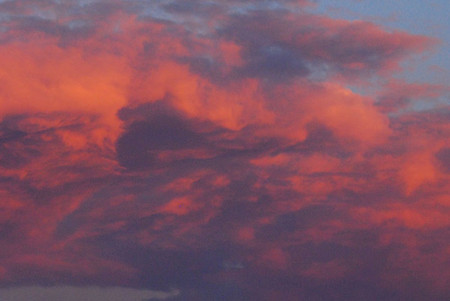 I remember that my first relay took place more than 30 years ago; most of the members of the team I am traveling with now were not yet born when I first ran down a quiet stretch of Canadian country highway carrying a torch. Another wonderful thing is that I am at peace being the old man on the team.
I realize that I am still drawn here by the same purpose that pulled me from my day-to-day routine decades ago. It is strikingly obvious that this relay is doing amazing things; amazing things to those who hold the torch for the first time and run and also for old guys like me, who have been doing this a long time and still find the message of the relay-run relevant, clear and compelling: Harmony begins with me.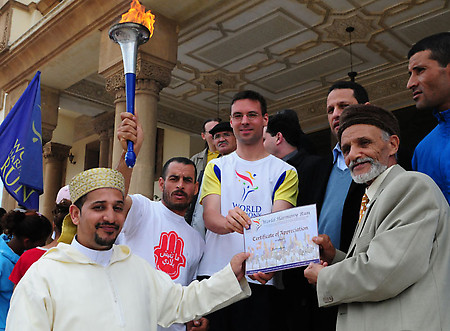 Our first official stop of the day is Berrechid. The Pasha greets us and welcomes us to his community. He tells us that it is significant that our Harmony Run is taking place in Morocco at the same time as the birthday of the Prophet is being celebrated. He welcomes us with refreshments and has also gathered a young local track team, to greet us and help us make our way out of his town.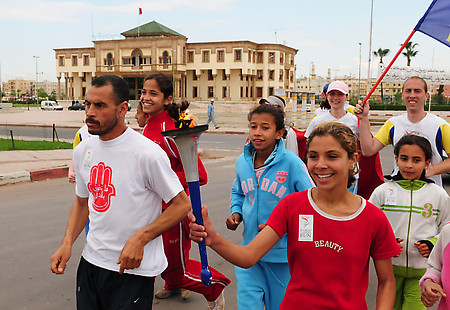 The boys and girls are very young, but all have dreams of great track-and-field futures. One boy shyly shares with us his 1,500 metre time; after training for only 3 years, his time is well under 4 minutes. I see that he has a well-deserved pride in this achievement. It stirs a brightness in his eyes and I wonder to myself if he could be the next great Moroccan champion, like Said Aouita.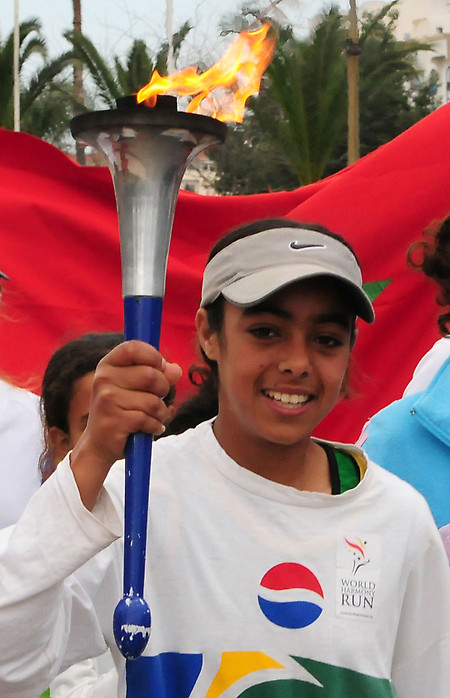 Most members of our team can find few words from our various language backgrounds to understand the kids as they speak to us in Arabic. We will never know the discipline and difficulty of their training program or what their goals for the future are. But like kids everywhere they are drawn to us and we to them. Smiles and handshakes sometimes say a lot.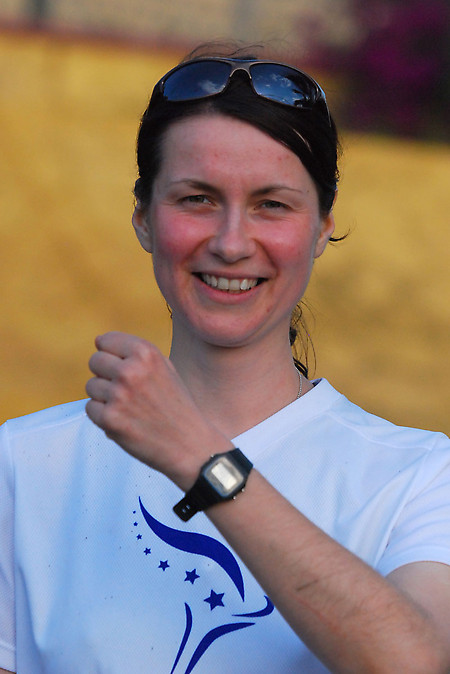 Two of our team members find themselves with young athletes glued to their sides. Mario from Slovakia has a young boy named Hussein attached, almost like an extra appendage to his shoulder. Martina, also from Slovakia, has found a new, close friend in a little girl named Xena, who has wrapped herself and Martina in the Moroccan flag. Before Martina goes, the little girl insists that she take her small blue watch. She refuses anything in return. Such is the magic of instant friendship and oneness.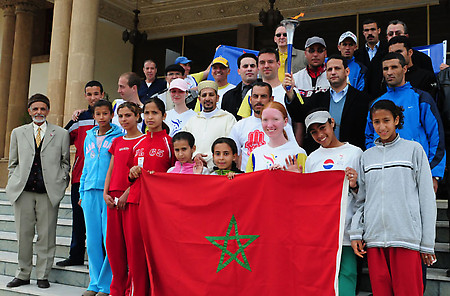 Later, they will run with us out of the city, with their coach bicycling beside them. He had asked us why there was no Moroccan runner on our team. We point to him and to his young athletes and say they and he are also members of our team. He smiles and nods his head pleasantly, in satisfaction.
We have 65 kilometres to cover today and once again I, like all members of the team, have a second chance to run. Out alone on the road, I am once again reminiscing about past days on other highways in distant lands. There is such a sense of peace and tranquility at this time for me. I imagine to myself, that if everything is not quite right with the world, then at least it is getting just a little better each time I lace up my sneakers and hit the road and carry a torch.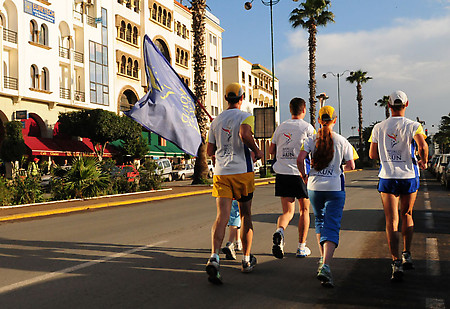 I know that an Australian World Harmony Run team is now also on the road, as are we. They are trying to circle for the first time, all of Australia. They have posted magnificent pictures of the start of their run, which took place at Uluru (Ayers Rock). I imagine for a moment that, at the same time as I am running now in Morocco, an Australian runner is pushing down a dusty trail across the Outback. Just maybe, somehow, we are each thinking about the other, at the same time.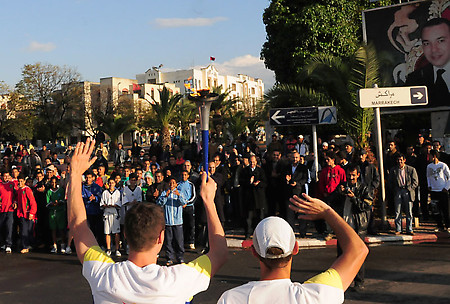 The afternoon has slipped away and now we are on the outskirts of today's goal, Settat. It is tiny, compared to the big city of Casablanca, but still has a sizeable population of 120,000. In the square by the city hall a crowd of several hundred has gathered, mostly made up of young soccer teams. As soon as they see us, they sing out loud and boisterous versions of their team songs.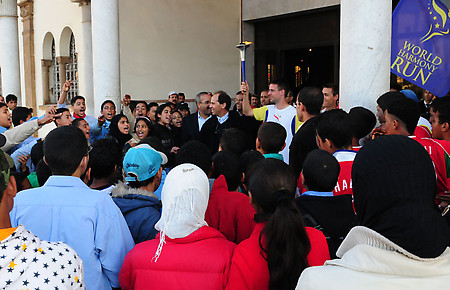 A short while later, as one large group, they sing for us the Moroccan national anthem. In return, we sing for them our World Harmony Run Song in English, "We are the oneness and fullness of Tomorrow's Sun." Immediately, we sing it again in Arabic and they sing along with us.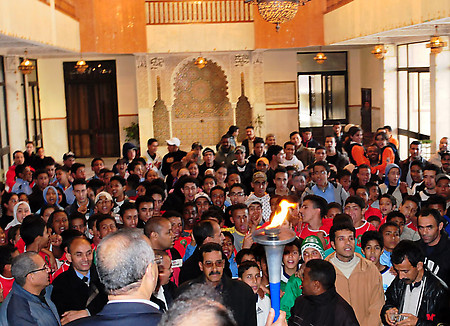 Their voices are quieter now, the words gathering strength after a little initial hesitation. Their faces shine. I look out at the great, youthful potential they represent. They are tomorrow's Sun.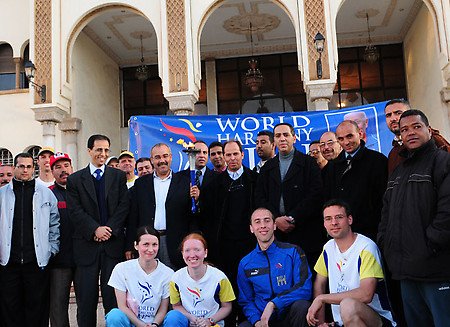 ---
Distance: 65km
Team Members:
Utpal Marshall (Canada), Ondrej Vesely, Honza Minarcik and Mila Pisanova (Czech Republic), Mario Komak, Rasto Ulicny and Martina Madarova (Slovakia), Vladimir Balatskyy (Ukraine), Patricio Rodrigues (Portugal)
Gallery: See more images!