Nepal 17 January: Kathmandu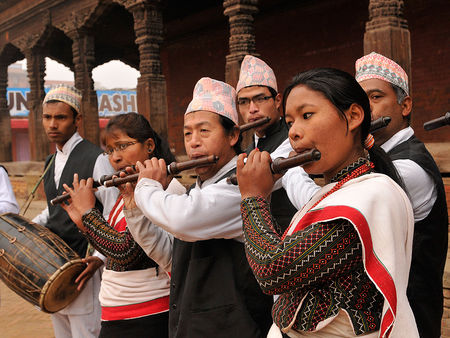 Today we began in Bhaktapur, an ancient Nepalese city.(see note on World Heritage site at end*)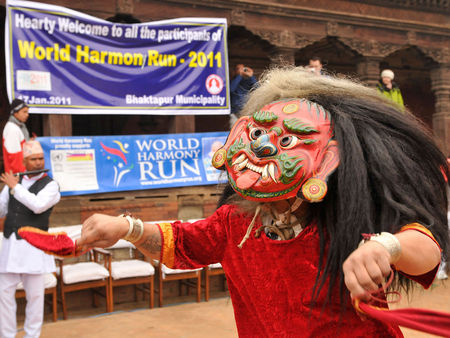 A dance and musical troupe made sure we were fully immersed in Nepalese culture.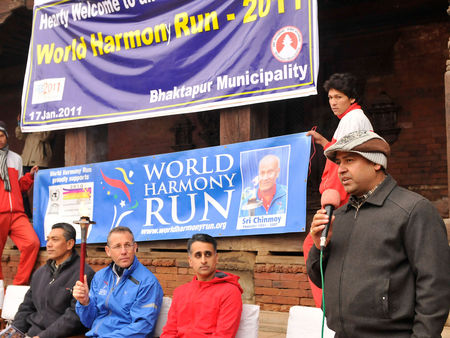 Executive Officer of Bhaktapur Municipaity, Mr. Rajendra Kumar Paudel served as master of ceremonies.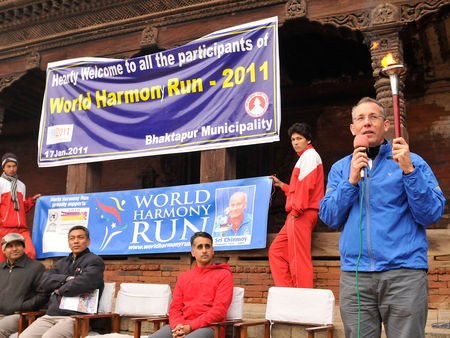 Executive Director Salil Wilson explained the goals of the World Harmnoy Run and thanked all the participants for coming out.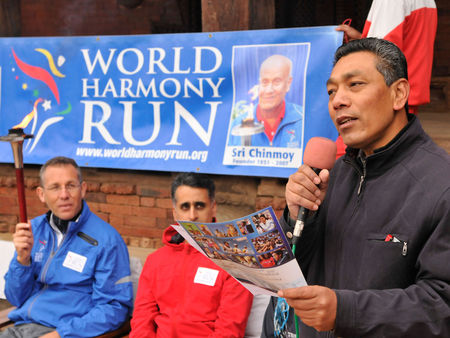 Bhaktapur Mayor Hon. Prem Suwal welcomed the runners to this historic city which has been recognized as a UNESCO world heritage site.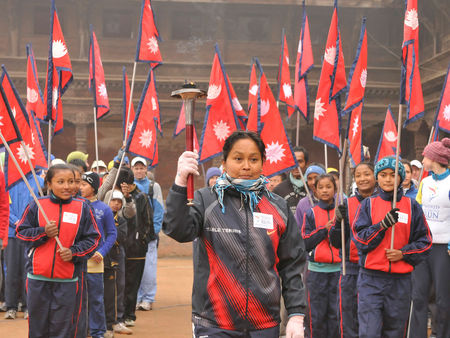 Nepal's champion table tennis player led the runners joined by some of Nepals younger athletes.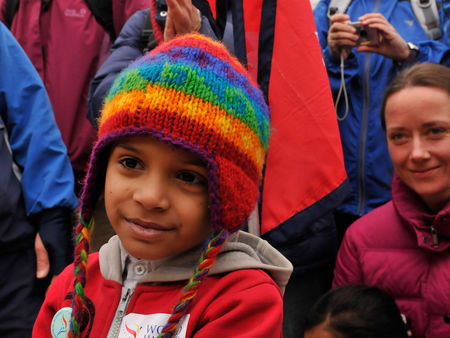 This young fellow ran the entire 4 km route.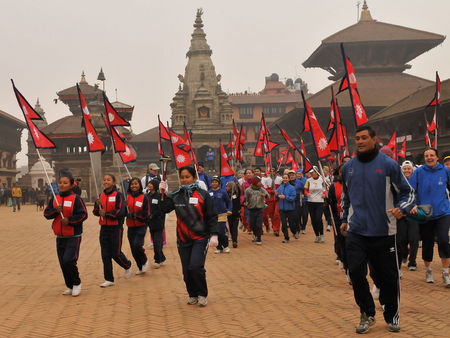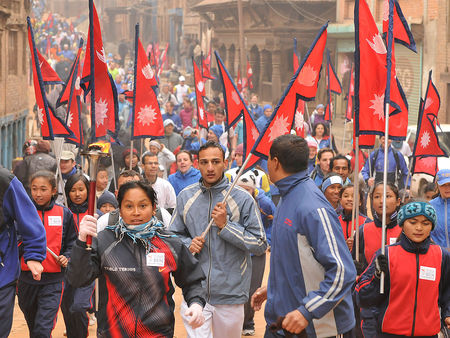 Along the 4 km route we met with many eager people who wanted to hold the torch.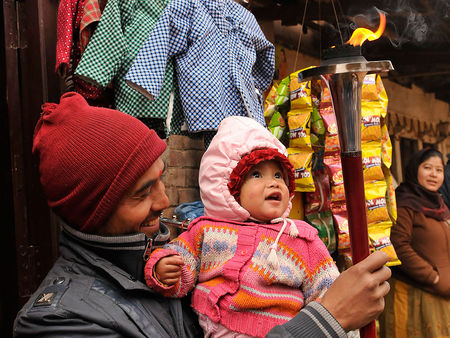 They were all ages.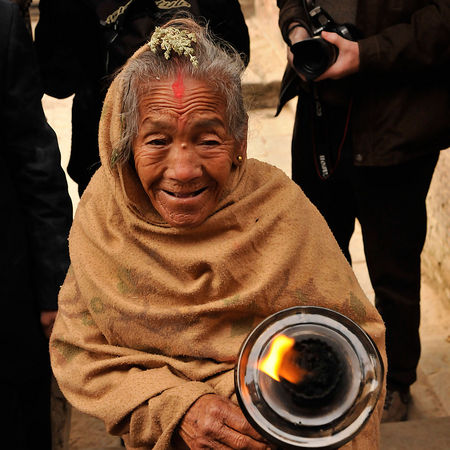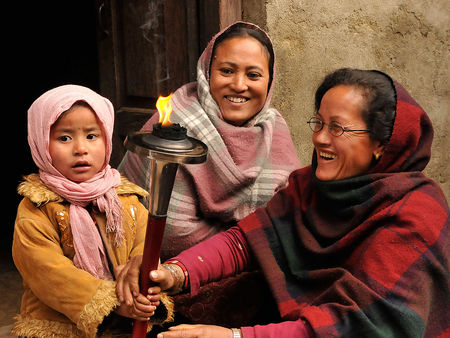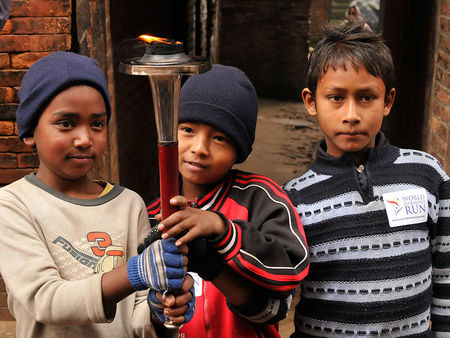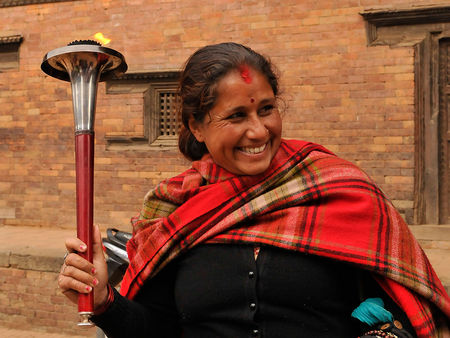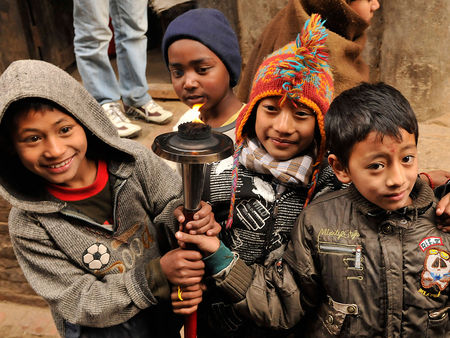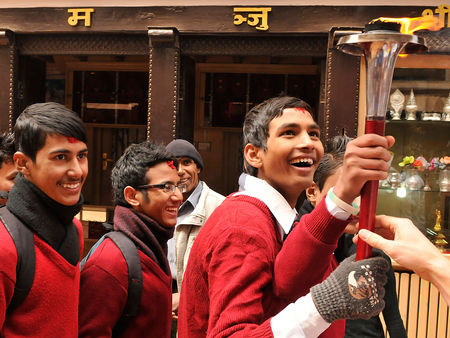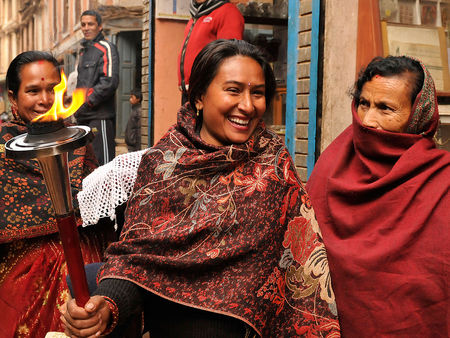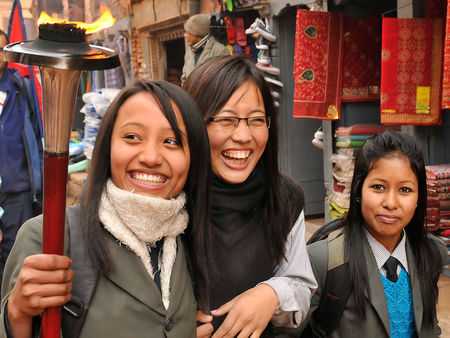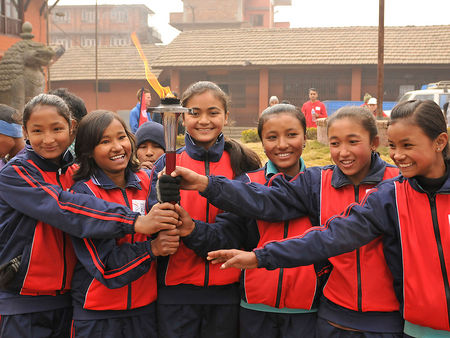 These girls ran the 4 km route with us.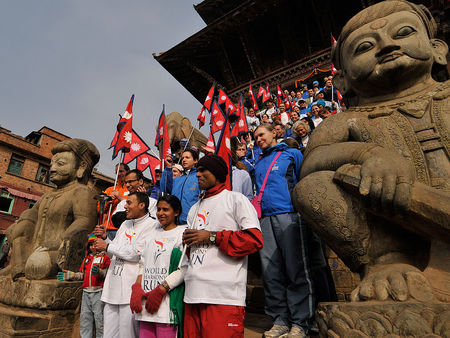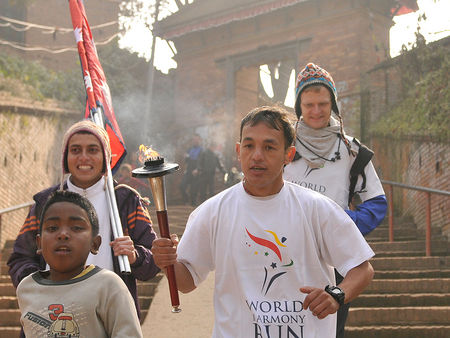 After we finished our run in Bhakatpur a couple of runners elected to run to Kathmandu.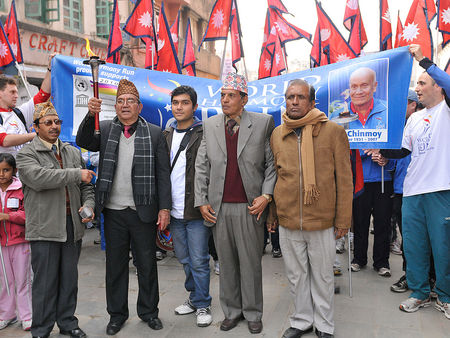 Later in the afternoon we embarked on a 2km run to finish at a concert hall for an event with the Deputy President.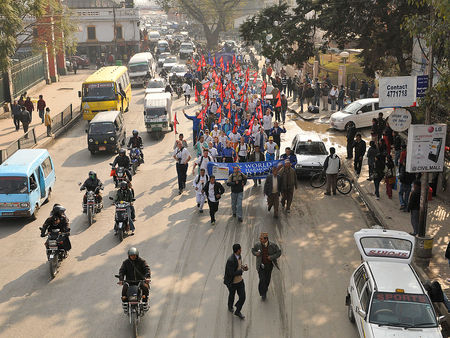 Running through streets of Kathmandu we created quite a stir.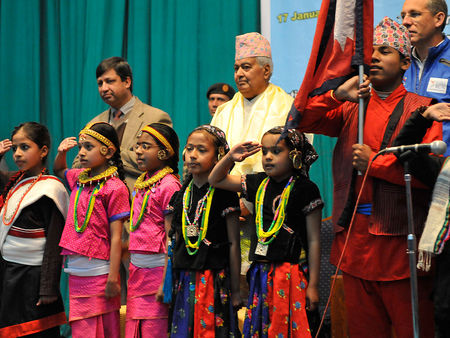 Young children sang the National Anthem.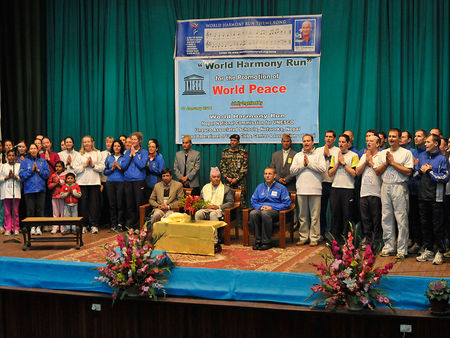 The World Harmony Run Choir then performed a song Sri Chinmoy composed about Nepal as well as the World Harmony Run song.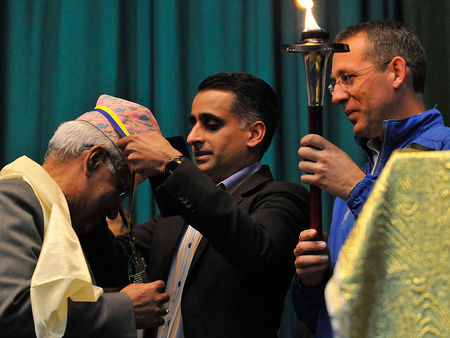 Executive Director Salil Wilson thanked the people of Nepal for their enthusiastic participation and with the help of Sanjay Rawal presented the World Harmony Run torch bearer award to the Right Honorable Paramanda Jha, Deputy President of Nepal.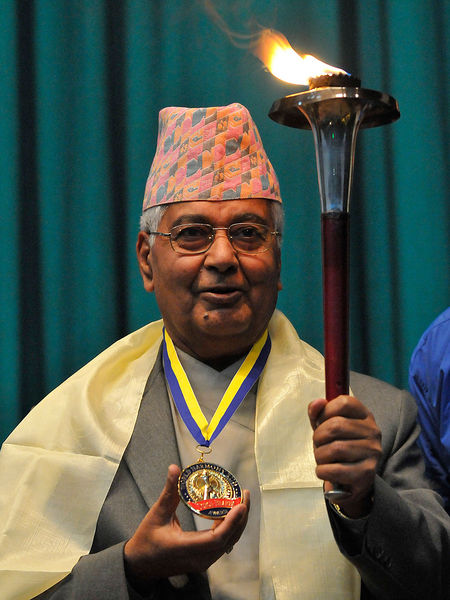 The Right Honorable Paramanda Jha, Deputy President of Nepal shows the Torch-Bearer award.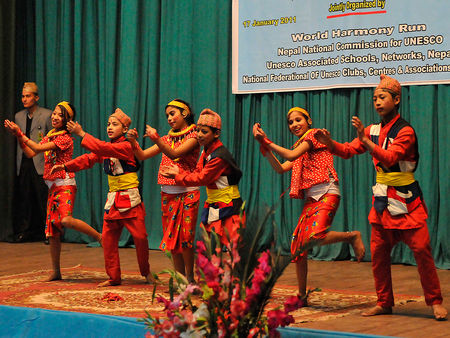 A very talented children's dance troupe then offered a number of performances.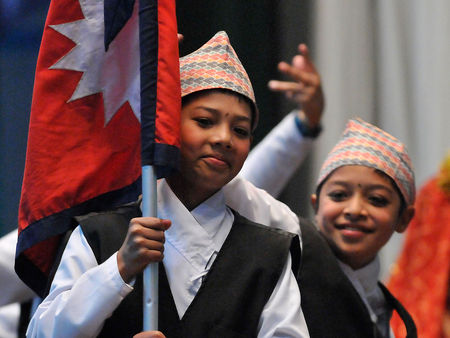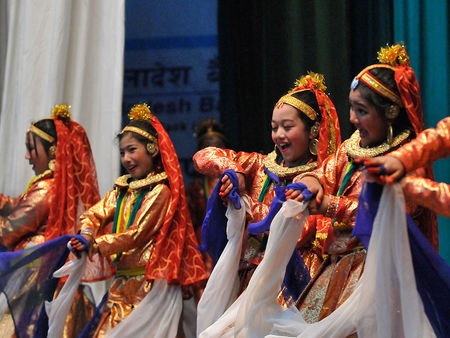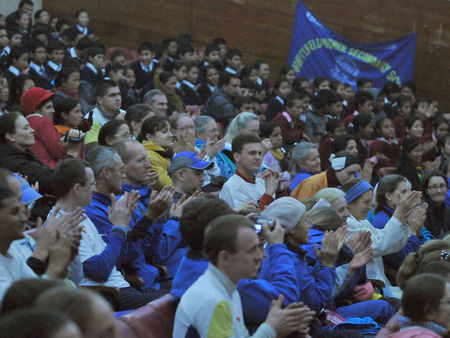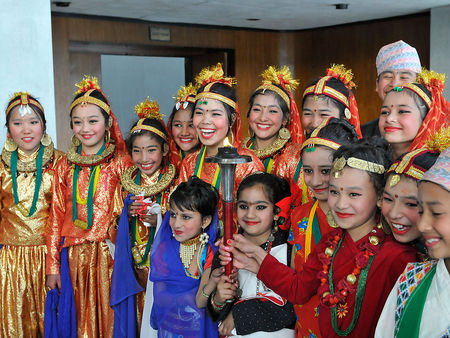 This troupe was truly delightful in their offering.
Inspiring message:
It was a very full programme but there was time to read out a short part of an inspiring messge received just before the program. It was from from Davidson Hepburn,President of the General Conference of UNESCO,
to all participants of the World Harmony Run, 2011 and beyond.
The full message apears here :http://www.worldharmonyrun.org/beyond2011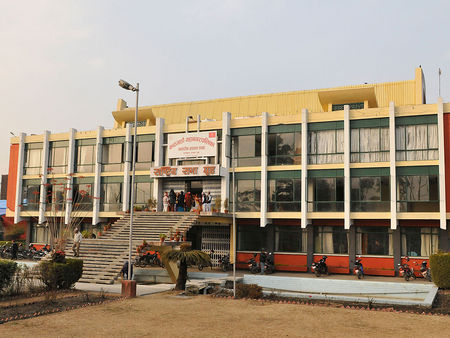 ---
Excerpt from Unesco World Heritage site listing:
"Kathmandu Valley is illustrated by seven groups of monuments and buildings which display the full range of historic and artistic achievements for which the Kathmandu Valley is world famous. The seven include the Durbar Squares of Hanuman Dhoka (Kathmandu), Patan and Bhaktapur, the Buddhist stupas of Swayambhu and Bauddhanath and the Hindu temples of Pashupati and Changu Narayan. "
full description at : http://whc.unesco.org/en/list/121
---
---

The World Harmony Run proudly supports the International Year of Youth (IYY) and the International Year of Forests (IYF) proclaimed by the United Nations General Assembly.
See the recent Youtube video on African experience which illustrates IYY slogan "Our Year Our Voice"  International Year of Youth - Zambia World Harmony. They surprisingly mention Presidents and UN Secretary-General in a unique way! 
See also the UNESCO World Heritage (WH) Centre support for IY of Forests.  ... Convention for conservation of forest biodiversity. (more)
---
Distance: 7 km
Gallery: See more images!