Singapore 16 October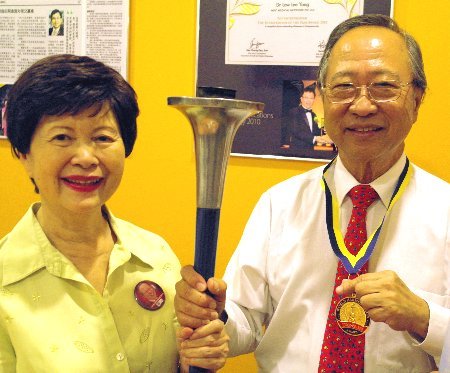 picture : Dr Tan Cheng Bock with his wife. 
Former Member of Parliament and a recent candidate for the Elected Presidency, Dr Tan Cheng Bock is  a well known public figure who never back down from a challenge whenever the time calls for him to make a stand in parliament for the welfare of ordinary citizens of Singapore. He is also a kind hearted doctor who would give free medication to those who can't afford to pay. The 71 year old Dr Tan is a very well respected community leader who always stand by his principles in his dealings with difficult situations. His compassion for people in needs touched the hearts of those who crossed his path. His spouse, Mrs Tan, is a pillar of strength for Dr Tan and an epitome of kindness. 
It's a great honour for me to offer Dr Tan Cheng Bock the World Harmony Run Torch-Bearer-Award for his selfless service to humanity and his shining example of a benevolent leader. 
-Urdhacheta Yap Thian Beng          
---
---

The World Harmony Run proudly supports the International Year of Youth (IYY) and the International Year of Forests (IYF) proclaimed by the United Nations General Assembly.
See the recent Youtube video on African experience which illustrates IYY slogan "Our Year Our Voice"  International Year of Youth - Zambia World Harmony. They surprisingly mention Presidents and UN Secretary-General in a unique way! 
See also the UNESCO World Heritage (WH) Centre support for IY of Forests.  ... Convention for conservation of forest biodiversity. (more)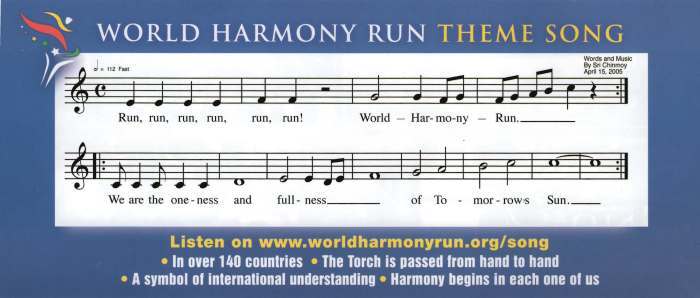 Listen to the World-Harmony-Run song: 2 min version // 6 min 
See also:  Music Scores;  Arrangements;   Song in Non-English Languages;  Schools Arrangements and Performances
---