Jesper Olsen holds World Harmony Run Torch in NY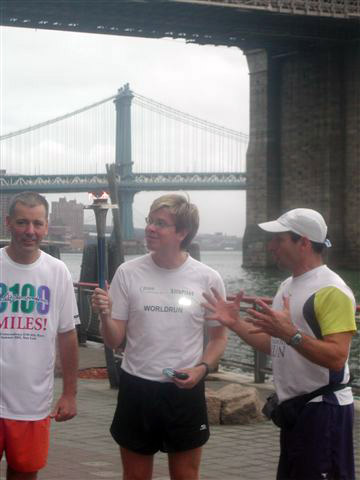 The Great Dane
On his way around the world Jesper Olsen kindly took the time to hold the World Harmony Run Torch and make a few new friends in New York City.
Jesper Olsen is a Danish long distance runner who started running 20 years ago as a teenager. Having been very competitive most of his running career at all distances including multi-day races, he has developed both the speed and the endurance needed to attempt an around the world run. But there are many, many runners in the world with the speed, endurance, strength and experience to match Jesper. What makes Jesper stand out from all these other great runners who may have also pondered such a mystifying feat?
Meeting him and spending two days with him recently as he completed his North American section of the run in New York, I discovered some other very essential qualities of Jesper's personality that make him quite unique and highly qualified for this incredible undertaking.
Jesper, first and foremost, loves running. He runs for self-improvement, self-transcendence and to give joy to others. His first thoughts about a world run came when he read how others have attempted it and failed for one reason or another. He saw how critical other people were of the shortcomings of those who could not achieve this goal in the proper and honest way. But instead of focusing on the negative aspects of those failures, Jesper felt that there was definitely a way to succeed, honestly and joyfully. After two years of meticulous planning, he and another runner, Alexander Korotkov from Russia, started out in January of 2004 in London, England.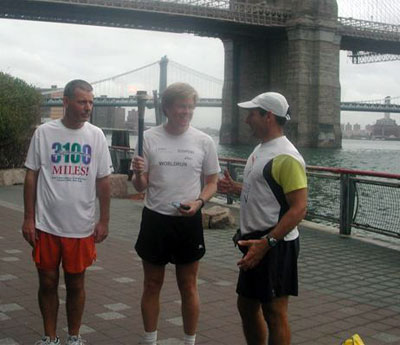 While his running partner took the run as a job and difficult task, Jesper's attitude was to enjoy each day as much as possible. By the time they had reached Siberia, his partner was struggling with injuries and gritting his teeth through thousands of miles while injured. Jesper, on the other hand, was very careful to keep a joyful and healthy attitude and avoid injury. Needless to say, Alexandar deserves much praise and credit for making it across Asia and helping Jesper to get that far as well.
Jesper since then has covered almost all the remaining miles(26,000 kilometers, or about 16,000 miles) needed to qualify for an official Guinness World Record. It took not only lots of running for almost two years to do this, but much regular, meticulous and disciplined record keeping, documentation and updating of information. Every few miles that Jesper has been stopping for water or food, he stretches while sending information through his GPS (Satellite Positioning) wireless devices to Guinness computers so they can track his pace and position
every ten seconds. He also writes descriptions and other details, taking photos of landmarks and signs every mile.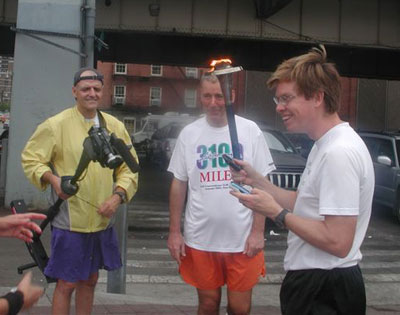 Without a regular support team or vehicles to accompany him, Jesper has been doing this alone for months at a time. This means that he has had to carry his own belongings like tent, clothes, food and water while running. He has done this by pushing a baby stroller for many, many miles. This can be quite exhausting as it changes the normal running style and does not allow the arms to swing naturally, thus impeding the momentum and shortening the stride. His stroller also has broken down quite a bit which consequently took more time and energy to deal with instead of getting more valuable rest and recovery time. This made his months running through Western Canada quite difficult.
When he finally made it to New Jersey where Abichal (pictured center above) and I started helping him, he was not using the stroller anymore as he had daily support volunteers with cars to carry his belongings since he reached the Midwestern states. Peter, a volunteer from Philadelphia who accompanied Jesper all the way to Newark, New Jersey, was happy to see us as we arrived to take over for the last two days in the U.S. Volunteers, like us, found out about Jesper over the internet, mainly on running sites like ultralist.com or multidays.com .
Jesper has appreciated this aspect of his run immensely: meeting so many caring and self-giving runners throughout America and other places as well who are willing to volunteer their time and efforts to accompany him, carrying his belongings and running with him whenever possible.
He had so much energy and enthusiasm when we caught up to him outside of Newark that it was hard to tell that he had run an average of 30 miles a day for a year and nine months so far. But it became obvious to us that his energy and joy came not only from his positive attitude, but from all the support he had been getting for the last few months.
He made this point very clear to us over lunch: he was extremely grateful to all those who have helped him in any way. Starting out with the ambition for a great personal achievement and world record, he now felt humbled by how much help, love and support he has received everywhere he has run. He said that he cannot remember any negative experiences, only positive support and encouragement. This has changed his whole attitude towards the achievement which he now feels is a communal achievement of all of humanity that has supported him. His original somewhat self-centered approach has been transformed into an experience of self-transcendence through spiritual onenenss.
This, in a nutshell, is what makes Jesper's achievement so important and valuable, not the incredible world record which he is about to achieve and most readily deserves, but the transformation and illumination which he has achieved through his attitude of oneness and gratitude. I cannot fathom any other way that a runner—no matter how competent and experienced—can get through such a seemingly impossible and long undertaking without injury and without ever walking. Yes, I forgot to mention that he has run the whole way! At times he has run at a pace faster than some of his helpers could keep up with. Abichal said that he could not even hold a conversation while running with Jesper through Newark.
I am honored, as many others who have helped him are, to have spent time with Jesper to share in his achievement and to contribute to it. He deserves without a doubt and in every possible way not only the first honest world record run around the world, but what I feel is a very fitting title of 'The Great Dane.'
Arpan DeAngelo reporting from New York City
Read all above Jesper's amazing journey at www.worldrun.org .
---
Harmonemail:
You can send a message to the runners or read the messages.