Belgium 4 October: Brussels - Antwerpen
Today brought one of the highlights of the Run this year, as we were received at Europe's biggest political institutions: the European Parliament and the European Commission in Brussels.
Our day started at eight o'clock this morning when we greeted the Hungarian Commissioner Laszlo Kovacs, just outside the Berlaymont building where the European Commission has its office.
Each one of all 27 countries in the European Union has one European Commissioner, who is like a minister in the European government. So there are 27 European Commissioners altogether and each one is responsible for certain governmental tasks.
Mr. Kovacs was dressed for the occasion, having put on a runner's outfit. Despite his 68 summers he is still an active sportsman, and led us running through the early morning streets of Brussels.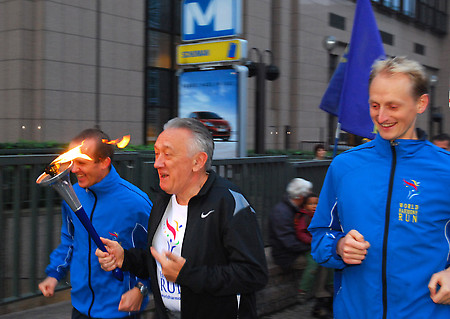 He used to be a top cyclist and runner in his youth and once competed internationally. Nowadays he enjoys playing tennis, although he is too busy during the week for any form of recreation. The job of Commissioner is one of tremendous responsibility. "My day starts at 7 a.m. and most of the time I finish work at 10 p.m." he told us. But in his demeanor and in his appearance there was not a trace of stress.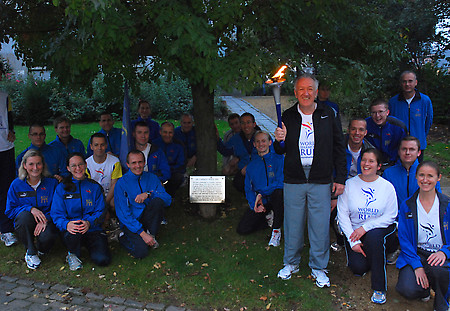 He was all smiles and very good-natured. Maybe his tennis playing on the weekends keeps his spirits up during the rest of the week. Or maybe he just enjoys his job.
Our first meeting was at the elementary school Claire Joie, which is French for "clear joy". They truly lived up to their name as the teachers and the students performed a dance for us which expressed pure joy.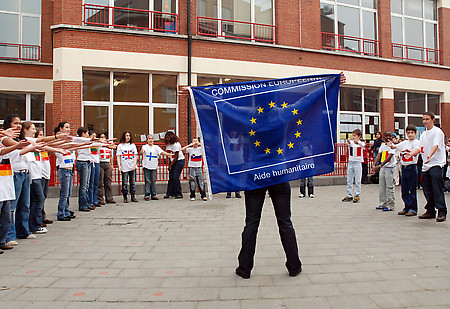 Mr. Kovacs gave a warm and inspiring talk to the children and urged them to cherish a united Europe. Then everybody ran together.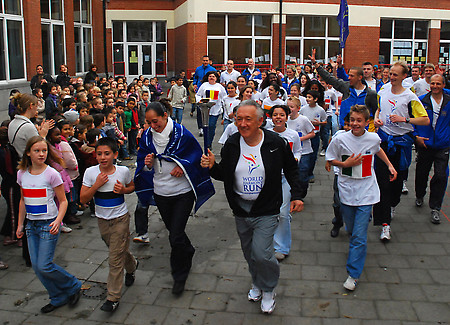 Next we visited Colombe de la Paix school, just as we did last year. Children and teachers were very enthusiastic.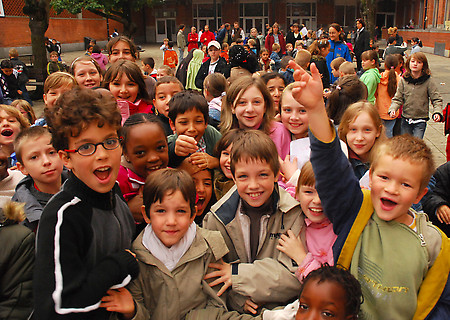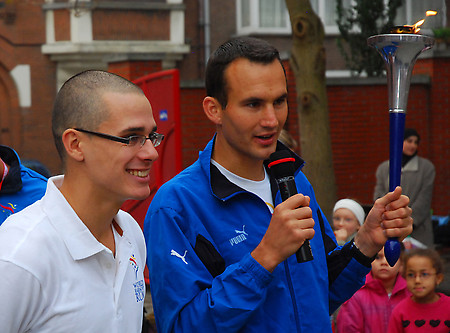 We were happy to have with us Jochen Tourlousse, who works in the European Parliament as a trainer in a fitness centre. He passed the torch to children and ran with everyone around the playground.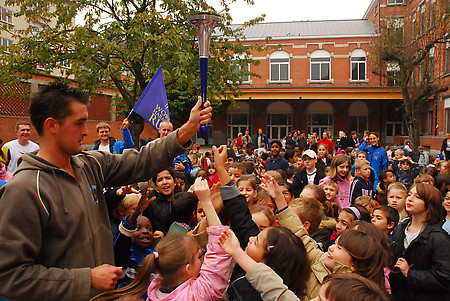 At 11 o'clock we were all set to receive several MEP's (Members of the European Parliament) who had responded on our invitation to attend a special ceremony entitled "The European Family: Harmony in Diversity". We had a nice set-up organized just outside the entrance of the Parliament building, including a small photo gallery with worldwide impressions of the Run.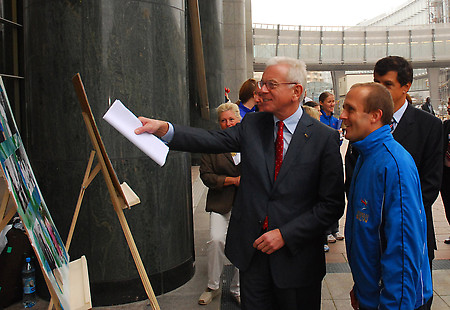 We were extremely thrilled that the President of the Parliament, Mr. Hans-Gert Pöttering had agreed to attend the ceremony as well. When he came in he immediately shook hands with everyone present. He is a very warm and kind-hearted person and also exudes strength and confidence, like a real father of the European Parliament. Mr. Pöttering gave a glowing and illumining speech in which he compared the vision and ideals of the World Harmony Run with those of the European Parliament.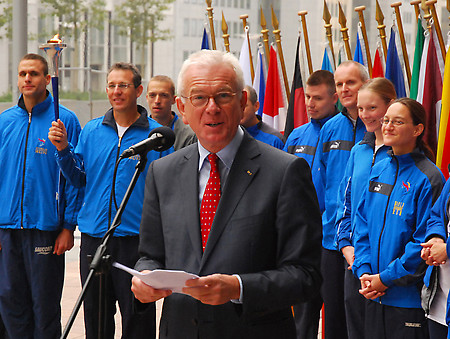 He saw many parallels between the two. His concern for a united Europe where more and more countries join in what he called the "European family" was heart-warming. "The World Harmony Run is a symbol of the fact that we all belong to a common European family," he said. "You are bringing the torch of freedom around the world, communicating the spirit of exchanging peace. I welcome your message. I hope the spirit of sports can inspire our relations worldwide," he added.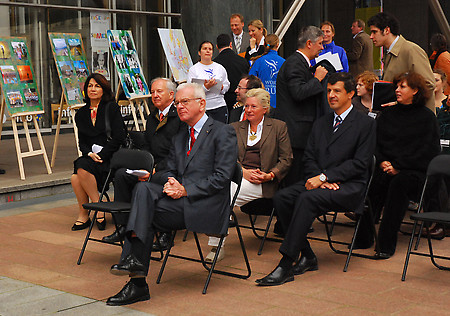 After that, all the MEP's present introduced themselves and gave encouraging, soulful and insightful comments on their ideas of world harmony and the role of our humble initiative. We had MEP guests from Slovakia, Czech Republic, Germany, France, Bulgaria and many from Hungary. Today's event fell under the patronage of another Hungarian MEP, Pál Schmitt, who unfortunately couldn't attend due to prior engagements.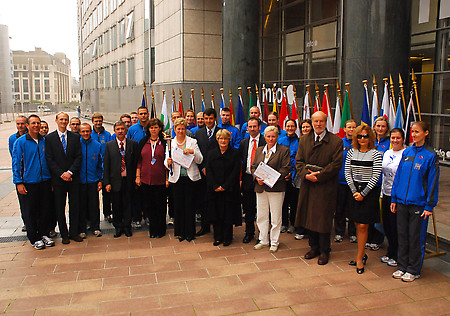 At the end we sang the World Harmony Run theme song for them. We even got them to run a few steps with us. Running has something magical to it: it always connects people in a very positive way.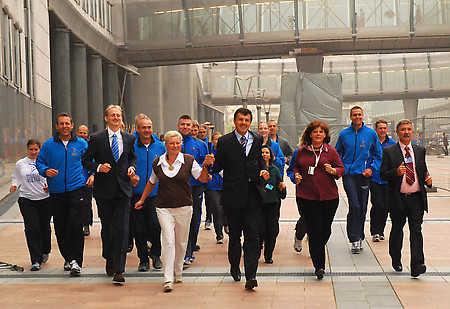 The politicians were simply beaming with joy, as if they were - for a few brief moments - seven year old children again. It was a meeting we will not forget. The MEP's seemed to enjoy it as well.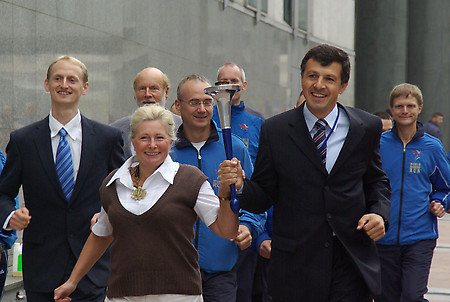 "You must come here every day!" Mr. Pöttering exclaimed. Well, that would be difficult, but we would love to come back again next year!
Following all the excitement we still had 45 kilometre to run to Antwerp City Hall.
On the way, some team members had an opportunity to visit another symbol of Brussels- the Atomium.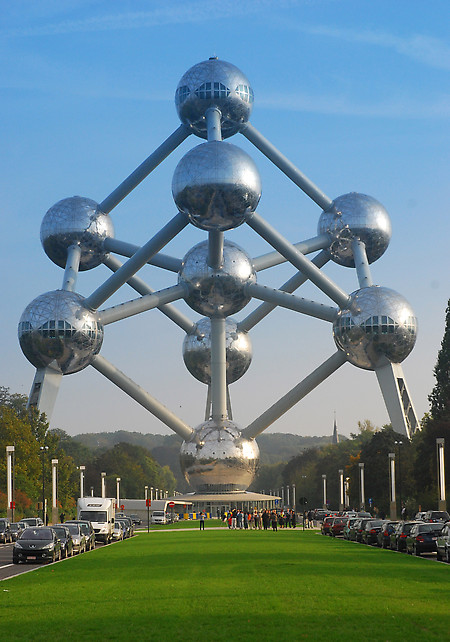 It is quite an amazing structure, built for the international exhibition 1958 and designed by famous Belgian architect, Willy Van der Meeren. It represents an iron crystal magnified 165 billion times, which makes it 102 metres tall. What a view, and tunnels inside! If you come to Brussels, don't miss this place.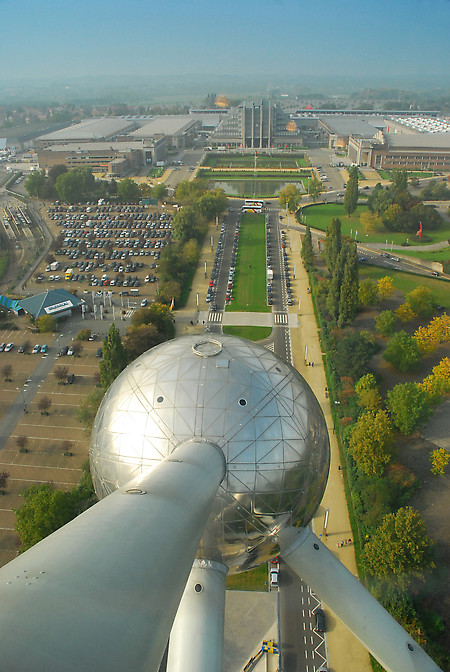 Running into Antwerp was a great way to see this historic town and the square where city hall is located is exquisite. Surrounded by two impressive buildings - a church and City Hall - a beautiful fountain brings the square to life. The Vice-Mayor of Antwerp graciously welcomed us and shared his city's aspirations in bidding for various upcoming sporting events.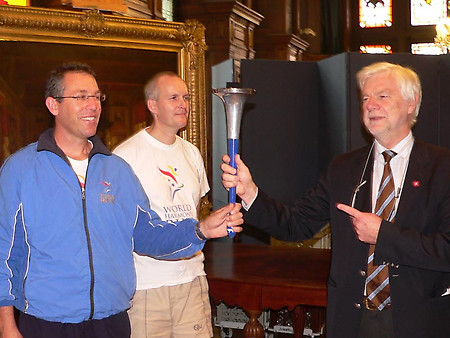 After some much appreciated refreshments, he took time to give us a fascinating guided tour of the City Hall, which was built in the 16th century.
Afterwards we had a chance to sample Belgium's famous waffles -- they were delicious!!
---
Distance: 48km
Team Members:
Salil Wilson (Australia), Dipavajan Renner, Edi Brodtrager (Austria), Ondrej Vesely, Rosta Vagner, Michaela Pokorma (Czech Republic), Balavan Thomas (England), Rabinath Delang, Pradeep Hoogakker, Roos de Waart, Peter Zuidema (Netherlands), Ieva Kurzemniece (Latvia), Akos Laczko (Hungary), Aleksej Egorov (Russian Fed.), Pierre Monfouga (France)
Harmonemail:
You can send a message to the runners or read the messages.
Gallery: See more images!