Belgium 5 October: Antwerpen - Breda
This morning we enjoyed an early breakfast together at a youth hostel in Brasschaat. As we came outside, we were welcomed by crisp morning air; autumn is really setting in now.
The distance to the first school was only a few hundred metres and we arrived at the Mater Dei Zegersdreef school at 8.45 a.m. The kids were waiting outside for us, looking very orderly in their blue school uniforms.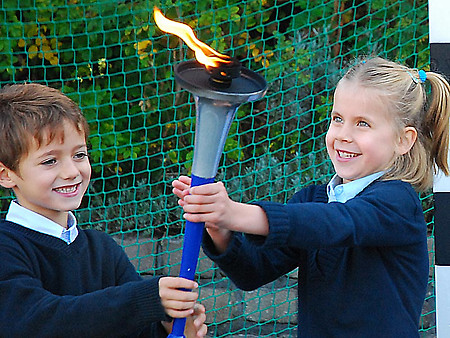 We passed them giving high fives and were directed with big smiles into the gym hall by Mrs. Simons, headmistress of the school. We played a game with the kids where they had to guess our nationalities.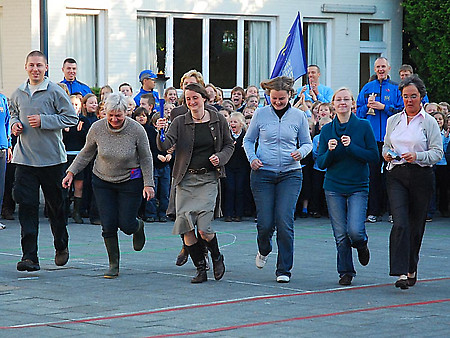 The kids had prepared a nice song for us, which they played accompanied by their teachers on guitar and flute. We then went outside and ran together with them, but first the teachers set a good example by running together to the other side of the schoolyard.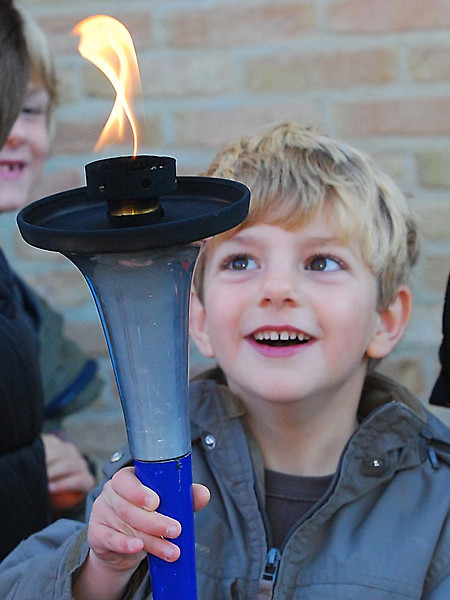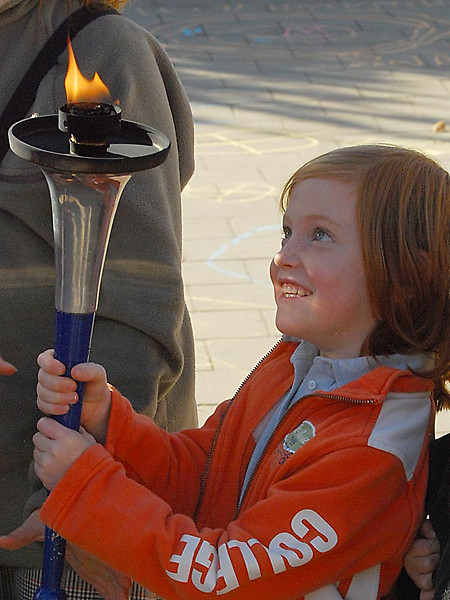 We waved these wonderful kids goodbye and covered the next three kilometres to the Mater Dei Bethanie school. The kids were waiting for us in a big circle in the schoolyard, and cheered us as we came in. At this school, they have a great system in which each older child takes care of a younger child the whole year through. It was very cute to see all these couples of kids taking care of each other.
We had our little ceremony outside, with the kids taking part enthusiastically in the different questions and games. At this school, some of the teachers and children proved to be good runners and they accompanied us for a few hundred metres on our way to the next school, the Mater Dei school in Maria ter Heide.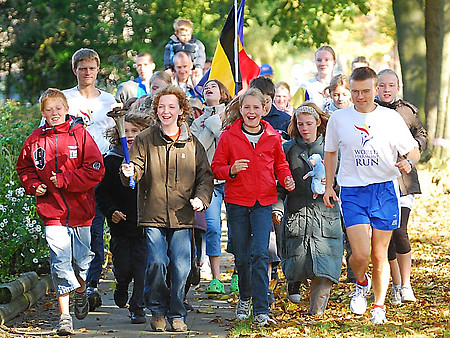 Here we took a beautiful picture with all the children and their headmistress Mrs. Claessens led them in a song they had prepared for us. Afterwards we were served some refreshments. And some of us took the opportunity to have our pictures taken with Winnie the Pooh!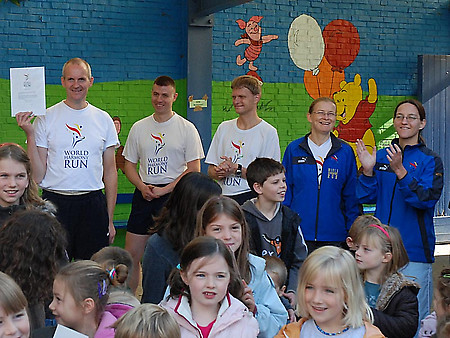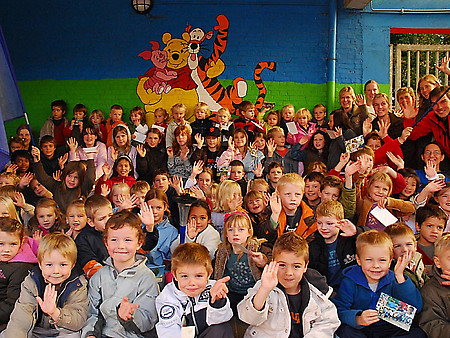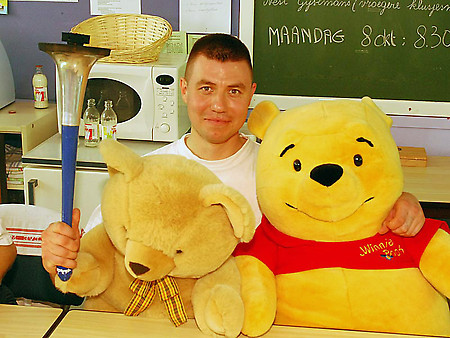 We ran on in nice sunny weather, entering into the Kingdom of the Netherlands where we shared a lunch supplied by Natudis and the Springwater Company, two Dutch companies. The rest of the day was an enjoyable run of an easy 30 kilometres to reach the KMA in Breda, which sponsored us to stay the night and enjoy a buffet dinner. Thank you very much!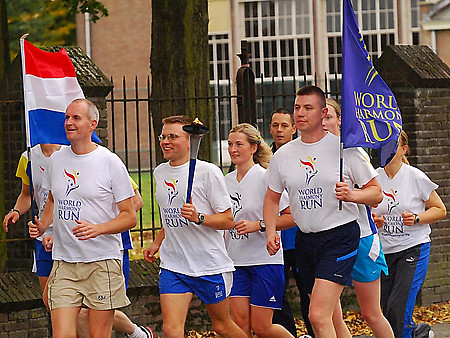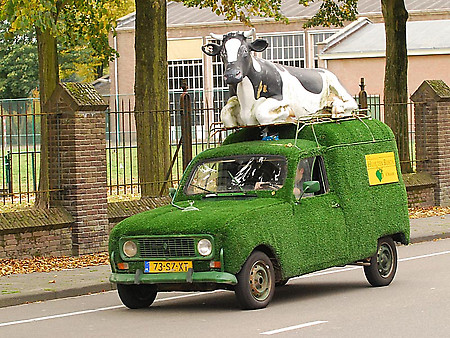 ---
Distance: 51km
Team Members:
Salil Wilson (Australia), Dipavajan Renner, Edi Brodtrager (Austria), Ondrej Vesely, Rosta Vagner, Michaela Pokorma (Czech Republic), Balavan Thomas (England), Rabinath Delang, Pradeep Hoogakker, Roos de Waart, Peter Zuidema(Netherlands), Ieva Kurzemniece (Latvia), Akos Laczko (Hungary), Aleksej Egorov (Russian Fed.)
Harmonemail:
You can send a message to the runners or read the messages.
Gallery: See more images!