Croatia 22 December: Zagreb
WORLD HARMONY RUN Ceremony
At Waldorf School Zagreb
22 Dec 2009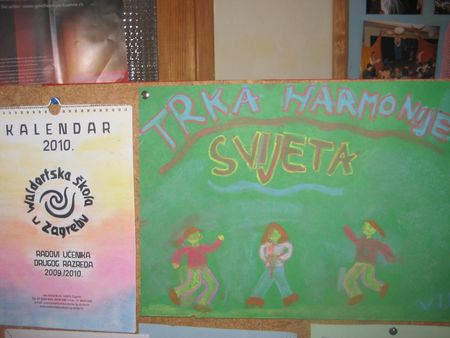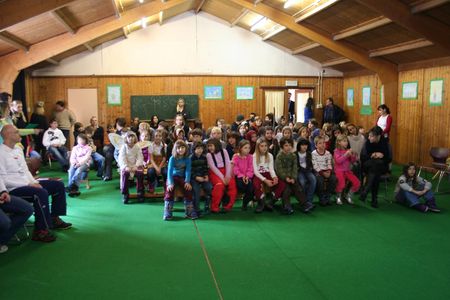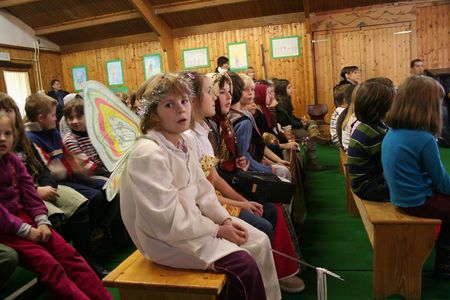 The World Harmony Run Ceremony once again proved as a great and fulfilling event, with lots of laughter, emotions and good vibrations all around.
The start was at 12 o'clock. Kids murmuring stopped as soon the last VIP guest entered, as they very well recognized Gordan Kozulj, who just finished a very exciting show Dancing with Stars, 2 days ago, winning great second place. However, they are very well aware of his swimming successes; he is a World and European swimming champion.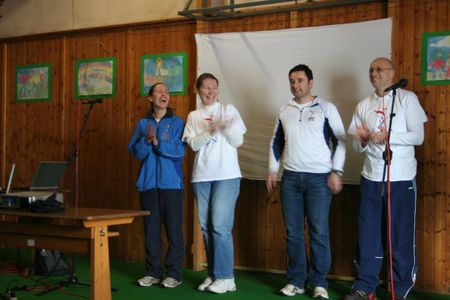 The program began by introducing the idea of World Harmony Run, what we do, and what are the goals of WHR, with an explanation that the torch is carrying a good will of thousands and thousands of people and kids coming from all over the world to the gathered people that day. The torch was put on a little stalk, thanks to amazing co-operation with Zagreb Waldorf School and their principle, Ms Lada Pekota.
After the World Harmony Run presentation video, the runners of the team introduced themselves to all the guests.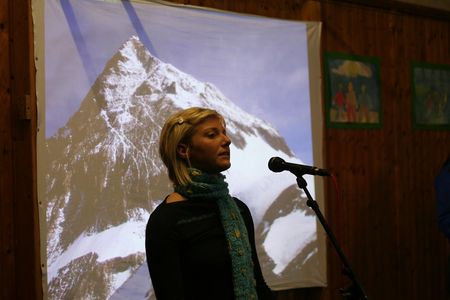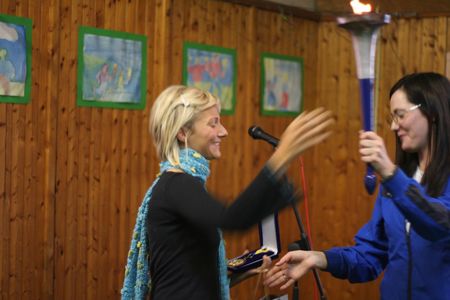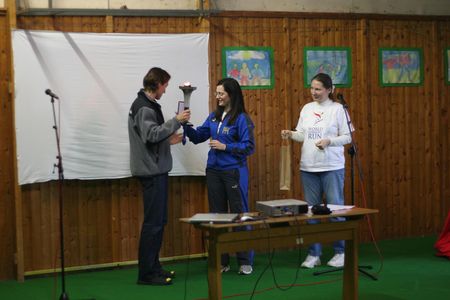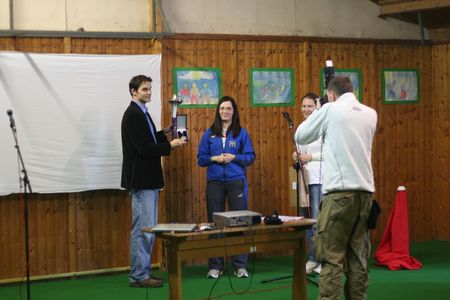 The VIP guests were really great; the variety of their astounding achievements amazed everyone. The first was, of course, Ms Ena Vrbek, a member of Croatian female alpinists on 'Everest 2009' expedition, a girls-only team that climbed on Mt. Everest in May 2009. She was one of the 4 girls in the team, that climbed Mt. Everest. That left everyone speechless, although the whole country followed carefully their expedition, for it is such a rare and specific one.
Mr Gordan Kozulj, as all VIP guests, held a WHR torch and received a WHR Torch Bearer Award.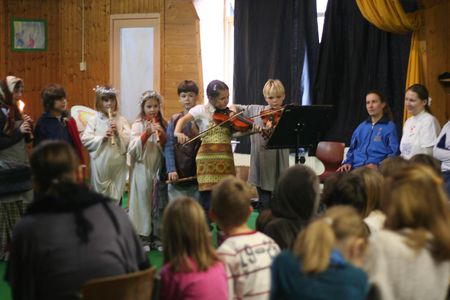 the kids performed...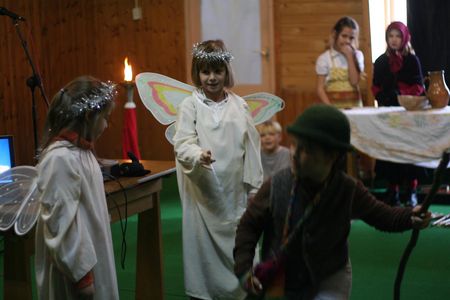 Mr Dejan Patrcevic excited all the audience, for many did not have a clue that Ironman is not only a 'mere' triathlon, consisting of swimming, biking and running, but many more meters and kilometers added to it.
Brothers Martin and Valent Sinkovic, just as Ena Vrbek, attended Zagreb Waldorf School, and that way all of them together proved as great examples to all the Waldorf School kids that were present there. Although they have gold already, won at World Rowing Cup in Germany, the fact that they are 'only' seniors, says something about what we all hope for - that we will hear of their success in years to come.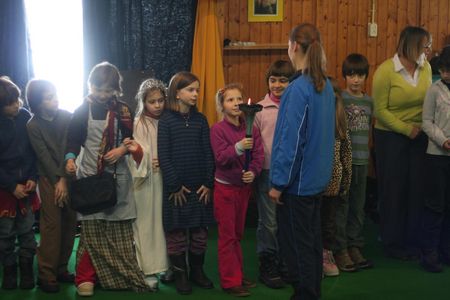 And the last, but not the least, a WHR friend became a great Mirolsav Ambrus Kis, too. He is a Croatian journalist who will hold a special place in cosmonautic history at the end of August 2010, for he is on a special project. For one thing he will be the first Croatian to travel to space, but then, the project he is in aims to popularize space tourism, that is widely spreading as we speak.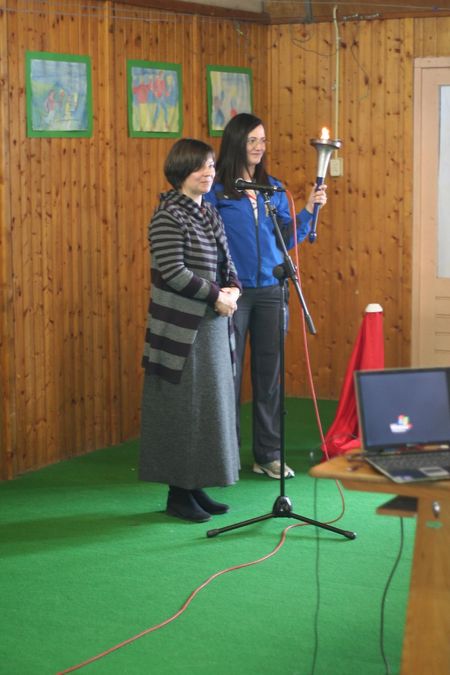 The most special thanks went to Ms Lada Pekota, the Waldorf School Principle who was so nice, and who said that the biggest fight one has is the fight inside oneself and that it has to be won. All the sportspersons nodded at that, including WHR runners. ☺
And finally, one of the sweetest parts was when at the end the children made a circle and led by a pupil Bojan on piano, sang the WHR hymn in a soulful way. Of course, as the award they received not only the applause but so many sweets and candies that KRAS donated just for them.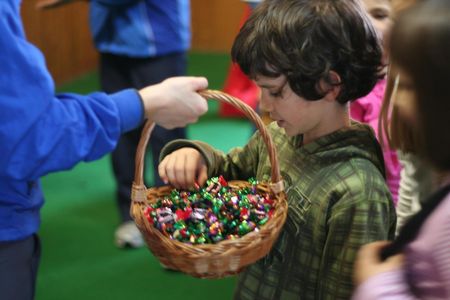 The runners had a nice treat too, home-made sweets and pies, made by Waldorf School chef. Mmmm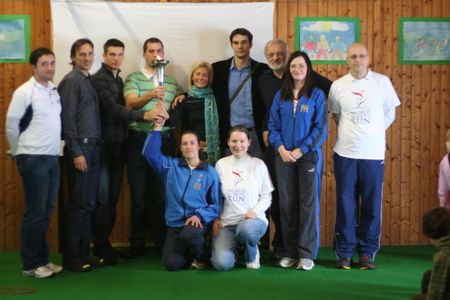 A great and fulfilling experience indeed!
---
Harmonemail:
You can send a message to the runners or read the messages.
Gallery: See more images!