Kenya 20 November: Nairobi
We travelled to Kenya via bus across the Namanga Border, and arrived in Nairobi on the night of the 19th November, 2006, after a journey of six hours. A good friend of ours, a taxi driver - Paster - who was already at home and in his pyjamas, came to meet us and took us to the YMCA.
On Monday the 20th November, we paid a visit to the Mayor, CLLR Dickson Wathika, and other councillors at City Hall.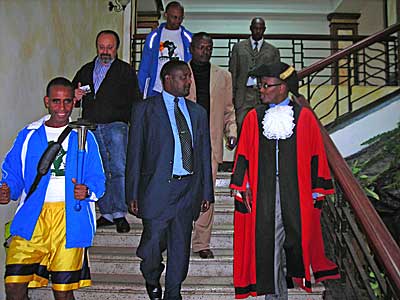 The Mayor, who was initially in civilian clothing, happily changed into his ceremonials, and held the Torch on the steps of City Hall. There he gave us a message of peace, goodwill and friendship, and left to continue with his busy schedule.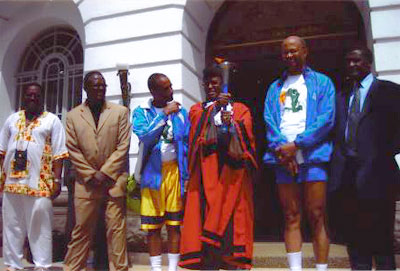 CLLR Mugabe Were Melitus, greeted us at the steps and introduced us to some children from an orphan school outside Nairobi. They were brought into the City Centre especially to meet the World Harmony Run runners.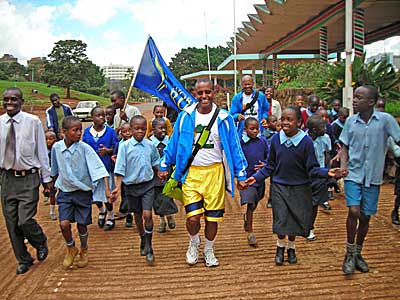 Initially we walked and ran with the children and into Uhuru Park in the centre of town. There we held a small ceremony, passed the Torch around and were entertained by the children with a very beautiful dramatization dance.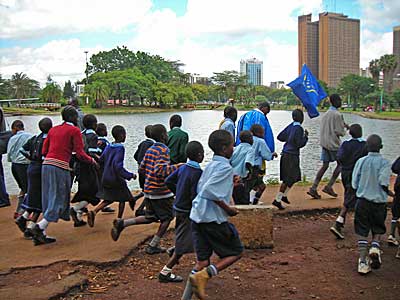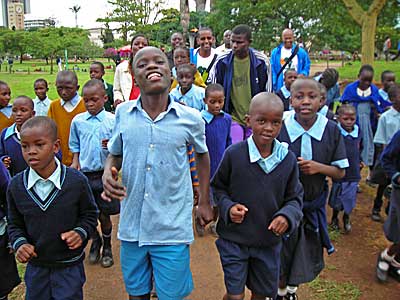 The teachers were very happy to be given the opportunity to come to the city centre, as the children could not normally afford it. Their transportation fees were covered by the City Council and ourselves. The ceremony was then concluded.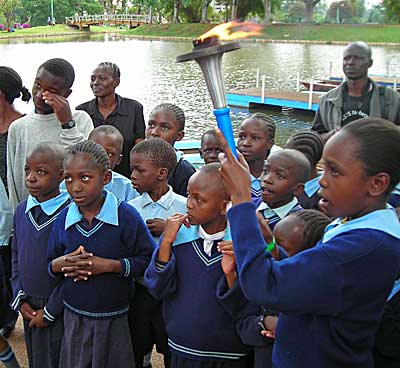 We wery quickly ate, and proceeded to the AGA Khan Academy, and met with the school Head, Liam Clifford, and a mixture of children from the High plus Primary school. Once again we held another ceremony, and presented the World Harmony Run.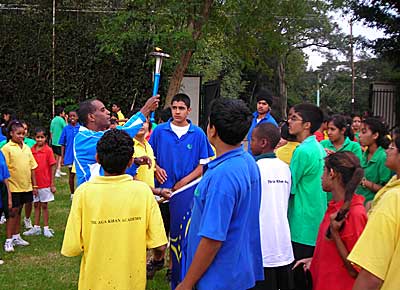 On the following day we were met by the Kapenguria team who visited Tegla La Roupe at her Peace Race. It was Dipavajan, Hutashan, Marjan, Ondrej, Shyamala, Davila, Angela and Narmada. We proceeded to a Hotel where we met Paul Tergat, World Marathon record holder, who gave us a beautiful interview. We afterwards proceeded to the Tegla La Roupe's Peace Foundation office, where Tegla - one time New York Marathon winner - came and did an interview with Dipavajan, Hutashan, and Narmada. We concluded the day by tending to our travel arrangements, then headed to Nairobi airport and proceeded to Addis Ababa, Ethiopia.
---