Romania 21 July: Border Bulgaria / Romania - Eforie Sud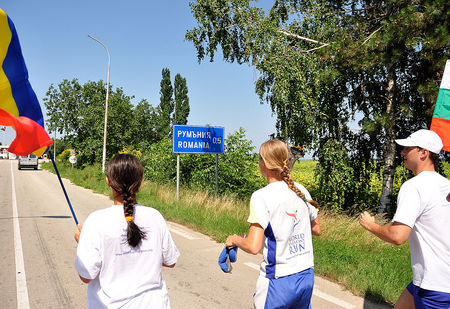 ...the last kilometres in Bulgaria. We said goodbye to our Bulgarian organisers. Again, all our gratitude for the great hospitality and the good time we had!
... ultimii kilometrii în Bulgaria. Ne-am luat rămas bun de la organizatorii din Bulgaria. Ne oferim întreaga recunoșință pentru ospitalitatea arătată și pentru timpul frumos petrecut împreună!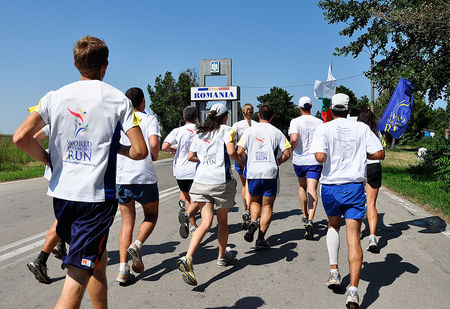 Welcome to Romania!
Bun venit în România!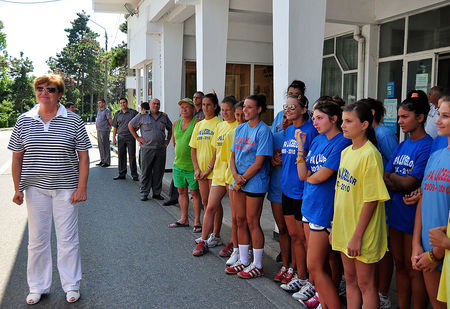 As we arrived at the border crossing, a group of athletes was already waiting for us; the girls are the national handball champions.
Când am ajuns la graniță, un grup de atlete deja ne aștepta. Fetele erau campioane naționale la handbal.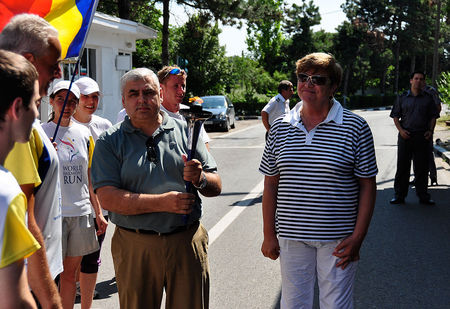 The Mayor of Limanu and the representative from the Constanța, Elena Frîncu sports directorate welcomed us...
Primarul din Limanu și directoarea Direcției de Sport Constanța, Elena Frîncu, ne-au primit...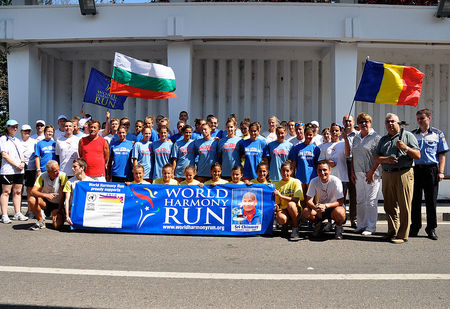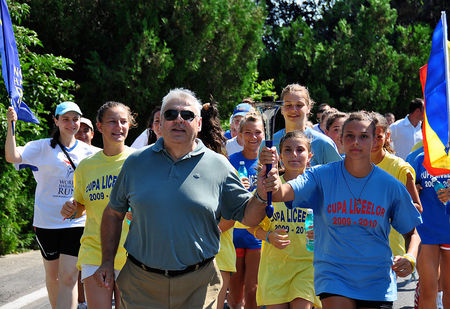 ...after a group picture, we started our journey into Romania.
...după o poză de grup, am pornit în călătoria prin România.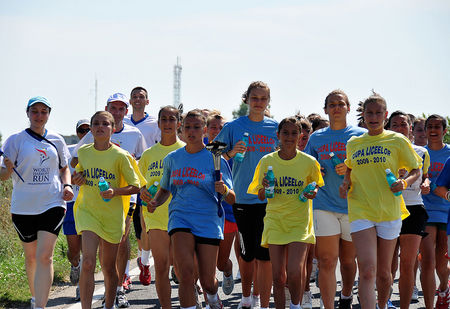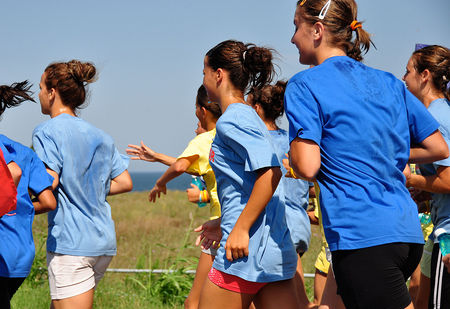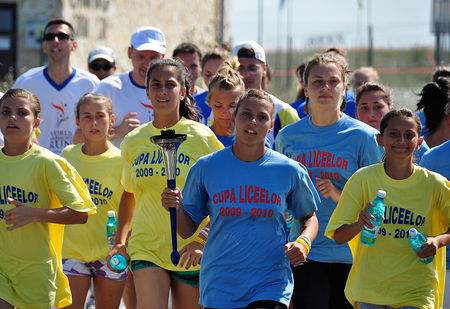 The sun was burning down, but the girls showed great spirit and kept a good pace...
Soarele ardea, însă fetele au dat dovadă de tărie și au păstrat un ritm foarte bun...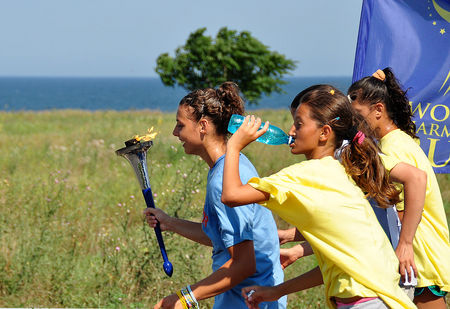 We were running until 2. Mai (that's not the date, but the name of a village...). Thank you for running with us!
Am alergat până la 2 Mai. Mulțumim fetelor pentru că au alergat cu noi!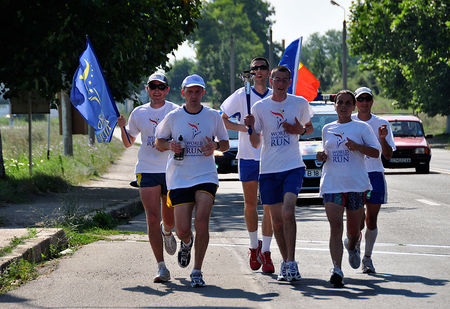 We continued to Mangalia: our Romanian team in full action!
Noi am continuat spre Mangalia: echipa română în acțiune!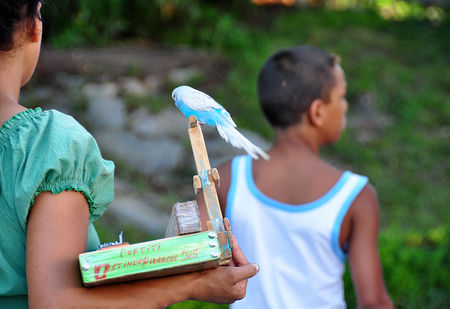 ..spectators...
...spectatori...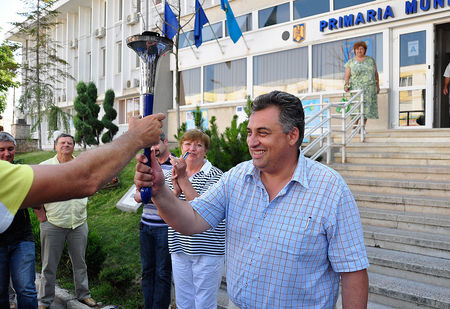 The Mayor of Mangalia received the torch and ran a few symbolic steps for harmony!
Primarul din Mangalia a primit torța și a alergat câțiva pași simbolici pentru armonie!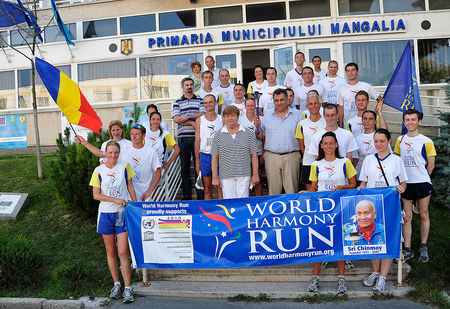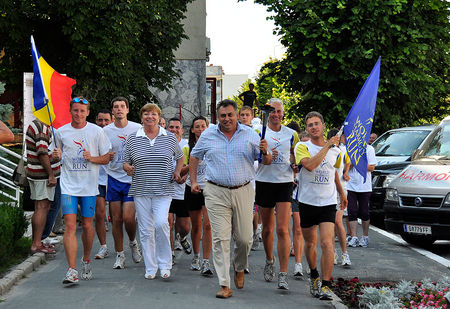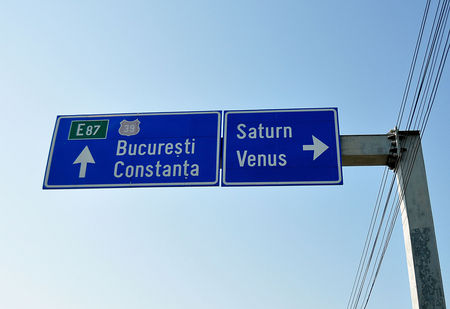 ..we didn't realise that we are that close...
...nu știam că cele două sunt atât de apropiate...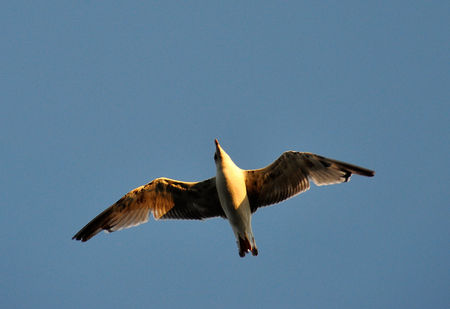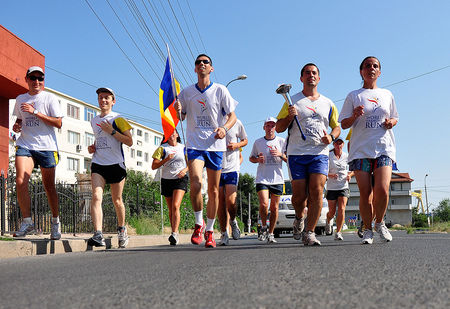 After a few more hot kilometres we reached Eforie Sud.
După alți kilometrii fierbinți, am ajuns în Eforie Sud.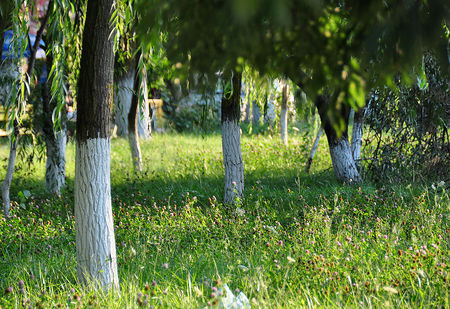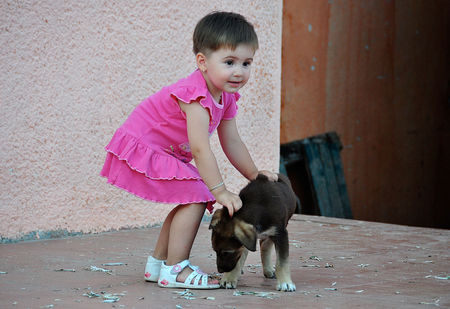 We went to a children's camp, which was also our accommodation place.
Am ajuns la o tabără de copii, unde am fost și cazați.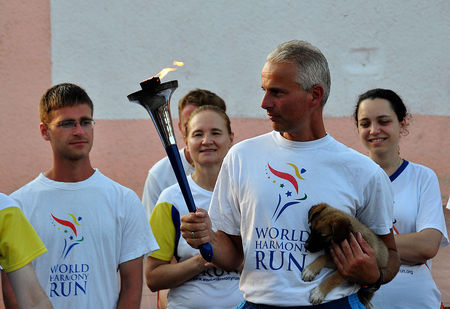 ..an unusual presentation...
...o prezentare neobișnuită...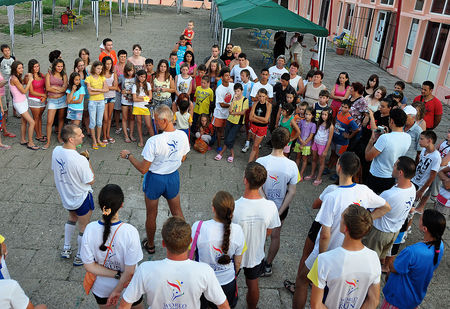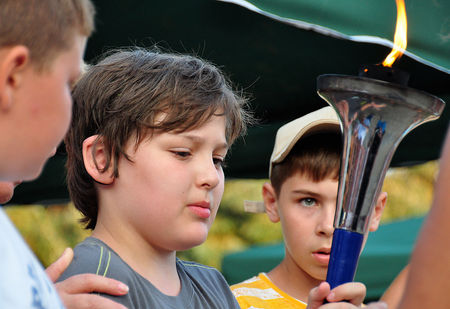 ..the kids passed the torch and offered a wish for harmony...
...copiii au ținut torța și și-au pus o dorință pentru armonie...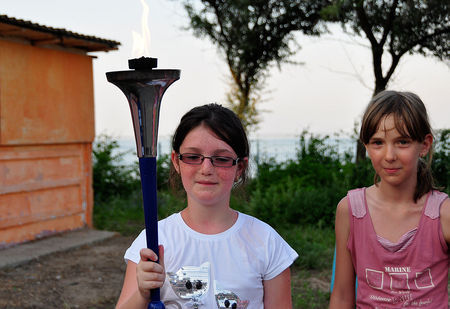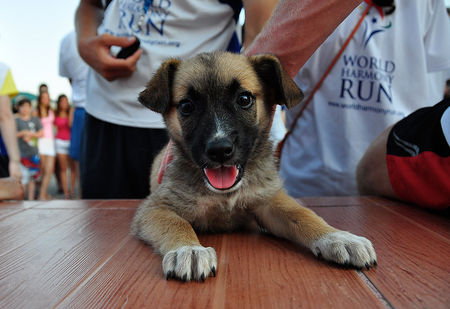 ..backstage...
... in culise...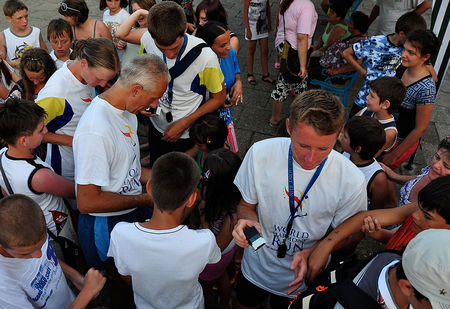 The obligatory stamps ended a long day...
Ștampilele au încheiat ziua cea lungă...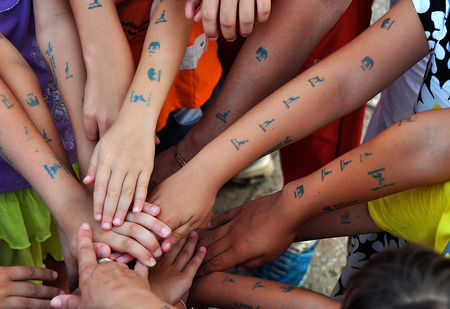 ..a nice collection...
... o colecție impresionantă...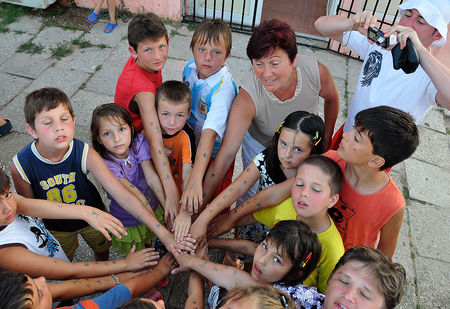 ---
Distance: 37 km
Team Members:
Dipavajan Renner (Austria), Roos de Waart (Netherlands), Zach Saltzman (USA), Manjula Lecordier (France), Zoltan Theobald (Hungary), Natalia Lehonkova (Ukraine), Dima Lehonkov (Ukraine), Ulvis Kassalietis (Latvia), Gints Peleckis (Latvia), Himadri Kavai (Hungary), Suzana Ognjanovic (Serbia), Bogdan Copil (Romania), Luiza Hariton (Romania), Supriya Pantiru (Romania), Adrian Papuc (Romania), Mihai Dragnea (Romania), Szilard Szilveszter (Romania), Attila Puskas (Romania)
Harmonemail:
You can send a message to the runners or read the messages.
Gallery: See more images!