Serbia 27 May: Beograd - Srpska Crnja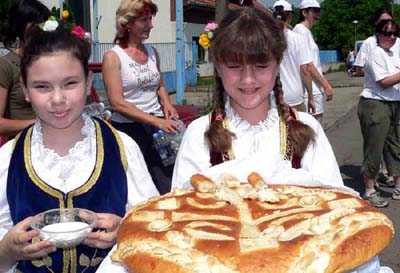 Today unfortunately is our last day running through Serbia. Throughout our exhilarating journey through the country we have been met with great hospitality and kindness. We would like to thank especially two health foods producers, 'Beyond' from Nis and 'Hema-Kheya-Neye' from Beograd, who supported us along the road with amazingly delicious meals that sustained us all.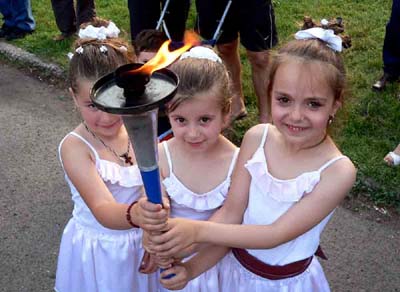 On our route we were helped by many runners. Young and old alike!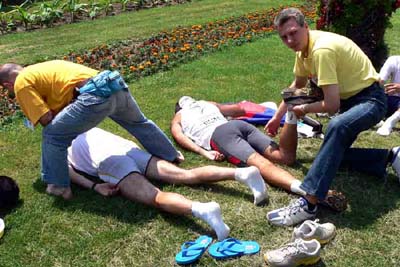 A special mention to our two top ultramarathon runners from the Sri Chinmoy Marathon Team, Namitabha Arsic and Ayojan Stojanovicers, participants in the most difficult race in the world - 3100 mile race in New York. They did make the run for the Team much easier. With all the runners in the Team the meetings with children and city officials went very joyfully.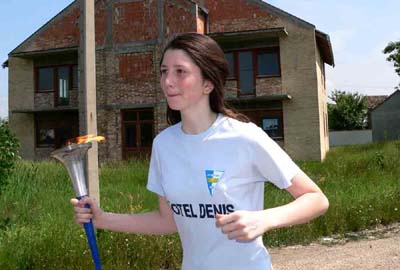 Some of the good Serbian specialities were the visits to hospitals, senior citizens homes and houses for retired people. And I never visited so many schools in my life in two days, maybe twenty schools around Nis and Beograd just on Friday and Saturday. We felt that their welcomings were very spontaneous and sincere.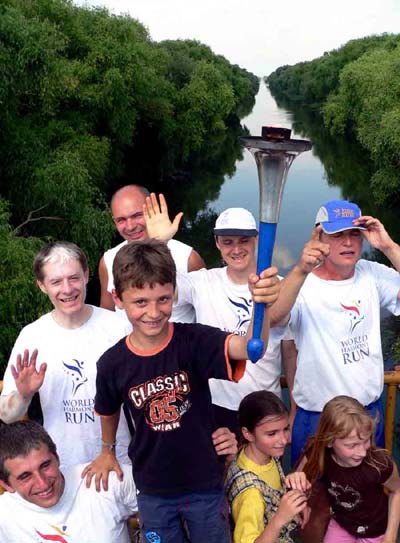 Who could expect a great participation on a day like Sunday when everything is closed? But here comes a surprise. The director Dusco Lazich in "Djura Jaksich" school in Perlez had especially changed the date of the school celebration so that they could receive and celebrate together with us. Hundreds of children, some dressed in costumes for floor gymnastics were ready to perform for us.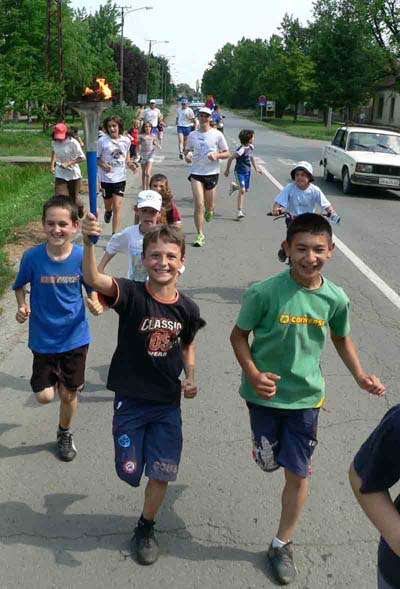 In Zrenjanin the World Harmony Run became part of their city holiday. On the road many young athletes joined us, including the last participant in the relay - a lady in a wheel chair. Our facilitator and translator on stage was a clown with pyjamas, a red nose and subtle whisky aroma around him (maybe after another party earlier that day). Nevertheless, the people who were there celebrating from 9 am in the morning, were still eager to hold and run with the torch around 12 am. Better late than never...? Mr Misa Ivkovich, Secretary for Sport helped to organize the event with all the local runners in the town. A massive thank you to him!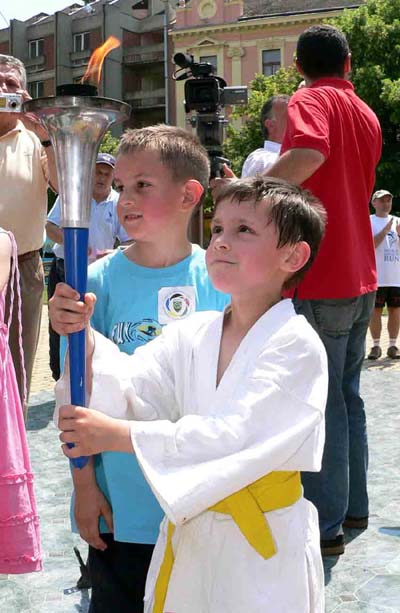 In Zitiste we had a warm welcome from the mayor Zoran Kasalovich.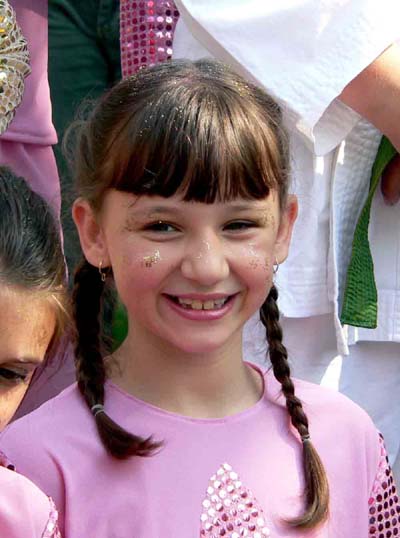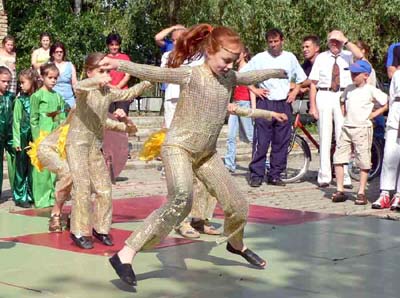 A caterpillar made of green girls entered in an apple accompanied by disco dance music. Glimmering golden and pink girls with flowers on their hearts were some of the best trainees of the local dance school Falcon who performed for everyone this afternoon in Banatsko Karajordjevo.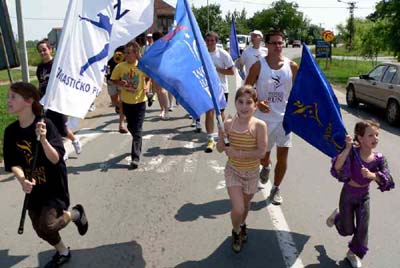 The manager and fitness instructor of Falcon Dancing School and his friends accompanied the run the whole day long. His special talent and encouragement was clearly manifested in every arrangement. We thank him for the joy and enthusiasm that made this event happen.
Serbia sent us with her last and most glorious ceremony in Srpska Crnja. All the villagers and and their vice mayor, Mr Cvijan Milosevic had gathered to meet us.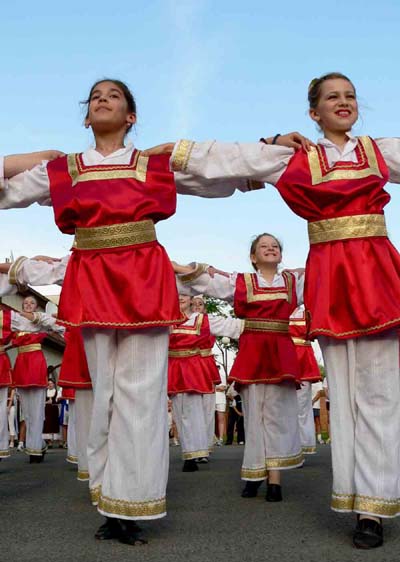 This is Balkanica - a Serbian group with a very high class performance. They won a frist place in a prestigious European Dance Competition recently. Unfortunately you can not hear the drums rhythm during their dance... Bravo!
The Castle was the name of the motel, where we had to stay overnight, only a kilometre away from the border. This was our last dinner with many of our Serbian friends. Rarely have you seen seven support cars driving on the highway with the international van.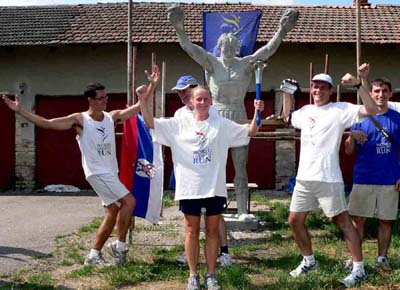 So many people with goodwill on the road; we had excellent runners, photographers, coordinators, hosts, cooks and well wishers.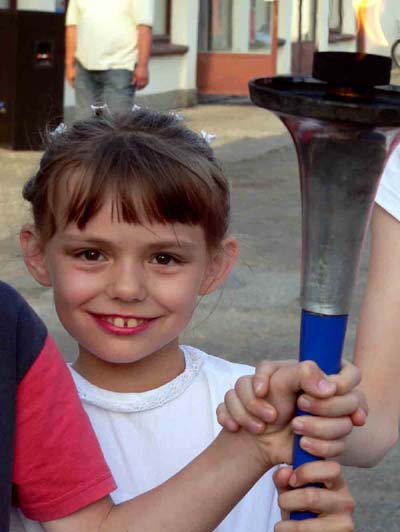 Viva la Serbia!
---
Team Members:
Pierre Lantuas Monfouga (France), Valentine Bebik (Ukraine), Janos Derekas (Hungary), Jaromir Horejsi (Czech Republic), Natalyia Lehonkova (Ukraine), Rosta Vagner (Czech Republic), Mariya Latinova (Bulgaria), Toni Dabic (Macedonia), Dejan Kljajic (Bosnia), Safet (Montenegro).
Harmonemail:
You can send a message to the runners or read the messages.