Slovakia 6 October: Zilina -Trencin
The hostel room is chilly this morning, which brings a certain reluctance to get out from under the warm cosiness of the bed covers. Looking out of the window you can't see far. A thick fog resides about Zilina.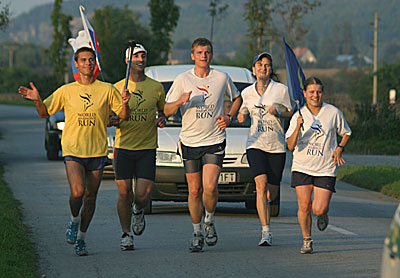 Running gear still wet after yesterday's washing, I join our team out of the city hoping that the sun will come out from its cloud cover. Its hazy blaze gets stronger and stronger and after a quarter of an hour the sun pierces the clouds. From here on the day just gets brighter and brighter and sooner than we know it we're basking in an Indian summer. The deciduously wooded hills glitter in the sun-light with dabbles of autumn colours amidst the light green. It feels incredible to have this kind of summer heat in October, especially considering that even in the beginning of August we had quite cold weather in Poland.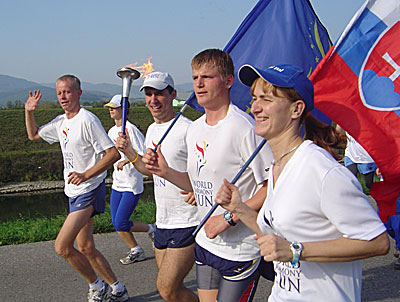 Our surroundings are exquisitely scenic. At one point we run along a wide river. The water flows so serenely that the opposite shore is reflected beautifully in it, the hills becoming rounded islands floating in a water sky, with colourful mirrored villages and an old fashioned locomotive train chuffing along. Waiting for the runners you can sit on the river bank amidst the tall dry grass and bright riverside flora, rustling in a light warm breeze, a wide trail of sunlit gold before you traversing the river. A small heaven on earth.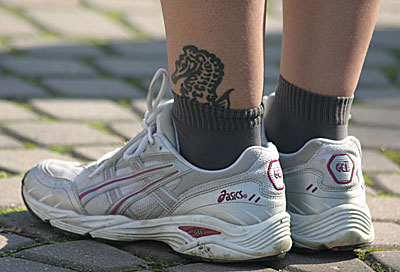 After some good running we have time to take a rest on a sloping lawn. Some lie down to take in the sun, others have a picnic, Dipavajan and the organisers have a look at the maps and schedules, and Petar puts out his colourful plastic skittles to play some down hill bowling with some of the boys with his bright blue plastic ball.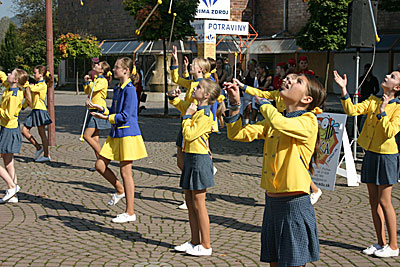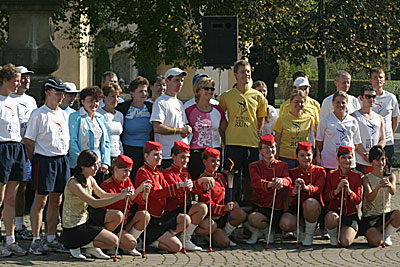 Sticks are twirled and tossed and uniforms sparkle in blue, gold, pink and yellow as local girls dance majorettes for us in Puchov...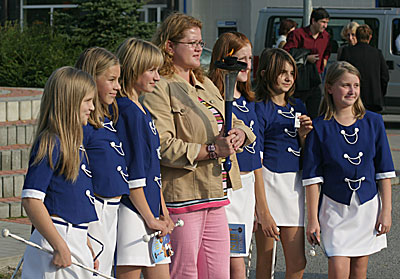 ...and Ilava.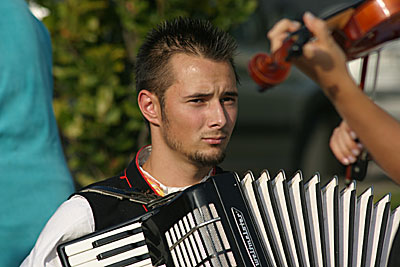 They are very cheerful, beaming beautiful smiles. In Dubnica we run with sporty youths, and one of them is actually the current Slovak champion in 600 metres. In Trencianske Teplice the mayor shortly runs with us and provides us with a famous regional sweet resembling Elven Lembas bread. Here we also meet and run with the Olympic boxing champion from the Olympics in Melbourne 1952.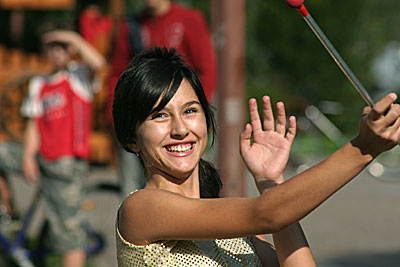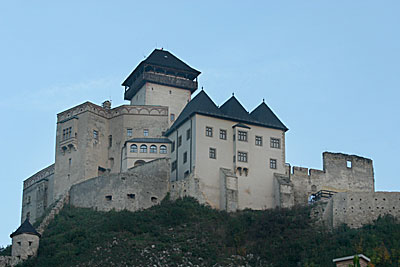 Trencin shows us that Elvis is still alive and in top form. Local break dancers also give a performance of their skill.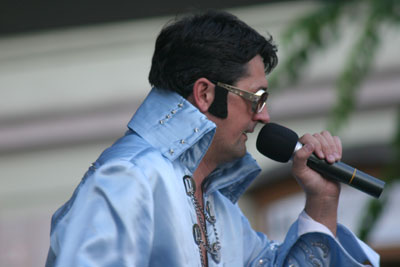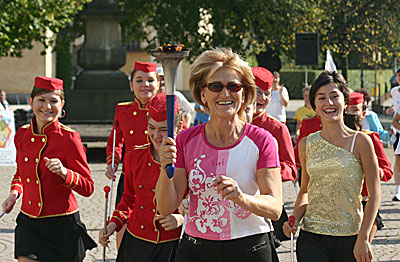 In all the places we went today we were treated with such enthusiasm and joy that it really left a happy feeling in our hearts.
---
Distance: 92km
Harmonemail:
You can send a message to the runners or read the messages.