Slovenia 30 April: Spielfeld (Austria) - Kuzma (Slovenia)
As of today we split up the team into two parties. One van travelled all the way to Greece to run from there to Turkey and Bulgaria, while we went to the Austrian border to start our descent along the Dalmatian coast while running through the former Yugoslavian countries. We will meet each other again in Serbia on the 24th May.
Our run started in Spielfeld, Austria, from where we had our maiden run of two kilometres to the Austrian border. Actually our maiden run took us in the completely wrong direction, up the mountain and away from the border, but fortunately an alert organizer caught us before we ventured further into the unknown. We were driven back and put on the right track, all in good cheer needless to say.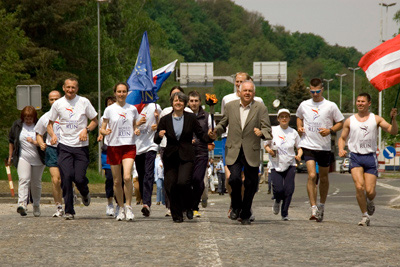 On the border the mayors were awaiting us, one from the Slovenian border town of Sentilj and the other from Spielfeld. We knew them well for it is the third time they have received the World Harmony Run and we were greeted like old friends. We were treated to fruit and homemade organic apple juice. After exchanging pleasantries and singing our World Harmony Run anthem we went on to brave the seventy or so kilometres still ahead of us.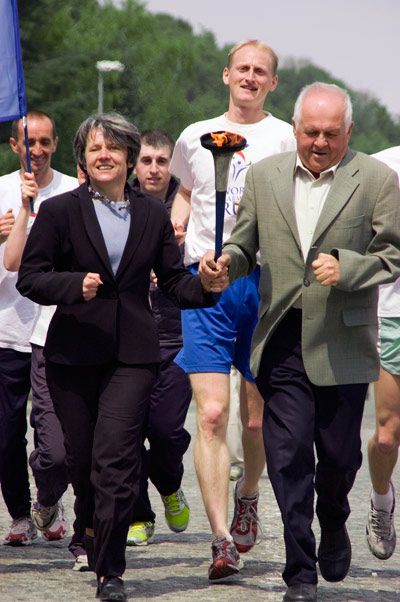 Slovenia is a country of gently rolling hills as we discovered during our first miles, being spared their more vigorous mountains at present. In the rural town of Apace their newly installed mayor, Dr. Darko Anzelj, awaited us. Formerly the national director of the Slovenian police force Mr. Anzelj has now taken the prime seat in the town hall of Apace, which came into being only this year.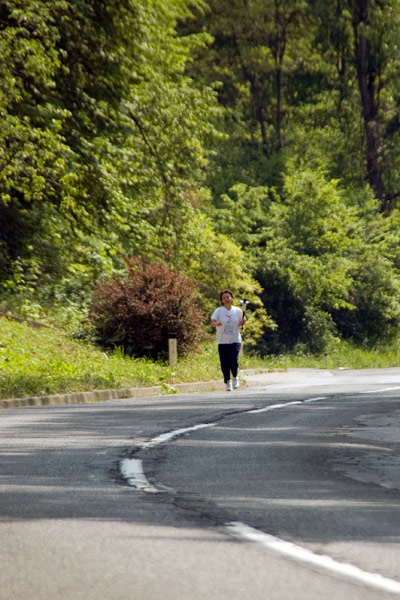 The local soccer team (NK Apace) accompanied us out of town for a few kilometres, their fresh mayor leading the way. Alas, the conversation about their national soccer team was not sparked by much enthusiasm, as one of the soccer players assured us they were "really bad", although they had recently stood their ground admirably against Holland and only conceded a one to nil defeat.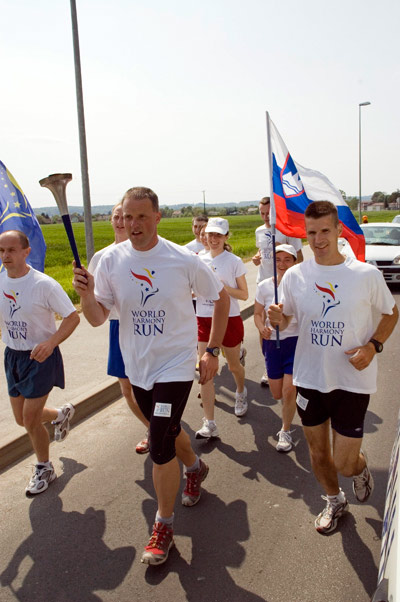 Eleven kilometres later we had a small reception at a very welcome location: the ice-cream parlor of Gornja Radgona. The vice-mayor in his contagious enthusiasm, and despite a very modest audience consisting only of the local customers of the ice-cream parlor, had erected a full-blown sound system and his booming voice, quite redundantly amplified, welcomed us to his community.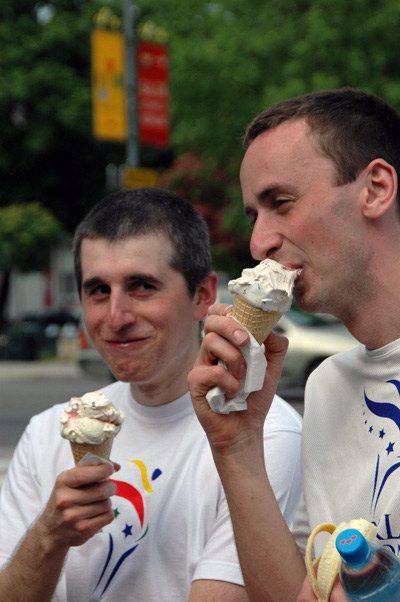 His speech overflowed with superlatives of goodwill and as if that was not enough to win over our hearts he treated all of us to ice-cream afterwards. The local customers were also roused from their sorbets to hold the torch as the vice-mayor excitedly went round with the microphone to extract their wishes for world-harmony.
On our way to the next meeting a car full of Austrian runners and members of the Sri Chinmoy Marathon Team caught up with us to reinforce our ranks. Like this our team is every day changing and growing with new faces. Tomorrow we will again receive a fresh supply of Austrians and Hungarians as well.
About two kilometres before the town of Radenci, which plays host to an international marathon on May 19th, several members from their local marathon running club also joined forces with us. Among them was a man who had already seen 76 summers yet is still so fit he has registered his name in the upcoming marathon.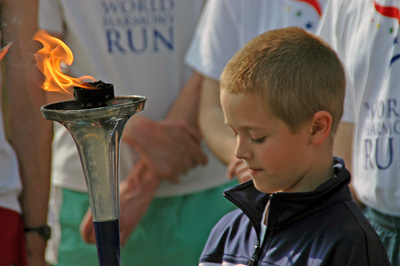 We were told that one elderly woman of the same club running with us was the runner-up in her age category in the world-championships mountain running which took place last year in Italy. The mayor of Radenci, Mr. Mihael Petek, welcomed us with warm words, echoed by the city representative for sports, Mr. Miro Madon, who was also present.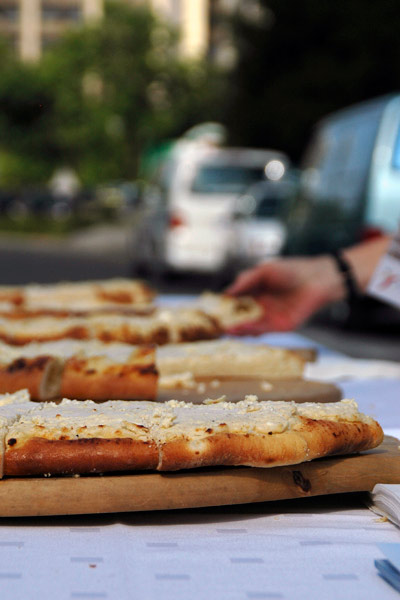 Before we sang them our song we made a humorous remark warning them that we are runners first and only then singers. Yet after we finished Mr. Madon indulgently remarked that if our singing only comes second our running must be extraordinary.
Our last meeting of the day took place in Cankova. Rarely have we experienced such a warm-hearted and generous welcome as their mayor, Mr. Drago Vogrincic. He praised us repeatedly and sincerely, which humbled us greatly, and from the depths of his heart was grateful for our visit to his community.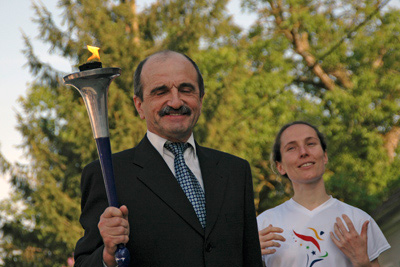 His soul-stirring speech was full of genuine aspiration and determination to strive for the betterment of our society and world. He treated us to pasta and salad and told a few amusing and heartfelt anecdotes from his life in Cankova. Our hearts were warmed by his generosity and goodwill and we assured him we would carry his inspiration with us on our long journey through the European continent.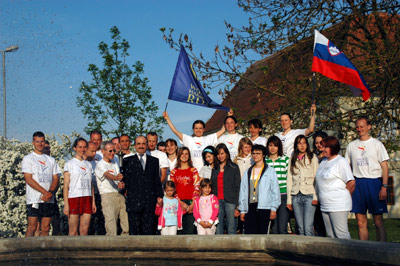 ---
Team Members:
Martin Leitner (Austria), Hidde Abhinabha Tangerman (The Netherlands), Jana Chochlikova (Slovakia), Tatyana Chochlikova (Slovakia), Frank Foerster (Germany), Predrag Trkulja (Serbia), Petr Machacek (Czech Republic), Pratul Halper (Austria), Conny Schinke (Germany), Andrejka Fidrmuc (Austria), Senad Mehikic (Bosnia), Janusz Wiewior (Poland)
Harmonemail:
You can send a message to the runners or read the messages.