Slovenia 3 May: Novo Mesto - Ljubljana
After waking up in our accommodation in Novo Mesto and feeding the local horses we were back on our way. Here we see Petr increasing his popularity with his equestrian friends.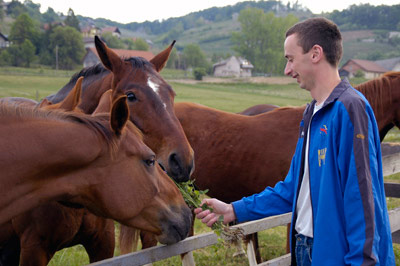 We had our first Slovenian school meeting this morning at the "Osnovna sola Grm" school in Novo Mesto.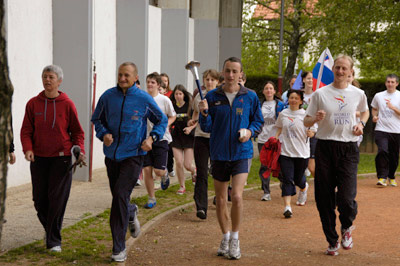 The children were awaiting us already as early as 8:15 a.m. We tried to kindle their enthusiasm for the Run, yet when asked who would like to be a member of our World Harmony Team only one brave soul responded. We blamed their initial shyness on the early hour, as we also fought with our early morning drowsiness. But when their teachers were summoned to run three laps around them their cheering and glee filled the hall. We were just so happy to take the torch to an elementary school and have children participate, for they are our favourite participants.
After the school we also had a short meeting with the mayor of Novo Mesto, who presented us with a beautiful archeological vase from the region.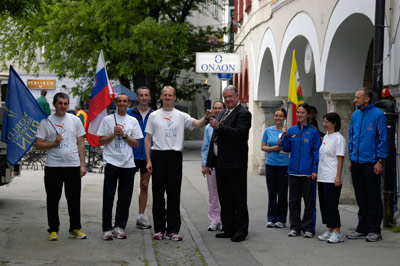 Our next stop was at the town of Dolenjske Toplice, a picturesque little town with about 3,500 inhabitants and a most kind-hearted mayor, who despite his crisp and tidy dress and shoes obliged to accompany us running to the meeting place.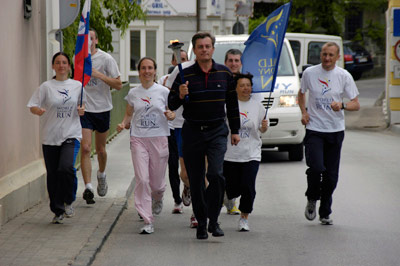 He spoke perfect English and translated his encouraging speech himself so we all could understand. A local television station interviewed us afterwards. Then the mayor treated us all to drinks in a nearby cafe. We learned that this is already his third term as mayor and that he also owns a company that produces and exports furniture. Quite a busy man indeed! We were grateful to him for taking time out of his busy schedule to receive us, "like real friends" as he himself so aptly put it.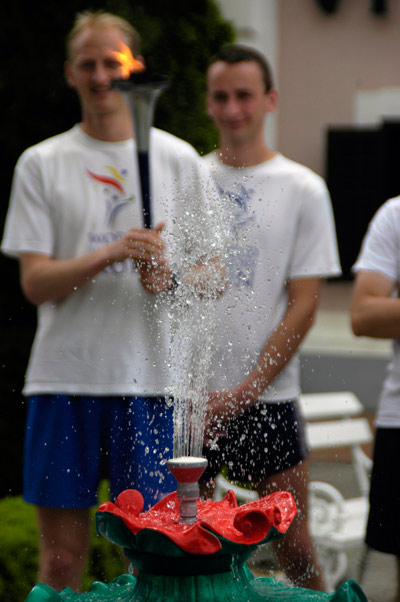 The World Harmony Run has many supporters. Some look really natural as they hold the torch, while others look rather, ehm, wooden.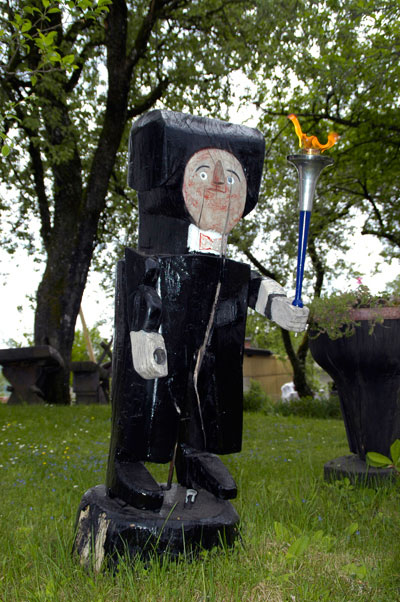 Horses are our friends. We value them and they value us. At least this little guy looks quite pleased with us!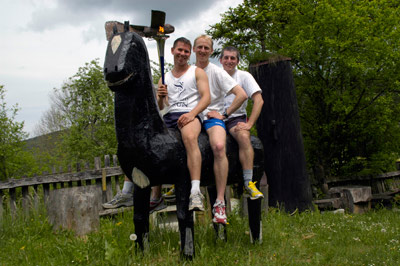 The weather broke as we came to the town of Ribnica and as we greeted the children from the local elementary school rain came pouring down in bucketfulls. It was a welcome change to the long drought which held a big part of Europe in its grip the last few weeks. Despite the rain we had little difficulty in goading the children to run around the parking lot.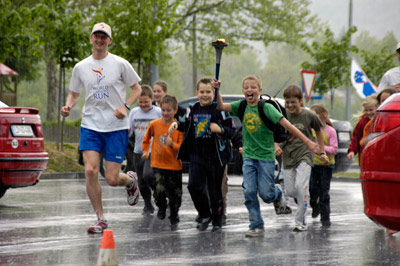 They didn't seem too disturbed by the weather, anyway.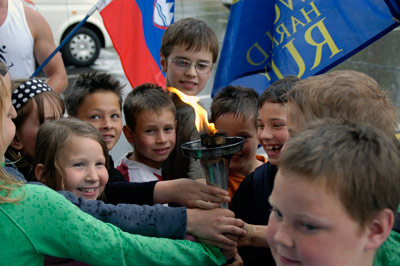 The mayor of Ribnica was also present and provided us with a delicious lunch of cheese and dried fruits. Afterwards we were offered a tour of the sports centre, only three years old, where the meeting had taken place. We were very impressed with the clean, spotless and beautiful condition of the hall, which also housed a swimming pool. Here the children of Ribnica exercise on an almost daily basis (this is Petr on the picture, by the way).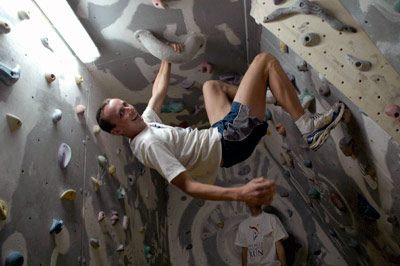 Small wonder Ribnica has as many as twenty-five athletic clubs in their community of only 9200 inhabitants.
We had to overcome a little initial reluctance to start running again with all the cats and dogs falling out of the sky, but once out on the road the rain was actually a fun sort of challenge and gave the running an extra gritty dimension. Life is not always a bed of roses. And in case we will forget the sunny skies from the last three days, here is a small reminder of how beautiful Slovenia can be.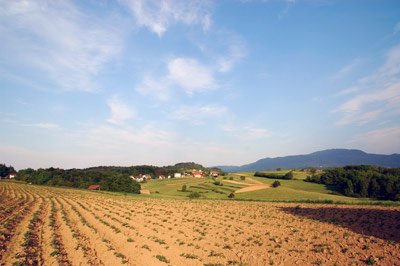 ---
Team Members:
Martin Leitner (Austria), Hidde Abhinabha Tangerman (The Netherlands), Jana Chochlikova (Slovakia), Tatyana Chochlikova (Slovakia), Frank Foerster (Germany), Predrag Trkulja (Serbia), Petr Machacek (Czech Republic)
Harmonemail:
You can send a message to the runners or read the messages.