Malaysia 5 December: Pangkor Island
Our running team had people from more than 30 countries
Our first World Harmony Run in Malaysia began at 8.00 am on a drizzly Monday morning. It was tropically warm and humid and we welcomed the cooling effect of the rain.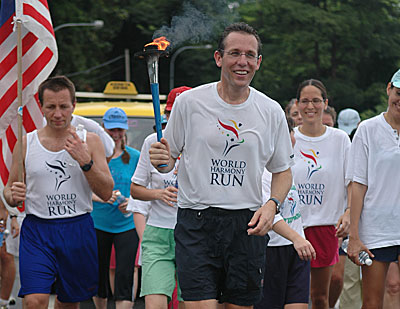 Salil carries the torch for the first few miles.
As we made our way out of the hotel I was wondering what adventures lay ahead on our 16 km (10 mile loop around the Island). In the preceding days I had met with the Chiefs of each village to invite their community to join in the World Harmony Run.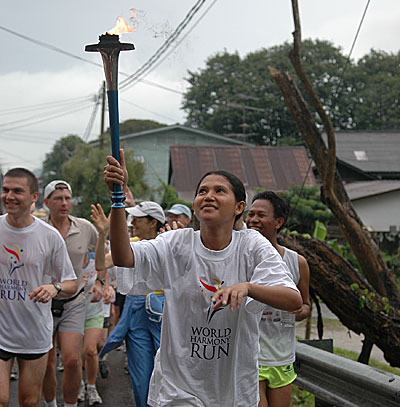 Jyoti from Indonesia enjoys carrying the torch in a neighboring country.
With four taxi vans trailing us our contingent of 50 runners representing 30 countries ran by the ocean before starting a steep climb up a rain forest covered hill. By the time we reached the summit everyone was drenched, mainly due to perspiration. For the next few miles we were surrounded by thick Malaysian rainforest.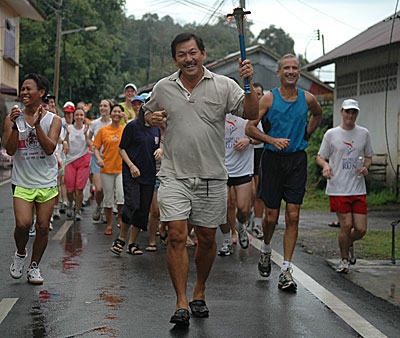 Local Malaysian resident joins the run for a few steps.
Gradually the forest gave way to civilization and many of the locals came out to cheer us on and share in holding the torch. Easy smiles and applause greeted us as we entered Pangkor.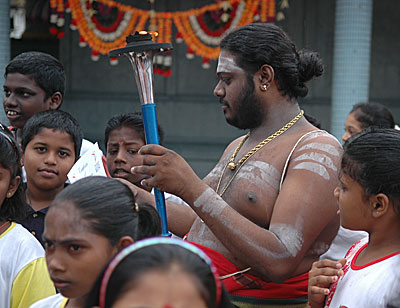 Temple priest preparing the children to run with the torch.
A Hindu Temple on the route welcomed us with the children from the temple school running with the torch around the grounds. Later one of the local Chiefs ran with us for about 2 miles into Pangkor where we met some of the local school children.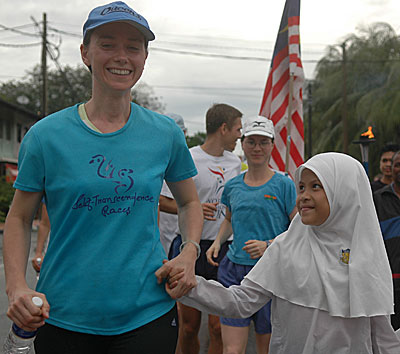 Bipula from Slovakia makes a new friend.
Throughout the journey around the Island we were inundated with good wishes and happy faces, not to mention the beautiful scenery that abounds on the Island of Pangkor.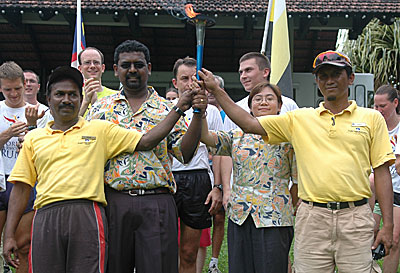 Pangkor Island Beach Resort staff (left to right) Segar, Selva, Rafidah and Azman helped us immensely as did Tan (not pictured)
Finally, I would like to offer my sincere thanks to the staff at the Pangkor Island Beach Resort for all their assistance in putting on the World Harmony Run.
---