WHR 2009 - a voyage around Ireland
In March and April of 2009, an international team of 15 runners from 11 countries ran for 2 weeks around Ireland. You can see the route on the map below...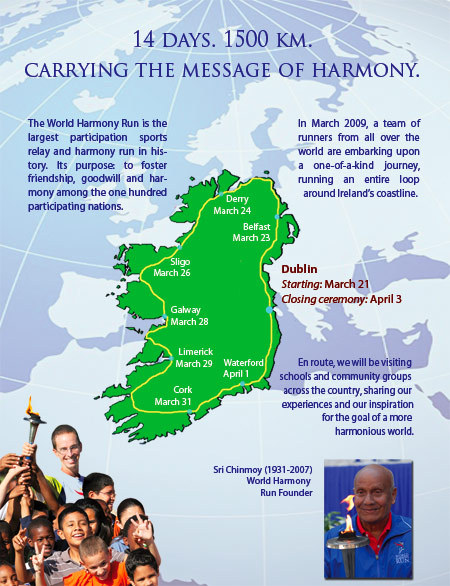 Here are the individual stages of our journey - to read all about the events of a particular day, just click on the relevant link...
| Day | Date | Cities | Distance |
| --- | --- | --- | --- |
| Day 1 | Saturday 21st | Opening ceremony, Dublin - Drogheda,  | 63km |
| Day 2 | Sunday 22nd | Drogheda - Belfast | 112km |
| Day 3 | Monday 23rd | Belfast - Ballycastle | 102km |
| Day 4 | Tuesday 24th | Ballycastle - Letterkenny | 117km |
| Day 5 | Wednesday 25th | Letterkenny - Sligo | 111km |
| Day 6 | Thursday 26th | Sligo - Westport | 100km |
| Day 7 | Friday 27th | Westport - Galway | 97km |
| Day 8 | Saturday 28th | Galway - Kilrush | 132km |
| Day 9 | Sunday 29th | Kilrush - Tralee - Killarney | 96km |
| Day 10 | Monday 30th | Killarney - Cork | 92km |
| Day 11 | Tuesday 31st | Cork - Waterford | 130km |
| Day 12 | Wednesday 1st | Waterford - Gorey | 102km |
| Day 13 | Thursday 2nd | Gorey - Dublin | 93km |
| Day 14 | Friday 3rd | Closing Ceremony |   |