Iceland 1 September: Selfoss - Bakki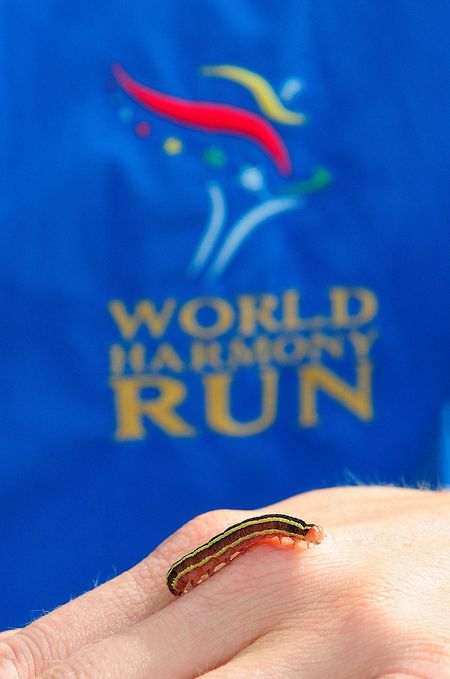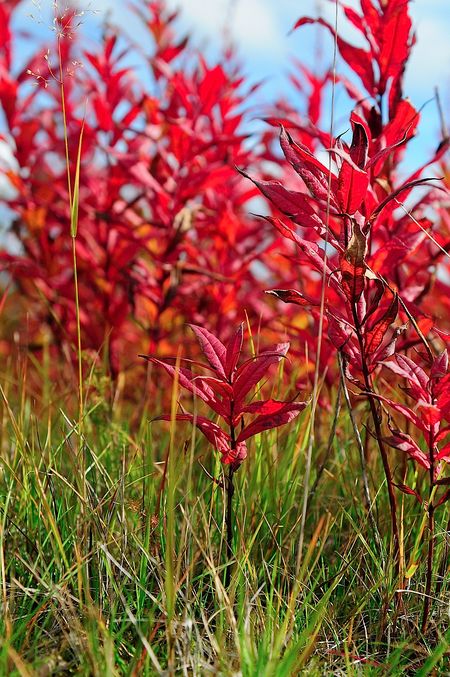 Starting at the junction where we started our enjoyable detour to Laugarvatn yesterday, today we continued east towards the town of Selfoss.
Við hófum hlaup í dag við afleggjarann að Laugarvatni og héldum nú áfram í austurátt og inn að Selfossi.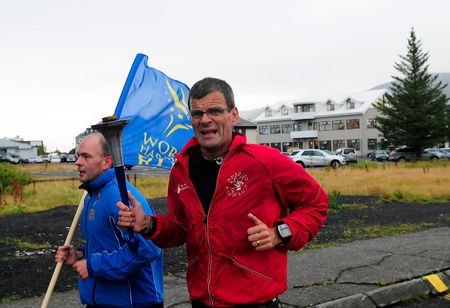 Escorting us into town was local Iron Man athlete Sigmundur Stefánsson.
Sigmundur Stefánsson, Iron Man þríþrautarkappi, hljóp í fararbroddi inn í heimabæ sinn.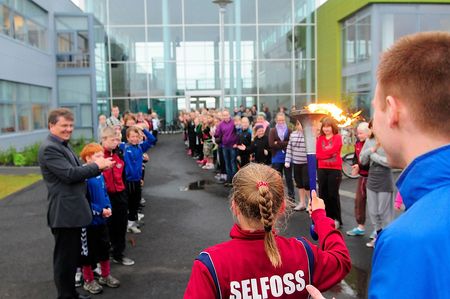 Shortly before reaching Sunnulækjarskóli school a group of students came out to join us for the last few metres.
Stuttu áður en við komum að Sunnulækjarskóla hittum við dágóðan hóp af nemendum sem slóst í för með okkur síðasta sprettinn.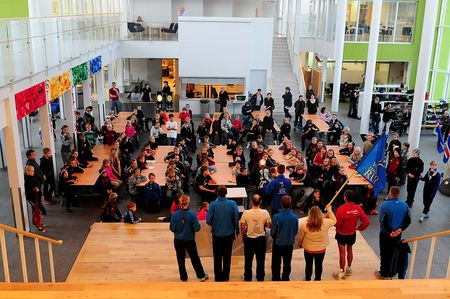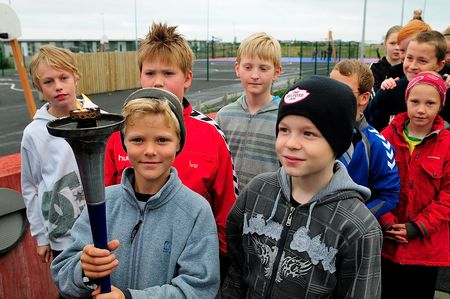 There we were greeted by almost 200 kids in the school hall.
Þegar komið var í Sunnulækjarskóla tóku á móti okkur nálega 200 krakkar í sal skólans.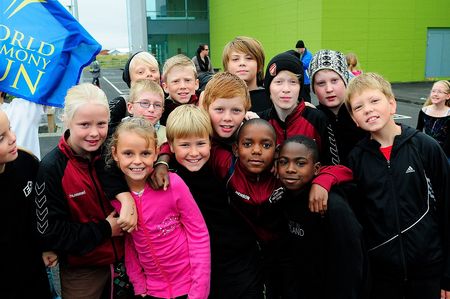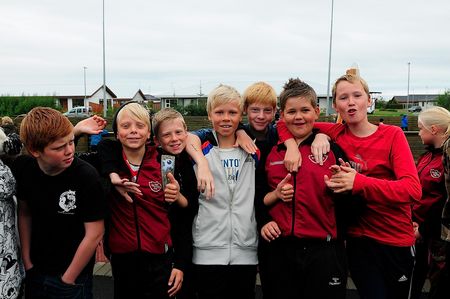 The hall turned out to be spacious enough for us to enter with the Torch aflame - a welcome change from setting off the fire alarm during our first school visit on Monday.
Það gladdi okkur að nægilega hátt var til lofts til að við gætum haft kveikt á Friðarkyndlinum inni í skólanum, en sem kunnugt er tókst okkur að kveikja á eldvarnarkerfinu í Vesturbæjarskóla á mánudaginn var.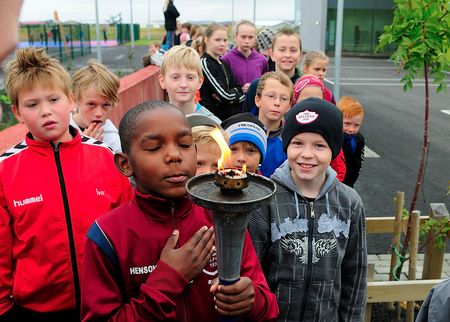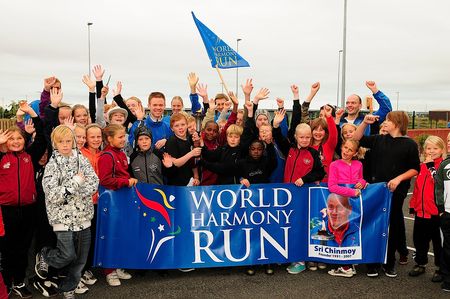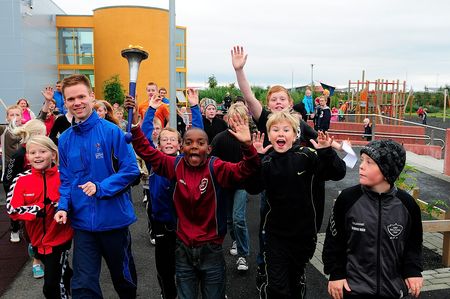 After a very enjoyable talk with the kids we all went out to the playground to pass the Torch around, and, of course, to run with the Torch.
Við áttum afar gott spjall við krakkana og þvínæst fórum við út á skólalóð þar sem við létum kyndilinn ganga á milli og hlupum saman.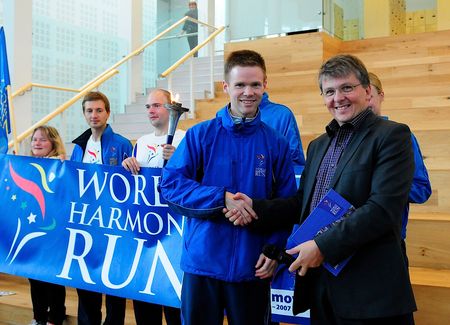 Our sincere thanks to Birgir Edwald for organizing this meeting.
Við viljum koma á framfæri hugheilum þökkum til Birgis Edwalds sem skipulagði þennan gleðilega fund.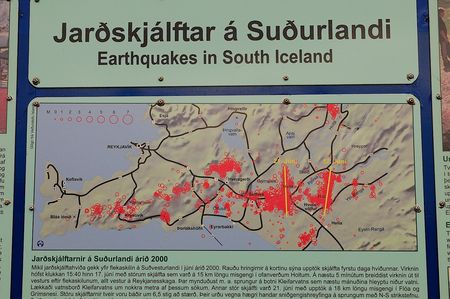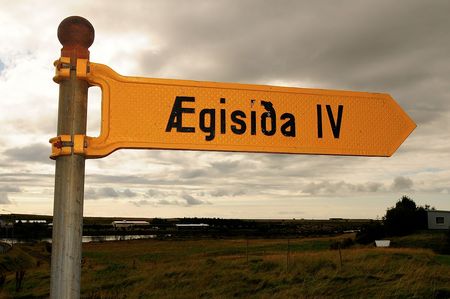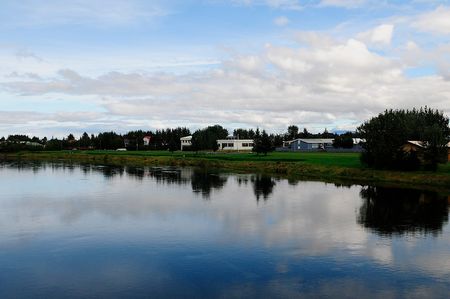 We said goodbye to our new friends and headed east, towards the village of Hella.
Við kvöddum nýfundna vini okkar í Sunnulækjarskóla og héldum áfram í austurátt og var stefnan tekin á Hellu.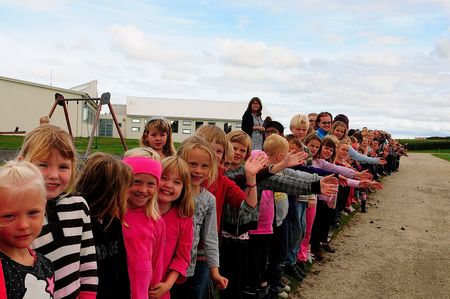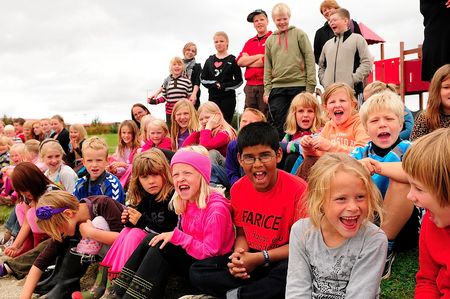 At Hella, all the students from Grunnskólinn á Hellu came out to join us.
Á Hellu tóku allir nemendur grunnskólans á móti okkur.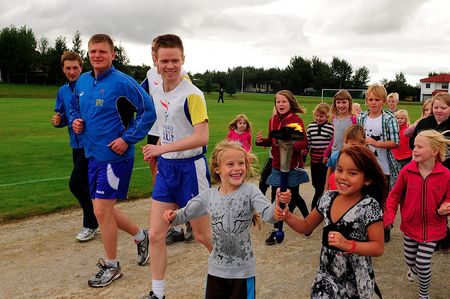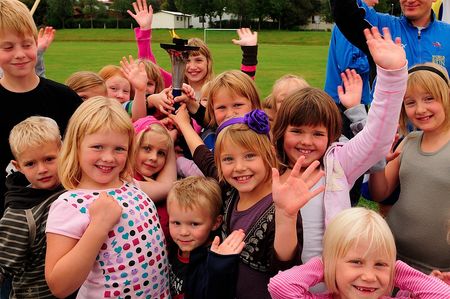 Rarely have we met such a good group as these 150 dedicated World Harmony Runners.
Það er ekki alltaf sem við hittum fyrir jafn góðan hóp eins og þessa 150 Friðarhlaupara.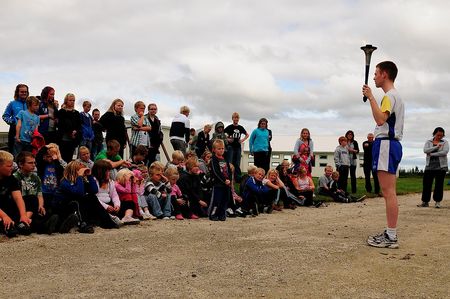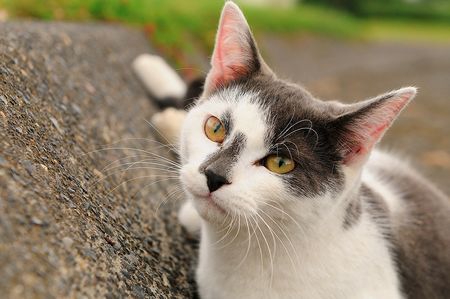 First enthusiastically running with us around the sports field, the kids then in no time quited down to listen with rapt attention as we presented the World Harmony Run to them.
Um leið og krakkarnir höfðu lokið við að hlaupa með okkur í kringum íþróttavöllinn - af miklu æskufjöri og áhuga - snarþöggnuðu þau til að hlusta af fyllstu athygli á kynningu okkar á Friðarhlaupinu.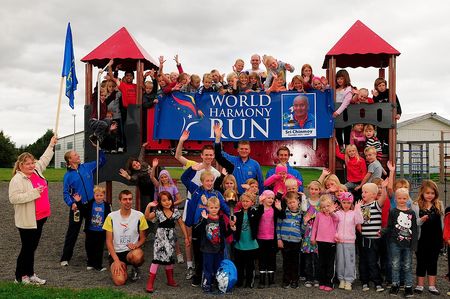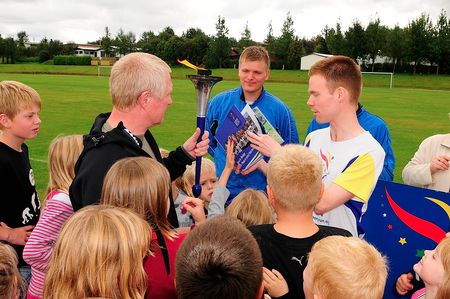 Before we left - almost reluctantly - we presented our gift of the World Harmony Run book to Steinar Tómasson, who, by the way, did a fantastic job of organizing this meeting.
Við ætluðum varla að fást til þess að yfirgefa skólann, en áður en til þess kom afhentum við Friðarhlaupsbókina að gjöf Steinari Tómassyni, sem skipulagði þennan frábæra fund.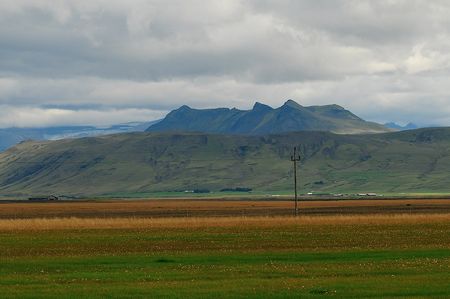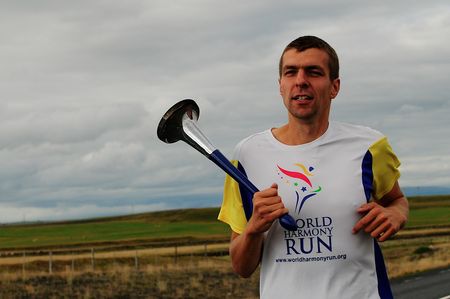 Continuing east, we soon reached Hvolsvöllur, our last village of the day.
Áfram héldum við í austurátt og komum nú að Hvolsvelli, en þar fór fram síðasti fundur dagsins.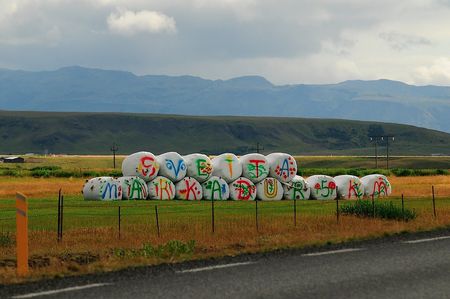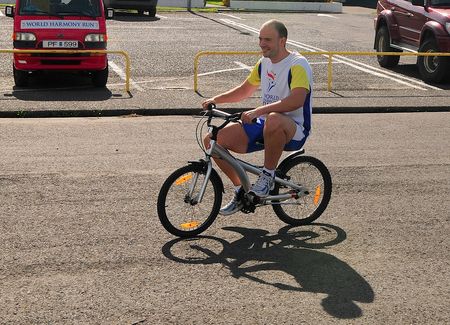 First we stopped at Hvolsskóli school, where a spontaneous meeting took place with the children at the playground.
First gerðum við stuttan stans að Hvolsskóla og leyfðum krökkunum á skólalóðinni að taka þátt í Friðarhlaupinu.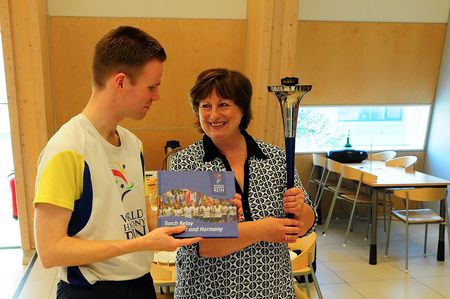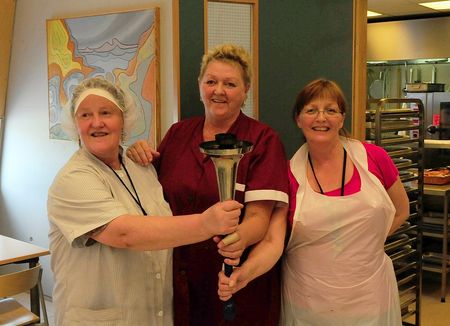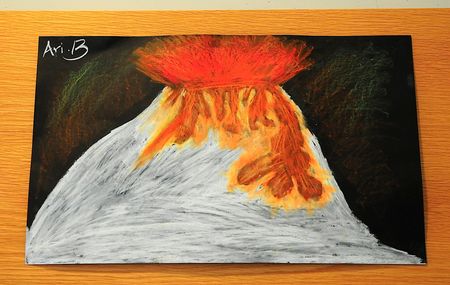 We were then invited to a veritable feast, prepared by the kitchen team of Sigrún, Jóna and Helga. We, in turn, presented the school with the World Harmony Run book.
Síðan var okkur boðið upp á dýrindis kræsingar sem Sigrún, Jóna og Helga höfðu matreitt. Við, á móti, gáfum skólanum Friðarhlaupsbókina.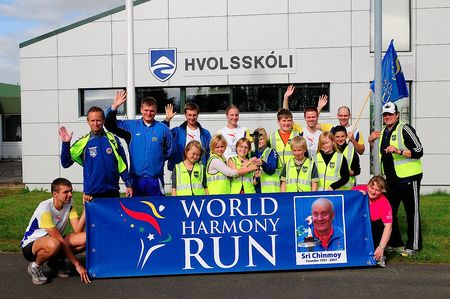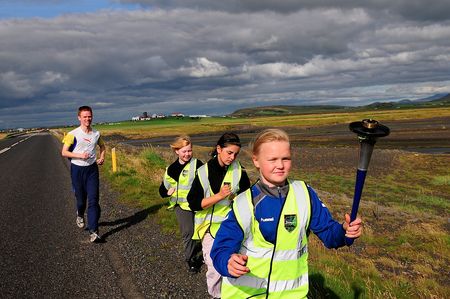 Thereafter a meeting with our old friends from Dímon sports club took place. The kids from Dímon, under the able command of Lars Hansen and Ólafur Elí - and others before, have run with us in, probably, all our World Harmony Runs.
Í kjölfarið hittum við krakka úr Íþróttafélaginu Dímon, en krakkar úr Dímon, undir styrkri stjórns Lars Hansens og Ólafs Elí - ásamt fleirum, hafa hlaupið með í flestum, ef ekki öllum, Friðarhlaupum hingað til.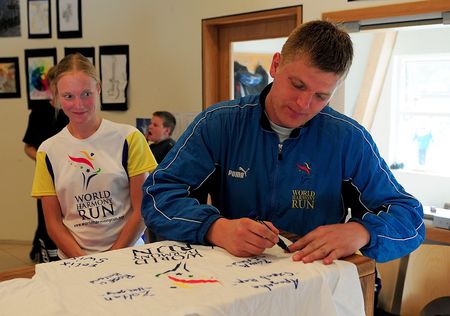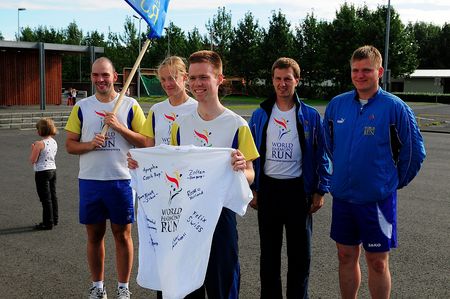 We presented Dímon sports club with a signed World Harmony Run T-shirt as a token of our gratitude for their unreserved support through the years.
Við gáfum Íþróttafélaginu Dímon Friðarhlaupsbol áritaðan af Friðarhlaupurunum sem smá þakklætisvott fyrir stuðning þeirra í gegnum árin.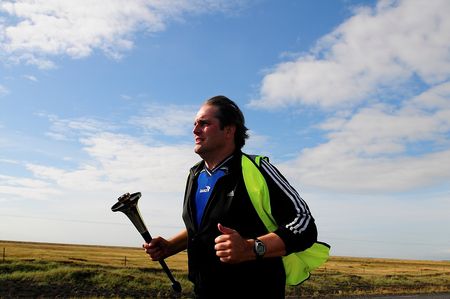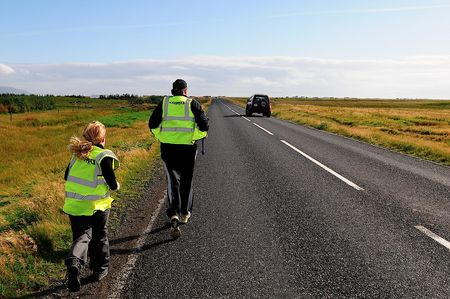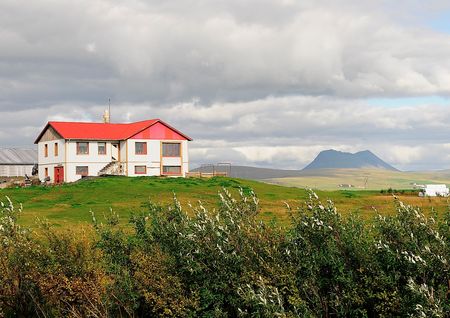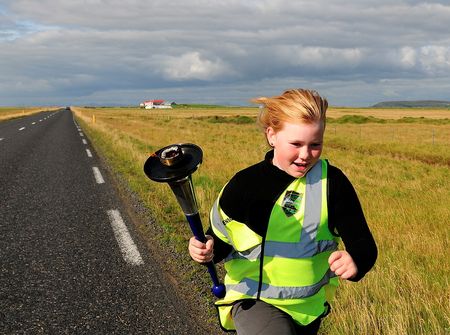 The wind had picked up, but, nevertheless, the kids from Dímon ran with us almost 15 kilometres.
Heldur hafði bætt í vindinn, en Dímonarkrakkarnir létu það ekki á sig fá, heldur hlupu hátt í 15 kílómetra með okkur.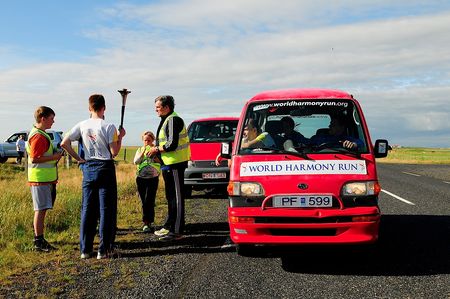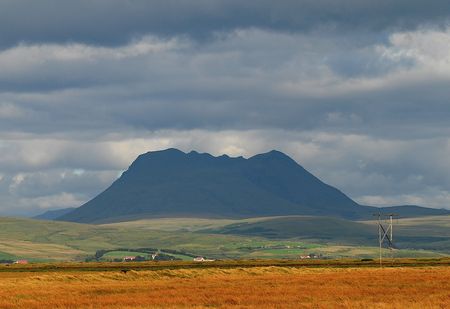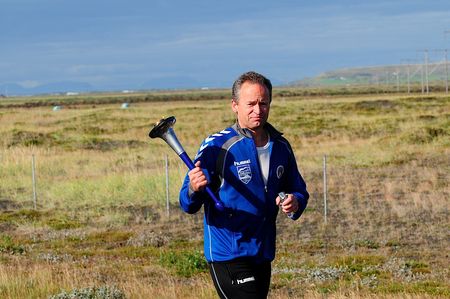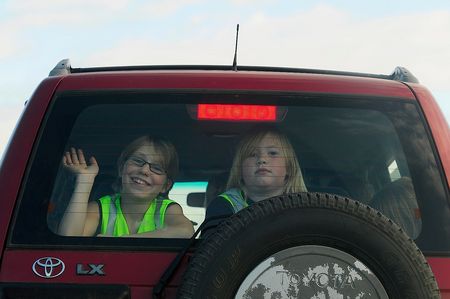 Battling through the wind, the World Harmony Runners continued on their way to Landeyjarhöfn, where they were due for a ferryboat.
Í gegnum rokið héldu Friðarhlaupararnir áfram uns þeir komu að Landeyjarhöfn þar sem ferjan Herjólfur beið eftir þeim.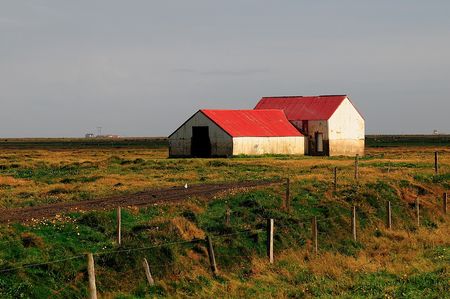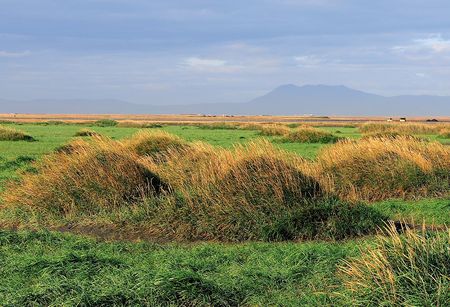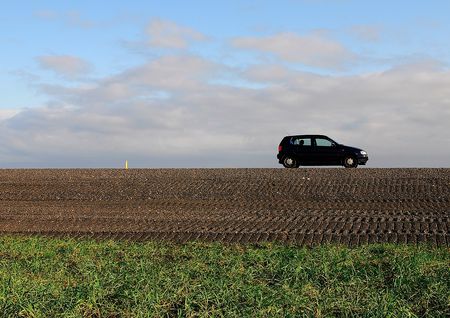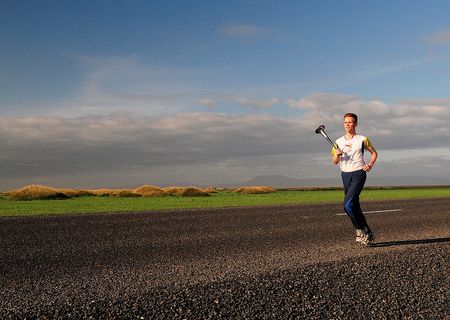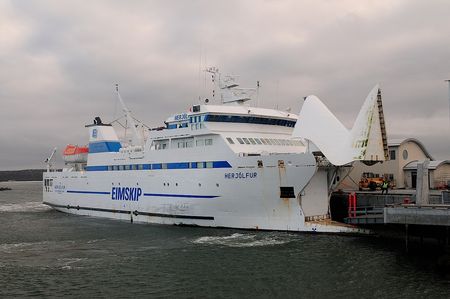 With the added support of one more runner - Chahida - we boarded the ferry Herjólfur to go to Vestmannaeyjar island.
Áður en við gengum um borð í ferjuna, bættist okkur við liðsauki - Chahida - en svo var haldið sem leið liggur til Vestmannaeyja.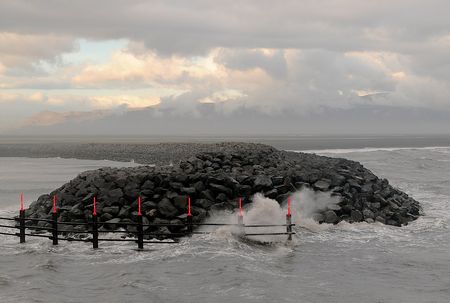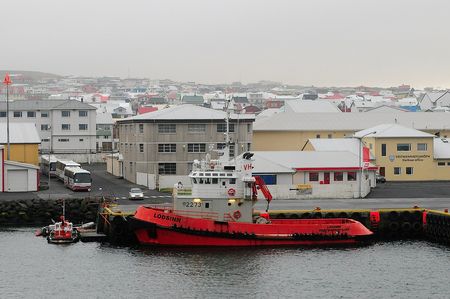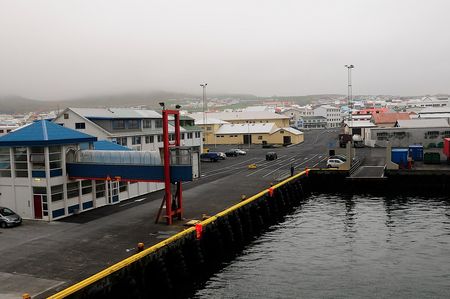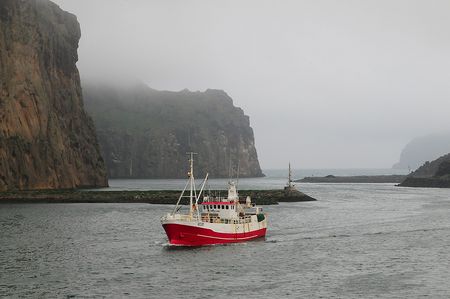 This will be the first time the World Harmony Run visits this remarkable island, which has a town of 4000 people or so. We can hardly wait for the morning, when we are due to meet with all the kids from the school.
Þetta verður í fyrsta sinn sem Friðarhlaupið kemur til Vestmannaeyja og við getum varla beðið til morguns, en þá eigum við að hitta m.a. alla krakkana í grunnskólanum.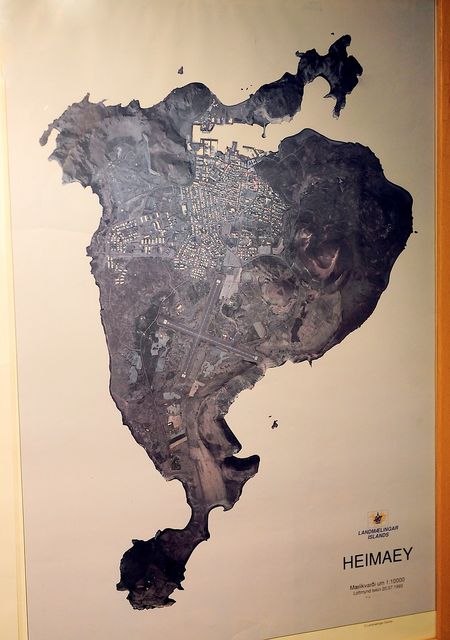 ---
Distance: 90 km
Team Members:
Apaguha Vesely (Czech Republic), Roos de Waart (Netherlands), Suren Suballabhason (Iceland), Zoltan Theobald (Hungary), Sumahat Strohn (Germany), Ester Sveinbjarnardóttir (Iceland), Rúnar Pranava Gígja (Iceland), Felix Lindner (Switzerland)
Harmonemail:
You can send a message to the runners or read the messages.
Gallery: See more images!