Iceland 2 September: Vestmannaeyjar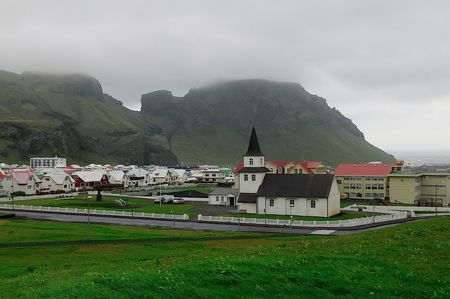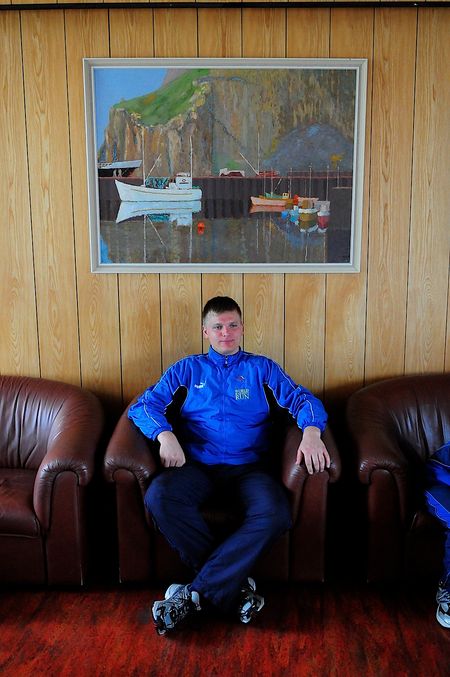 A remarkable event awaited for us today - one which we were fully prepared. Last night we heard that we would actually get to meet all 600 children from the town of Vestmannaeyjar.
Við áttum von á stórmerkilegum viðburði í dag, því í gær fengum við þér fréttir að við myndum hitta öll 600 börnin sem búa í Vestmannaeyjum.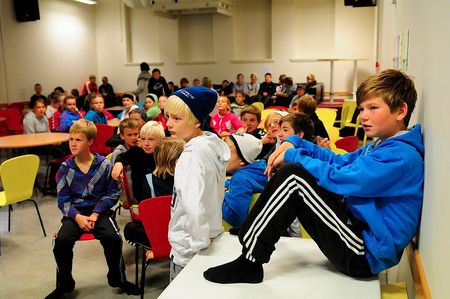 To be able to pull this off, we had to make an early start, 8 o'clock to be specific.
Til þess að svo mætti fara þurftum við að hefja leik strax klukkan átta um morguninn..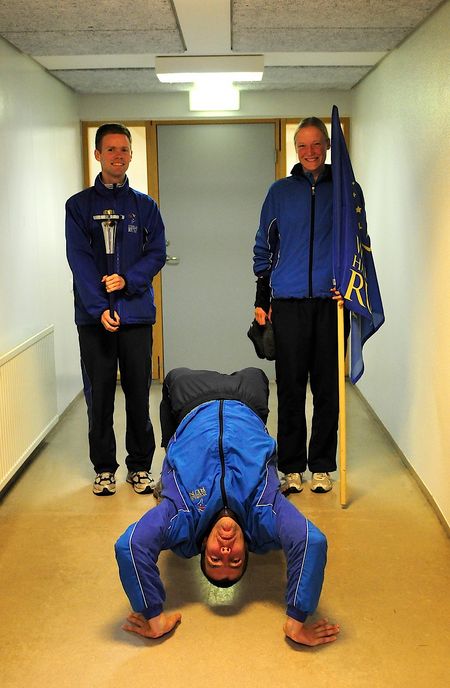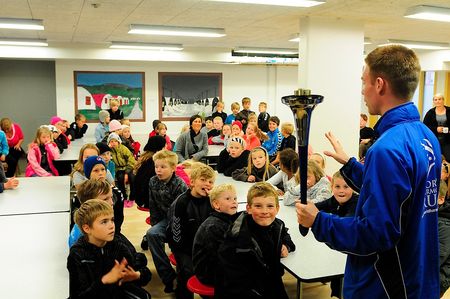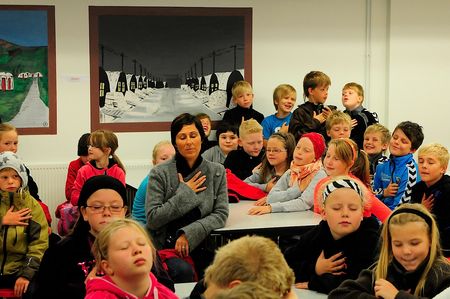 The children of Vestmannaeyjar all go to one school, which is divided into two buildings, based on the old division in the school system. The older children go to the building Barnaskólinn and the younger children go to Hamarsskóli.
Grunnskóli Vestmannaeyja er einn og sami skólinn, en honum er skipt í tvö hús: Barnaskólann fyrir eldri krakkana og Hamarsskóla fyrir yngri krakkana.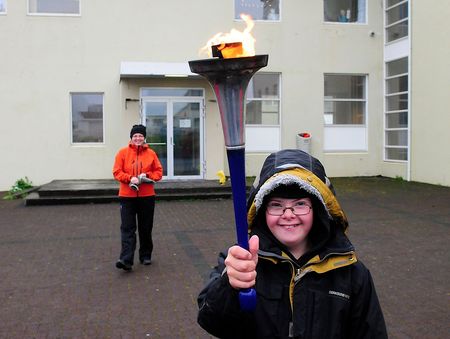 Starting at Barnaskólinn, we gave three presentations to the older children, 14-15 year olds, 13 year olds and 11-12 year olds respectively.
Við byrjuðum í Barnaskólanum og héldum þar þrjár kynningar, eina fyrir 14-15 ára, eina fyrir 13 ára og eina fyrir 11-12 ára.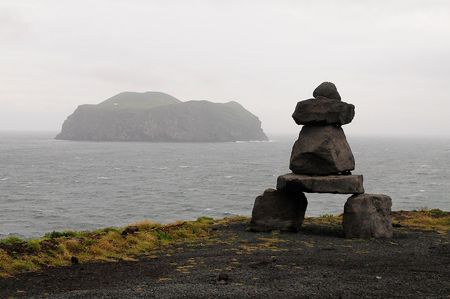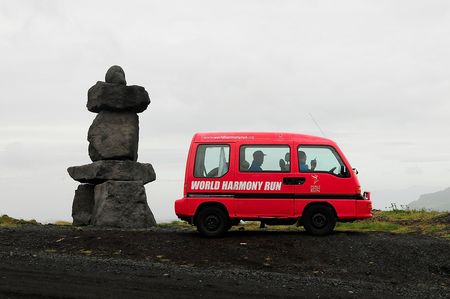 The kids were eager to learn about world harmony and peace in their own hearts, but, nevertheless, our presentations were just a prelude to an even greater event that would happen later in the day.
Krakkarnir voru áhugasamir að heyra um hvernig friður í hjarta einstaklingsins og sátt og samlyndi í öllum heiminum tengjast. Samt sem áður voru þessar kynningar okkar einungis forleikur að þeim meiriháttar viðburði sem átti sér stað síðar um daginn.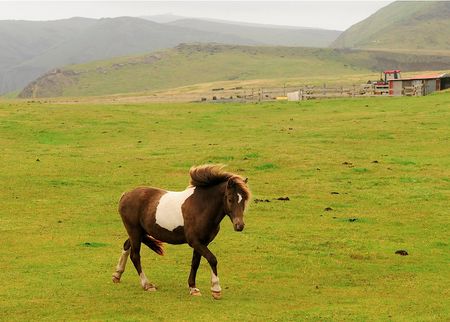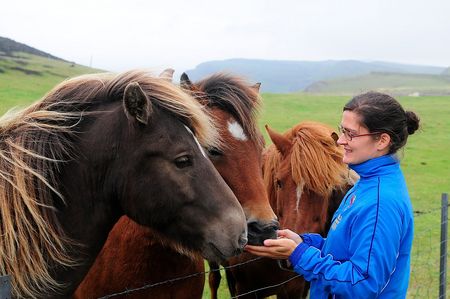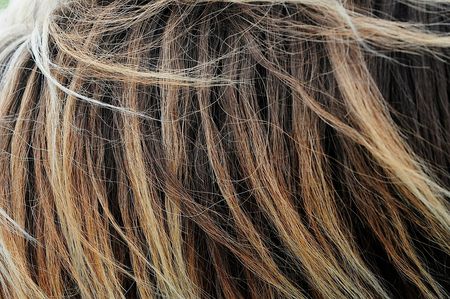 Before this great event took place, we whisked away to Hamarsskóli to give two presentations simultaneously, one for the 6-8 year olds and another for the 9-10 year olds.
Áður en að til þessa stórmerkilega viðburðar kom, snarhöstuðum við okkur yfir í Hamarsskóla, þar sem við fluttum tvær kynningar samtímis; eina fyrir 6-8 ára krakkana og aðra fyrir 9-10 ára krakkana.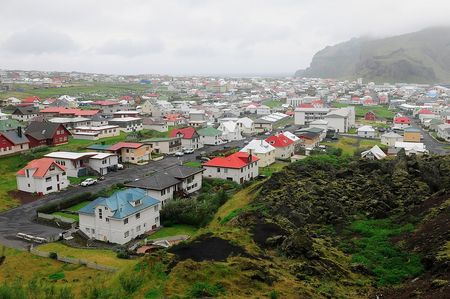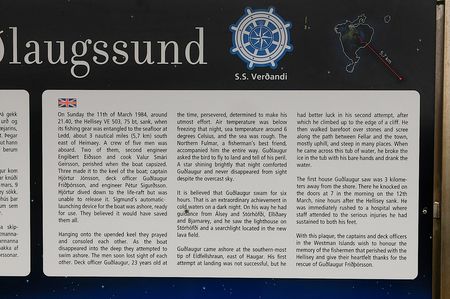 When we present the World Harmony Run to the younger kids, we try not so much to make them understand world harmony on an intellectual level; rather we try to help them to feel harmony, peace and joy in their hearts. Most of the time, this involves playing games having fun.
Þegar við kynnum Friðarhlaupið fyrir svona ungum krökkum, reynum við fyrst og fremst að hjálpa þeim að finna fyrir friði og gleði í sínu eigin hjarta, í stað þess að reyna að fá þau til að skilja þessi hugtök á vitsmunalegu sviði. Þá grípum við oft til þess að fara í leiki með krökkunum.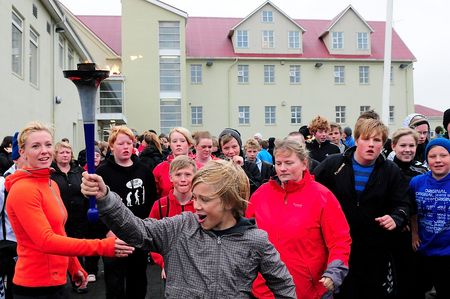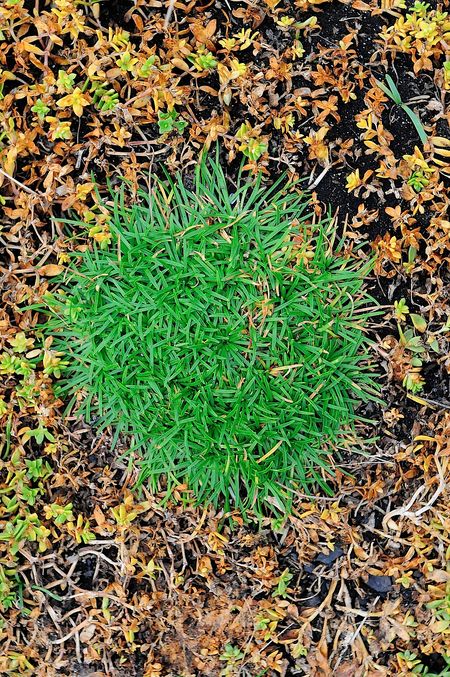 Having presented the World Harmony Run to all the kids in Vestmannaeyjar, a truly remarkable event awaited us: Every single child was actually going to run with us.
Þegar Friðarhlaupskynningunum var lokið, fengum við að upplifa stórmerkilegan viðburð: Allir nemendurnir með tölu ætluðu nú að hlaupa með okkur.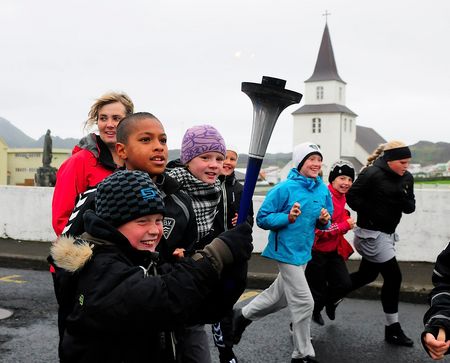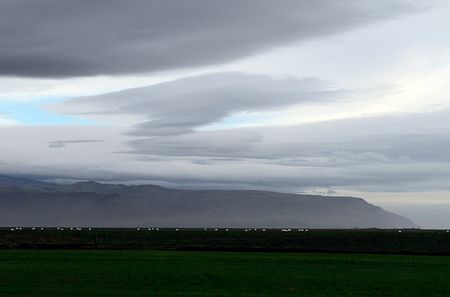 Starting in Barnaskólinn, the older children set out for Hamarsskóli, one grade at a time, each grade carrying a Harmony Torch, representing each of the five continents that the Run traverses: Africa, America, Asia, Oceania and Europe.
Fá Barnaskólanum lögðu eldri krakkarnir í hann í átt að Hamarsskóla, ein bekkjardeild í einu; sérhver bekkjardeild bar Friðarkyndil, sem táknaði hverja af hinum fimm heimsálfum sem Friðarhlaupið heimsækir: Afríku, Ameríku, Asíu, Eyjaálfu og Evrópu.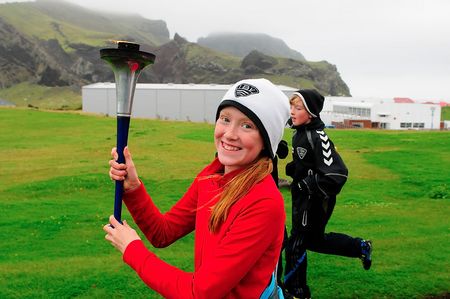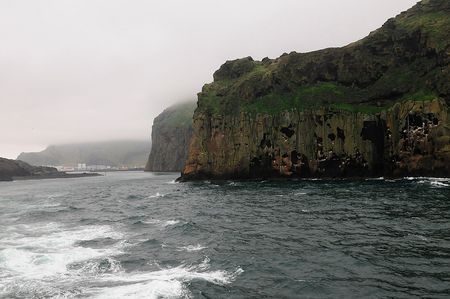 Upon reaching Hamarsskóli, having already run 1 kilometre or so, each group of the older children was paired up with a group of the eagerly awaiting younger children. The 15 year olds paired up with the 6 year olds, the 14 year olds paired up with the seven year olds, and so on. Each of these groups, then, ran together a loop around Hamarsskóli.
Þegar til Hamarsskóla var komið - og var þá þegar búið að hlaupa einn kílómeter eða svo - var sérhverri af eldri bekkjardeildunum parað saman við sérhverja af yngri bekkjardeildunum, sem biðu komu Friðarkyndlanna í eftirvæntingu. Fimmtán ára gömlu krökkunum var parað saman við hin sex ára gömlu, fjórtán ára gömlu var parað saman við hin sjö ára gömlu og svo koll af kolli. Þessir hópar hlupu svo saman hring í kringum Hamarsskóla.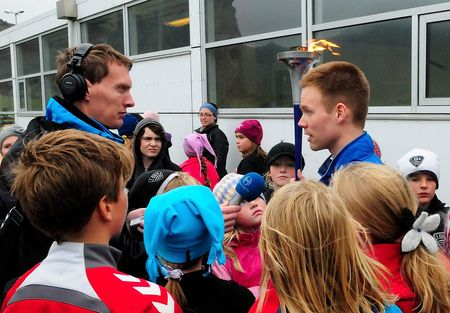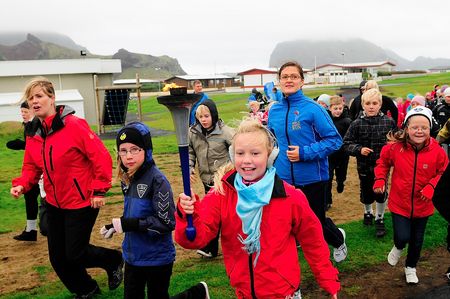 The people of Vestmannaeyjar can be truly proud of their children, judging from what we saw here today. Each of the groups of older and younger children was a shining example of harmony, and it was sweet and inspiring to see the older kids holding hands with the younger kids, helping them and inspiring them to run.
Vestmannaeyingar geta verið stoltir af börnunum sínum, ef marka má það sem við sáum hér í dag. Sérhver hópur af eldri og yngri börnum var skínandi dæmi umm sátt og samlyndi í verki og það gladdi augað að sjá eldri krakkana haldast í hendur við þau yngri, hjálpa þeim og hvetja þau áfram.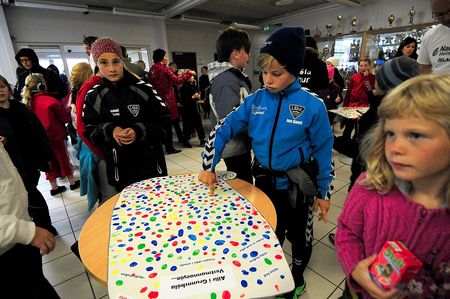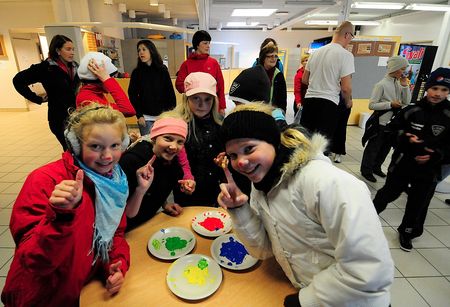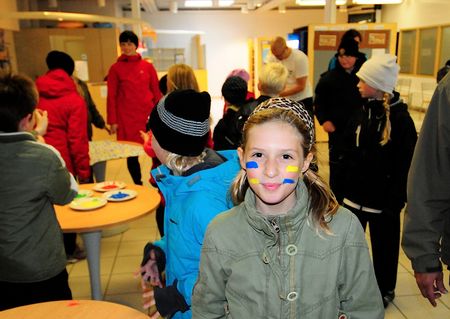 There was more yet to come, however, as the children, then, ran into the sports center of Vestmannaeyjar, where a declaration of peace and harmony, drawn up by the 15 year olds, was presented. Each child, then, ratified the declaration, by putting their fingerprint (having dipped their finger in colourful paint) on the declaration.
Þótt ótrúlegt megi virðast átti dagurinn eftir að ná enn hærri hæðum, því krakkarnir hlupu þvínæst inn í íþróttamiðstöð Vestmannaeyja, þar sem búið var að stilla upp yfirlýsingu um frið, sátt og samlyndi, sem elstu krakkarnir höfðu skrifað. Sérhver nemandi skólans skrifaði undir þessa friðaryfirlýsingu með því að dýfa fingri ofan í málningu og skilja fingrafar sitt eftir á yfirlýsingunni.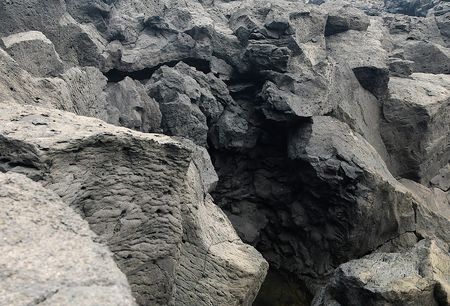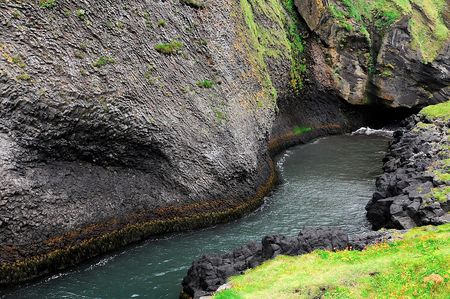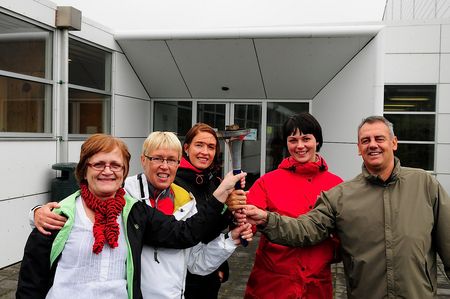 We were amazed at how well this, already quite ambitious, meeting went. It is clear to us that the secret of this event's success was the school's own harmony. All the children took part as a harmonious whole, and it seemed that all the teachers were somehow involved as well, offering their services in various ways.
Það var okkur algjör uppljómun að fylgjast með hversu vel allt gekk. Og það er alveg ljóst að leyndarmálið á bak við velgengnina er samstaðan og samlyndið sem ríkir í Grunnskóla Vestmannaeyja. Þátttaka krakkanna var skínandi dæmi um sátt og samlyndi og það leit út fyrir að allir kennararnir væru á einhvern hátt viðloðandi þennan viðburð á einn eða annan hátt.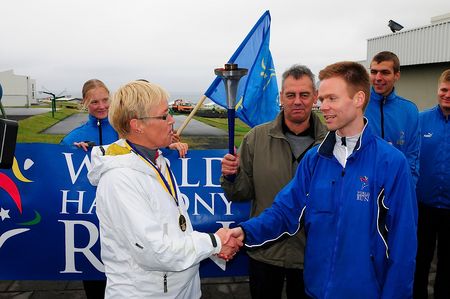 The minds and hearts behind the event came from the school's two sports teachers, Ólöf Elíasdóttir and Sigurlás Þorleifsson, who had the courage, not only to dream of such a great event, but also to follow it through to fruition. Their example brings to mind an aphorism from Sri Chinmoy, the founder of the World Harmony Run:
The fullness of life
Lies in dreaming
And manifesting
The impossible dreams.
Hugurinn og hjartað á bak við þennan viðburð voru íþróttakennarar skólans, þau Ólöf Elíasdóttir og Sigurlás Þorleifsson. Þau höfðu kjark til þess að láta sig dreyma um stórkostlegan viðburð sem þennan og þau höfðu jafnframt kjarkinn til að fylgja því eftir til fullnustu. Fordæmi þeirra kallast á við spakmæli sem er eftir stofnanda Friðarhlaupsins, Sri Chinmoy (í lauslegri þýðingu):
Lífsfyllingin felst í því
að láta sig dreyma um það
sem ekki er hægt að framkvæma
og framkvæma það svo.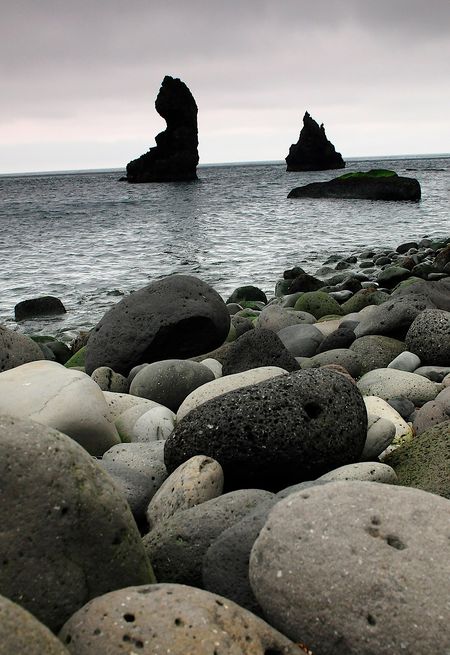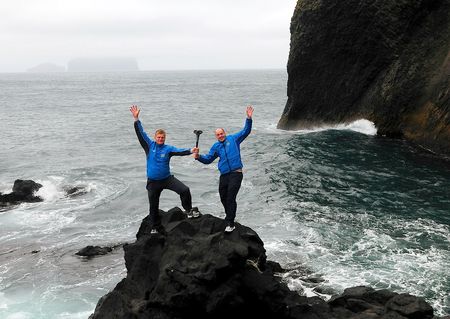 Deeply inspired by the example of Ólöf and Sigurlás, we decided to honour them in a special way, by presenting our Torch Bearer Award. As the inscription on the medal says - again by Sri Chinmoy, the founder of the World Harmony Run:
To change the world around you,
Give the world
What you have
And serve the world
With what you are.
Þar sem við vorum djúpt snortin af fordæmi þeirra Ólafar og Sigurlásar, ákváðum við að heiðra þau á okkar eigin hátt, með því að veita þeim verðlaunin okkar, Kyndilberi Friðar. Verðlaunapeningur er áletraður með öðru spakmæli frá Sri Chinmoy, sem hér fylgir á eftir í lauslegri þýðingu:
Til að breyta heiminum
skaltu gefa heiminum
það sem þú átt
og þjóna heiminum
á þinn eigin hátt.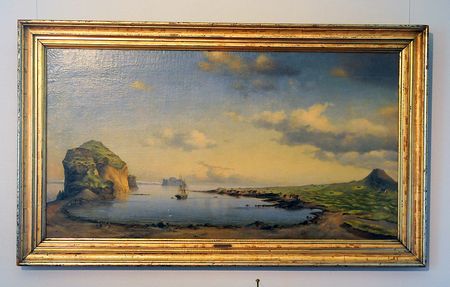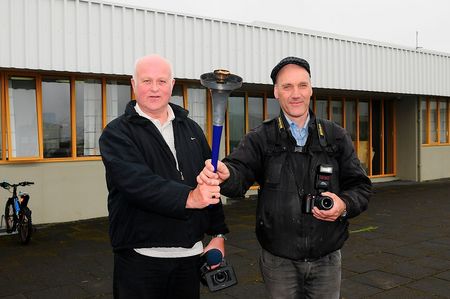 We truly feel that Ólöf and Sigurlás - and all those who participated in this event today - have paved the way for a more harmonious world by their actions today. Inspired, also, was Channel Two News Reporter Gísli Óskarsson, who had been filming the event. As we were just about to leave for our next meeting, he ran up to us and presented us with a gift of the New Testament in three languages - English, French and German - a truly harmonious book.
Það er okkar einlæga trú að Ólöf, Sigurlás og allir þeir sem tóku þátt í þessum viðburði í dag, hafi lagt grunn að betri heimi. Við vorum ekki ein um að fyllast innblæstri yfir því sem gerðist í dag; Gísli Óskarsson, fréttaritari Stöðvar 2 - sem hafði verið að taka upp viðburði dagsins - hljóp okkur uppi í þann mund sem við vorum að hverfa á vit næsta fundar okkar (í framhaldsskólanum) og gaf okkur Nýja Testamentið á þremur tungumálum að gjöf: ensku, frönsku og þýsku. Sannarlega gjöf sáttar og samlyndis þar á ferð.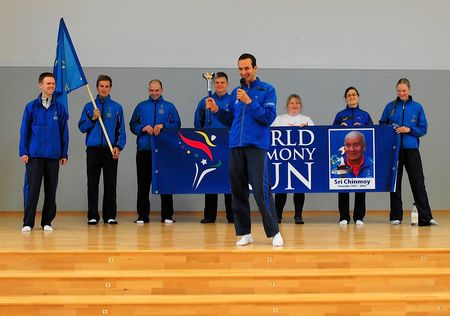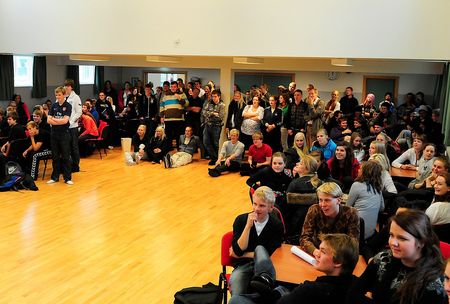 Leaving these new friends of ours, we visited Framhaldsskólinn í Vestmannaeyjum college. We gave a presentation of the World Harmony Run to these young adults (aged 16-20).
Er við gátum loks fengið okkur til að kveðja þessa nýju vini okkar, lá leiðin í Framhaldsskólann í Vestmannaeyjum. Allur skólinn mætti til að hlusta á okkur kynna Friðarhlaupið.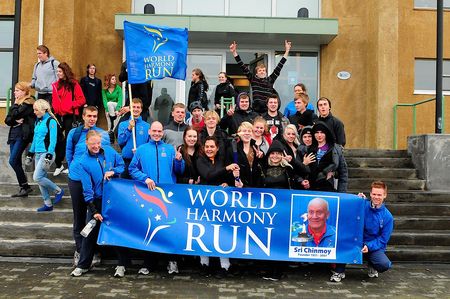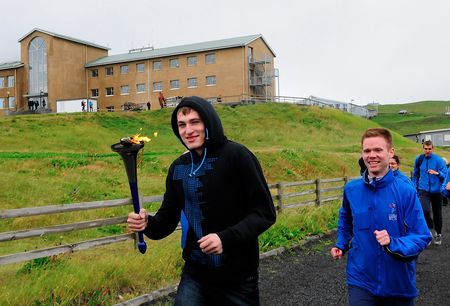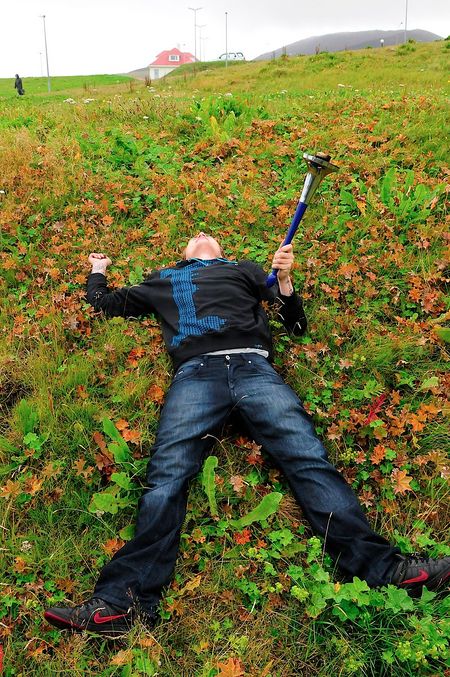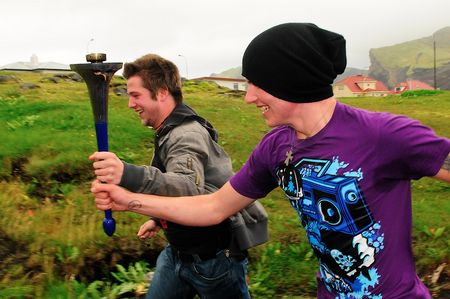 The wind had picked up. Nevertheless, some brave students came out with us on the sports field to run. We were inspired by these students, not only by their bravery, but also by their speed. Some of them should consider track and field.
Heldur hafði bætt í vindinn er út á skólalóðina var komið. Samt sem áður stigu nokkrir hugaðir nemendur fram og hlupu með okkur á íþróttavellinum. Hugrekki þeirra var okkur hvatning, en engu minni hvatning var hlaupahraði þeirra, sem var á við byssukúlu.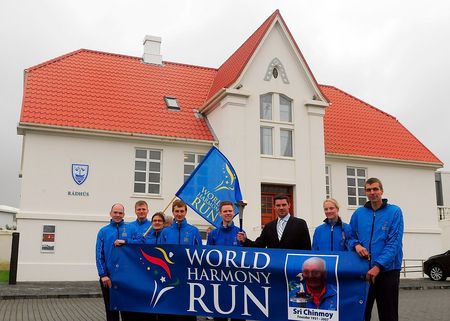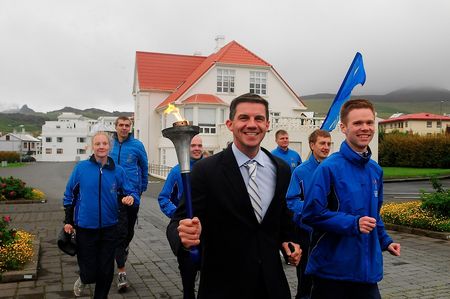 The final steps of the World Harmony Run in Iceland this year, were taken by Elliði Vignisson, Mayor of Vestmannaeyjar. We were impressed by his running; he maintained a fast pace, and it seemed like he did not want to stop.
Síðustu skref Friðarhlaupsins á Íslandi í ár átti Elliði Vignisson, bæjarstjóri Vestmannaeyja. Elliði var svo áhugasamur um að hlaupa að hann hefði sjálfsagt komið með okkur til Finnlands (næsti áfangastaður okkar) hefðum við beðið (ætli hann hafi ekki samt nóg annað að gera).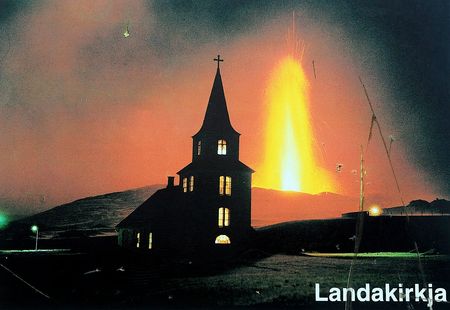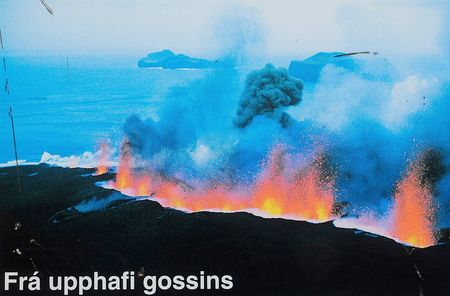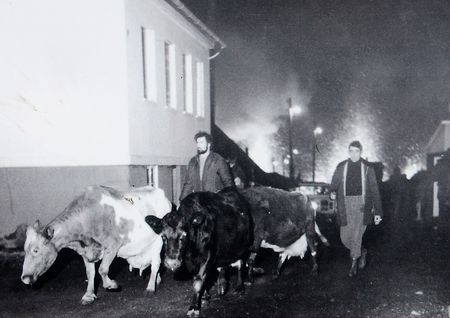 Elliði told us the story of the volcanic eruption in Vestmannaeyjar. In 1973 an eruption took place almost in the middle of the town. Many houses were ruined by the lava or the ash. All the inhabitants had to evacuate the island.
Elliði sagði okkur söguna af Vestmannaeyjagosinu. Árið 1973 hófst gos nánast í miðjum bænum. Mörg hús urðu hrauni eða ösku að bráð og flytja þurfti alla íbúana á brott.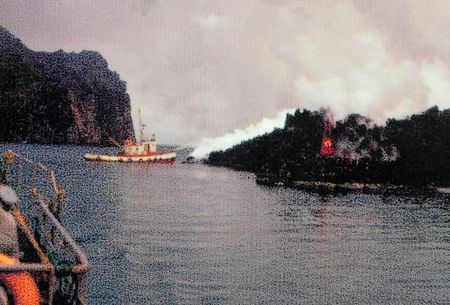 But because of the harmony of the people, the islanders were able to reclaim their town. First, they used water, powered by powerful water pumps, to cool and, ultimately, stop the flow of lava before the eruption made the island uninhabitable. This might be the first time in history that the flow of lava has been stopped by man.
Einungis vegna þess samlyndis sem ríkir á milli íbúanna, tókst Vestmannaeyingum að endurheimta bæinn sinn. Til að byrja með dældu þeir sjó á glóandi hraunið og tókst að stöðva hraunflæðið áður en það gerði eyjuna óábúandi. Sennilega er þetta í fyrsta sinn sem maðurin hefur stoppað hraunflæð.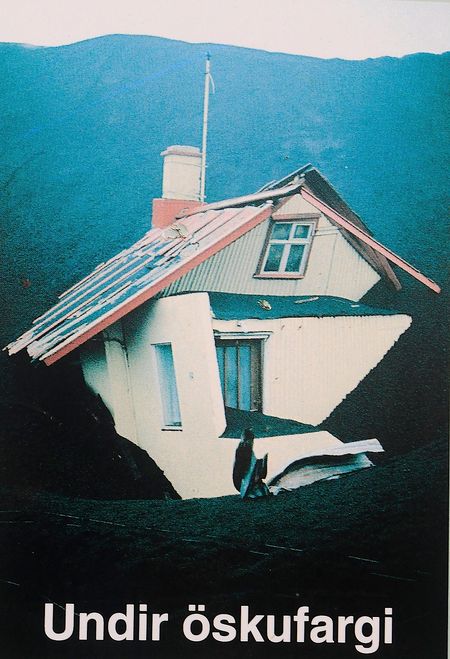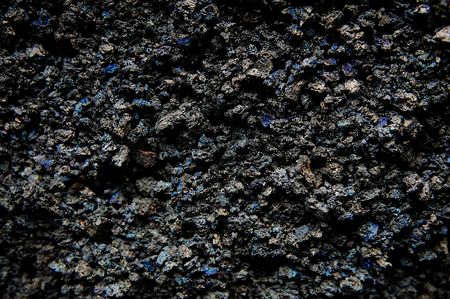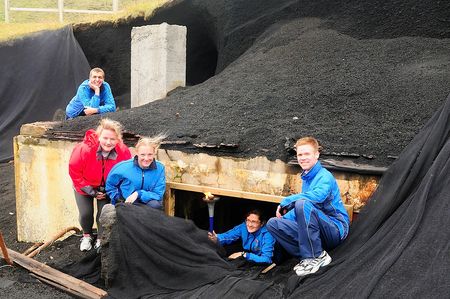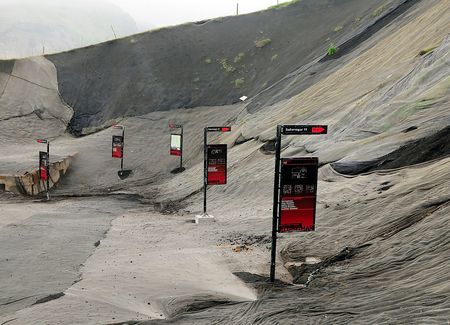 This was just the beginning, however. It took six months to remove all the ash from the houses. Again, this great task was only performed because of the harmony of the people.
Ekki var vandræðunum lokið þegar gosinu lauk, heldur þurftu allir íbúar að hjálpast á við að moka ösku af húsinu og tók það litla sex mánuði. Það tókst og ekki síst vegna þeirrar sáttar og þess samlyndis sem ríkir á milli allra íbúanna.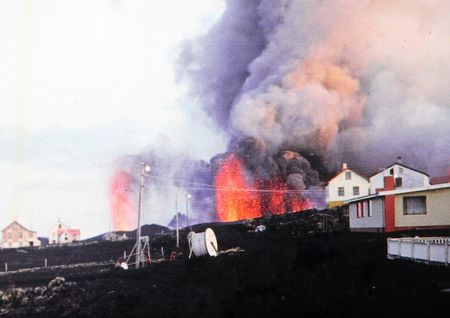 Since the World Harmony Run had now performed all its official tasks for the day, we used what time we had to go sightseeing, especially in the volcano.
Þar sem Friðarhlaupið hafði nú hitt alla sem það átti að hitta gátum við notið restina af tímanum til að skoða okkur um og fórum við t.d.upp á Eldfell.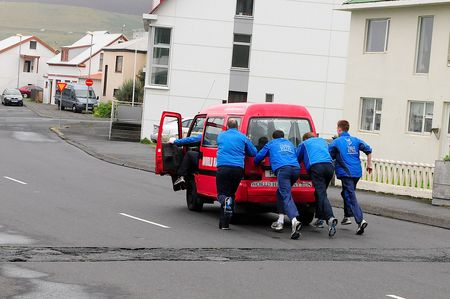 It was also interesting to see the excavation, which is in process, of the houses that were covered in ash before.
Einnig litum við á uppgröft á húsunum sem fóru undir ösku í gosinu..
We said goodbye to Vestmannaeyjar, a special place which has taken us far too long to visit (23 years). It will not be so long before our next visit.
Við kvöddum Vestmannaeyjar, þennan sérstaka stað sem hefur tekið okkur allt of langan tíma að heimsækja (23 ár). Það mun ekki líða jafn langt á milli næst.
---
Distance: 5 km
Team Members:
Apaguha Vesely (Czech Republic), Roos de Waart (Netherlands), Suren Suballabhason (Iceland), Zoltan Theobald (Hungary), Sumahat Strohn (Germany), Ester Sveinbjarnardóttir (Iceland), Rúnar Pranava Gígja (Iceland), Felix Lindner (Switzerland), Chahida Hammerl (Austria)
Harmonemail:
You can send a message to the runners or read the messages.
Gallery: See more images!