Luxembourg 9 September: Saarbrucken (Germany) - Luxembourg
Mark and Ondrej joined the International Team yesterday afternoon after their flight from Iceland to Frankfurt followed by a train journey to Saarbrucken.
We had a restful night's sleep at Edeltraud and Dietmar's house and we were treated to a five star breakfast in the morning that set us up for the whole day. Many thanks must go to Edeltraud and Dietmar for their generosity and wonderful hospitality.
Our first meeting was at Saarlouis 26 km away.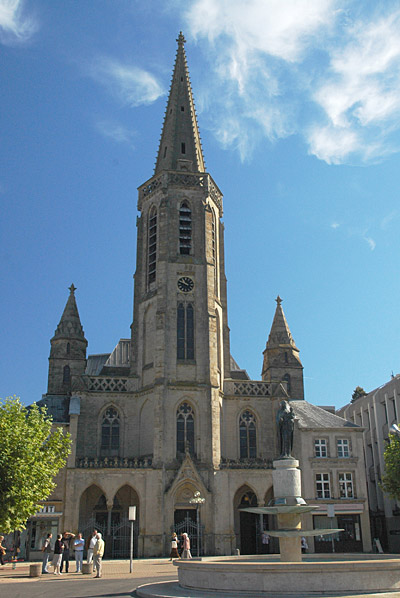 There we met a representative of the city at the Rathaus. He was very kind-hearted and fully supportive of our Run and with the torch he ran a few metres with us.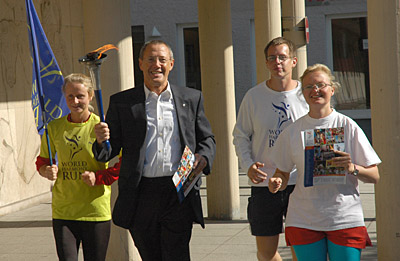 Our final meeting in Germany was in Merzig (www.merzig.de) where we met representatives of the city and sports association.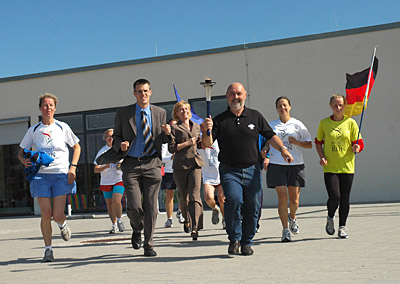 By lunchtime we met Stephanie, our Luxembourg country co-ordinator at Wormeldange. There we had a brief lunch overlooking the River Mosel and said our farewells to Sahatvam, our Germany regional coordinator.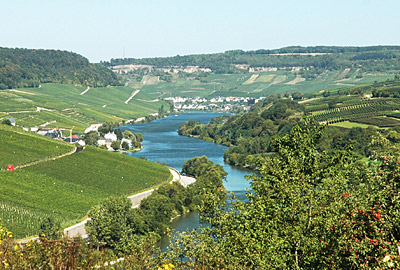 We crossed the bridge spanning the River Mosel and on our way uphill from Wormeldange we were joined by some very enthusiastic young runners from Portugal, Cape Verde, Afghanistan and of course Luxemburg.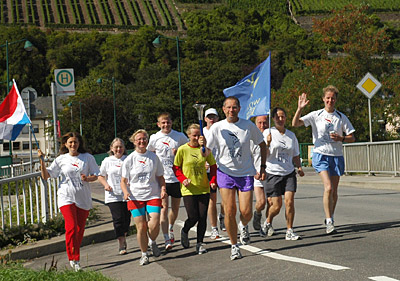 Throughout the day the weather was glorious with clear skies and warm sunshine. After all the rainy days we had in Austria and Germany in August it was a pleasant reminder that summer is not over yet - and hopefully long may in continue on our journey.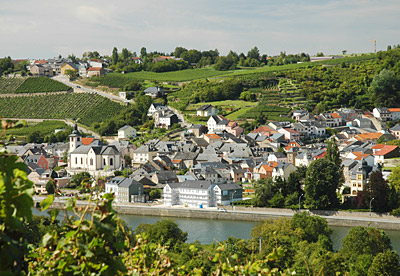 The evenings and mornings however tend to be getting cooler and this is also a reminder that autumn is just around the corner.
We continued our run into the capital, Luxembourg where we ran through the narrow streets to the Place d'Armes to meet the USA Ambassador, Ann Wagner, and a representative of the City Tourist office, Luc Thillman.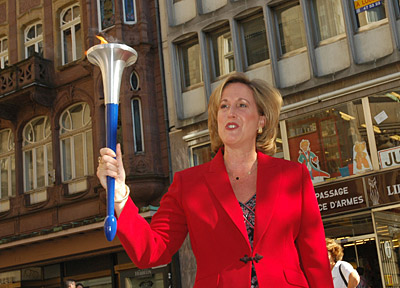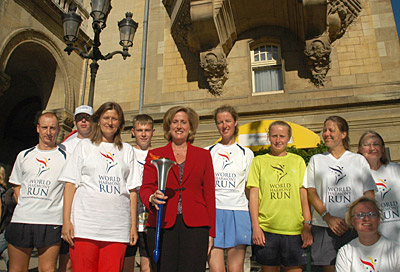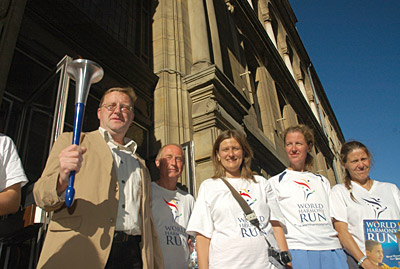 She was so smiley and very glad to greet the runners. In our World Harmony Run book she wrote the following thoughtful and supportive message:
There is no more noble goal than that of universal friendship and peace. I congratulate your spirit and great cause. May you be filled with endurance and strength in your hope filled and unifying message of goodwill, liberty and lasting peace. God bless you all.
In the background there was a band playing as part of a marathon music festival, which complimented very well our rousing rendition of the World Harmony Run Song .
We said our fond farewells and ran back through the congested streets of Luxembourg.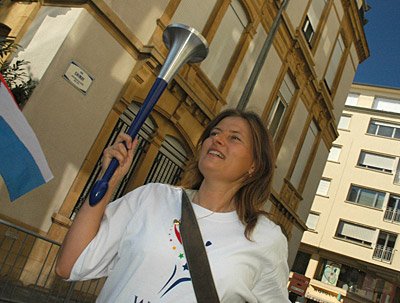 After a great day's running we all enjoyed a wonderful meal cooked by Stephanie in the garden of our Youth Hostel accommodation.
---
Distance: 106km
Team Members:
Annemarie Beumer (Holland), Elke Lindner (Germany), Friederike Makowka (Switzerland), Klaus Schulz (Germany), Mark Collinson (England), Marton Fekete (Hungary), Nataliya Lehonkova (Ukraine), Ondrej Vesely (Czech Republic), Vladimir Ilaysov (Russia).
Harmonemail:
You can send a message to the runners or read the messages.