Luxembourg 10 September: Luxembourg – Marche en Famenne (Belgium)
In the morning the International Team was strengthened as we welcomed Abhinabha, Karin and Peter from Holland, and Sabine from Belgium, and later in the afternoon Adhisar from the Czech Republic.
From the Youth Hostel in Luxembourg we ran 8 km to Steinsel where we were joined by four runners. There was Simone Keyser, a winner of the Marathon des Sables in Morocco, and she organises the Charity Run in Steinsel every year in Steinsel. There was also Jo Kox, Administrative Director of the Cesino in Luxembourg (Museum of Contemporary Art), and the other two runners had also competed in the Marathon des Sables.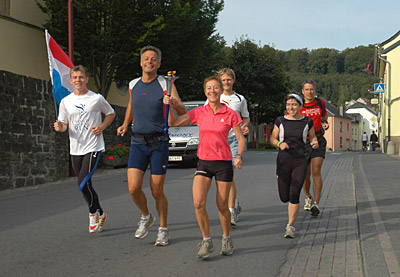 In the beautiful morning sunshine they set a good pace and ran 10 km with us. At Mersch Stephanie's brother and sister kindly provided us with refreshments.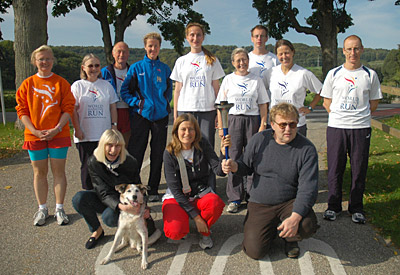 At the village of Buschdorf we had a small reception, but experienced people with big hearts and immense generosity and kindness.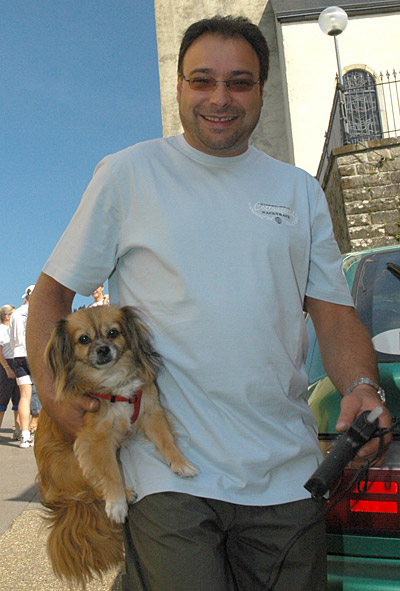 They were so pleased that the World Harmony Run passed through their village.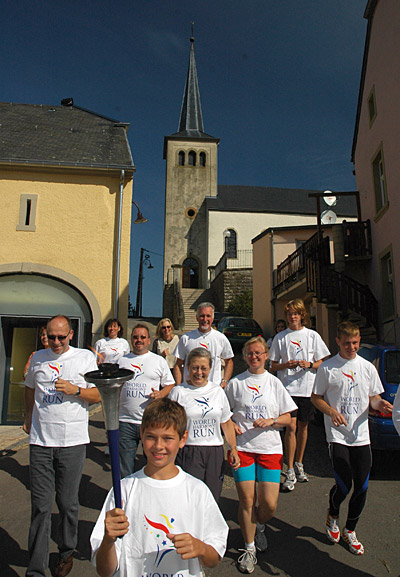 They avidly purchased World Harmony Run t-shirts and some young people eagerly ran a few kilometres with the torch.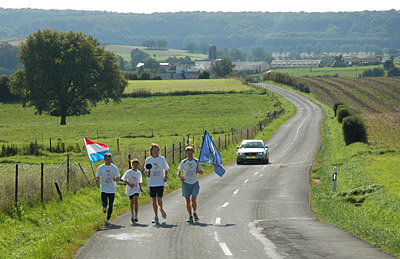 We continued running through the rolling countryside and without any border control, we unnoticeably passed from Luxembourg to Belgium. Whilst waiting for runners, many Belgian people came up to the van and asked about the Run. The people are very friendly and open.
After running 65 km so far we reached Bastogne, known as the 'Paris of the Ardenne'. We stopped at the Chapel of the Lady of Good Behaviour, complete with an American tank turret outside. The city of Bastogne and the surrounding forests were the site of some of the most intensive fighting during the Second World War. It so happened that today was the anniversary of the liberation of Bastogne. Outside the chapel we met Jean-Claude Kremer from the city's Sport Department. He is a keen runner himself, and has competed in a demanding mountainous 31 km road race in Switzerland.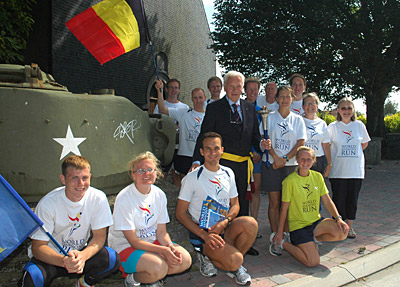 Mr Kremer informed us that although Bastogne was famous for being a Second World War battlefield, it is one of the ten Peace Cities in the world. About 5 km from the city there is a Peace Forest and the trees have been planted in the formation of the UNICEF symbol of the mother holding the child, and can only be fully observed from the air. We unfortunately did not have time to visit this forest, but it will certainly be a place that the World Harmony Run will visit next year.
We continued our running through forests and headed downhill to the town of La Roche en Ardenne where the town's square was packed with people celebrating Liberation Day.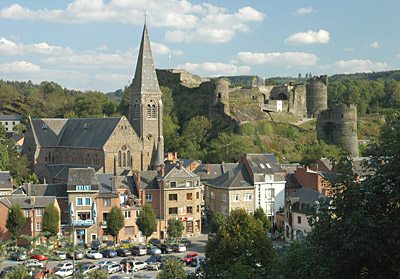 We met representatives of the town outside the town hall where the flags of Belgium, United Kingdom, USA and European Union were flying to commemorate Liberation Day. On the steps of the town hall we had a group photograph.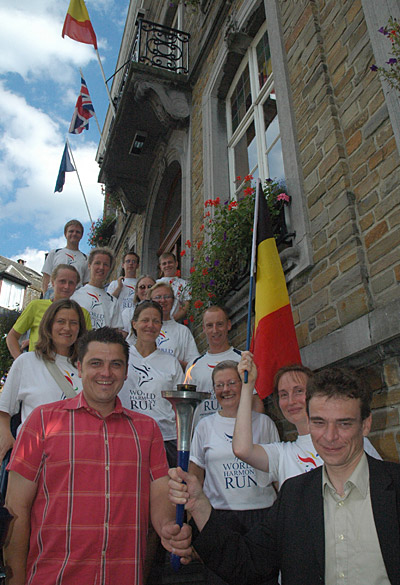 Two of the town's representatives kindly received us and invited us for drinks and some food in the nearby café. They avidly listened to our experiences of running in Europe. They wanted us to sit and chat for longer as they requested us to order a second round of drinks. We couldn't resist and many of us ordered delicious big mugs of Belgian hot chocolate. After hurriedly drinking these, Vladimir requested more running, so we gave him a 7 km stretch all uphill! He ran it at a good pace and although slightly tired and soaked in sweat he was very happy.
Through the rolling countryside and as the shadows got longer we joyfully ran.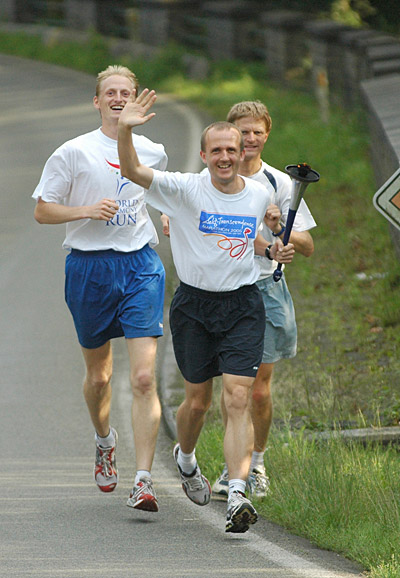 On time at the end of the day we arrived at the town hall of Marche-en Famenne, where we were greeted by Mr Philipe Hanin (vice mayor, and responsible for Sport, Youth and Culture, and North – South relations), and Mr Lobet (principal of a local school in a nearby village of Humain).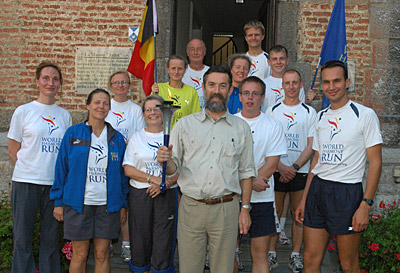 We were treated to some fantastic Belgian waffles and chocolates – they were eaten faster than we could run! We've noticed that Belgians particularly enjoy relaxing, sitting down, drinking and eating and chatting. We enjoyed Mr Lobet and Mr Hanin's company, and Mr Hanin invited us to visit his school tomorrow.
The town kindly provided us with our night's accommodation in a youth centre where we enjoyed a fantastic meal cooked by the girls. Tomorrow we look forward to running to the capital, Brussels.
---
Distance: 121km
Team Members:
Abhinabha Tangerman (Holland), Abhisar Laza (Czech Republic), Annemarie Beumer (Holland), Elke Lindner (Germany), Friederike Makowka (Switzerland), Karin Wijnkoop (Holland), Klaus Schulz (Germany), Mark Collinson (England), Marton Fekete (Hungary), Nataliya Lehonkova (Ukraine), Ondrej Vesely (Czech Republic), Peter Zuidema (Holland), Sabine Meyer (Belgium), Vladimir Ilaysov (Russia).
Harmonemail:
You can send a message to the runners or read the messages.