Itinerary 2010
Australasia 2010
The Australasian leg of World Harmony Run began on 13 October 2010 in Christchurch New Zealand and finished with a closing ceremony in Canberra Australia on November 20th.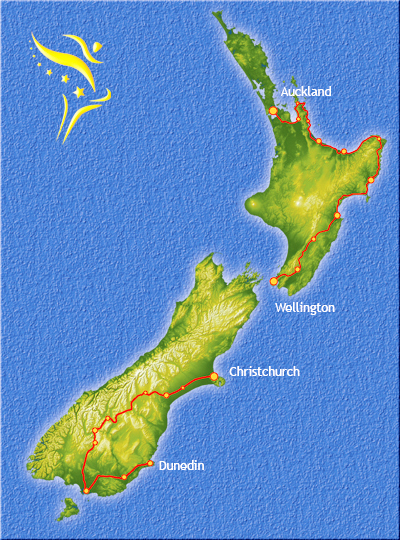 Starts 12 October 2010
New Zealand
Click the links to view the "Live from the Road" Daily Report...
OCTOBER 2010
Tuesday 12: Christchurch 
Wednesday 13: Christchurch to Ashburton to Geraldine. 138km
Thursday 14: Geraldine to Fairlie to Lake Pukaki. 137km
Friday 15: Lake Pukaki to Wanaka. 152km
Saturday 16: Wanaka to Queenstown. 112km
Sunday 17: Queenstown to Kingston. 47km
Monday 18: Kingston to Invercargill. 141km
Tuesday 19: Invercargill
Wednesday 20: Invercargill to Gore to Balclutha. 135km
Thursday 21: Balclutha to Dunedin. 80km
Friday 22: Dunedin
Monday 25: Auckland to Thames. 113km
Tuesday 26: Thames to Tairua. 142 km ( around the the coast of the Coromandel)
Wednesday 27: Tairua to Tauranga. 125km
Thursday 28: Tauranga to Opotiki. 135km
Friday 29: Opotiki to Hicks Bay. 146km
Saturday 30: Hicks Bay to Whatekaka 121km
Sunday 31: Wharekaka to Wairoa. 160km
NOVEMBER 2010
Monday 1: Wairoa to Napier. 118km
Tuesday 2: Napier to Dannevirke. 124km
Wednesday 3: Dannevirke to Masterton. 107km
Thursday 4: Masterton to Wellington. 99.9km
Fly to Australia

Friday 5: Hobart Ceremony, Schools, Run to Sorell 26km
Saturday 6: Sorell to Swansea. 107km
Sunday 7: Swansea to St. Helens. 125km
Monday 8: St. Helens to Lilydale (via Scottsdale). 143km
Tuesday 9: Lilydale to Devonport (via Launceston). 131km - Vehicles leave on Ferry to Melbourne.
Wednesday 10: Schools and Ceremonies Melbourne
Thursday 11: Schools Melbourne/ Run to Geelong 71km
Friday 12: Geelong Schools and CeremonyRun to Queenscliff 30km
Saturday 13: Catch ferry to Sorrento/ Run to Koo-wee-up (via Frankston) 93km
Sunday 14: Koo-we-up to Toora 113km
Monday 15: Toora to Sale 112km
Tuesday 16: Sale to Nowa Nowa (via Lakes Entrance) 126km
Wednesday 17: Nowa Nowa to Cann River 120km
Thursday 18: Cann River to Hwy 18 (via Bombala) 128km
Friday 19: Hwy 18 Intersection to Royalla (via Cooma). 134km
Saturday 20: Run from Royalla to Canberra 26km
Tuesday 23: Closing Ceremony in Canberra
Finishes 23 November 2010