12 Aug - Alexandra
Friday 12 August:
Alexandra, Johannesburg
Today we visited four schools starting at the Inkanyezi Waldorf School in Alexandra. The children had done drawings and poems on world harmony and were very excited to meet the international team of World Harmony runners. In true South African style the children sang a welcome to the runners.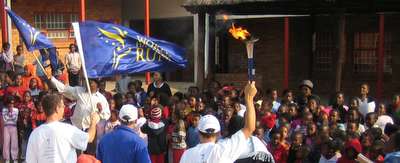 We were very grateful to have runners in our team from Australia (Prabuddha), New Zealand (Sean), USA (Logan), Zimbabwe (Abhijatri and Balarka) and South Africa (Penny and Clifford). The children loved this and asked all sorts of questions about the different countries.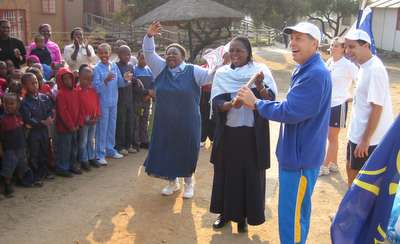 After the children performed the World Harmony Run song (with actions) the team presented the school with a certificate of appreciation for their participation in the run. This was enough for the whole school to burst into song again.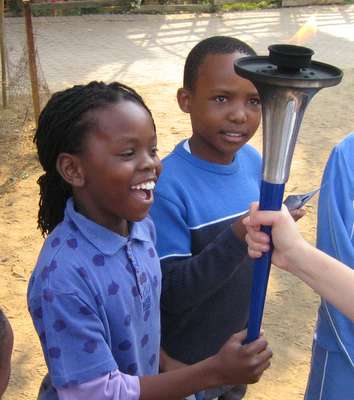 Now it was time for the children to make a wish for world harmony with the torch.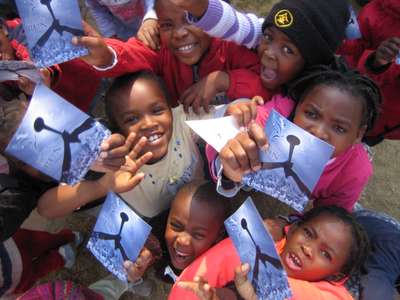 Everybody received a World Harmony Run card.
Then everybody had a chance to have a run. A nearby street was commandeered and we all set off with great enthusiasm. Even the principal ran about 200 metres with the torch and she was wearing a long dress!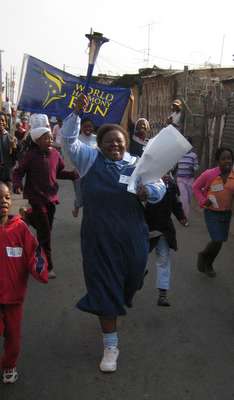 The banner was carried all the way by the children.
After an almost tearful farewell to our new friends the runners continued on their way to Tembisa to meet the next school of over 800 children.