11 Aug - Saxonwald
Thursday 11 August
Saxonwald to Tembisa
Today was a unique experience for me. I have lived in South Africa for nearly two years but somehow the World Harmony Run showed me something new. It was a brilliant expression of the warmth and the beauty of South Africa's people. People of all ages ran, danced, sang and greeted us all with such welcomes that we were astounded. Their enthusiasm for the run was almost too much to contain. In one school we were only supposed to speak to one class but very quickly all the windows were filled with expectant faces straining to take in everything.
The first school that we visited was Saxonwold Primary School. They went to great lengths to make us extremely welcome. Our path into the school was lined with flaming torches.

The children, who had all made peace doves, read out some beautiful poems they had written on World Harmony.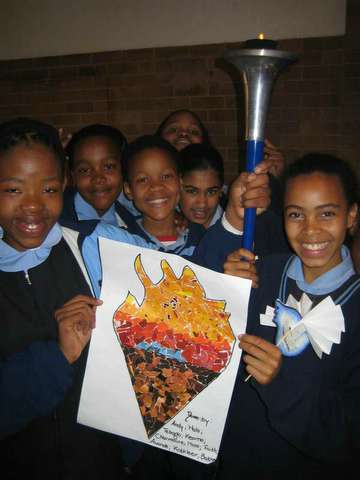 Afterwards the entire school sang the World Harmony Run song beautifully accompanied by their much loved music teacher Henry affectionately known as "Mr T".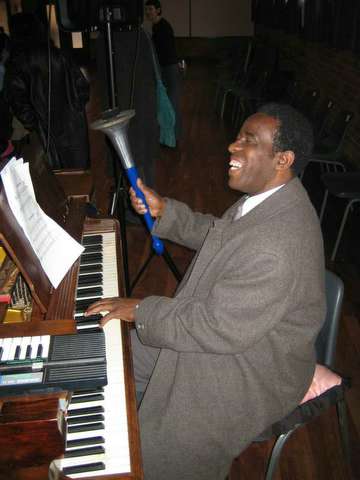 All the children revelled in the chance to hold the torch and make a wish for world harmony.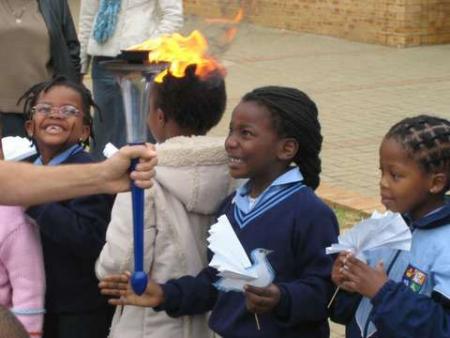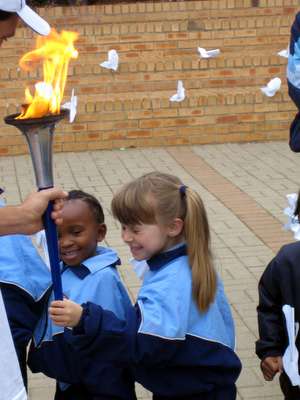 The school choir joined our team at the Nelson Mandela Children's Fund just around the corner, to sing the World Harmony Run song to the staff members and to thank them for doing such a wonderful job for all of South Africa's children. The choir also sang a special song honouring Madiba.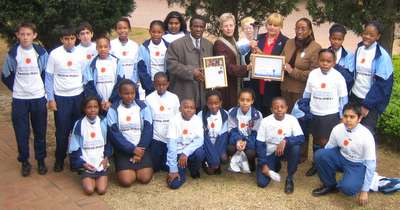 Clara from the Nelson Mandela Children's Fund took a moment to make a wish for world harmony.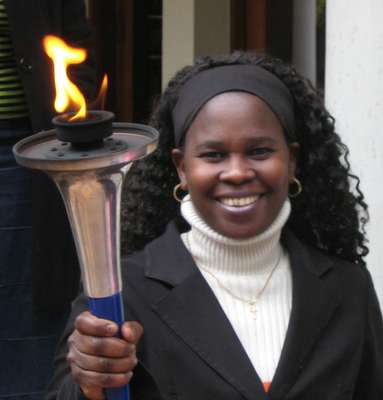 The Nelson Mandela Children's Fund very kindly presented each member of the choir with a tee shirt and a pin.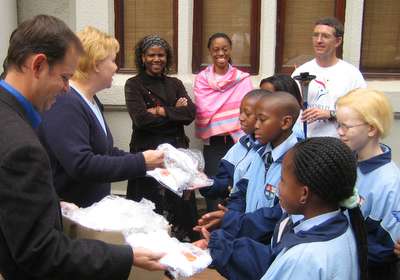 Sean, a World Harmony Runner, who came over especially for the event from New Zealand just couldn't believe it all. He said that he had to pinch himself to make sure that it was all real!
After visiting the Nelson Mandela Children's Fund we ran down to Houghton Primary School to be met again by an enthusiastic reception.
For me the one quality that the children seemed to bring to the fore on this run was that of joy. They just had such fun - particularly running with the torch. These children from Houghton Primary kept coming back to hold the torch and make new wishes for world harmony!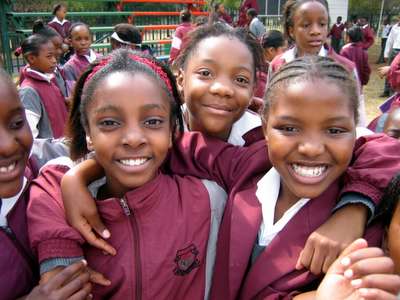 From Houghton we headed down to Alexandra, a low income area in Johannesburg that has a very colourful history including being the home of Nelson Mandela in his early days in Johannesburg. There we were hosted by Iphuteng Primary School on London Road. Here even before the organised ceremony had started the smaller children who were on their way home held the torch and made a wish for world harmony. They were natural actors and entertained us with all sorts of antics!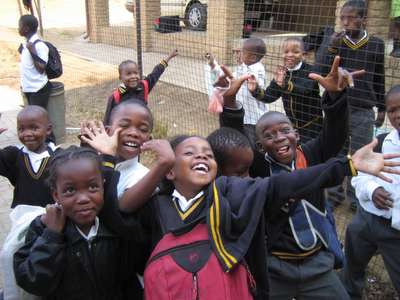 After a short ceremony we headed down London road towards Tembisa in preparation for day two. A great way to finish our first day on the road.
Abhijatri