Switzerland 8 August: Wil - Baden
At the start of the morning we commenced our day with drinks provided by the museum in Wil. The picturesque town centre was very quiet and tranquil, and it had all the feelings of a sleepy Sunday morning, and we had to constantly remind ourselves that it was a weekday.
We ran the short distance to Munchwilen where we met the mayor outside the town hall. He could speak quite a few languages fluently and spoke to our Bulgarian runners.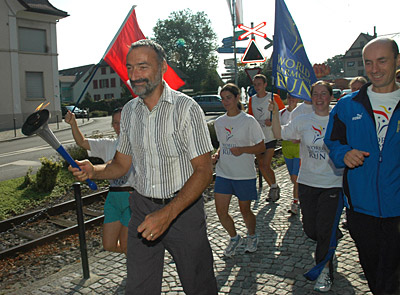 Then we ran just next to the train tracks.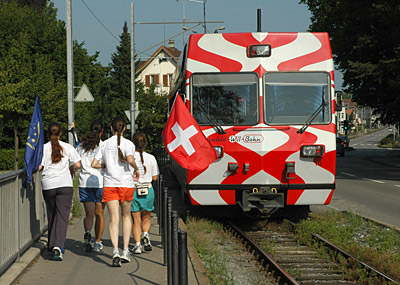 At Aadorf we met the mayor who said the World Harmony Run enabled people to open their eyes and to see that we were like a global village and welcomed this initiative to connect people.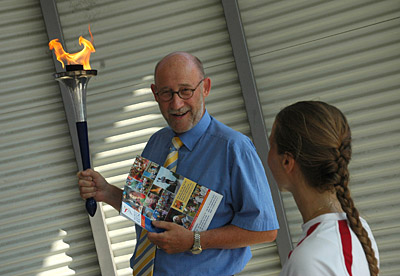 As we were running out of Aadorf along the cycle path we met an elderly gentleman on his bike who was more than happy to ride whilst holding the torch.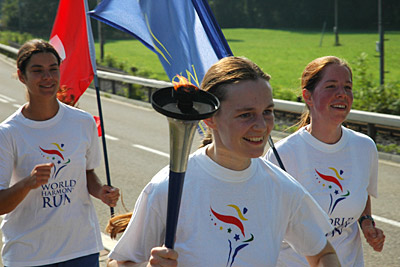 In the beautiful village of Elgg, with the sun shining we met the local journalist and some local people who admired the Run's achievements. One elderly gentleman beamed a wonderful smile when he held the torch.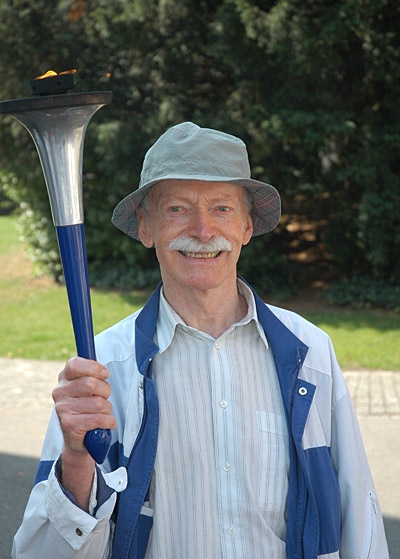 We ran to Winterthur where we visited the gallery of an exhibition of Sri Chinmoy's Soul Birds' paintings.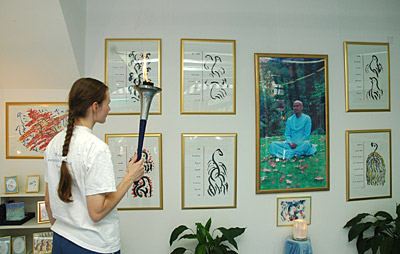 Outside the gallery we met the composer Heinrich Schweizer, his wife and his sweet natured young boy. They met Sri Chinmoy when he visited China earlier this year. They all held the torch and the little boy was so fascinated with the flame that he didn't want to let go of the torch.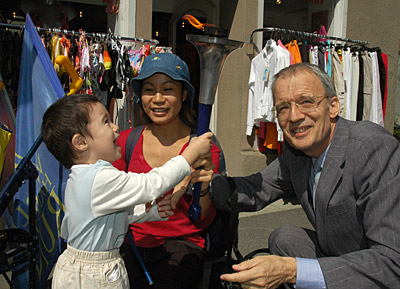 When his mother took it away he started to cry, but as soon as we gave it back to him he instantly stopped crying, and started smiling. Outside the gallery we chatted and ate lunch and enjoyed the moment.
Our next visit was to the Omkarananda Ashram where we were shown the temple and listened to three women disciples chanting mantras that were very soulful.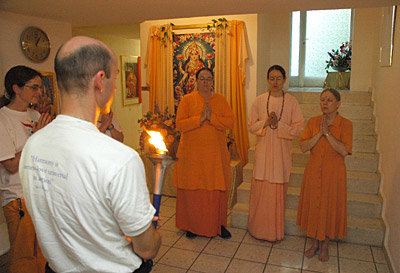 Afterwards everyone felt revitalised and had an immense sense of joy. We said goodbye to Heinrich, his wife and his little boy. We hope to meet them again in the near future.
Matthias and Mark ran the stretch into Zurich city centre. They initially were to run the 4 km to a junction where the support vehicle would be waiting. The Team were to be informed later the precise location to meet at a sports shop. Matthias and Mark ran a route that missed the junction so they continued running to the city centre not knowing where the meeting point was. As they approached the centre they coincidently met a local Swiss runner, Tibor on his bike coming towards them. We continued running and stopped outside a shop and Tibor rang Pranam. Unbeknown to us we had stopped outside the sports shop 'Fussball Corner Oechslin' where we were meant to meet up. It was just chance or destiny? The owner of the shop Primus Greile (he had competed at international level in 800m, until he was forced to retire due to injury) gave us water, sports drinks and glucose tablets. He mentioned that Carl Lewis (who has also held the torch) has visited his shop. We were joined by a local Italian runner who amiably chatted to Sandro.
Outside the shop we met Olympic triathlete champion Brigitte McMahon. She is very kind person with a good heart.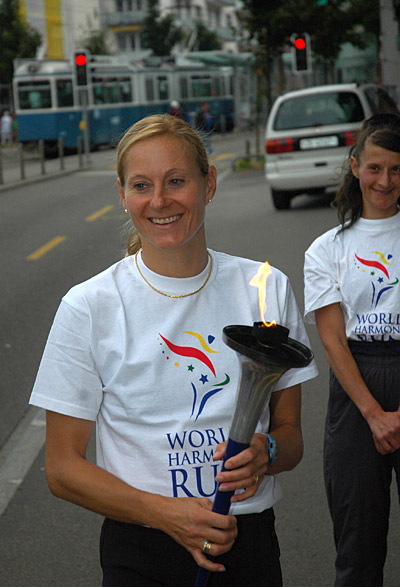 She kindly met us and ran a few kilometres with us, even though within 25 minutes she had a scheduled appointment to appear on national television. She fully supported the Run and admired our stamina.
From Zurich City centre we ran 7 km along the river to the 'Secrets of Perfection Flames' where they produce the famous 'Chi' drink. We met with the founder of this factory Abarita Daenzer, who gave us some of his excellent drinks. It gave us energy for our next journey.
After drinking the various flavours of this 'Chi' drink we were much revived to run the final 22 km to Baden. But before that we visited the Soyana factory where they provided us with food and refreshments.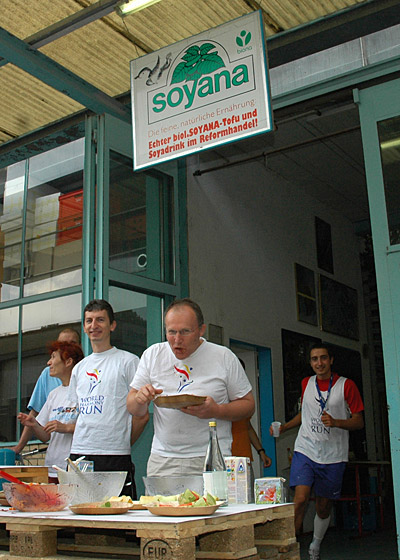 On the side of the road we found many blackberry bushes. With so much sunshine over the past month they were ripe and very sweet - delicious!
As we approached Baden we had a great view from the bridge of the river and the old town to complete our day's running.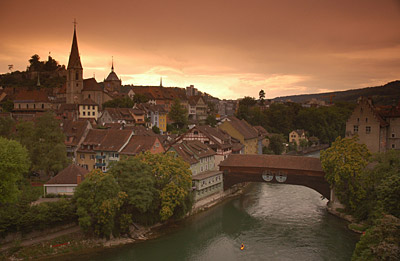 We sadly said farewell to our gentle giant Zoltan, who has entertained us by his Hungarian sense of humour.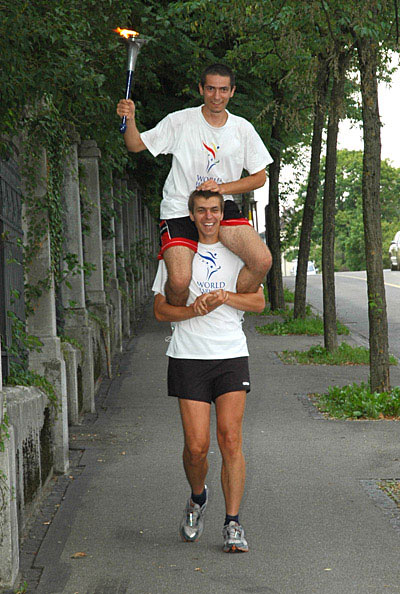 ---
Distance: 80km
Team Members:
Anete Klavina (Latvia), Anne Schulze (Germany), Doris Cott (Switzerland),Lachezar Rusev (Bulgaria), Mark Collinson (England), Prafulla Nocker (Austria) , Ondrej Vesely (Czech Republic), Petar Mihaylov (Bulgaria), Petr Machacek (Czech Republic), Sandro Zincarini (Italy), Spas Cholakov (Bulgaria) , Subarnamala Riedel (Germany), Terezia Hammel (Hungary), Veronika Kuliskova (Slovakia), Zoltan Theobald (Hungary).
Harmonemail:
You can send a message to the runners or read the messages.