Schools Arrangements and Performances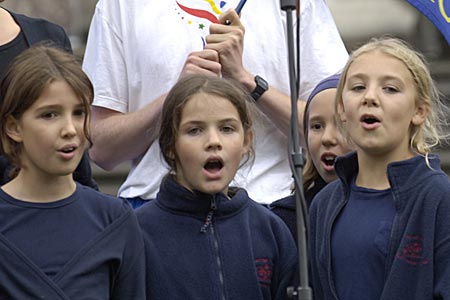 Sri Chinmoy's World-Harmony-Run song has been performed in many original arrangements by school bands and student ensembles in schools throughout the world. Following is a sample of original performances, performed and recorded by students.
If you would like to submit an original recorded performance click here.
---
Australia
Star of the Sea Primary School, Adelaide
School band (1st version)

Australia
Star of the Sea Primary School, Adelaide
School band (2nd version)

Australia
Radford College 1, Canberra
Student ensemble (students' melody)

Australia
Radford College 2, Canberra
Student ensemble (students' melody)

Australia
Radford College 3, Canberra
Student ensemble (students' melody)


Australia
Radford College 4, Canberra
Student ensemble (students' melody)

Australia
Bentley Primary School, Perth
Combined choir with synthsized backing track

Australia
St Peter's Primary School, Epping, Vic.
Year 6 percussion group

Australia
Darwin High School, NT.
Daniel & Rachael Tolliday-Henderson

Australia
Geelong College, Geelong
Student performance