Musik
World Harmony Run Song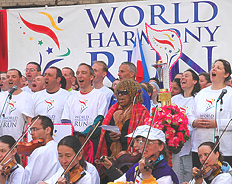 Der "World Harmony Run Song" wurde am 16. April 2005 beim Start des Laufs in New York City von einem internationalen Chor gesungen und seither von zahllosen Schulklassen. Auch Roberta Flack nahm an der Aufführung teil. Das World Harmony Run Lied wurde vom Initiator des Laufs, Sri Chinmoy, komponiert.
Das Lied anhören: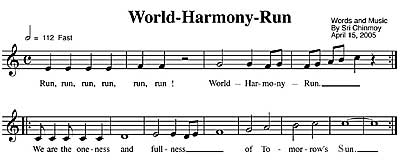 Text des World Harmony Run Songs:
Run, run, run, run, run, run, World-Harmony-Run.
We are the oneness and fullness of tomorrow's sun.