Guatemala 10 September: Xela - Quetzaltenango

Welcome to Xela
Bienvenidos a Xela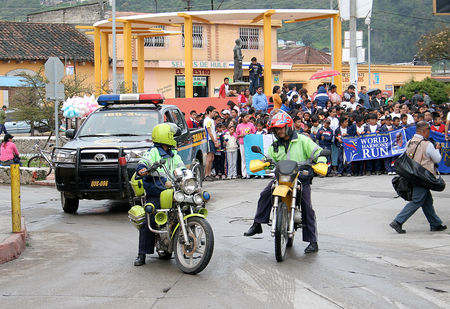 Quetzaltenango es la segunda ciudad de Guatemala más habitada, se considera que el nombre significa "el lugar del quetzal".
Quetzaltenango is the second largest city in Guatemala, and its name means "the place of the quetzal bird".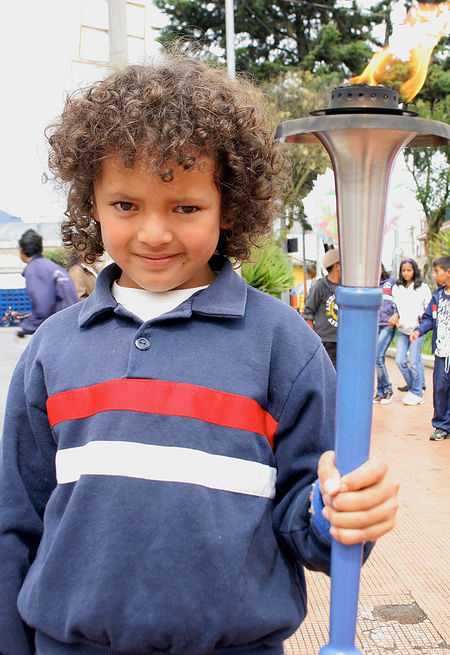 Desde muy temprano nuestros invitados llegaron al Parque Bolivar, para ser parte del evento.
Our guests gathered early in the morning at Parque Bolivar, to take part in the event.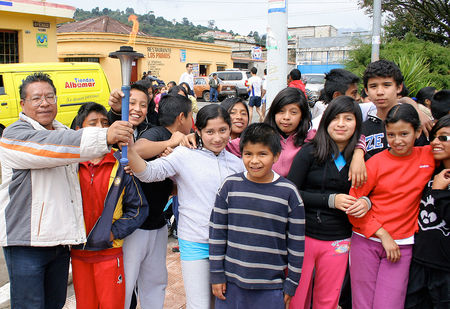 Todos quieren una foto con la antorcha....
Everybody wanted a picture with the torch....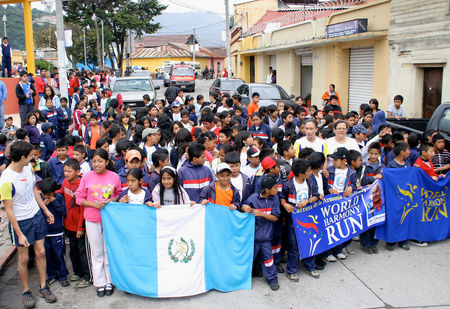 Aproximadamente contamos con la participación de 250 niños de 3 diferentes escuelas del sector.
We had aproximately 250 kids from 3 local schools.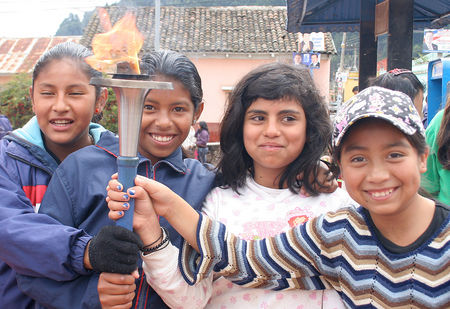 La alegría y el entusiasmo de los niños era muy evidente...
Cheerfulness and enthusiasm abounded...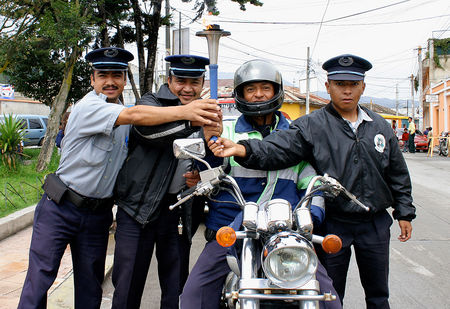 Este mismo entusiasmo inspiro a la Policia Municipal a ser parte del evento. !Muchas Gracias por su ayuda!
The same enthusiasm inspired the Police to be part of the event. Thanks a lot for your help guys!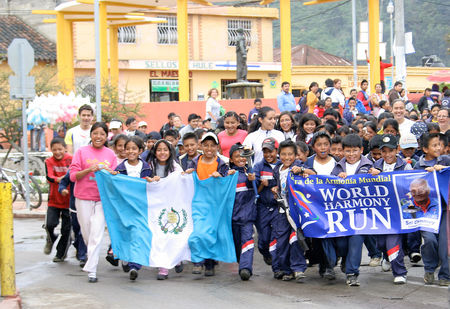 La lluvia no fue un impedimento para llevar a cabo el evento. Todos los niños estaban ansiosos por correr.
The rain did not stop us. All the kids were eager to run.
El recorrido fue muy energético, ya que los niños corrieron rápidisimo y llenos de alegría.
The Run was dynamic, as the kids ran fast, and full of happiness.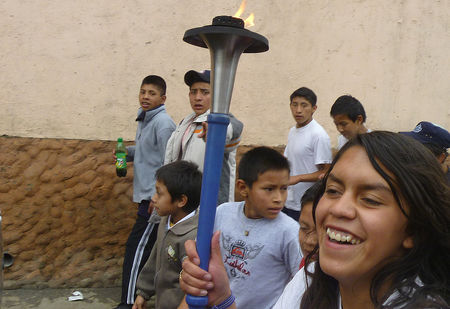 Nos costo mucho seguirles el paso a los niños.
It was quite hard to keep up with the kids.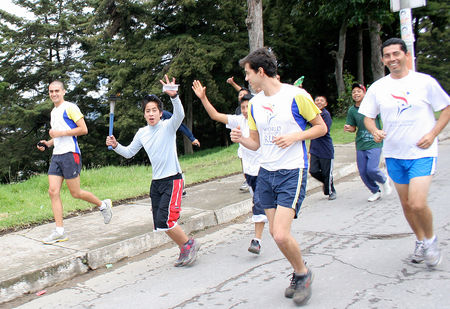 Correr en Xela puede ser algunas veces no tan fácil ya que la Ciudad está ubicada a más de 2,500 mts de altura, lo cual puede ser muchas veces un reto.
Running in Xela can be not so easy at times as the city is situated at over 2,500m altitude, which can be quite a challenge.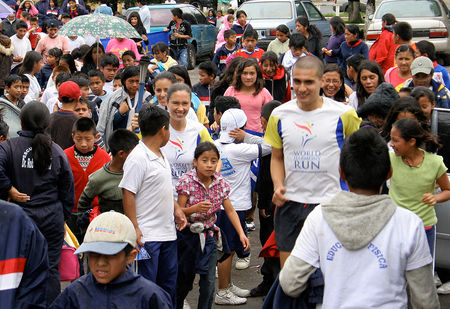 ¿Alguien puede ver donde está la antorcha?......Ahh, ahí está.
Can anyone see the torch?....Ah, there it is!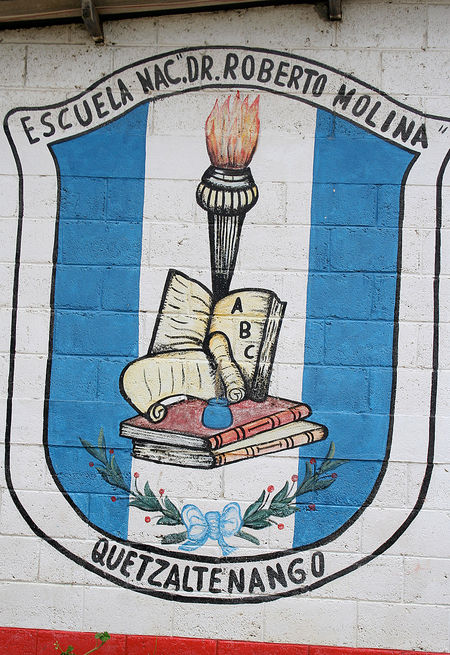 Al finalizar la ruta llegamos a la Escuela Dr. Pedro Molina, nos llamó la atención que en el escudo de la Escuela hay también una antorcha, ¿coincidencia?
At the end of the route we arrived at Dr.Pedro Molina school. We noticed that there is a torch in the school crest. Coincidence?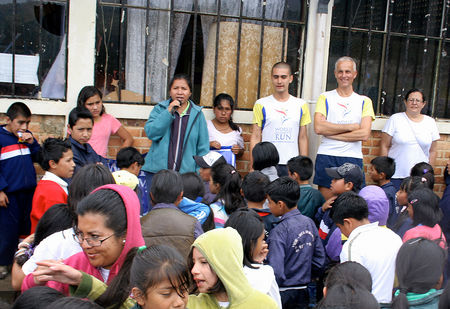 Tuvimos una presentación corta debido a la lluvia.........
We had a short presentation because of the rain.......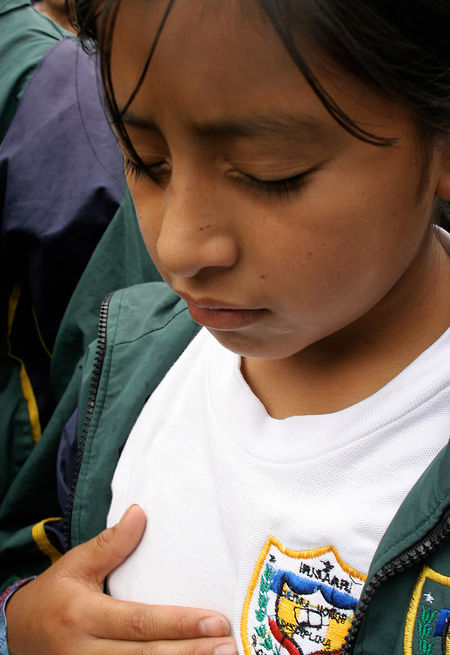 .........sin embargo nos llegó al corazón, ya que los niños de Xela son muy receptivos a los ideales de la Carrera.
.........However it touched our hearts that the children of Xela are very receptive to the ideals of the Run.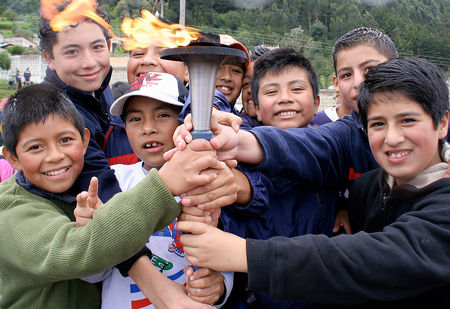 Sonrisas, Alegría, y Amistad, la combinación perfecta.
Smiles, joy and friendship, the perfect combination.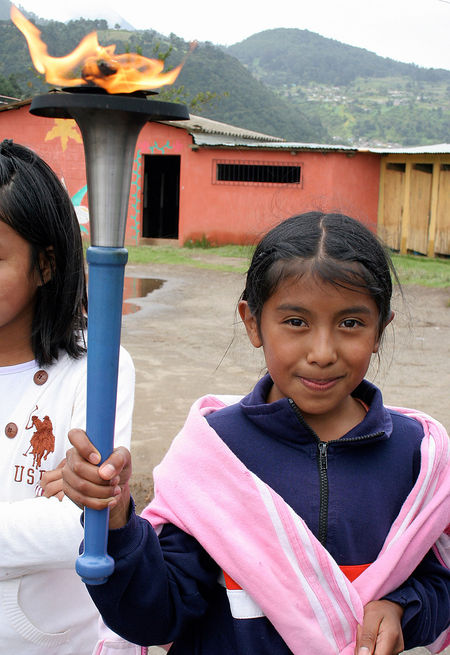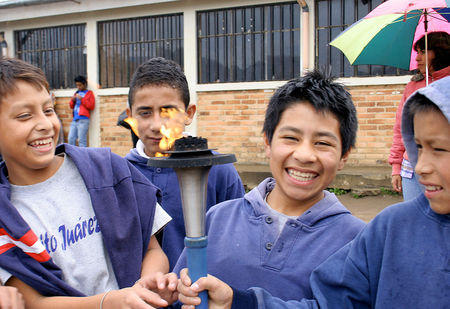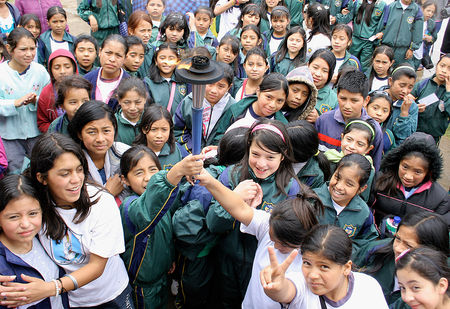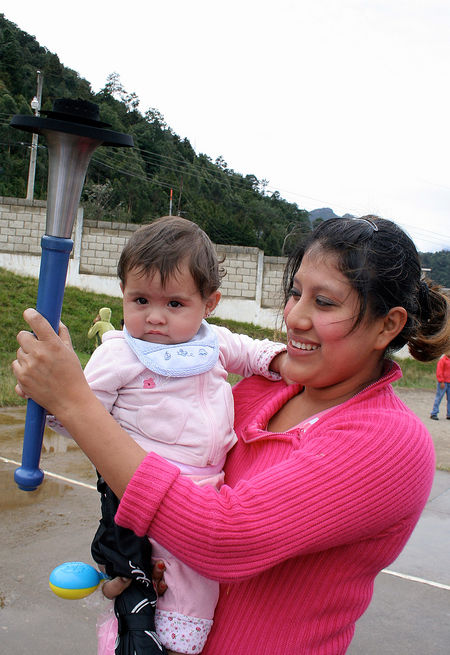 Hey, !encontre un nuevo juguete con el que puedo correr por todas partes!
Hey, I found a new toy to run everywhere with!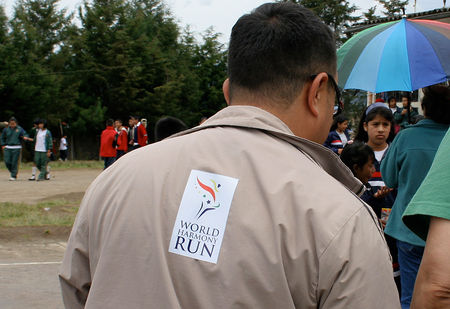 ¿Es este un nuevo diseño de la chaqueta oficial de la Carrera de la Armonia?
Is this a new official World Harmony Run jacket design?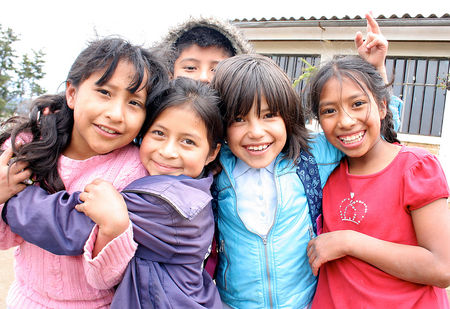 Amigas felices con dulces sonrisas.......
Happy friends with sweet smiles........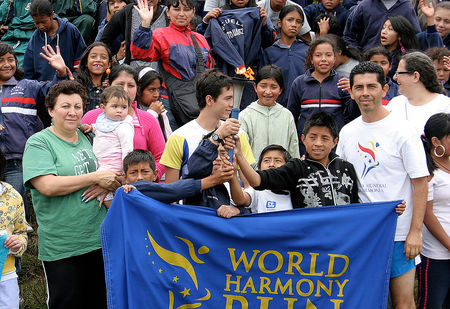 Muchas Gracias a Tomy Oliva(a la izquierda de verde) nuestra coordinadora local, gracias a ella el evento fue un exito.
Many thanks to Tomy Oliva (to the left, in green), our local coordinator. Thanks to her the event was a success.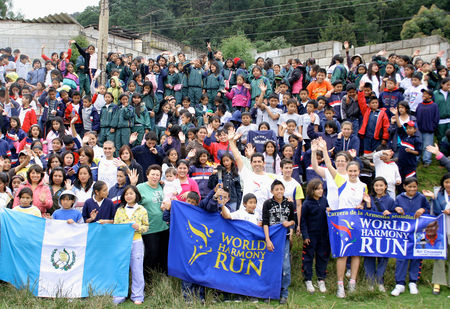 Nos vemos luego Xela, Muchísimas Gracias por todo!!!
See you next time Xela, thanks for everything!!!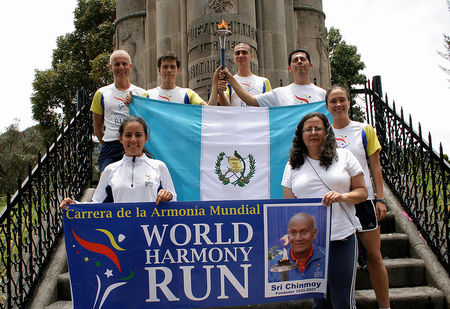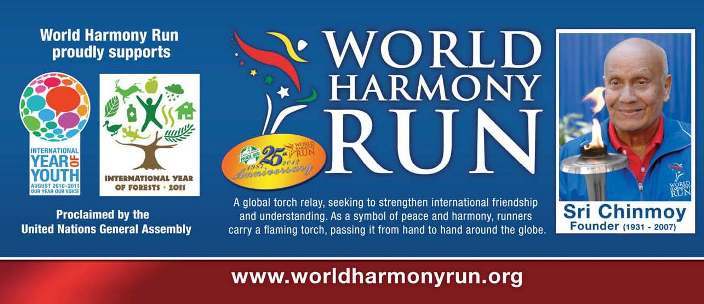 The World Harmony Run proudly supports the International Year of Youth (IYY) and the International Year of Forests (IYF) proclaimed by the United Nations General Assembly.
See the recent Youtube video on African experience which illustrates IYY slogan "Our Year Our Voice"  International Year of Youth - Zambia World Harmony. They surprisingly mention Presidents and UN Secretary-General in a unique way! Schools performed the Harmony Run Theme song with different tempos and instruments. Some older students emphatically incorporate the words "We are the oneness and fullness of tomorrow's sun" into a very inspiring, dynamic and Africa centric poetic rendition.
See also the UNESCO World Heritage (WH) Centre support for IY of Forests.  ... Convention for conservation of forest biodiversity. (more)
---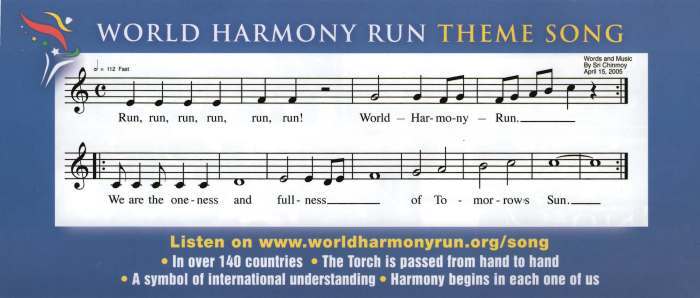 La canción de World-Harmony-Run fue compuesta por Sri Chinmoy, el fundador de la carrera. Escúchala en versión corta (2 min) o en versión larga (6 min)

Letra de la canción
Run, run, run, run, run, run!
World-Harmony-Run.
We are the oneness and
fullness of Tomorrow's Sun.

¡Corre, corre, corre, corre, corre!
Carrera por la armonía mundial.
Somos la unidad y la plenitud
del sol de mañana.
- Sri Chinmoy
---
Distance: 4 km
Team Members:
Dipavajan Renner (Austria), Vettri Angel (Guatemala), Purnahuti Wagner (Guatemala), Priyala Carvalho (New Zealand), Shumbanni Juarez (Guatemala), Istidad Hernandez (Guatemala), Gabriel Marquina (Guatemala), Paty (Guatemala)
Gallery: See more images!