23 August: New York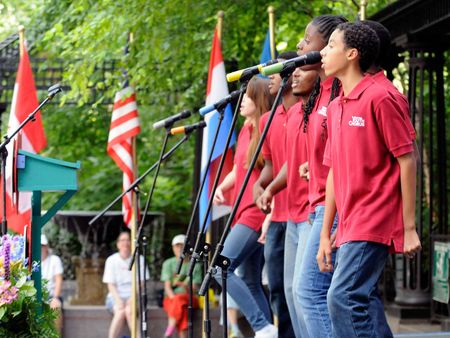 The International Ceremonial Closing (*see note below) for the 2012 World Harmony Run was held at the Dag Hammarskjold Plaza and was opened as it has been since August 2005 by our good friends from the New York City Housing Authority Youth Chorus.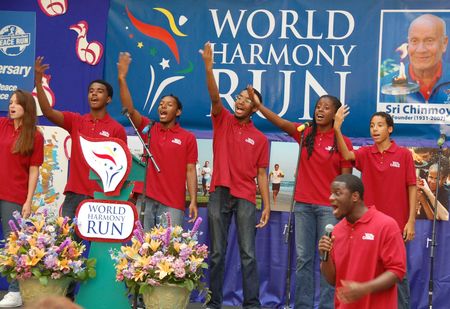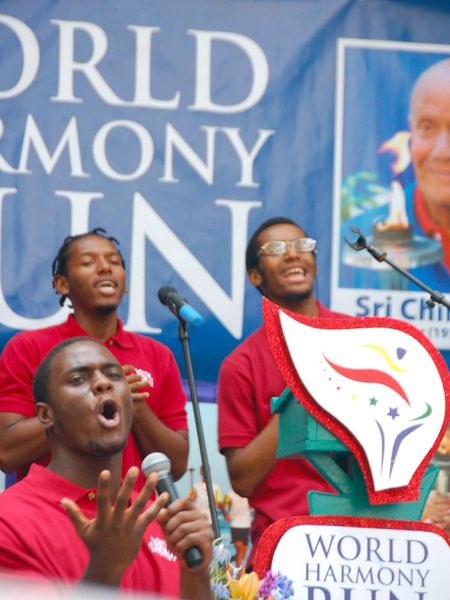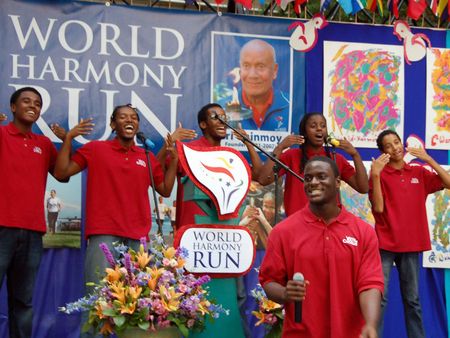 We were honored to have many special guests attending the event.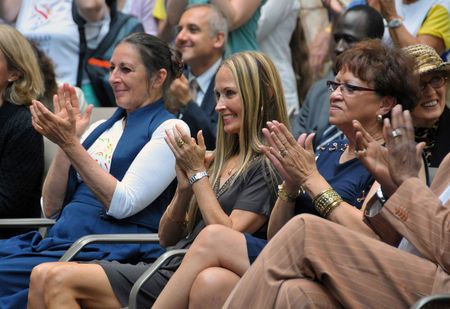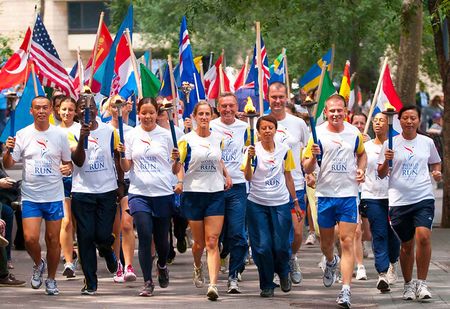 The runners from around the world ran into the ceremony, representing a sampling of over 100 countries the World Harmony Run has visited in 2012.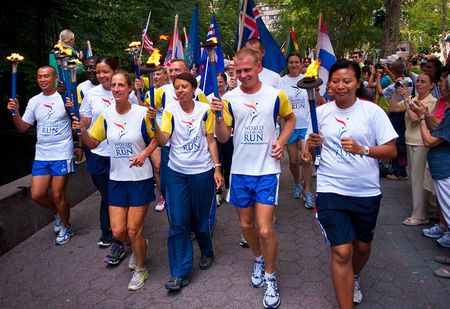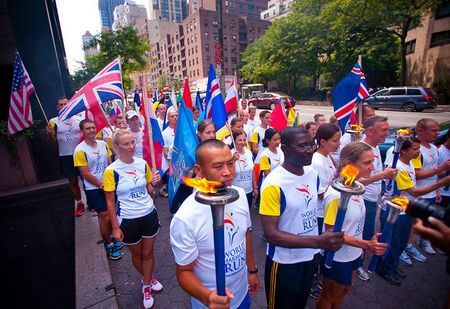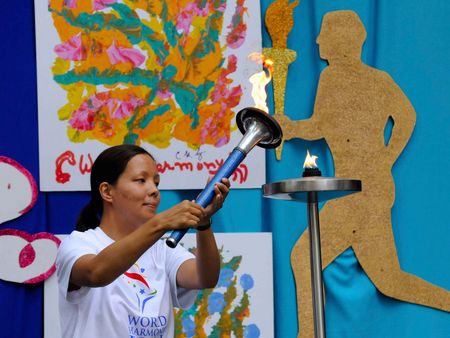 Akbota from Kazakhstan lights the flame from her torch. This year on July 25th Astana, Kazakhstan, was the meeting point for the completion of the Asia-Pacific and one leg of the European Runs, celebrating a theme of "East meets West". Kazakhstan is appropriately situated in the centre of Eurasia, and the ceremony in Astana was dedicated to the 20th anniversary of the accession of Kazakhstan to the United Nations and the 25th Anniversary of the World Harmony Run.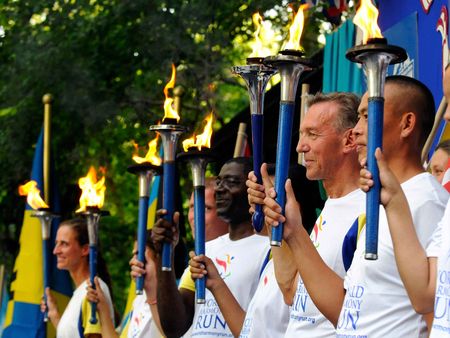 The runners all came onto the stage and announced their respective countries.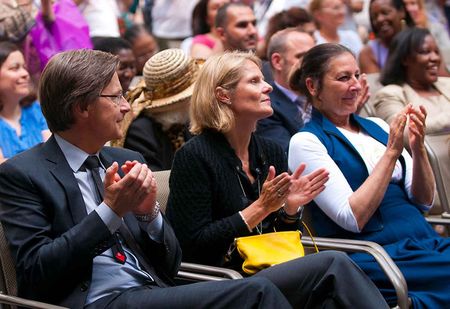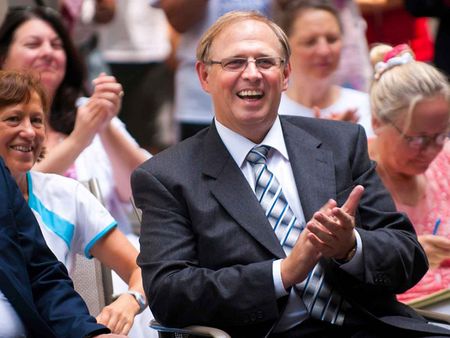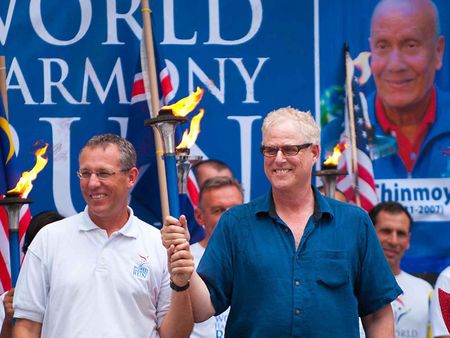 Salil Wilson, the present Executive Director of the World Harmony Run, with Shambhu Vineberg, the original Executive Director from the first Sri Chinmoy Oneness-Home Peace Run in 1987, 25 years ago.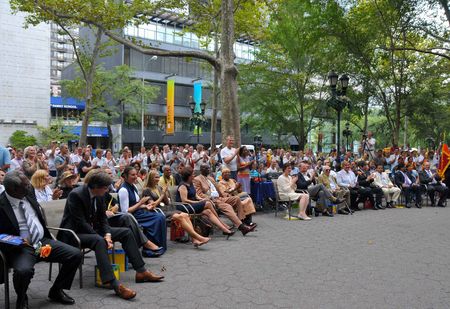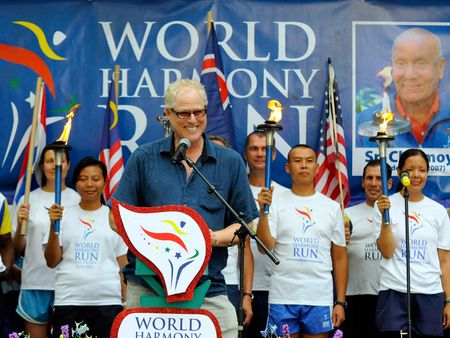 Shambhu was deeply moved by the spirit of the run which is felt so powerfully wherever it goes.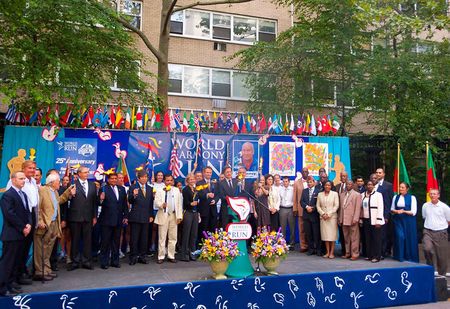 This year United Nations representatives and special guests from 23 countries graced us with their presence at the Closing Ceremony!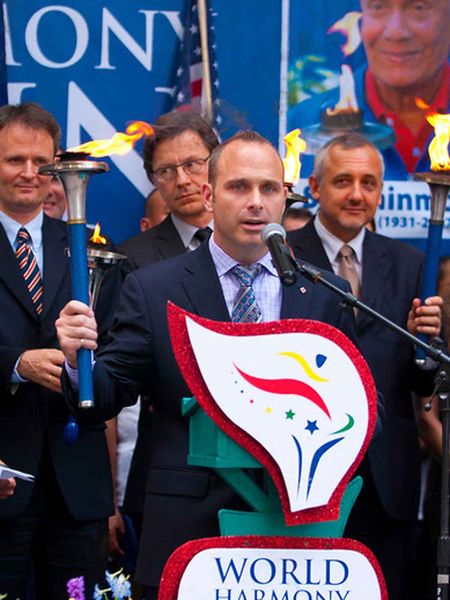 Maj. Martin Arcand, UN Deputy Military Adviser representing Canada, thanked all the runners and gave them his blessings. "Being a runner myself, I know that everybody has a cause to run. But there is not a much better cause than harmony and world peace."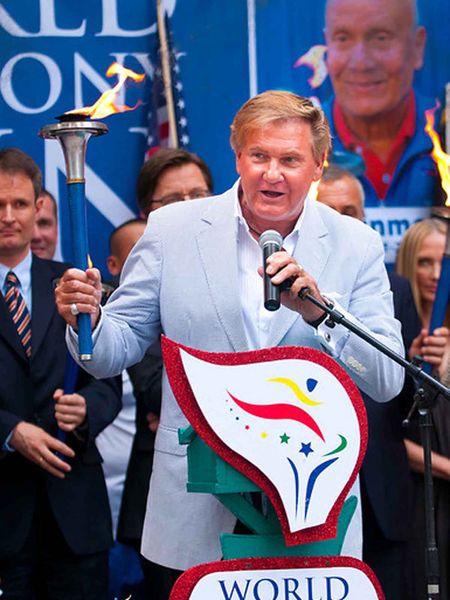 Our good friend, Jimmy Sherlock, a former Torch Bearer recipient for his Humanitarian work, spoke saying "I am proud to be an American and I thank God for the United States and the heart of America. God Bless you all".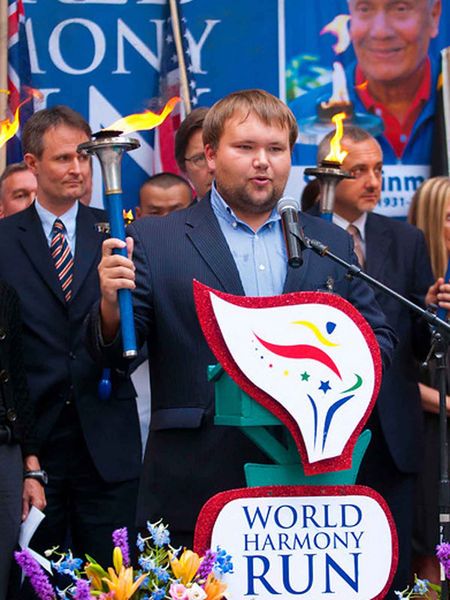 Mr. Yuri Nikolaichik, representing Belarus.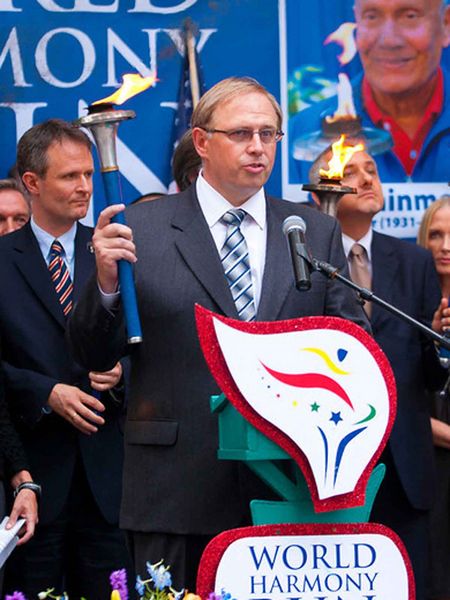 Hungarian Ambassador, Zsolt Hetesy,DPR, wished us another 25 years of running.""What you do is very important. We can look up to you when we are seeking for examples. I just wish you another 25 years and hold high the torch for us."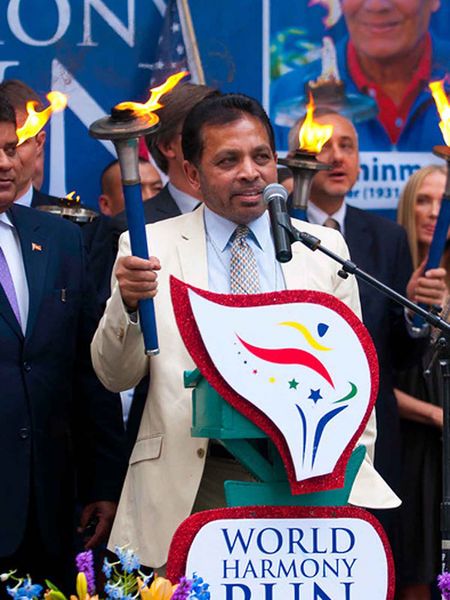 Sri Lankan permanent UN representative, Dr. Palitha T.B. Kohona, gave us his thanks.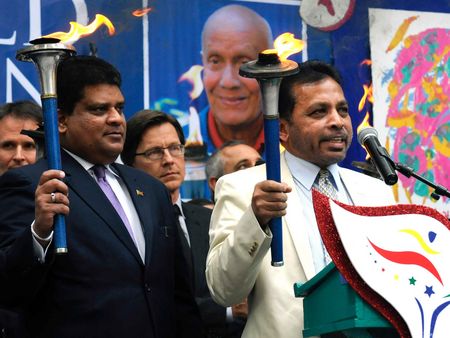 He was joined by Major General Shavendra Silva, DPR, also from Sri Lanka.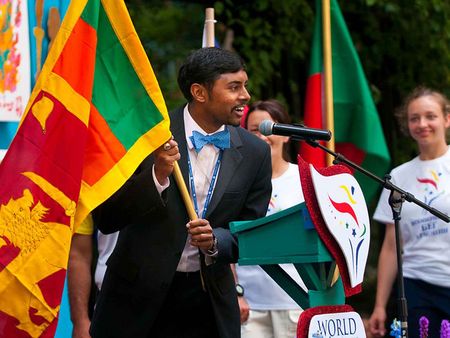 Waruna Sri Dhanapala, Sri Lankan Minister Counsellor, enthusiastically represented his country for the Parade of Nations.
H.E. Mr. Kazuo Kodama, the Japanese D.P.R. shared some moving words with us, saying "...Some of the runners visited the areas which were (touched) by the tsunami and earthquake in March of last year, we were very gretful..To the people of Japan you have given them hope and the message of peace..."
Mr Kodama also mentioned Bob Beaman, saying "...when he flew in the air in Mexico city in 1968, I was just 15 years old, I remember he symbolized the human capacity to make progress and betterment..."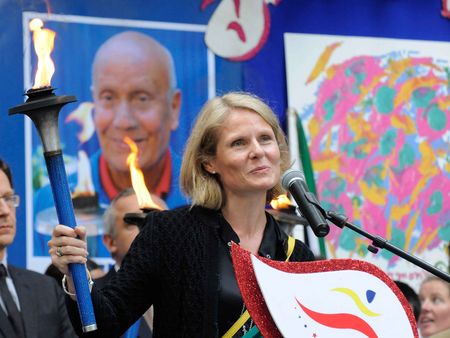 Representing Norway was H.E. Mrs. Tine Morch Smith, DPR (Charge d'Affairs). She kindly spoke about two special landmarks in her country, "It is a special pleasure because in Oslo when you enter there is a port there, and the gift of the Eternal Peace Flame given to us by Sri Chinmoy in 2000, and later it was joined by the statue of him. That was in 2008, it is a landmark in Oslo. It is a pleasure to be here, and congratulations on the 25th Anniversary"!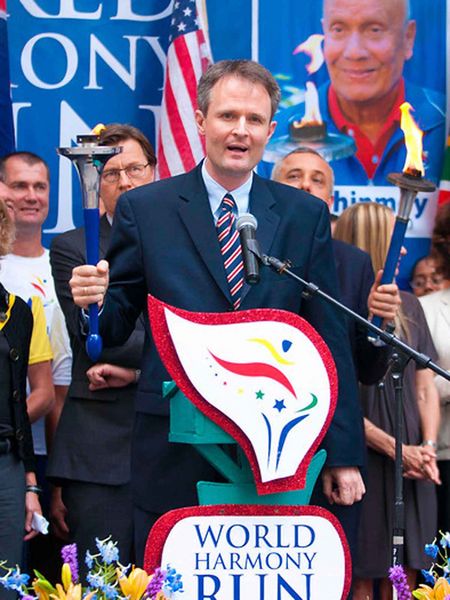 Mr. Andreas Riecken, D.P.R. from Austria gave us his support, " This is a great initiative, a great event.. It is supported by Austria too. I thank everybody who took the time to join us..."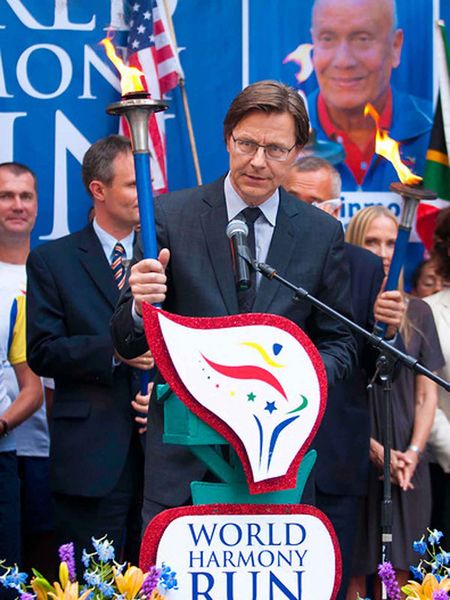 Mr. Jon Erlingur Jonasson, D.P.R. of Iceland said, "Congratulations to all runners. Runners know that running is a lifestyle. So let's make Peace and Harmony a lifestyle..."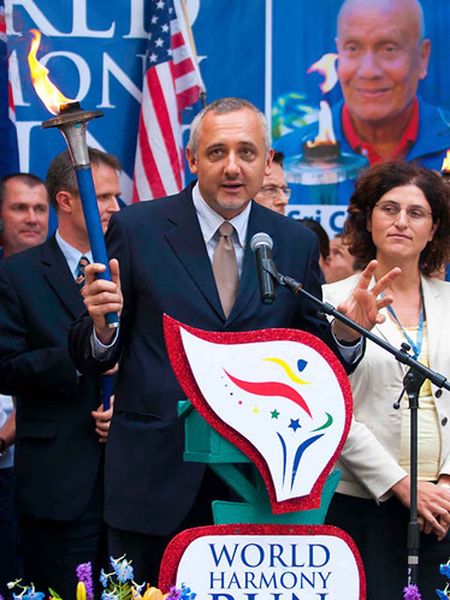 Representing UNESCO was Mr. Philippe Kridelka, Director, Rep. to the UN spoke on behalf of UNESCO "... which is the United Nations Body in charge of education, culture, science and free press which are all wonderful tools to build peace in the mind of Mankind. So Good Luck to all of you and thank you for inviting us".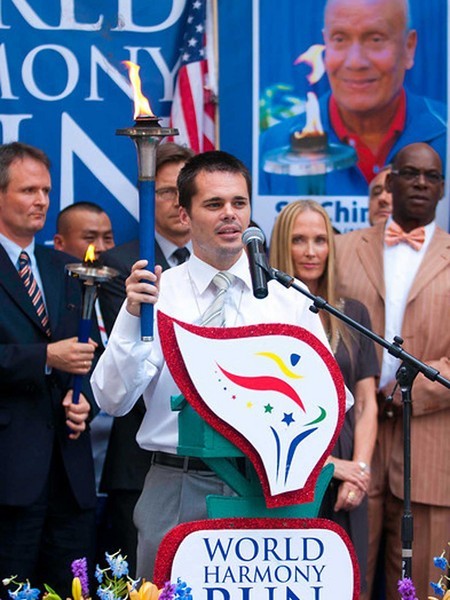 Mr. Josip Babic, representing Croatia, said "I thank all the people of this great event – that are keeping this edition going. I am happy that this event is still in Croatia and that runners from Croatia are coming to this event twice per year – thank you.."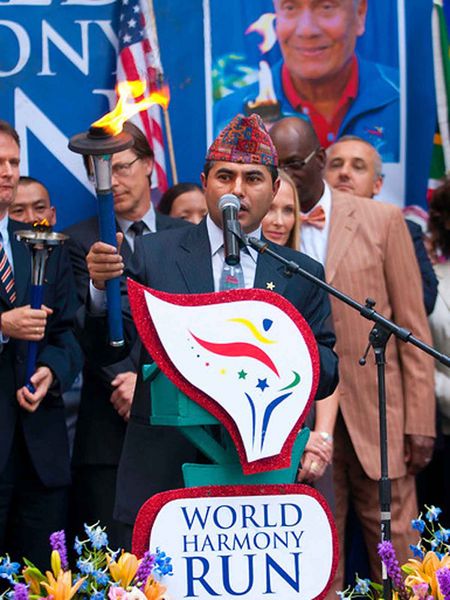 Mr. Prabin Bhattari, 3rd Secretary representing Nepal, gave us his thanks.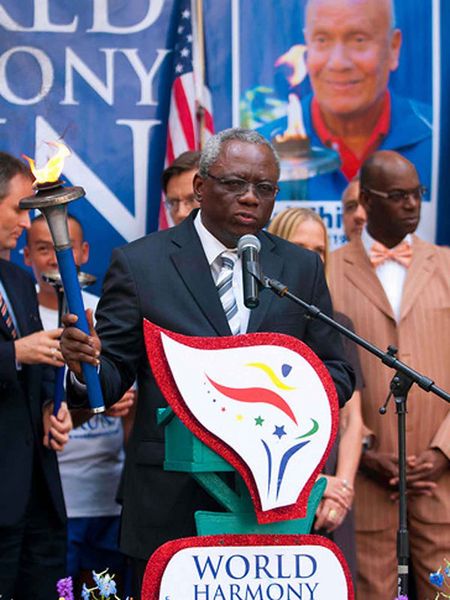 The UN Permanent Representative to Burkina Faso, H.E. Mr. Der-Kogda, gave us his thanks and blessings.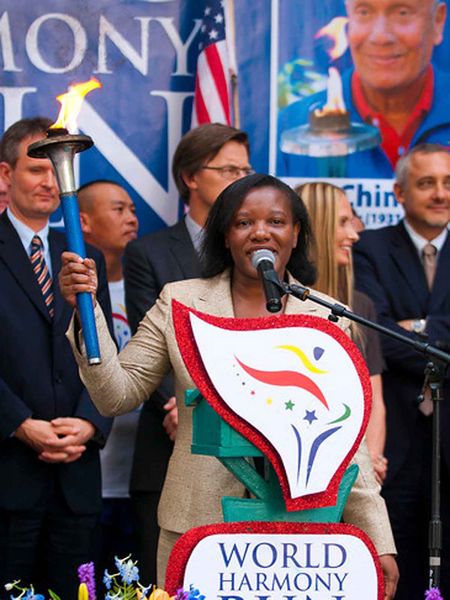 Ms. Irene Tembo, UN Economic Counsellor for Zambia, gave us her congratulations.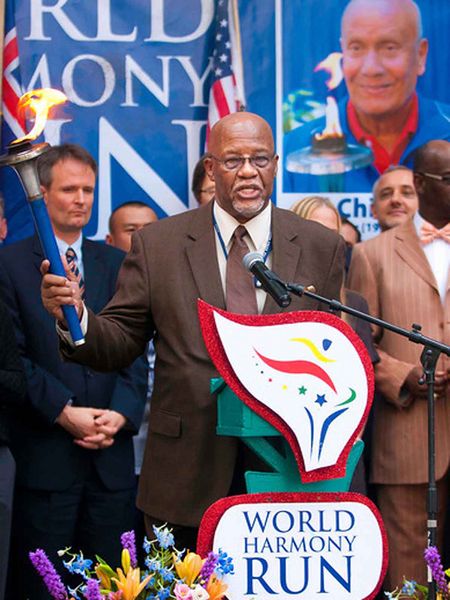 H.E. Mr. Joseph Goddard, UN Permanent Representative from Barbadoes gave us his congratulations, " I would like to thank the runners and commend them for their perseverance. I believe it would have been a grueling piece of activity – so I wish to thank everybody. Thank ever so much. I look forward to seeing you all in Barbados sometime".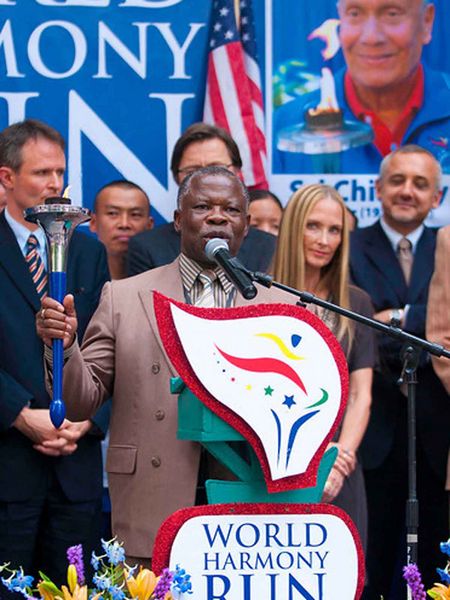 Mr. Wilfried I. Emvula, Permanent Representative from Namibia, said "Congratulations to all of us. Peace and Harmony is one thing we can not live without..."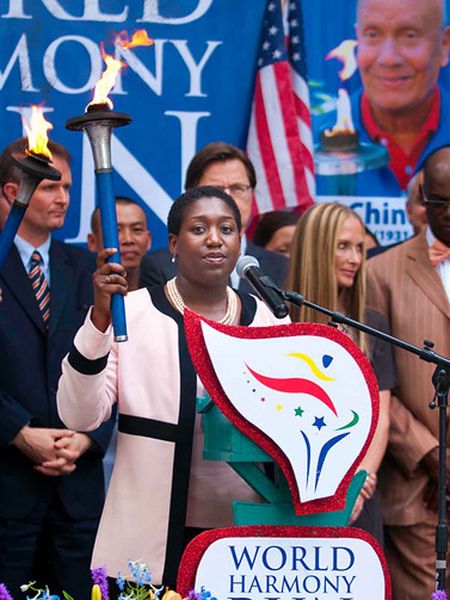 Margaret Kafeero, UN representative from Uganda, offered her congratulations, adding "...I know the world harmony run went to the source of the Nile in 2006. I think every body needs to go to the source of the river Nile at one point. Thank you again for the invitation to come today we are very proud to be here."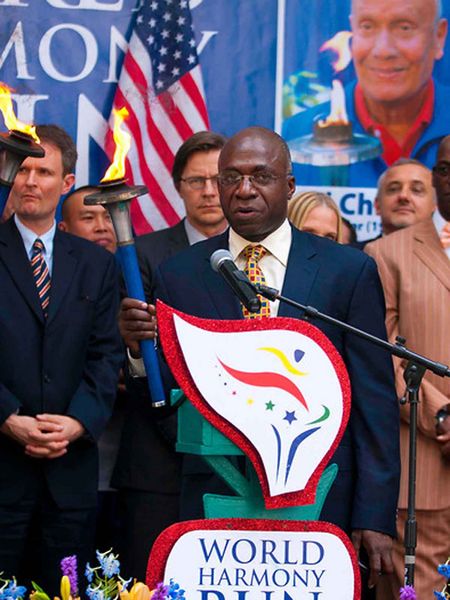 H.E. Mr. Tete Antonio, Ambassador from the African Union, (PERM. OBSERVER) said "I represent the African Union, which is composed of 54 African countries. So I represent the African Countinent. I think it is a very important contribution. When the African Union Celebrates the peace day on September 21st, the Aftican Union will say 'Make Peace Happen', so I really thank you the organizers and I thank the runners for their contribution to make peace happen, thank you".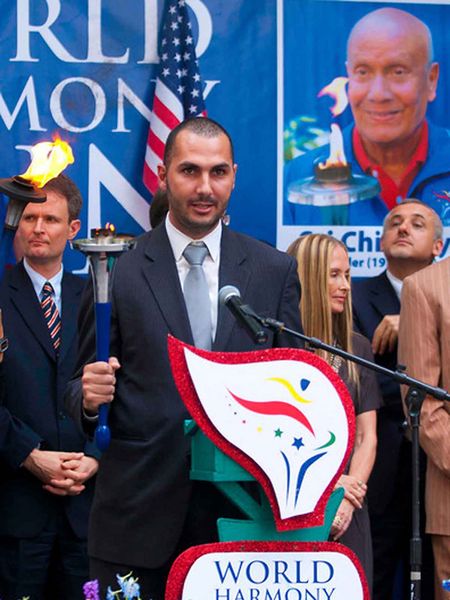 Representing Malta was Mr. Adam Kuymizakis, Third Secretary, " I want to thank you all for keeping this tradition alive. I congratulate the runners, those who are here and those who are not here for all they have done..."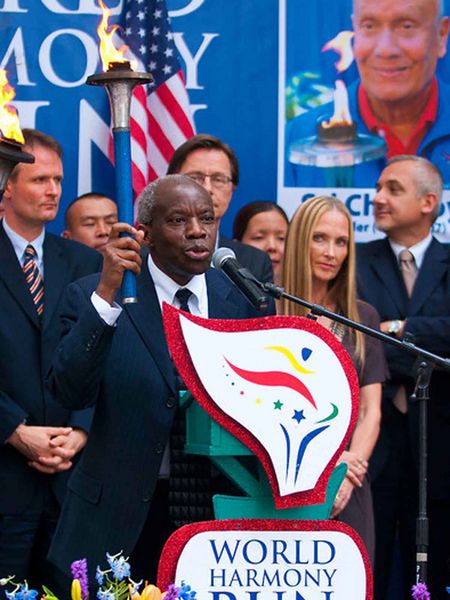 Representing Tanzania was Dr. Hreei, " I would like to tell you that 50 years ago Tanzania, mounted this kind of torch on the top of the highest mountain in Africa, Mt Kilimanjaro to bring hope where there is despair, and up to this day we run a race with the torch in Tanzania every year. I want to congratulate you and wish for you that this World Harmony Run always works for peace in the entire World. Thank you very much".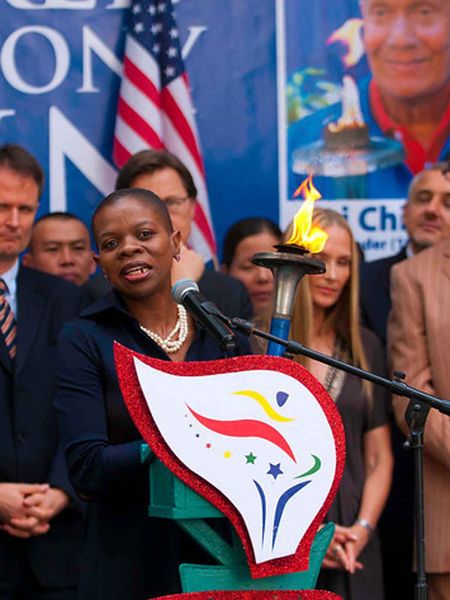 Ms. Nomfanelo Kota, Counsellor from South Africa, offered her heart-felt words to the runners, "We are proud of you. My Country is a product of your struggle and a product of international solidarity.
With you, you carried our hopes, and with this torch we bring you back our love. Thank you"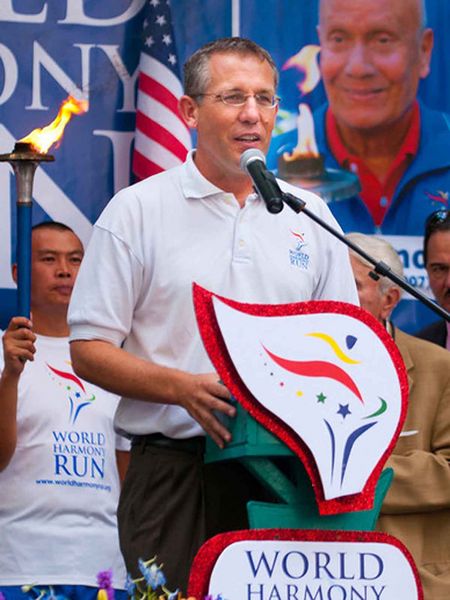 Salil Wilson announced this years recipients of the Torch-Bearer Award, recognising and honoring the individual and collective efforts of those who inspire others through their own lives and deeds.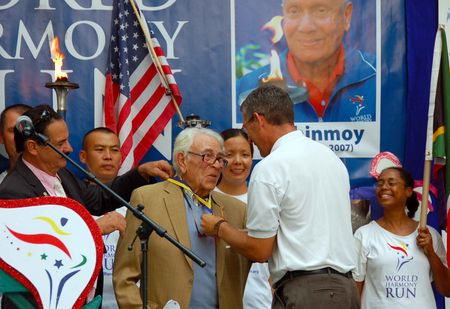 The first recipient was long time supporter of the World Harmony Run, and good friend of Sri Chinmoy, the Run's founder, Former Congressman Benjamin A. Gilman.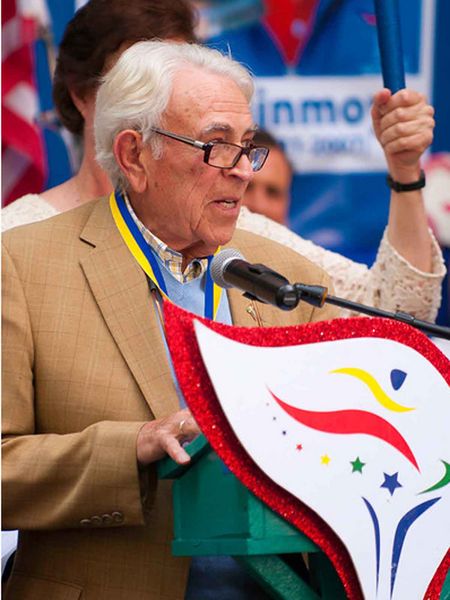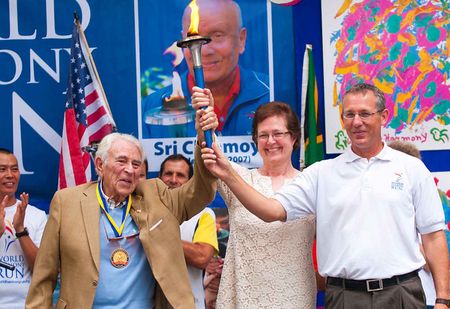 Congressman Gilman was introduced by Chandini Bachman, centre, excerpts from her introduction follow..
"Congressman Benjamin A. Gilman was a dear friend of the World Harmony Run's founder, Sri Chinmoy, based on their common interest in fostering mutual understanding between the peoples of the world to promote friendly, sympathetic and peaceful relations among nations. He first held a Peace Torch with Sri Chinmoy in a Committee Room in the Rayburn House Office Building in Washington, DC. I believe it was 1994, and I was there! Seven years later, also in the Rayburn Building, on July 10, 2001, Sri Chinmoy gave him the Lifting Up the World with a Oneness-Heart Award.
Congressman Gilman was elected to the U.S. House of Representatives in 1972 and served 30 years in the U.S. Congress until 2002. The community he served extends from Middletown in Orange County of New York State to encompass all the countries of the world. From 1995 to 2000 he was Chairman of the House Committee on International Relations. The Benjamin A. Gilman Scholarship administered by the U.S. Department of State has since 2001 funded 10,654 American undergraduate students from 999 U.S. institutions to study abroad in 124 countries. For those who want to know more, we will post on our website a link to the Scholarship's website. http://www.iie.org/en/programs/gilman-Scholarship-Program
Today we are recognizing Congressman Gilman's lifetime of service to humanity and his kind support of Sri Chinmoy's peace activities with the Torch Bearer Award, presented to people who have inspired their communities through their own lives and deeds. Congressman Gilman will celebrate his 90th birthday on December 6th of this year. He may have retired from Congress, but he continues to fulfill with lightening speed any opportunity that comes to his attention to do good for the world..."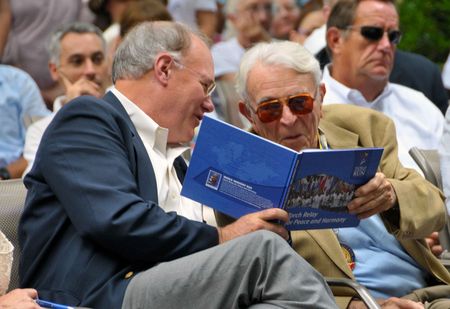 Our guests were all presented with a special book celebrating the 25th anniversary of the World Harmony Run.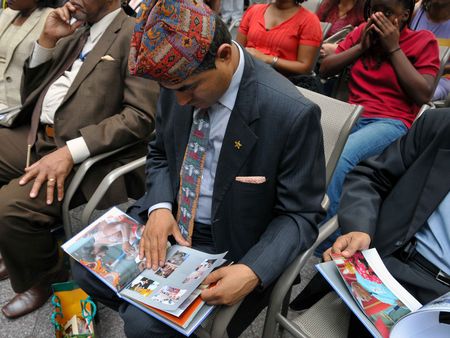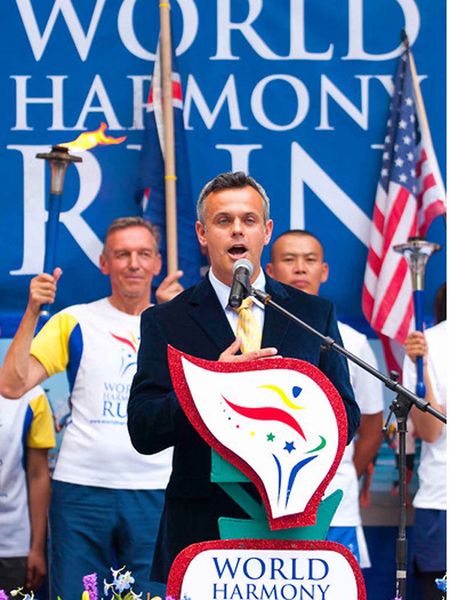 Devashishu Torpy from England announced the next two recipients of the Torch-Bearer Award, both our dear friends and supporters, as well as deeply inspirational individuals, Cathy Oerter and Bob Beamon.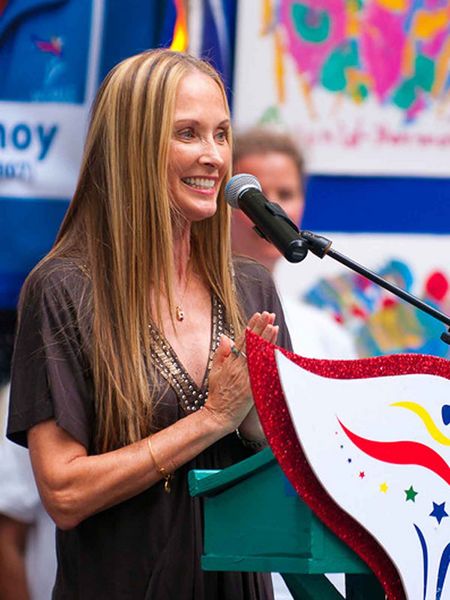 Cathy Oerter, is the Chairwoman and Co-Director of 'Art Of The Olympians', an organisation founded by her late husband, the immortal Olympian Al Oerter.
After winning gold in the discus at 4 consecutive Olympic Games, Al Oerter turned his attention from athletic competition to art. He established Art of the Olympians with the primary objective being to encouraging people of all ages, but primarily youth, to aspire to the ancient Olympic ideals of excellence in mind, body and spirit.
After his passing in 2007, Cathy has dedicated herself to ensuring the continued realisation of Al Oerter's dream. Cathy was instrumental in the success of the recent World Harmony Run Olympic event, A Moment's Peace, which was hosted by Art of the Olympians during the 2012 Olympics. The event was a celebration of the Vision of the great Peace Dreamers of our time. The highlight of the event was the unveiling of a statue of Sri Chinmoy holding out the Peace Torch inviting the public to hold the torch and offer their own moment of peace.
On receiving the award Cathy said, "I am a world citizen and so happy the World Harmony Run is spreading Peace throughout the world. Thank you runners".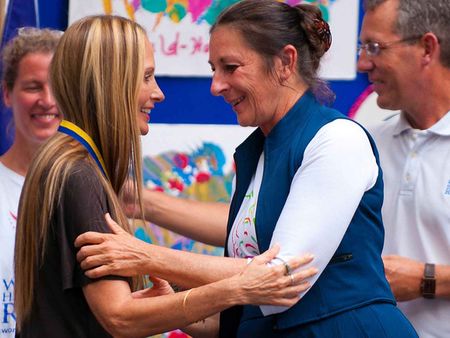 Cathy was presented with the award by her good friend, Ranjana Ghose, the curator of the artwork of Sri Chinmoy.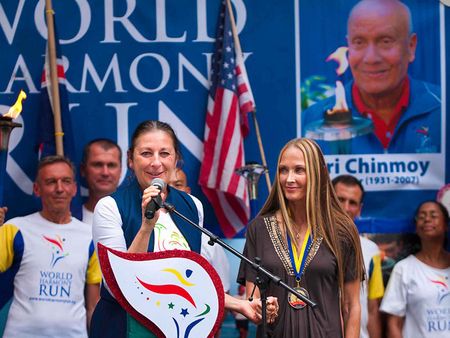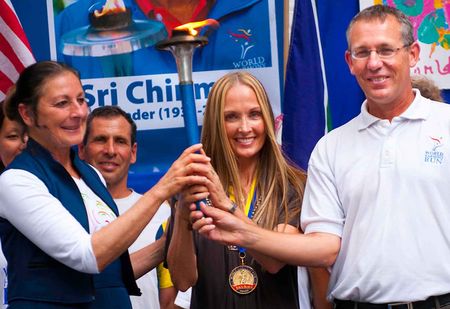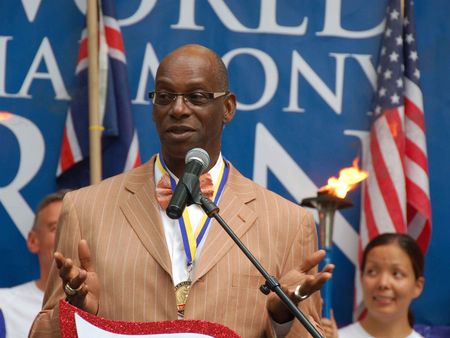 The great and good Bob Beamon was the final recipient of the Torch-Bearer Award.
Bob Beamon immortalized himself in sporting history when he destroyed the world and Olympic records in the long jump during the 1968 games in Mexico City. That record remains as the unbroken Olympic Record of 44 years heading into the London 2012 Olympics. His 29 ft. 2 1/2 in., or 8.90 meters, was far beyond any predicted human limits.
Bob Beamon's post-Olympic experiences highlighted personal success off the track. He turned his Olympic success into a series of individual triumphs earning a public relations degree from Adelphi University, coached college track and headed the Parks and Recreation programs in Miami-Dade, FL. Additionally, he co-organized the South Florida Inner City Games with Arnold Schwarzenegger and formed the Bob Beamon United Way Golf Classic. His memberships include the New York Track and Field Hall of Fame, the Olympic Hall of Fame, and he was ranked in ESPN's list of Top 100 Athletes of the 20th Century.
He has developed his own motivational program, 'The Champion in You,' in which he described how 'champions are made by the things they accomplish and by the way they use their abilities in everyday life situations. He wrote an autobiography, The Man Who Could Fly, and later he became director of athletic development at Florida Atlantic University.
Most of his civic work is youth-centered. Establishing such charities to benefit children became a big charge for Beamon in the decades following the 1968 Olympic Games. Today, he is CEO of Art of the Olympians Foundation, Inc., dedicated to inspiring creativity and stimulating change through an international program of art, education and outreach initiatives. By introducing individuals, particularly youth, to the ancient Olympic ideals of excellence in mind, body, and spirit, they aim to enhance the relationship between athletics and aesthetics.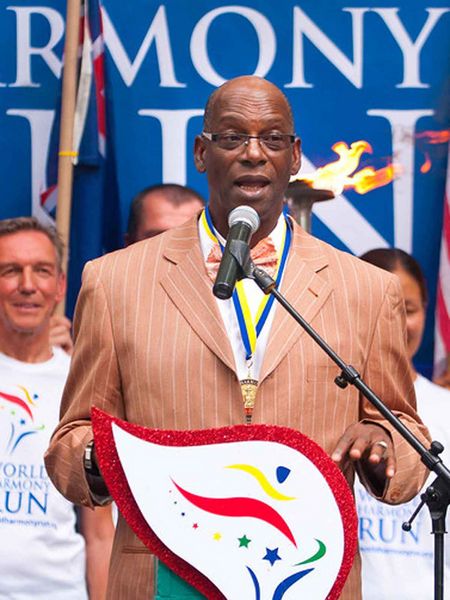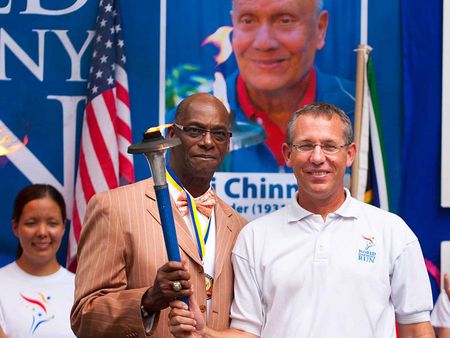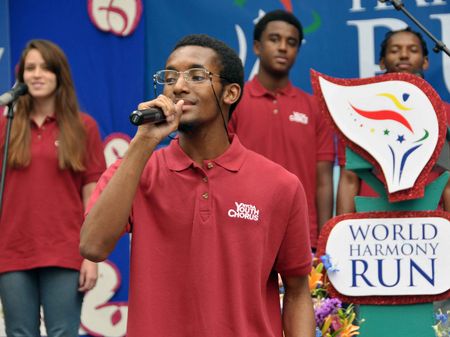 Our friends from the New York City Housing Authority Youth Chorus had another truly heart-felt performance for us.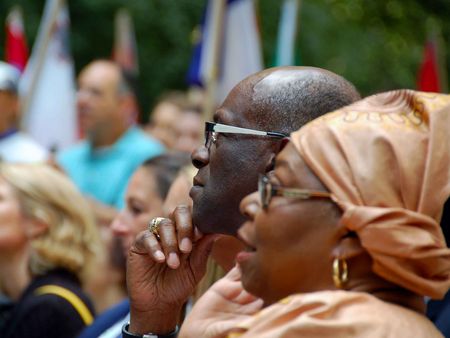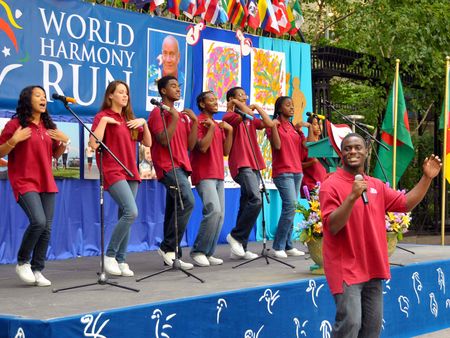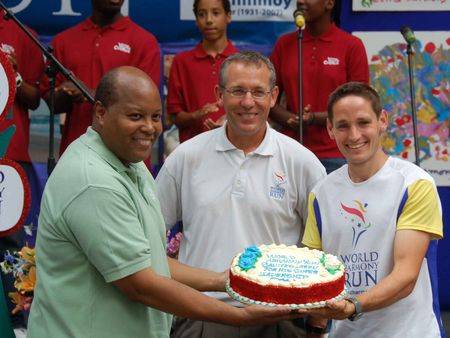 The Chorus Director, Larry Matthew, is sadly retiring from his position to pursue other dreams. We are extremely grateful to Larry for the dedication, love and joy he had bought to our World Harmony Run ceremonies for the last seven years. We will miss him dearly, but wish him the very best for his future endeavors, knowing he will be sharing his large and good heart with whoever he encounters.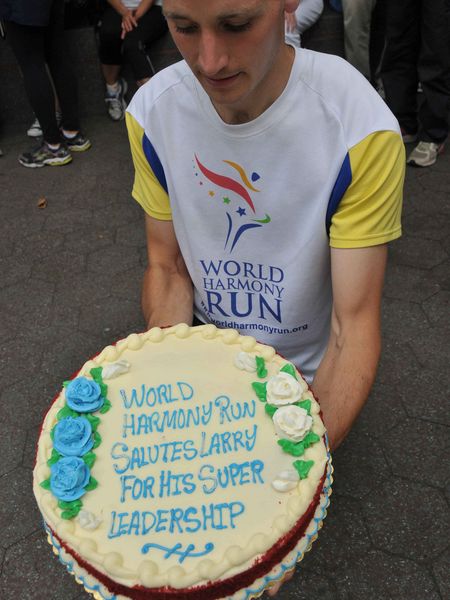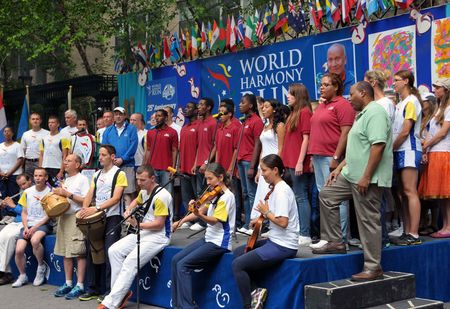 The final event for the afternoon was the World Harmony Run Song performed by Our International Chior and members of the New York City Housing Authority Youth Chorus.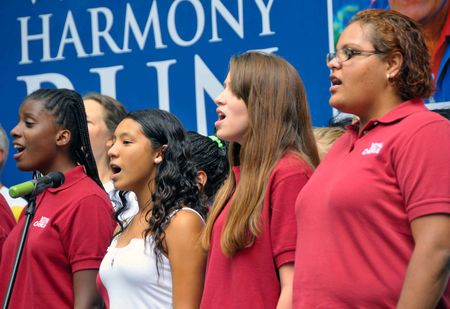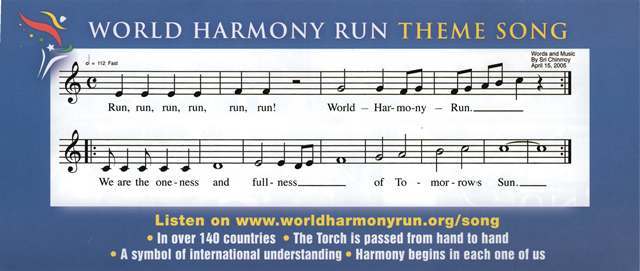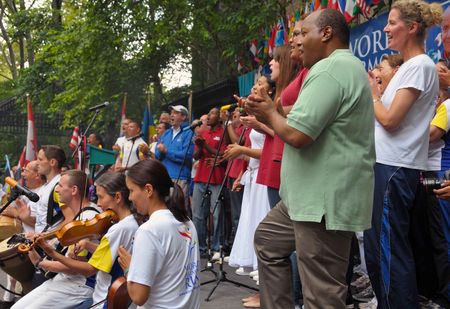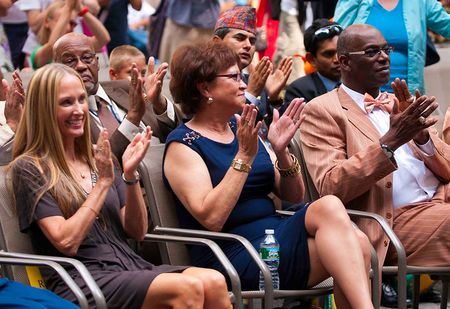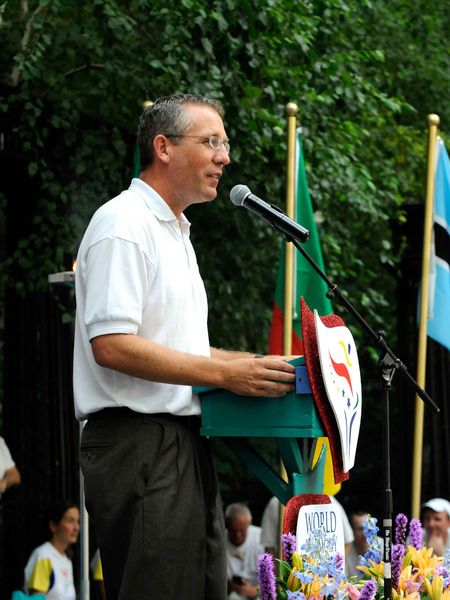 A big thank you to all of oue special guests, all the runners all over the world, and an extra special thank you to the United States team!!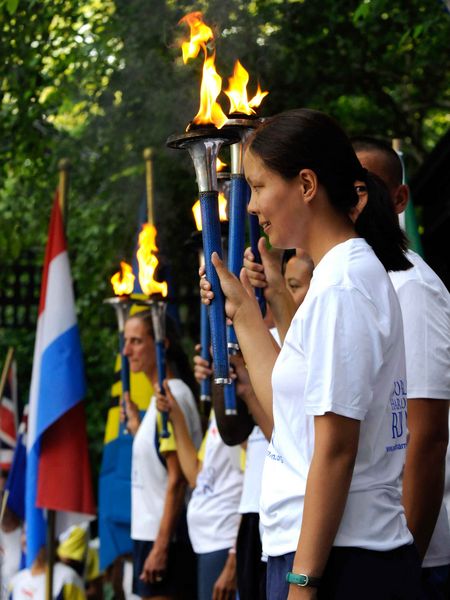 The Peace flame continues to burn...
---
* 2012 International World Harmony Run continues
...
The on-going European historic run from Portugal in 2012 reached Russia in May of 2012. One European leg went on from St Petersburg to finish in Astana, Kazakhstan on 25 July for "East meets West".
From Russia another branch of the European team continued through Europe touching many more counties. That team is still running: including in Slovania (Sep 2-7th) ; Italy (Sep 8 - 19th); Switzerland (20-26 Sep) , Austria (Sep 27 - Oct 08). They will finish with a big ceremony in Vienna on 08 October 2012.
Note: Originally the Global Launch in April and the International Ceremonial closing in August also marked the first and last days of the run around the world. Representative runners from many countries attend these 2 big events. However, as participation has grown, in some countries local events now begin as early as January first and others continue up till December 31.
---
Team Members:
Harita Davies (New Zealand), Kagni Leinonen (Finland), Larisa Zub (Belarus), katya Percheklii (Ukraine), Rupasi Young (USA), Sukajata Cranfield (New Zealand), Rodica Zmeu (Maldova), Lazlo Szente (Hungary), Banshidhar Medeivos (Hawaii), Prapti Jensen (Canada), Jose Arriaza (Guatemala), Ashirvad Zaiantchick (Brazil), Harikanta Ketova (Russia), Natabara Rollosson (USA), Salil Wilson (Australia)
Gallery: See more images!