Par mums
Pasaules Sadraudzības Skrējienu organizē starptautisks brīvprātīgo kopums, kurus iedvesmojis Šri Činmoja mierpilnas pasaules redzējums. Katrā valstī koordinācijas grupas sadarbojas ar vietējām skolām, sabiedriskajām un sporta organizācijām valsts un pilsētu vadītājiem un pašvaldībām, lai skrējienam būtu iespēja kalpot sabiedrībai kā savtarpējas starptautiskas sapratnes un draudzības iedvesmotājam un veicinātājam.
Pasaules Sadraudzības Skrējiena komandas katrā valstī sastāv no brīvprātīgiem skrējējiem, kas savā ikdienā darbojas visdažādākajās dzīves sfērās, kuri ir veltījuši savu brīvo laiku lai nestu Skrējiena ideju apkārt Pasaulei.
Šri Činmojs (1931-2007) ir šī vispasaules skrējiena iedvesmotājs. Viņš ir atlēts, filozofs un cilvēks, kurš tic, ka sports ir efektīvs instruments, kas var veicināt saskaņu pasaulē. Par centieniem un sasniegumiem veicinot harmoniju pasaulē vairākas pasaules valstis piešķīrušas viņam savus augstākos apbalvojumus, viņš ir UNESCO miera medaļas un Mahatmas Gandija miera balvas laureāts.
Koordinatori Latvijā: e-pasts: latvia [ at ] worldharmonyrun [dot] org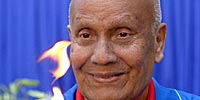 Sri Chinmoy, founder of the Run, believes that sport is a powerful instrument for promoting global harmony.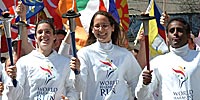 The World Harmony Run is organized by an international network of volunteers inspired by Sri Chinmoy's vision of a more peaceful world.