Johor Bahru,4 May
On 4 May, the international team visited 4 schools and 5 religious communities in Johor Bahru. Here is our story...
Sekolah Kebangsaan Infant Jesus Convent Primary  School and Islamic Primary School
The Headmistress Datin Hajah Azizah binte Ahmad Tan planned a brand celebration of no less than 2 hours for the occasion. Not only did she invite principals and teachers from other schools to participate, she has even invited the local media to come and cover the event. Such was her passion about world harmony that she wanted her students to understand its importance.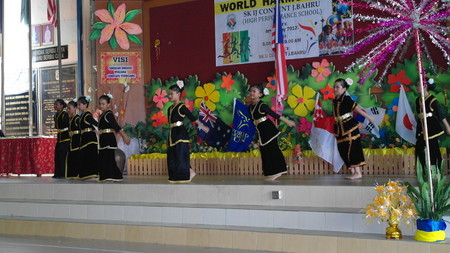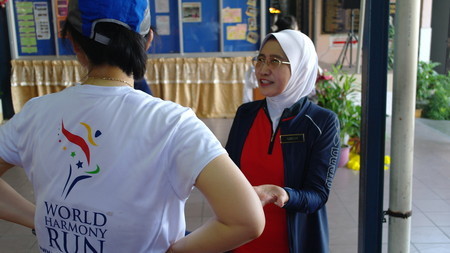 South Korean Hemabha chatted up with Datin Hajah Azizah and inivted her to come to South Korea.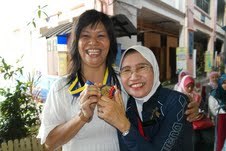 Mdm Teh, a parent of one student has always been very kind and supportive of education and other actitivies. She is very popular amongst the students, everyone in the school knows her as Aunty Jessica. A Torch Beaerer Award has been offered to her for setting a good example for the students in the school. Her commitment to serve others is truly remarkable.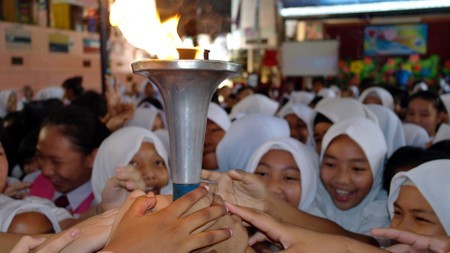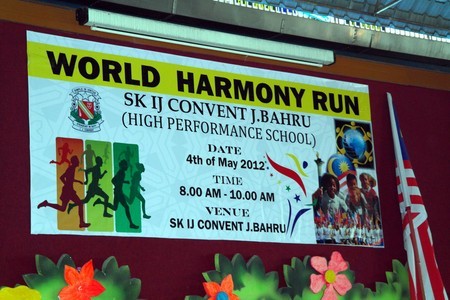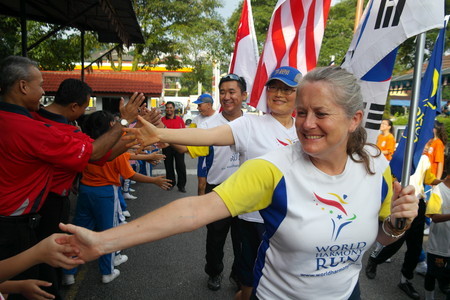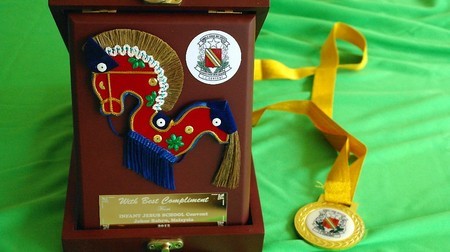 Overall, we were very impressed by this very first school in Johor Bahru. We could not believe when we were offered a plaque and medals. That was quite a surprise to everyone.  Thank you so much for the warmth and care. We also like to thank Mr Abdul Razak for arranging 150 students for his Islamic Primary School to join us. A Torch Bearer Award was also presented to Mdm Jessica Teh for her contineous self offering to the education programs of the school over the years.   
St. Joseph Primary and St. Joseph Chinese Primary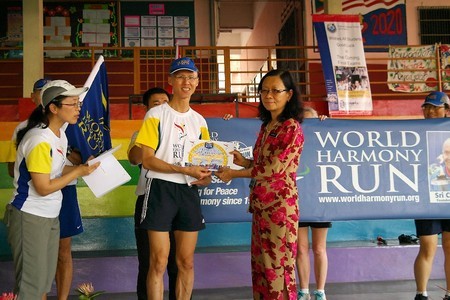 Headmistress of St. Joseph Primary Mdm Ng receiving a certiciate of appreciation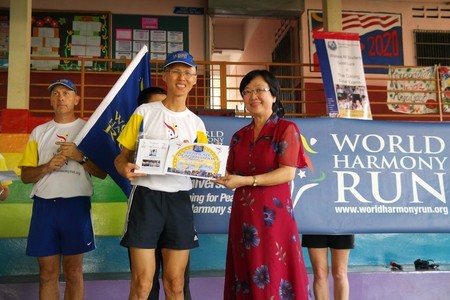 Headmistress Mdm Chen of St. Joseph Chinese Primary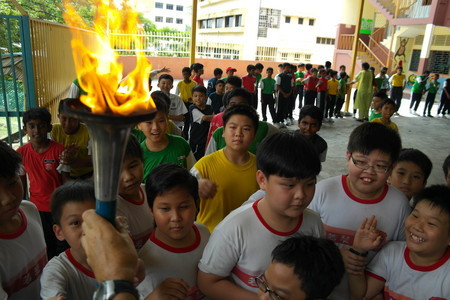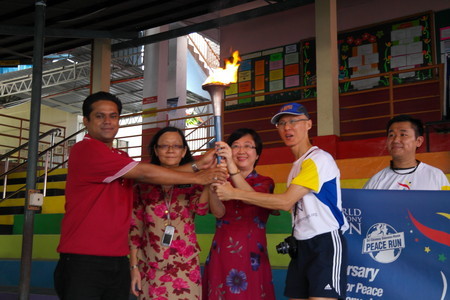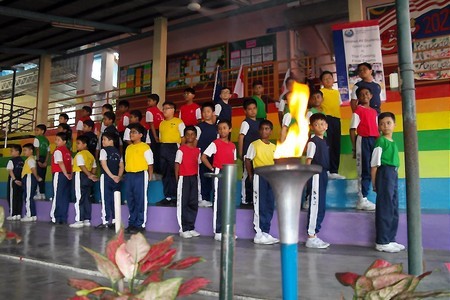 The chorus speakers boys from St. Joseph Primary entertained us with some very impressive performance.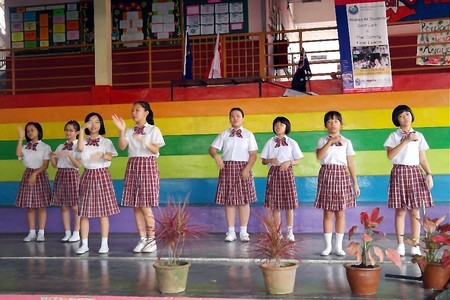 The girls from St. Joseph Chinese Primary performing a chinese song about school lives and growing up days.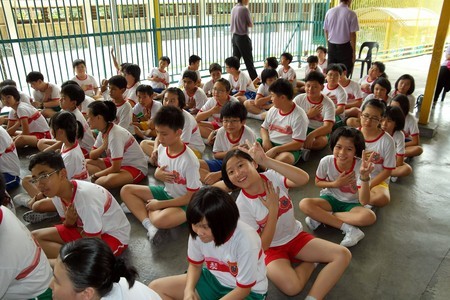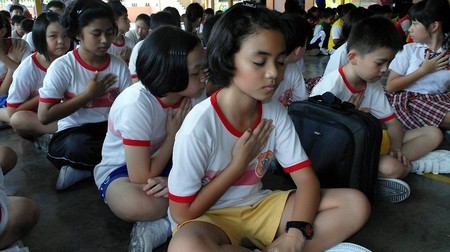 Making a wish for harmony from the heart is a tradition we share with children all over the world.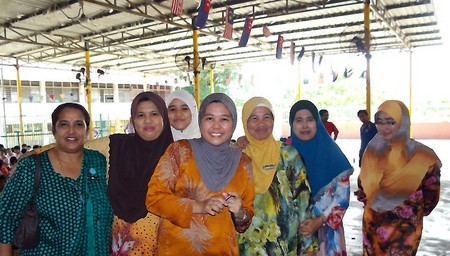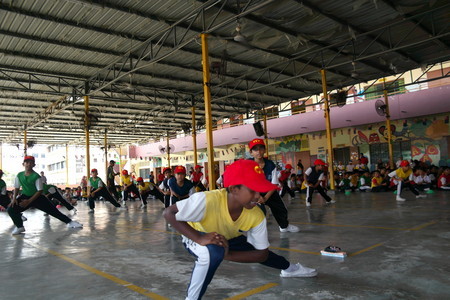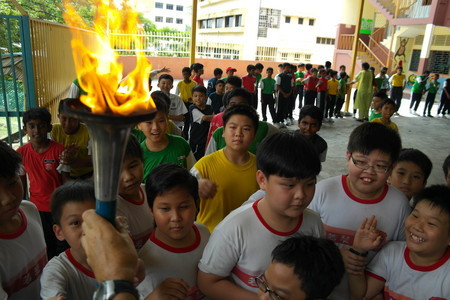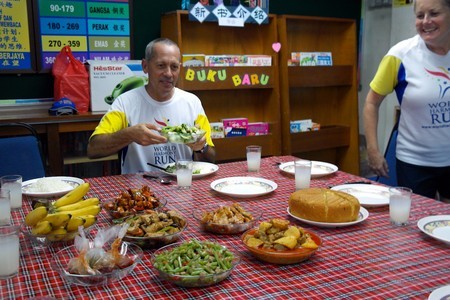 After the event was over, we were invited to a hearty meal provided by the kindness of Mdm Ng. We were very well treated and thrilled by the energies from these two schools. They embraced us with their hearts and we felt very honoured to be so well recieved by them. Most importantly, all the students benefited in one way or another.
Historically speaking, this temple could be as old as 130 years when the early settlements from China first came to Johor. At the entrance, a big group of from the local chinese clans and some reporters were already waiting for us to arrive.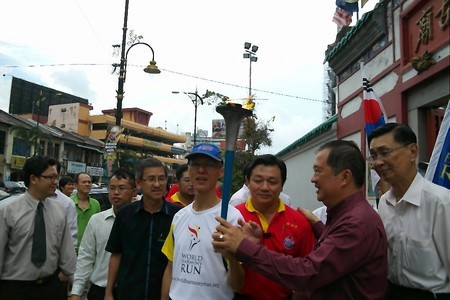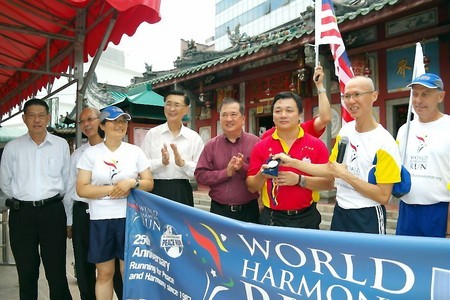 We offered a Torch Bearer Award to the Temple for their boundless self offering to the community in time sof great needs. They embodied oneness and kindness for humanity.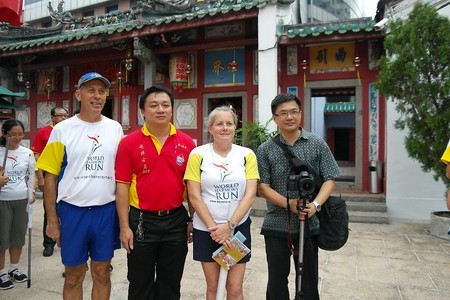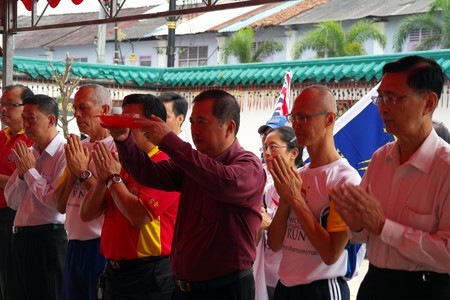 We paid our respects to the Chinese Goddesses of the temple.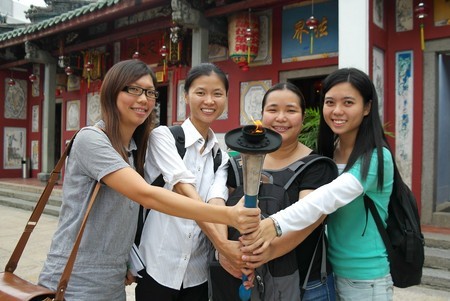 Even the reporters wanted a picture with the harmony torch.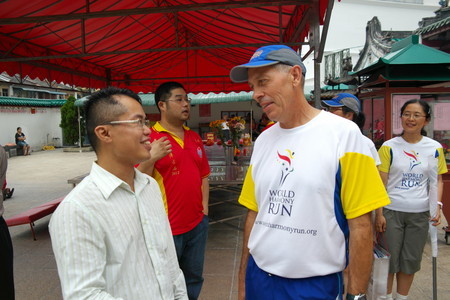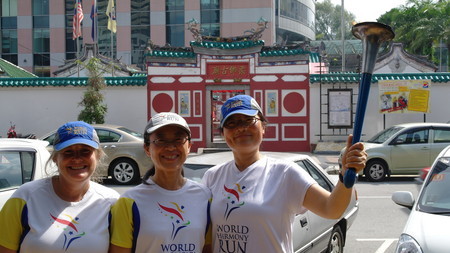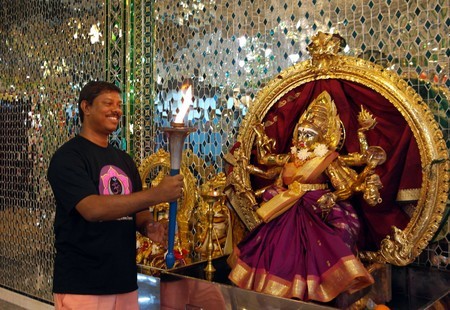 Guru Bagawan Sittar lighting the harmony torch from the sacred fire of a Hindu Goddess.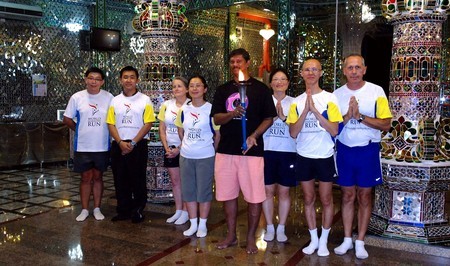 Gurdwara Sahib Johor Bahru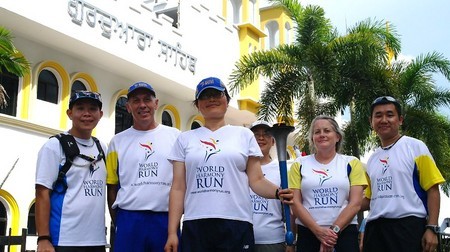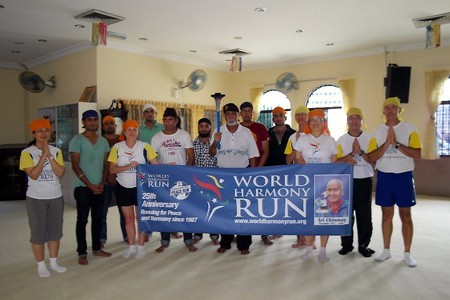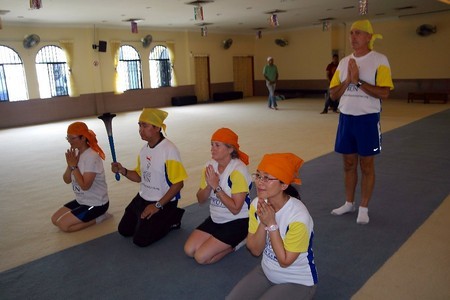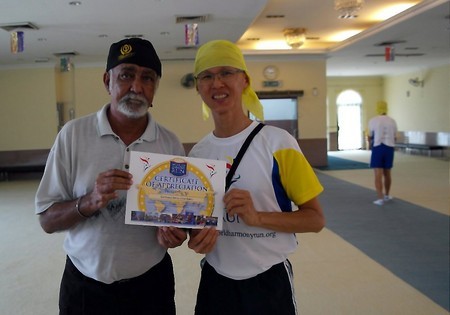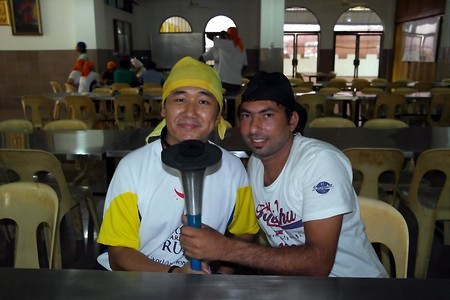 We spent some time in the afternoon with the community at this sacred Sikh Temple to understand more about their path and everyone enjoyed the friendly interactions.  
Arulmigu Rajamariamman Devastanan Hindu Temple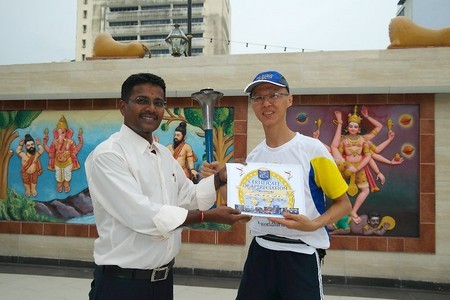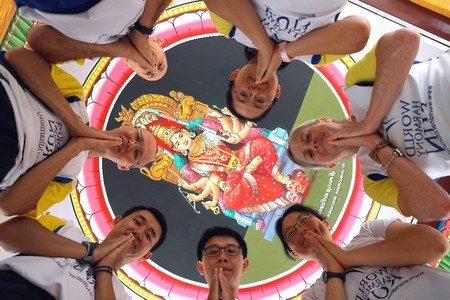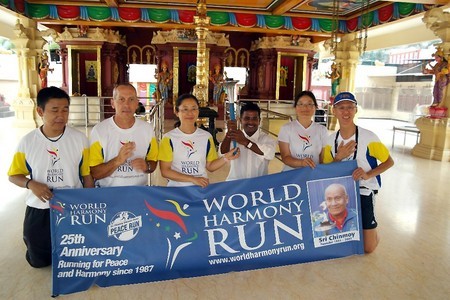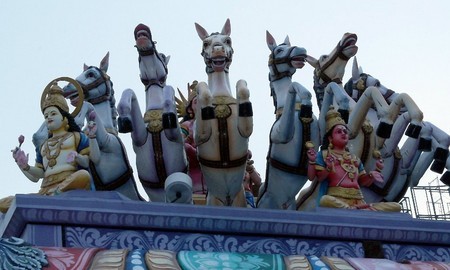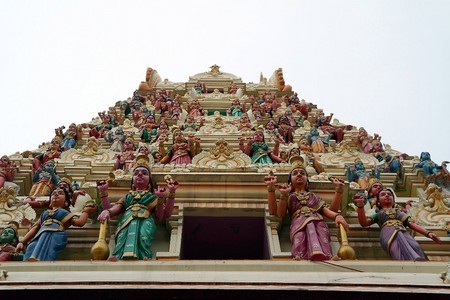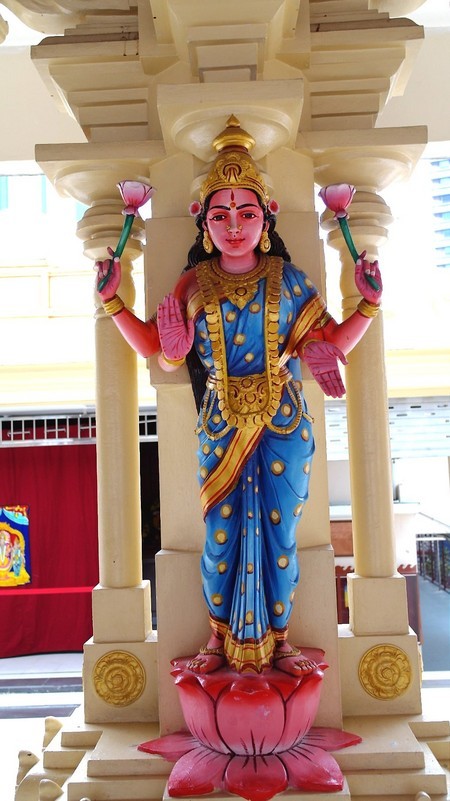 Temple manager, Mr Kalai, shown us around the temple and was dilighted to receive a appreciation cert from us.
Special mention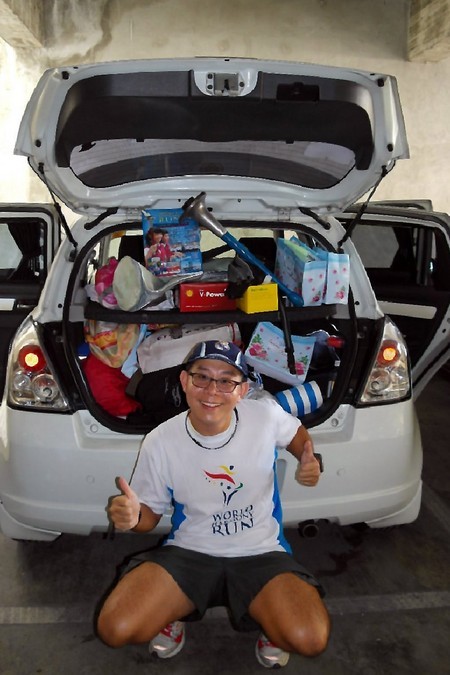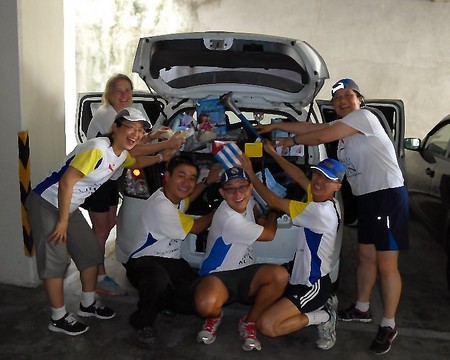 Marcus Lim was a very remarkable friend of the World Harmon Run who went out of his way to help us with his car and other areas of needs. He and Andrew Lim were very helpful throughout our day.
The Team:
Hemabha (South Korea), Harashita (Japan), Uddyogini (Australia), Prabuddha (Australia), Andrew Lim (Scotland), Marcus Lim (Singapore) and myself, Urdhacheta Yap (Singapore) 
---