Maak deel uit van de World Harmony Run...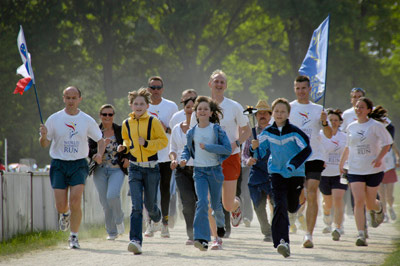 De World Harmony is er voor iedereen: jong en oud, sportief of niet-sportief, je kunt altijd deelnemen aan de World Harmony Run of deze te ondersteunen.
Hier zijn enkele mogelijkheden:
Je kunt een eindje met ons meerennen en de fakkel vasthouden als we door Nederland rennen. Maak je geen zorgen als je niet fit bent, je mag ook een paar stappen meelopen. Maar als je houdt van lange afstanden, kun je ook je hart ophalen.
Als je wil weten wanneer we precies door jouw dorp of stad komen kan je ons opbellen op één van onderstaande telefoonnummers. Nodig dan bijvoorbeeld je vrienden en kennissen uit om ons langs de weg aan te moedigen! Met wat eten of drinken maak je ons ook altijd blij.
Als je deel uitmaakt van een organisatie, instelling of bedrijf die ook harmonie wil promoten, zijn we altijd in voor een ontmoeting om elkaar te inspireren. Laat het ons weten en misschien kunnen we met ons internationale team langskomen om te spreken of voor een 'meet and greet' (als het enigszins op de route ligt...)
De lopers en organisatoren van de World Harmony Run zijn allemaal vrijwilligers die hun vrije tijd opofferen voor dit inspirerende initiatief. Zonder de steun van plaatselijke gemeentes, bedrijven en vrijgevige particulieren zou dit evenement niet mogelijk zijn geweest. Als u wil bijdragen door sponsoring van een maaltijd of overnachting zijn we daar altijd dankbaar voor.
Scholen en kinderen: bezoek onze webpagina met onze speciale activiteiten voor scholen.
Hardloopverenigingen: als je lid bent van een loopvereniging op de route ben je van harte welkom om samen met je clubgenoten een stuk met ons mee te rennen.
---
Neem contact op door te bellen met:
* 023 - 51 60 360
of met één van de landelijke coördinatoren:
* 06 45 739 202 (Hidde Tangerman)
* 06 48 347 037 (Rabinath de Lange)