Philippines 29 November: Tagaytay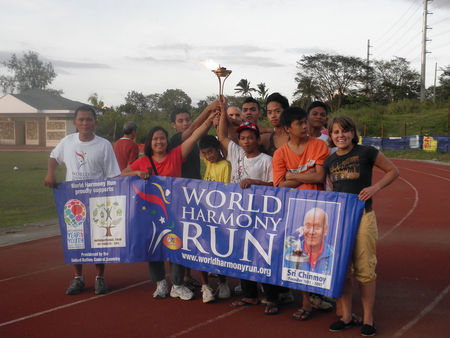 On Tuesday, November 29th, six residents from the Tagaytay Virlanie Half-way House, Catherine Lamonica (a U.S. Peace Corp volunteer who works for Virlanie), Moises (from Philippines) and Samarthan Vandeman (from Los Angeles, California) did a torch relay run around a track in Tagaytay, Philippines as part of the 2011 World Harmony Run.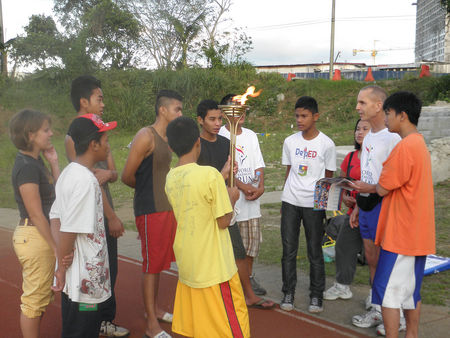 The 2011 World Harmony Run is a global relay founded by global peace leader Sri Chinmoy that seeks to promote international friendship and understanding. As a symbol of harmony, runners carry a flaming torch, passing it from hand to hand travelling through over 100 nations around the globe. The World Harmony Run does not seek to raise money or highlight any political cause, but simply strives to create goodwill among peoples of all nations.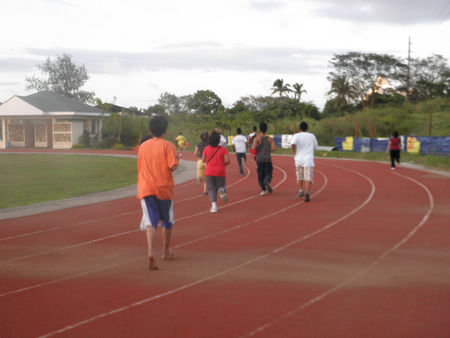 Every year the World Harmony Run visits countless schools in more than 100 countries around the world. Students get to meet the runners, hold the torch and express their own hopes and dreams for a more harmonious world.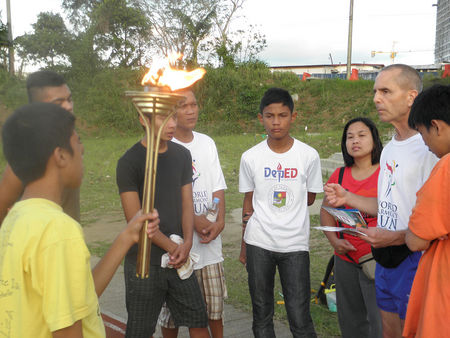 People of all nationalities, faiths and traditions have been drawn to participate in the World Harmony Run which was created by Sri Chinmoy in 1987 in an effort to promote international friendship and understanding. Since then the Run has visited more than 140 countries. Sri Chinmoy believes that sport is a powerful instrument for promoting global harmony. Sri Chinmoy is internationally renowned for his numerous initiatives which have united people from many cultures and walks of life to work for a more fulfilling world. An athlete, philosopher, artist and poet, Sri Chinmoy, dedicated his life to advancing the ideals of world harmony and oneness.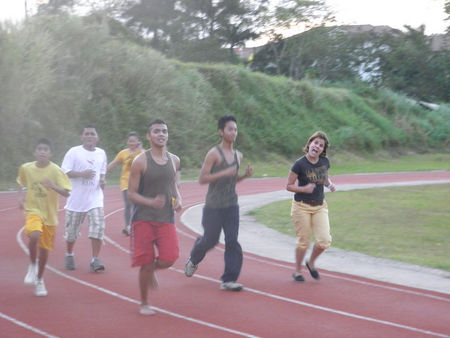 If you can create harmony
In your own life,

This harmony will enter
Into the vast world.
—Sri Chinmoy, Run Founder
Excerpt* of Message from Davidson Hepburn,
President of the General Conference of UNESCO,
to all participants of the World Harmony Run, 2011 and beyond:
I note with admiration the many inspirational events supported by the World Harmony Run in over 100 countries during recent years. The Harmony Run Torch, passed from hand to hand, has encouraged millions of individuals to aspire for a world of oneness and peace.
Harmony and peace are not mere "buzzwords". As we look toward the future, I am reminded of the message of my dear friend Sri Chinmoy, founder of the Run, which can strengthen us on our way forward. He said that world harmony and world peace are "the realities, divine realities and supreme realities." Dynamic activities such as yours have demonstrated the reality of peace across the globe. Yet there is still so much to do, and I believe the World Harmony Run has only just begun to demonstrate its capacity to help create a better world. In this spirit I encourage you to continue, and to go beyond the great successes of previous years.
Davidson L. Hepburn
* Dr. Hepburn's full message and a video of the excerpt is available at:
www.worldharmonyrun.org/beyond2011
For more information on the World Harmony Run, go to:
www.worldharmonyrun.org
Virlanie Foundation is a non-government organization (NGO) reaching out to street children.
It cares for children in need of special protection: abandoned, abused, exploited, neglected, orphaned, poor… Close to 200 staff and volunteers, supported by a network of donors and sponsors, touched the lives of 1,194 street children in 2010.
Founded by French social worker, Dominique Lemay and his Filipino friends, the non-profit foundation will celebrate its 20th anniversary in 2012. Since its founding, Virlanie has helped 13,500 children become responsible and self-sufficient adults.
For more information on Virlanie, go to:
www.virlanie.org
---
---

The World Harmony Run proudly supports the International Year of Youth (IYY) and the International Year of Forests (IYF) proclaimed by the United Nations General Assembly.
See the recent Youtube video on African experience which illustrates IYY slogan "Our Year Our Voice"  International Year of Youth - Zambia World Harmony. They surprisingly mention Presidents and UN Secretary-General in a unique way! 
See also the UNESCO World Heritage (WH) Centre support for IY of Forests.  ... Convention for conservation of forest biodiversity. (more)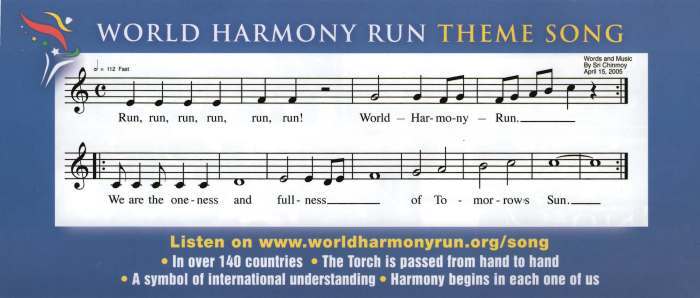 Listen to the World-Harmony-Run song: 2 min version // 6 min 
See also:  Music Scores;  Arrangements;   Song in Non-English Languages;  Schools Arrangements and Performances
---
Distance: 1 miles
Gallery: See more images!