Bulgaria 21 May: Plovdiv – Sliven
Many thanks must go to Nikolai's parents for letting us stay the night at their house. After a fabulous breakfast prepared by Nikolai we headed to Chirpan. It was a very quiet Sunday morning as we arrived into the town's square to be met by a representative of the town and the town's youth football team.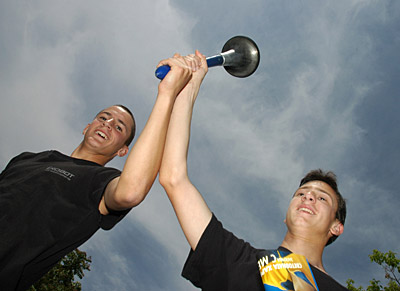 As we departed the sun was high in the sky and it was to be a very hot day.
At Stara Zagora the mayor and children from the Children's Parliament met us. They presented us with flowers, balloons, hat, and information on the town.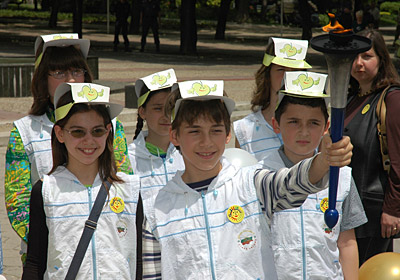 Petr tried to use the balloon to fly away. He's not very heavy but not light enough yet!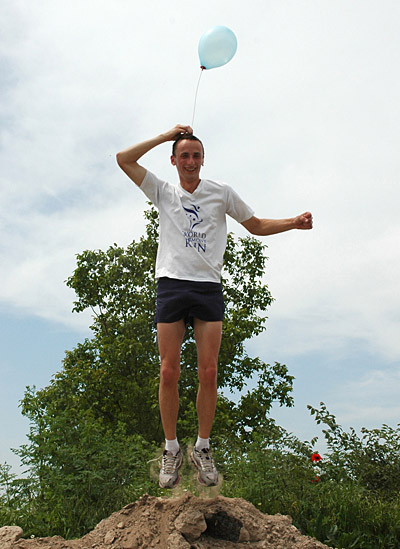 One girl read out this brilliant and touching speech in superb English:
Welcome We, the children of Stara Zagora, welcome you, the participants of the International Athletic Relay, with delight. We feel that we are participants in your efforts and are in harmony and friendship with peoples of the whole world. We are proud that Bulgaria, our nation, is one of the 48 countries in Europe through which the flame of harmony passes. It has been passed from hand to hand, from country to country, crossing borders and continents and remaining in the hearts of millions of people who are thirsty for a calm, unified and caring world. Friends, we want to find the beauty, harmony, and goodness in our souls, and together to build bridges of trust and understanding. Safe journeys, dear participants and friends of the world, run with harmony! Give to your children, who will meet in your travels, our wishes for peaceful and happy days in a better and safer world.
We were all very moved by the heart-felt sentiments of this speech.
Just a few kilometres from the centre we met some people carrying spears and a man riding a horse who are preserving the culture and traditions of the ancient Bulgarians, they were The Proto-Bulgarian School of Surviving Bagatur .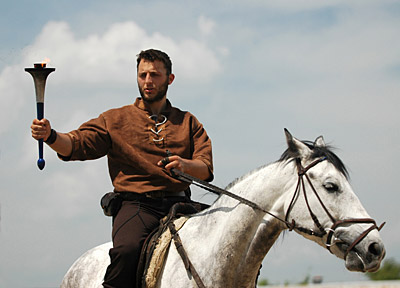 It was certainly not your usual welcome for the World Harmony Team. We were informed that an ancient Bulgarian, called Khan Kubrat had brought people from different nations and tribes together to live in peace. We were entertained to some brilliant horsemanship where the rider fired arrows from a bow, and threw spears.
The runners had a chance to fire some arrows and sat on the horse in ancient Bulgarian pose.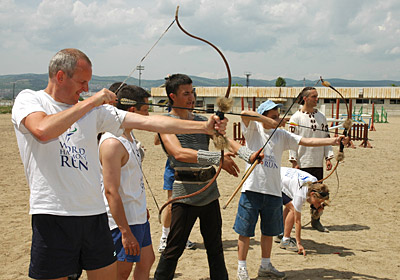 Apparently some fitted the part so well that they could well be ancient Bulgarians now!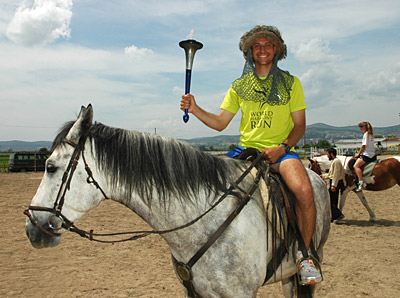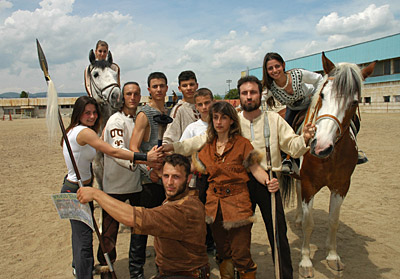 From ancient times to present times, man has aspired for harmony and peace, and the links between now and then sometimes don't seem to far apart. It reminded us all that harmony was eternal.
Our last ceremony of the day was at Nova Zagora where at the edge of the city children from the football club, girl's basketball club, and the athletics club met us.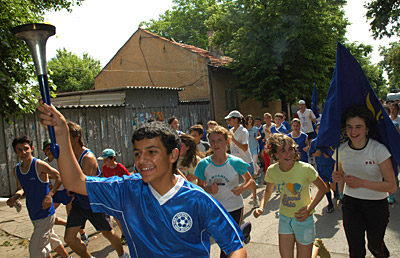 The trainer of the athletics team was a man called Dimyo Dimev, (aged 57) a former champion runner at 5 km (a national record of 14.03 that still is unbroken), 10 km and marathon (2.24).
We were entertained to some wonderful traditional Bulgarian dancing with their colourful costumes. The boys were wearing some protective leggings – were they to protect their ankles against biting dogs? It was some of the best dancing we have so far seen in Bulgaria.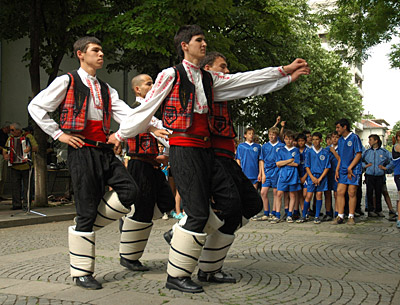 A young girl also sang some evocative folk songs, which everyone thoroughly enjoyed.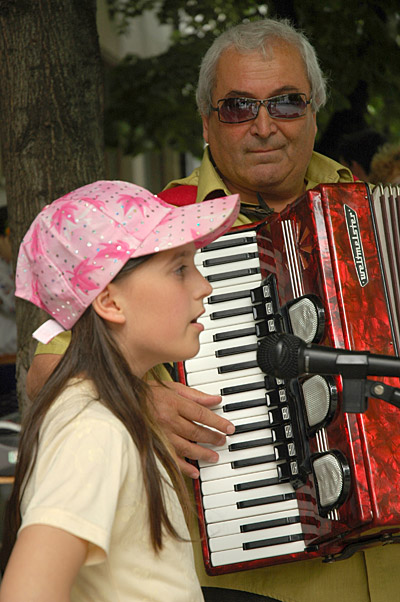 The World Harmony Run stickers were gratefully received by the children, especially by one little boy we met on the road.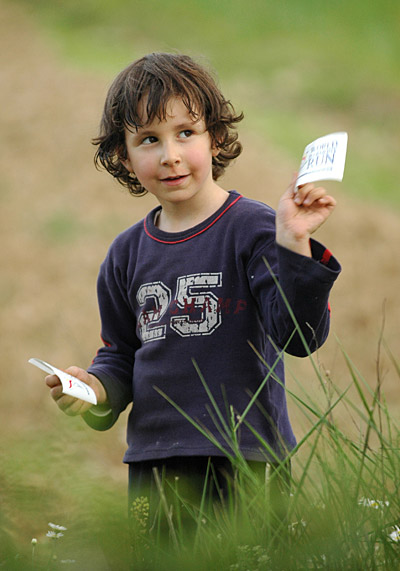 After a long, hot and sweaty day we finally arrived at Sliven. When we arrived in the hotel lobby some people came up to us and introduced themselves. They were from Novi Sad (Serbia and Montenegro) and had seen us at the ceremony we gave in their city. They were in Sliven participating in the 10th Children's International Folkdance Festival. They invited the Team to the city square to watch them practising tomorrow and to hand them the torch. We instantly agreed and looked forward to meeting the children from Novi Sad, and hopefully other children from different countries tomorrow morning.
---
Distance: 160km
Team Members:
Andrea Kevei (Hungary), Frank de Lange (Holland), Mark Collinson (England), Nataliya Lehonkova (Ukraine), Ondrej Vesely (Czech Republic), Petr Machacek (Czech Republic), Tilottama (Bulgaria).
Harmonemail:
You can send a message to the runners or read the messages.