Canada 7 June : Winnipeg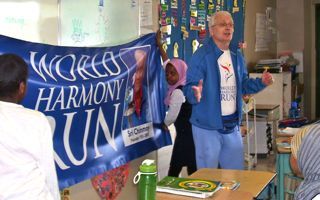 Events in Winnipeg began with a visit to the Al-Hijra Islamic School with the grade 3 and 4 classes. Team member Shishir, a Winnipeg local, introduced the students to the World Harmony Run while student volunteers held up the banner.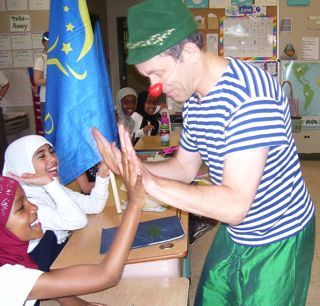 Flicker the Clown made an entrance with harmonious greetings.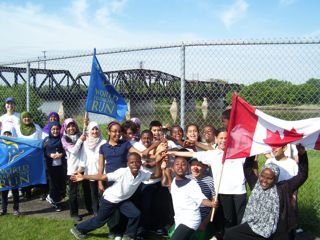 Overlooking the Red River, the runners relayed the torch and flags across the school lawn.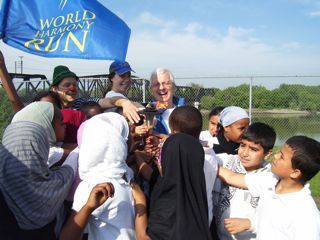 Very enthusiastic runners with many wishes for world harmony!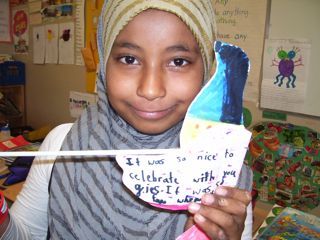 After running, the grade 3 class created Peace Birds with an impressive array of colours and messages.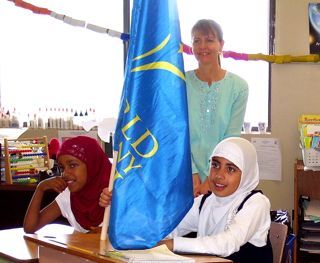 Special thanks to teacher Lori Peters for her inspiration to co-ordinate this event.

In the afternoon we brought the torch to the Victoria Albert Elementary School. All classes, from nursery to grade 6, assembled in the gym and sang the World Harmony Run song as team members with the school running club ran with the torch around the gathering. Inspiring poems were read by student writers and the grades 4, 5 and 6 students performed the song Just the Way You Are by Bruno Mars. World Harmony Run team member Purnakama, the music teacher, conducted the choir. We are very grateful to her for organizing the whole school to participate.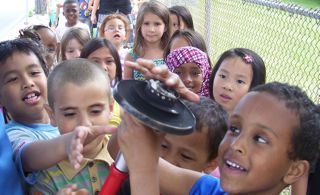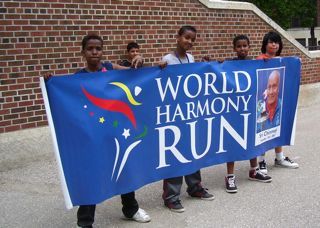 A harmony walk around Victoria Albert Elementary School gave an opportunity for everyone to make a wish for peace.
---
Video Mesage from Davidson Hepburn, President (2009 - 2011) of the General Conference of the United Nations Educational, Scientific and Cultural Organization (UNESCO) for 25th Anniversary of the World Harmony Run and a vision for the decade: "Toward a Oneness-World". With FRENCH subtitles.
Full Text of the 25th annversary message and link to 25 language informal Translations: http://www.worldharmonyrun.org/25

See also: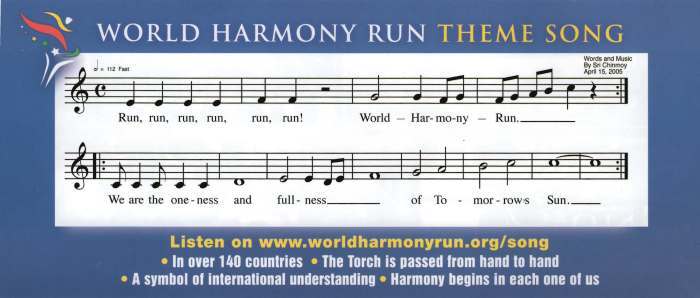 ---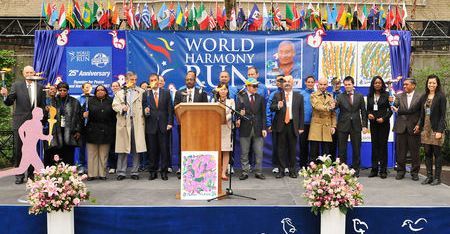 See start of the International 25th Anniversary Celebration across from the United Nations at Dag Hammarskjold Plaza in New York.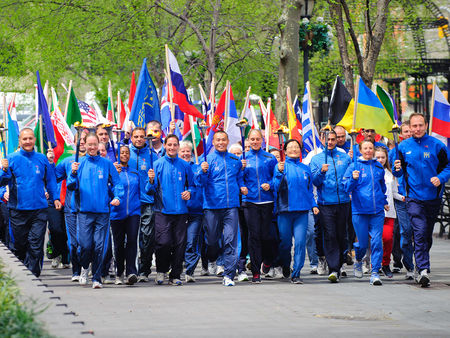 On 27th April 2012. in many cities around the world, special events marked the WHR 25th Anniversary
View some early highlights. The United Nations had proclaimed 1986 the International Year of Peace, and Sri Chinmoy wanted to offer a heartfelt and sincere expression of peace on a global scale. The opening ceremony, broadcast live on NBC-TV's The Today Show.. On April 27, 1987, five minutes of global television time was dedicated for the inaugural Sri Chinmoy Oneness-Home Peace Run with strong support from Archbishop Desmond Tutu, the UN Secretary-General, celebrities Carl Lewis, Clarence Clemons and Narada Michael Walden, and thousands...Also includes Clips from Philippines; Sahara Desert, Morocco; Botswana; Scotland, Nepal, Russia, Sri Lanka, Switzerland, Ukraine, Japan, Malaysia, Mexico, Ethiopia, Dominican Republic, Ireland, Great Britain, Colombia, Bahamas, Hungary, Spain, Mongolia, Czech Republic, Portugal, USA
---
Harmonemail:
You can send a message to the runners or read the messages.