Canada 9 June : Winnipeg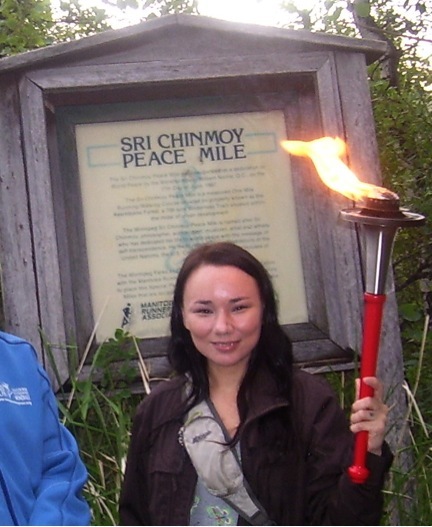 Saturday morning in Winnipeg began with a 2-mile Fun Run along the Sri Chinmoy Peace Mile in Assiniboine Park. Shannon joined the team as a walker; after her injury heals she will run the route!
Along the way, we handed the torch over to other morning walkers and runners.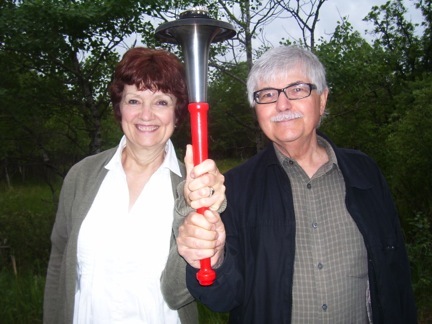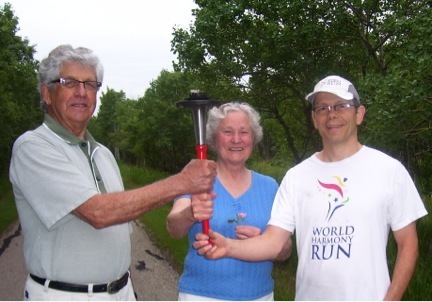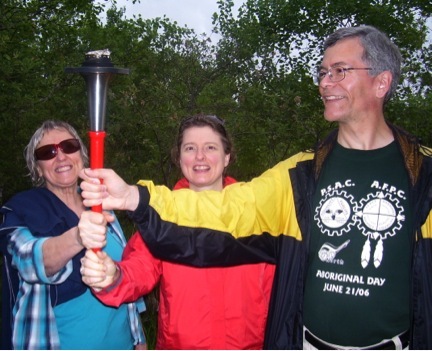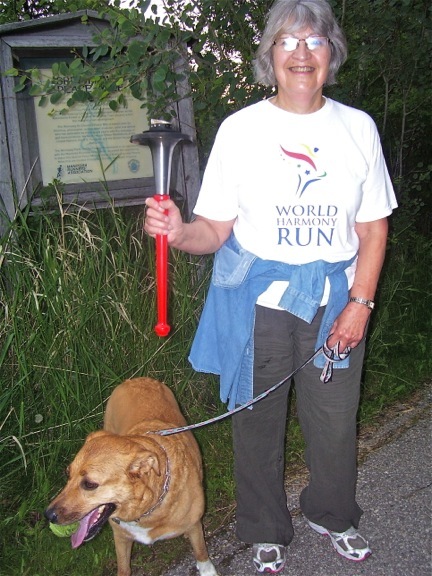 Team member Helen and her dog Maggie also participated.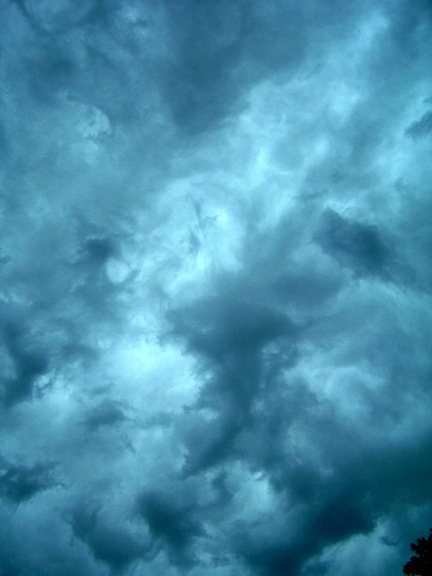 Just as the Fun Run finished, the Winnipeg sky became ominous and a great thunderstorm crashed forth.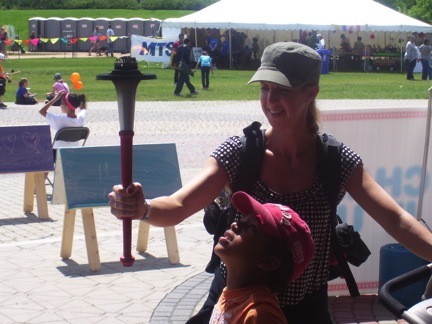 Not long after we returned to KIDSFEST, the sun shone strongly.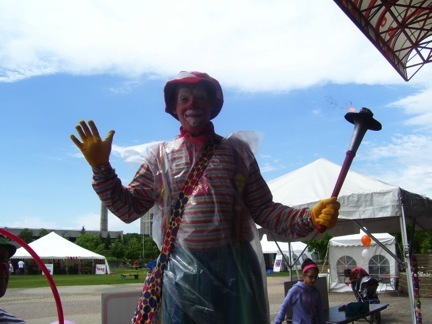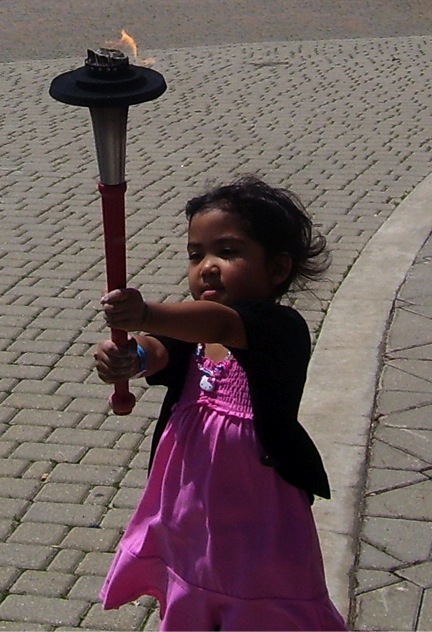 Flicker the Clown met with Light Bulb the Clown who was very tall on his stilts. Flicker tried to initiate a run with Light Bulb but he declined.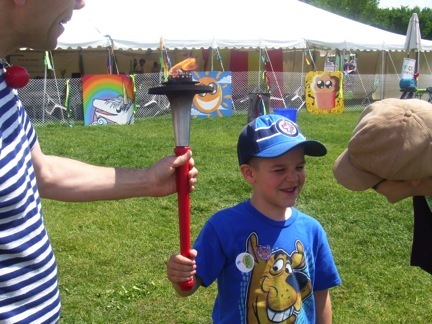 Future World Harmony runner!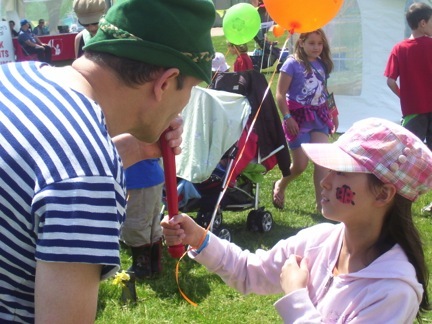 This little boy said after he held the torch "I can see the whole planet!"
There were many children with painted faces.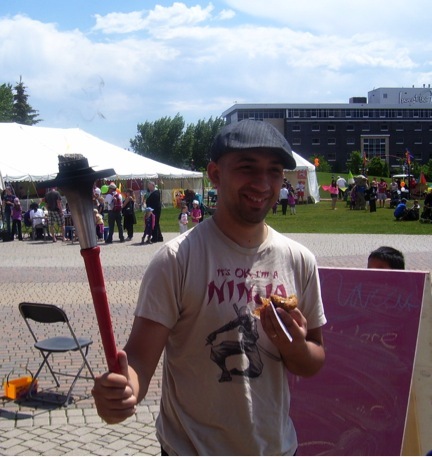 The many parents and volunteers also had a fun time at KIDSFEST.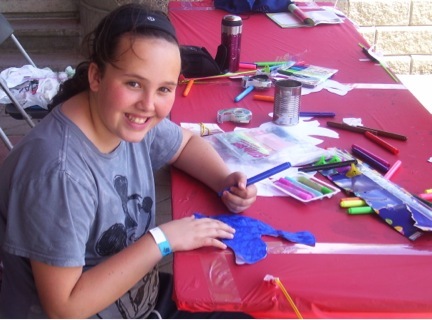 The peace-birds continued to fly at the crafts table.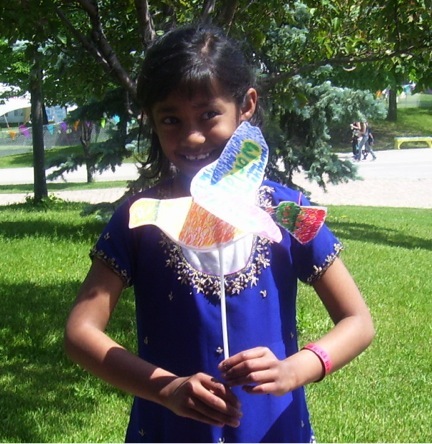 A peace-bird in flight!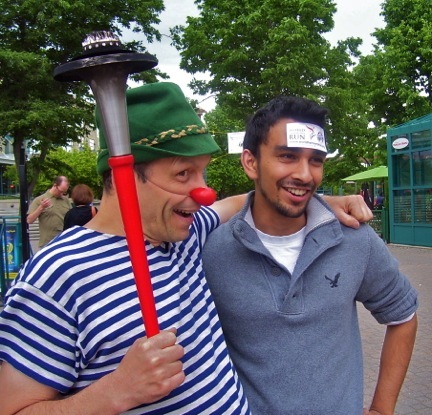 At the waterfront, Flicker the Clown asked many people where the Big Fork was. All he could find was water.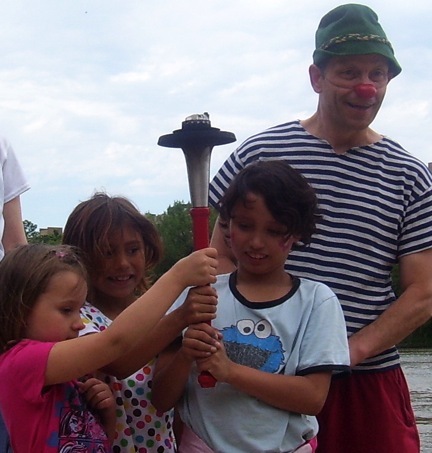 These young girls helped Flicker to understand the mystery of the Big Fork.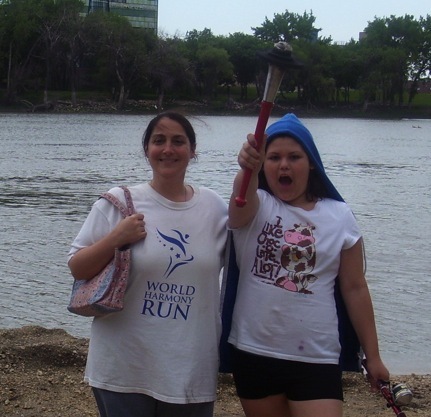 Purnakama met with one of her students from the Victoria Albert Elementary School. She had been fishing with her family at The Forks but had not caught any fish. She did, however, get to hold the torch again and make another wish for World Harmony.
Thank you, Winnipeg, for being part of the World Harmony Run!
---
Video Mesage from Davidson Hepburn, President (2009 - 2011) of the General Conference of the United Nations Educational, Scientific and Cultural Organization (UNESCO) for 25th Anniversary of the World Harmony Run and a vision for the decade: "Toward a Oneness-World". With FRENCH subtitles.
Full Text of the 25th annversary message and link to 25 language informal Translations: http://www.worldharmonyrun.org/25

See also: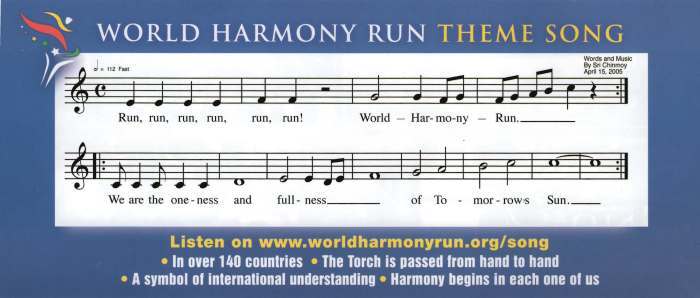 ---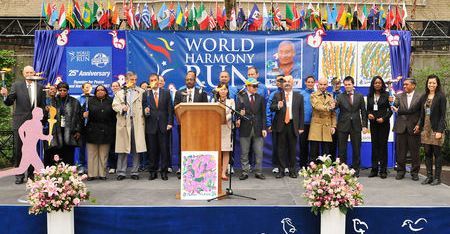 See start of the International 25th Anniversary Celebration across from the United Nations at Dag Hammarskjold Plaza in New York.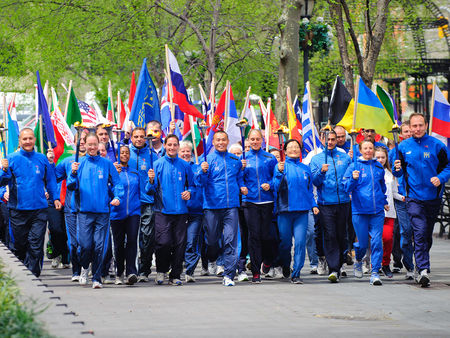 On 27th April 2012. in many cities around the world, special events marked the WHR 25th Anniversary
View some early highlights. The United Nations had proclaimed 1986 the International Year of Peace, and Sri Chinmoy wanted to offer a heartfelt and sincere expression of peace on a global scale. The opening ceremony, broadcast live on NBC-TV's The Today Show.. On April 27, 1987, five minutes of global television time was dedicated for the inaugural Sri Chinmoy Oneness-Home Peace Run with strong support from Archbishop Desmond Tutu, the UN Secretary-General, celebrities Carl Lewis, Clarence Clemons and Narada Michael Walden, and thousands...Also includes Clips from Philippines; Sahara Desert, Morocco; Botswana; Scotland, Nepal, Russia, Sri Lanka, Switzerland, Ukraine, Japan, Malaysia, Mexico, Ethiopia, Dominican Republic, Ireland, Great Britain, Colombia, Bahamas, Hungary, Spain, Mongolia, Czech Republic, Portugal, USA
---
Harmonemail:
You can send a message to the runners or read the messages.