France 15 Mai : Porticcio - Porto Vecchio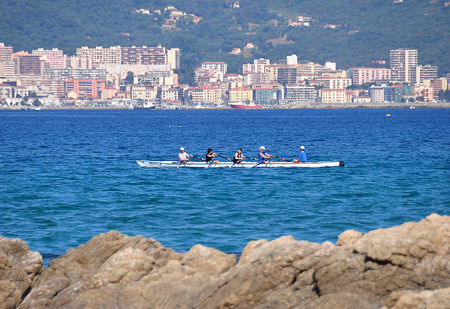 Ajaccio, Napoleon's birthplace...
Ajaccio, la ville natale de Napoléon...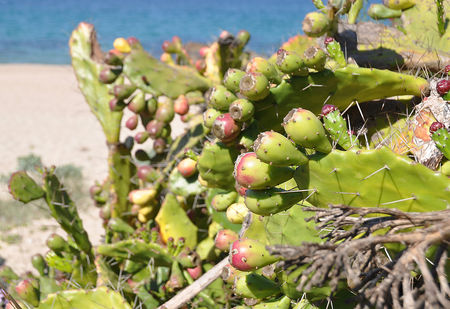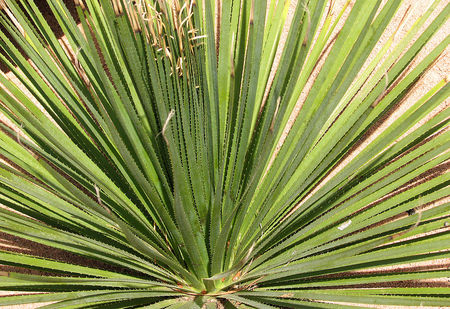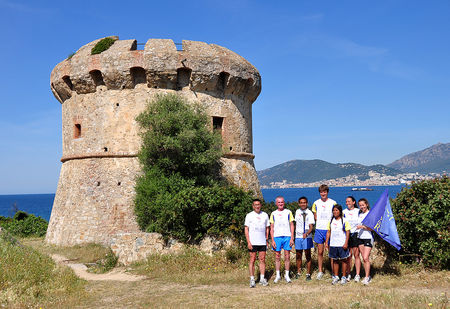 After a brief stop at Tour de Capitello, we started the day's running.
Après un bref arrêt à laTour de Capitello, nous avons commencé notre journée de course.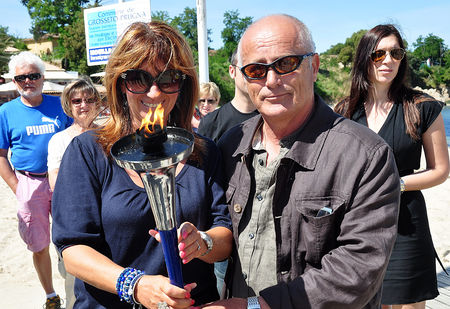 We met some of the community at a small festival in Porticcio.
Lors du Salon Nautique de Porticcio, Mr Robaglia, conseiller Municipal chargé du Littoral accompagné de Mme Santoni Directrice de l'office de Tourisme ont reçu la Torche avec beaucoup d'émotion.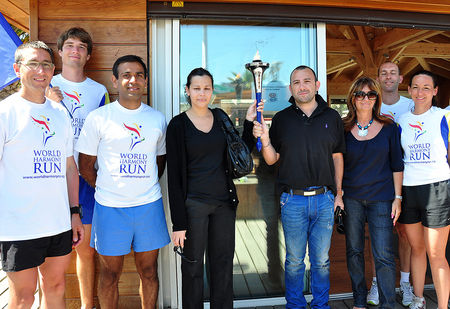 The Mayor met with us and held the torch on behalf of the community.
La Mairesse Valérie Bozzi, au nom de la communité partagea ce moment de fratérnité et de Paix autour de la Torche.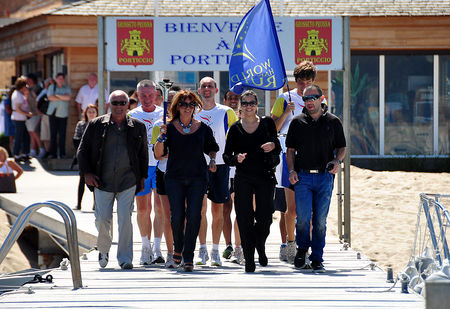 The pier made for a scenic running path.
Ainsi le ponton se transforma en tapis de course à pied.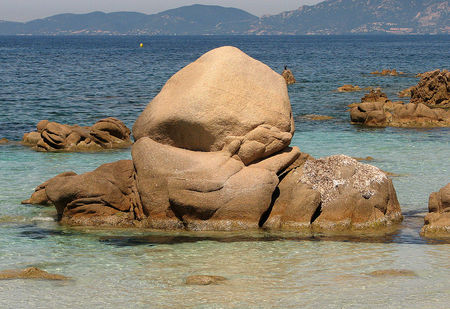 Strange rock formations by the beach.
Même les rochers ont une belle expression Corse...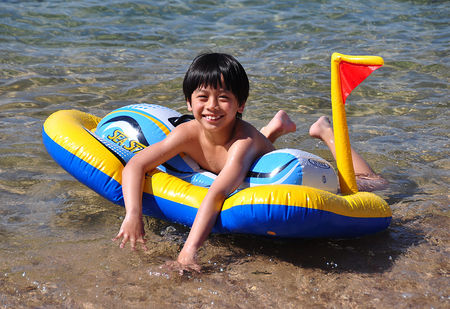 Smiling onlookers!
et que de jolis sourires!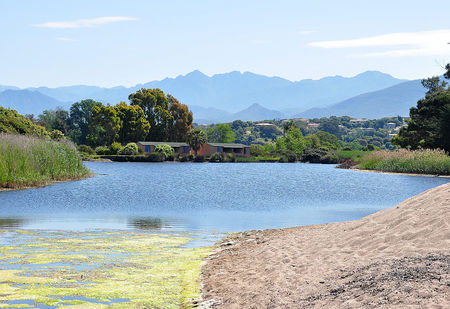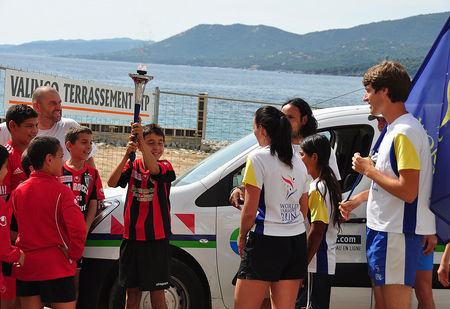 We arrived in Propriano and ran with a very energetic football team (in fact, we had trouble keeping up with them....).
Nous sommes arrivés à Propriano et l'équipe de football couru avec nous , c'est avec beaucoup d'énergie qu'ils ont apporté la torche juqu'au stade.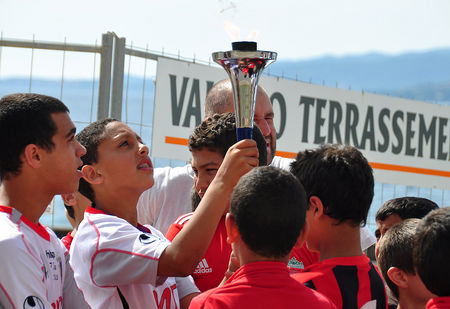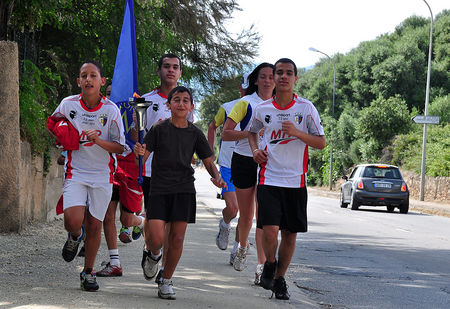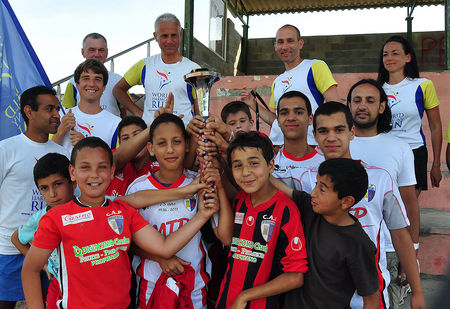 They did very well guessing what countries we were from.
Ils ont même deviner tous les pays de notre équipe internationale.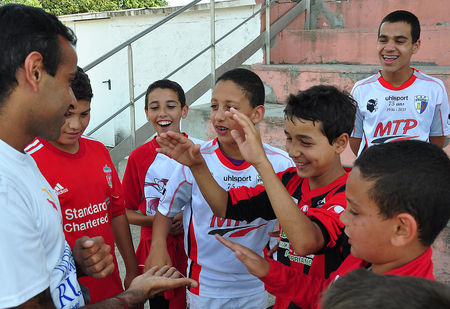 We bid them farewell and were off running to the next town.
Encouragés par ces jeunes footballeurs, nous sommes repartis jusqu'au prochain village.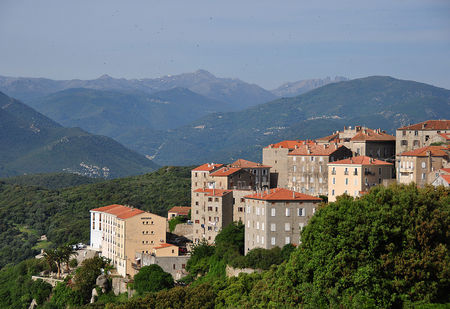 Sartene, looking majestic on the mountainside.
Sartène, encerclée de montagnes, nous offra une vue panoramique et unique.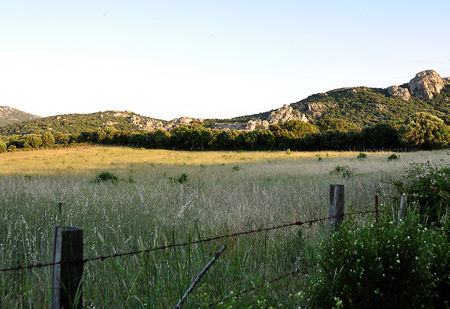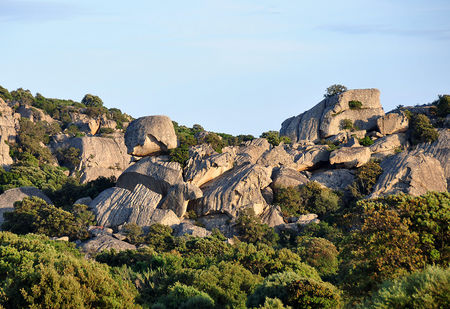 Near Sartene there are some amazing rock formations, put together long ago.
Non loin de là, nous avons pu bénéficier de la beauté et de l'incroyable vibration de ces Dolmens.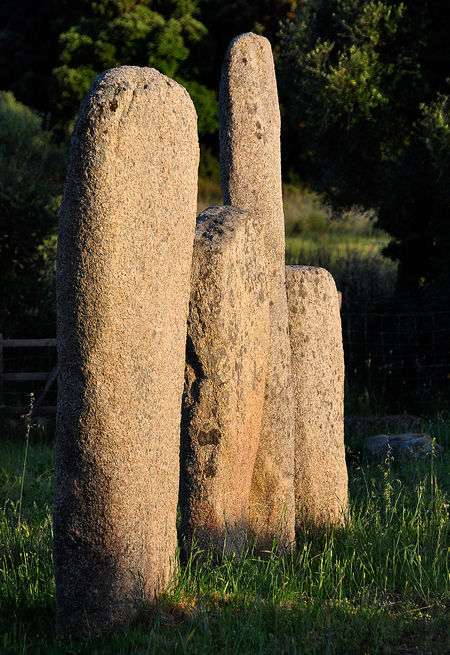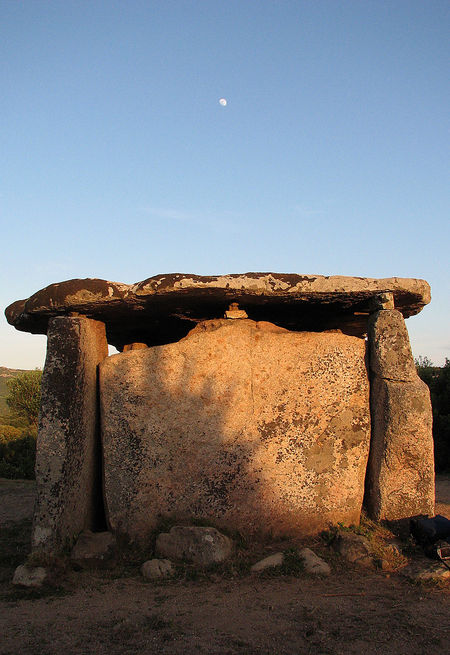 There is a small enclave that has survived for many years, surprisingly well-built.
Que de mystères et d'énergie planent autour de ces sites préhistoriques.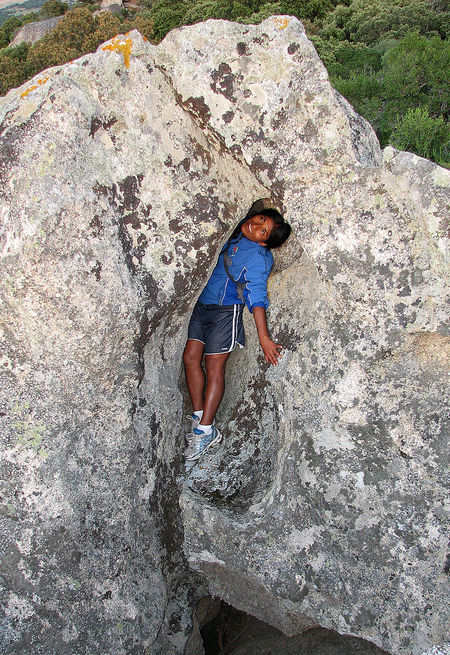 Olivia can fit into some quite small places!
Olivia peut même se cacher dans des endroits si insolites!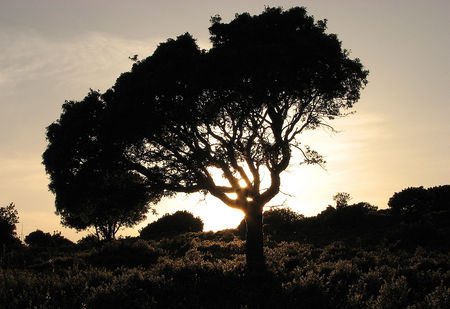 The sun setting in the park was a wonderful way to end the day.
Une méditation sur le soleil couchant finit parfaitement notre journée.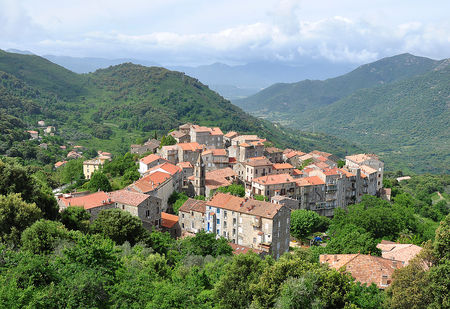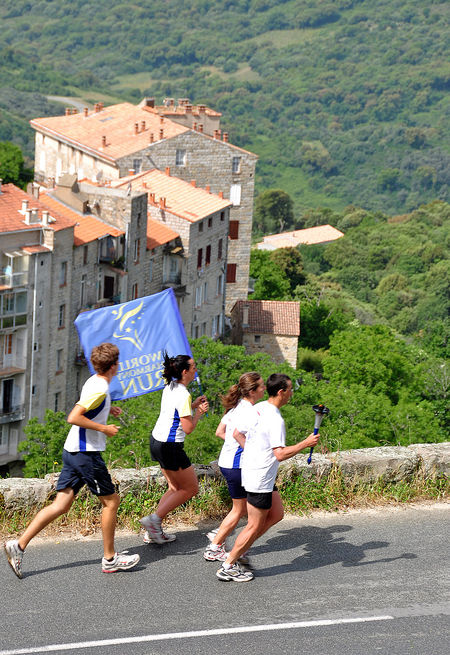 Afterwards we were on our way to Zonza, on a very steep and hilly road.
Puis nous nous sommes dirigés vers Zonza, une véritable ascension vers le coeur de la Corse.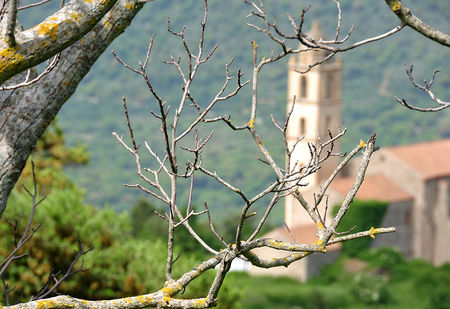 Even with very large hills the runners stayed happy!
La brochette de french, toujours souriant pour le Paparazzi, même en pleine côte!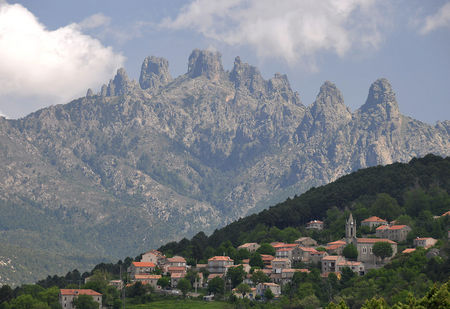 The mountains in the background painted a surreal picture.
La magie des montagnes nous offre son paysage surréaliste et magnifique.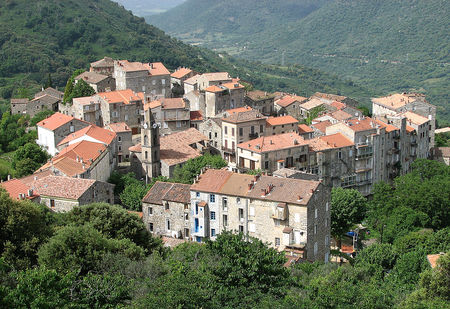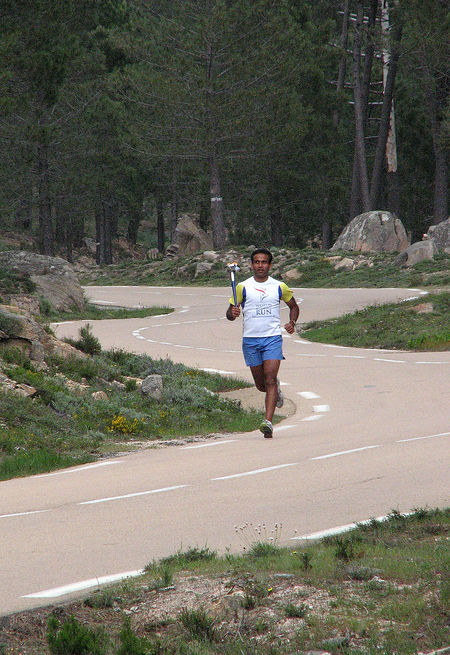 Thankfully, to finish the day we had a long downhill run to Porto Vecchio.
Merci pour cette belle journée qui se termina par une descente jusqu'à Porto Vecchio.
---
---

The World Harmnoy Run proudly supports the International Year of Youth (IYY) and the International Year of Forests (IYF) proclaimed by the United Nations General Assembly.
See also recent Youtube video which illustrates IYY slogan "Our Year Our Voice"  International Year of Youth - Zambia World Harmony
---
Distance: 150 km
Team Members:
Dipavajan Renner (Austria), Zach Saltzman (USA), Atul Arora (India), Olivia Lopez Cortes (Mexico), Daniel Spiro (Norway), Marc Schrader (Germany), Srecko Rajh (Slovenia), Manjula Lecordier (France), Francoise Mena Seguy (France), Adelino Prabala Carvalho (France)
Harmonemail:
You can send a message to the runners or read the messages.