Slovakia 13 May: Novaky - Czech border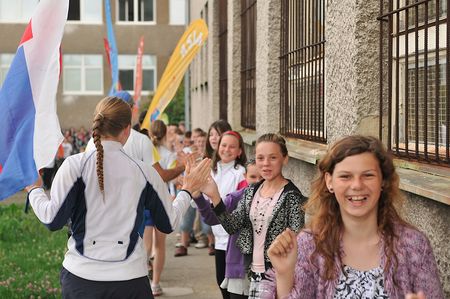 Students welcoming us in school in Novaky.
V Novákoch nás vítajú žiaci zo základnej školy.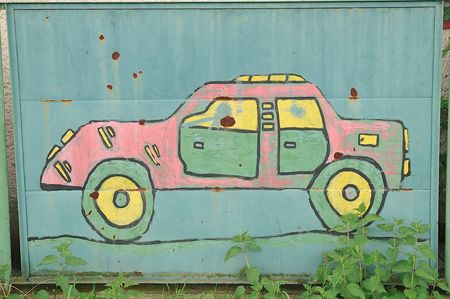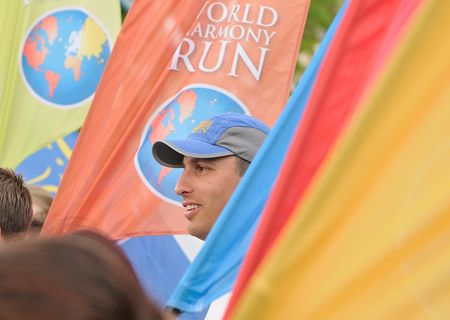 Main Slovak coordinator Padyatra from Bratislava in full color.
Hlavný slovenský koordinátor Padyatra z Bratislavy v plných farbách.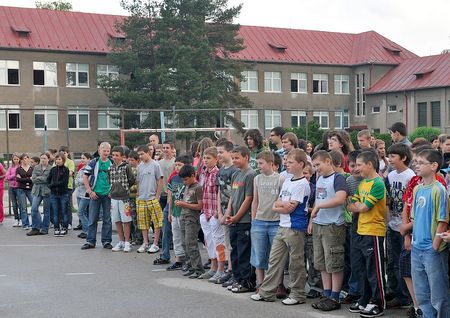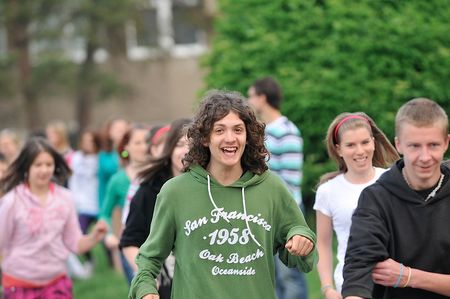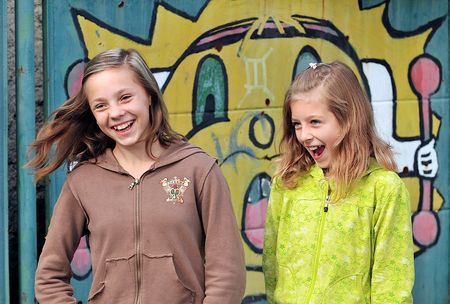 Pure joy :-)
Čistá radosť :-)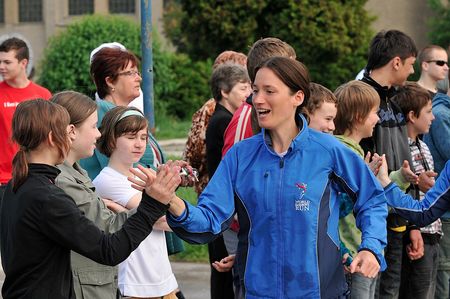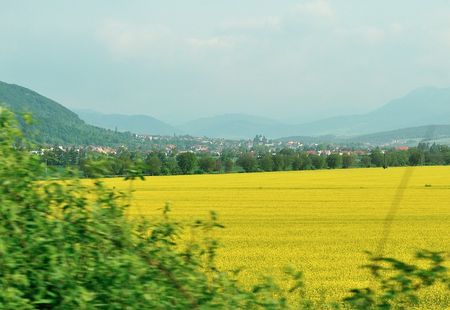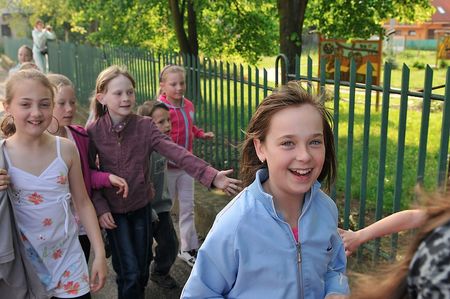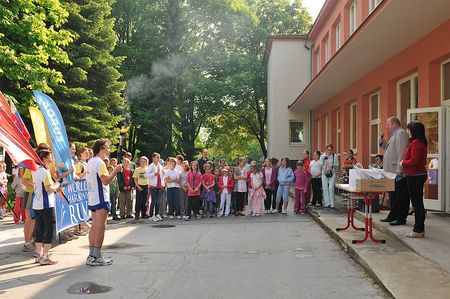 School in Diviaky nad Nitricou was very enthusiastic about the meeting.
Základná škola v Diviakoch nad Nitricou bola Svetovým behom harmónie nadšená.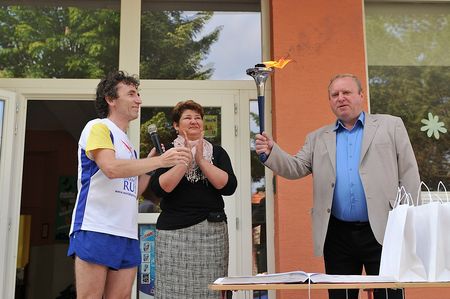 The Mayor Mr.Julius Duranzia received the torch in the school too.
V škole prijal pochodeň aj pán starosta Ing.Július Duranzia.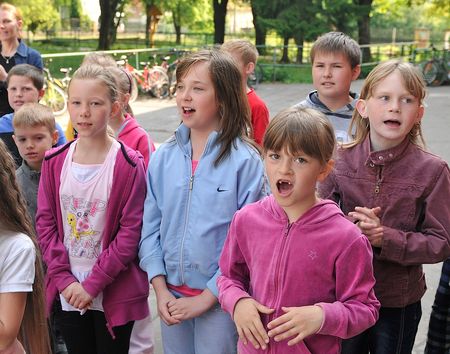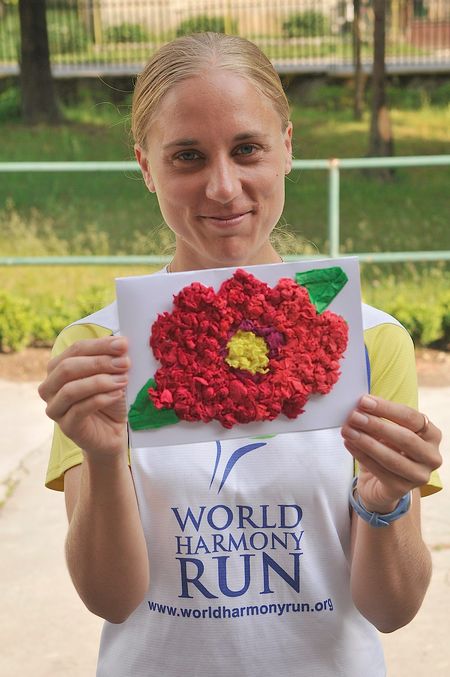 We received some nice handmade presents.
Dostali sme aj ručne vyrobené darčeky.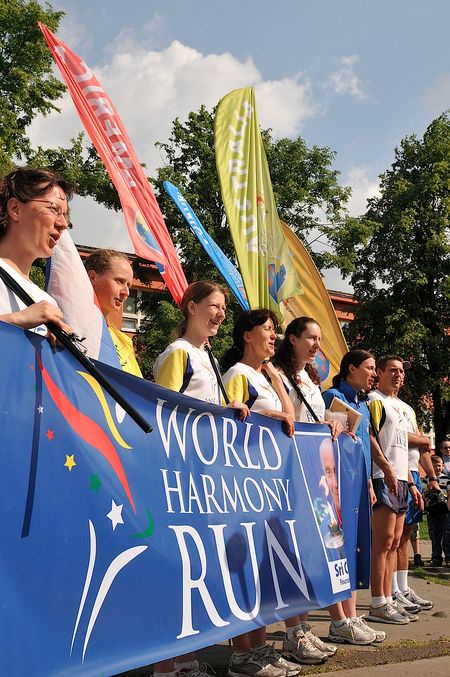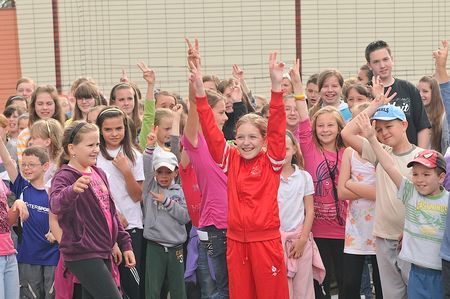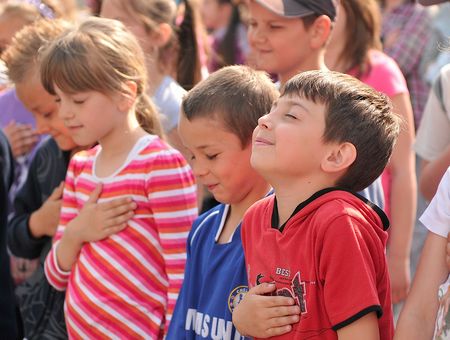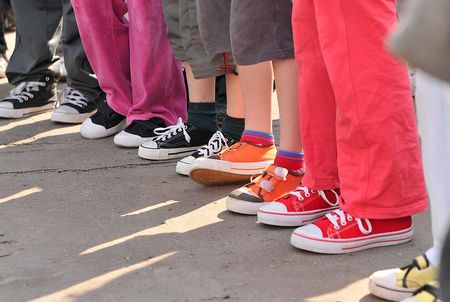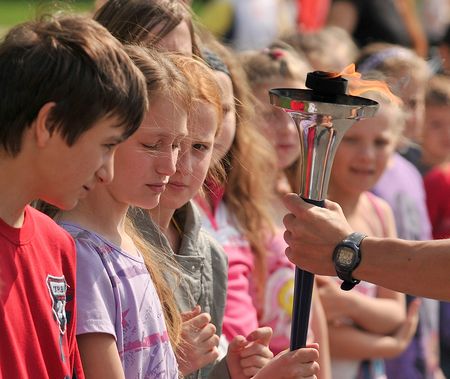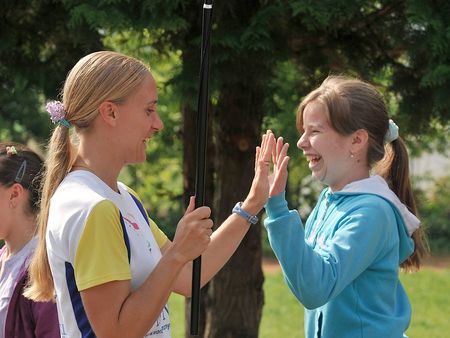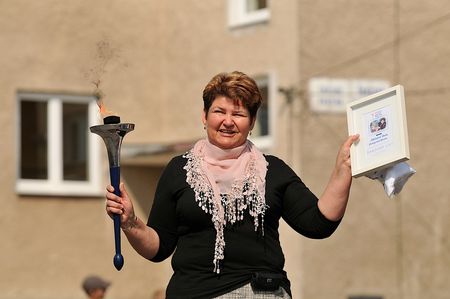 The principal was very nice. We gave her the certificate of appreciation to hang in her office.
We like what she said: "If some student wants to feel harmony, come to my office." :-)
Pani riaditeľka základnej školy bola veľmi milá. Dali sme jej ďakovný list, ktorý si zavesí v kancelárii.
Páčilo sa nám čo povedala: "Ak niekto zo žiakov chce cítiť harmóniu, nech príde do mojej kancelárie." :-)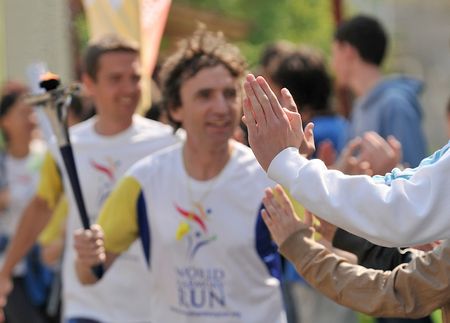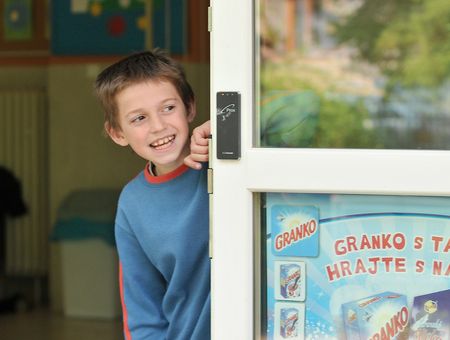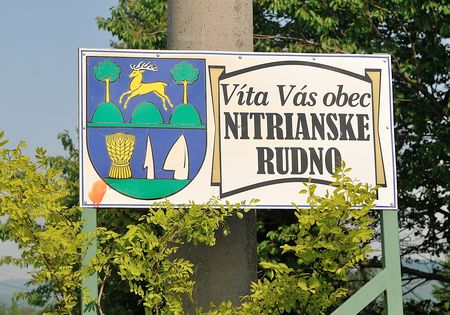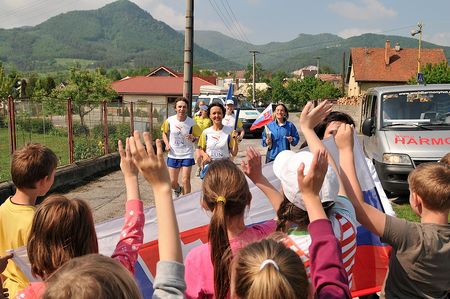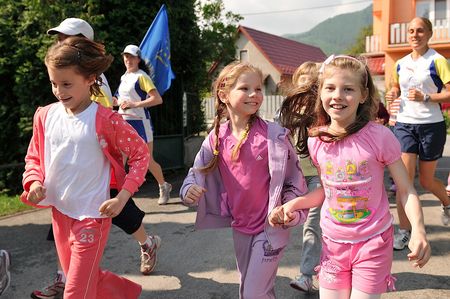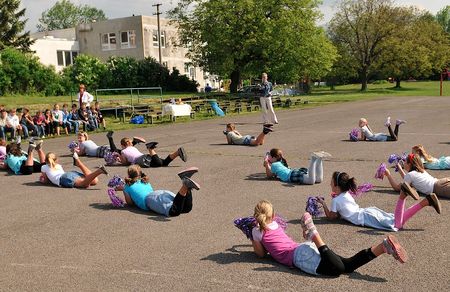 Children from the school in Nitrianske Rudno prepared a good performance.
Deti zo základnej školy v Nitrianskom Rudne si pre nás pripravili krásme predstavenie.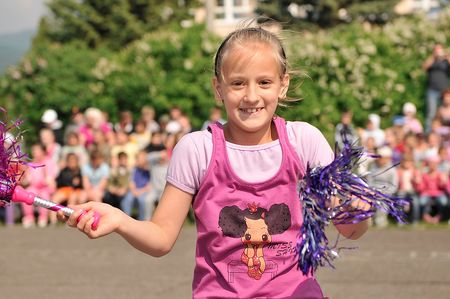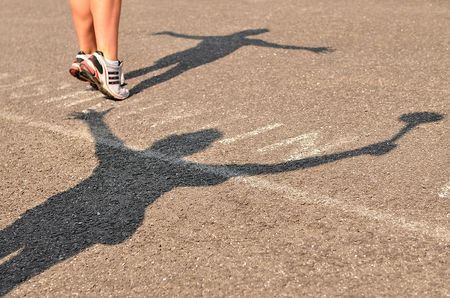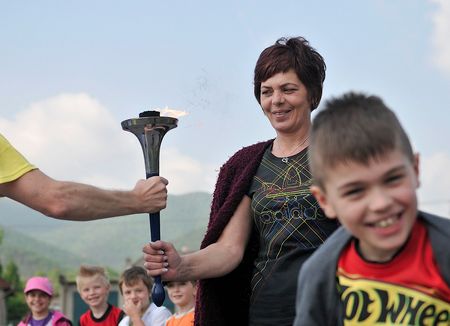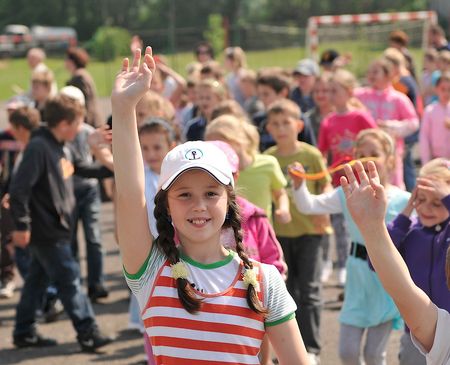 See you next time...
Uvidíme sa nabudúce...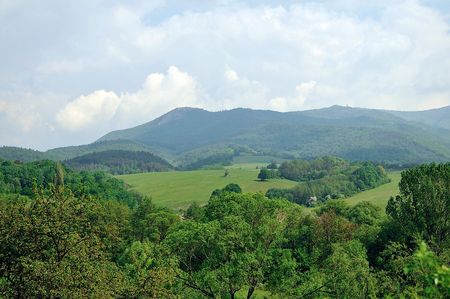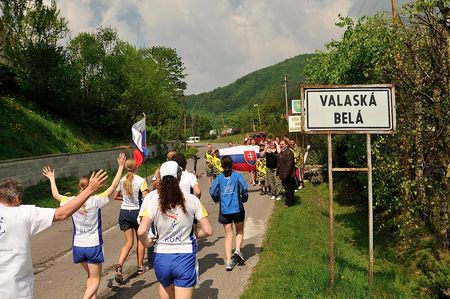 Coming to Valaska Bela, the longest village in Slovakia.
Prichádzame do Valaskej Belej, najdlhšej dediny na Slovensku.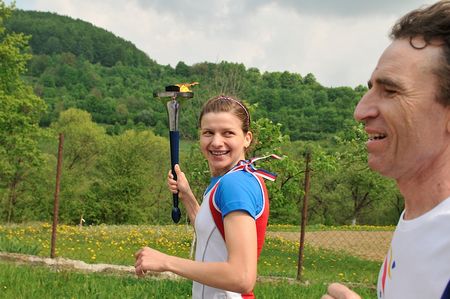 This girl - Vladimira Tocekova from Valaska Bela represents Slovakia in Biathlon. She was a great runner too.
Táto dievčina, Vladimíra Točeková z Valaskej Belej, reprezentuje Slovensko v biatlone. Je takisto výbornou bežkyňou.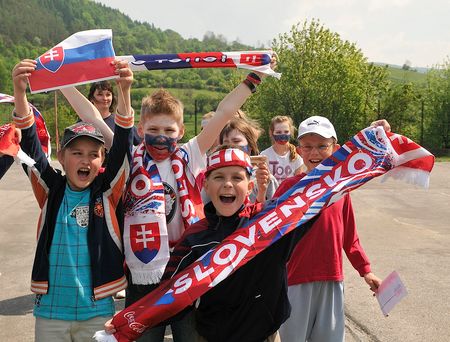 Kids were dressed as the Slovakian national fans, because there is the Ice Hockey World Championship happening in Slovakia now.
Deti boli oblečené ako hokejoví fanúšikovia. Teraz sa na Slovensku hrajú Majstrovstvá sveta v ľadovom hokeji.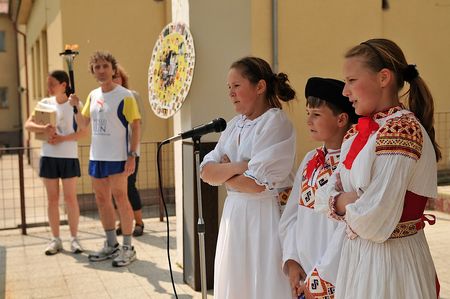 Beautiful folk performance in traditional costumes...
Nádherné vystúpenie ľudových piesní v krojoch.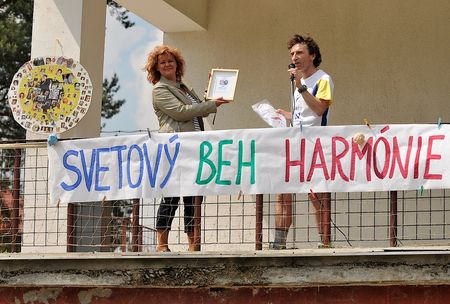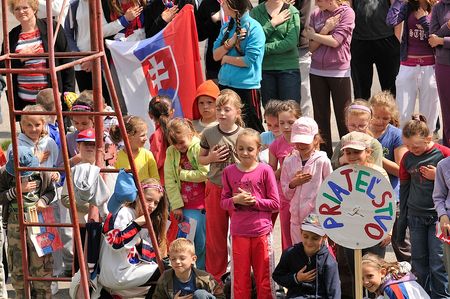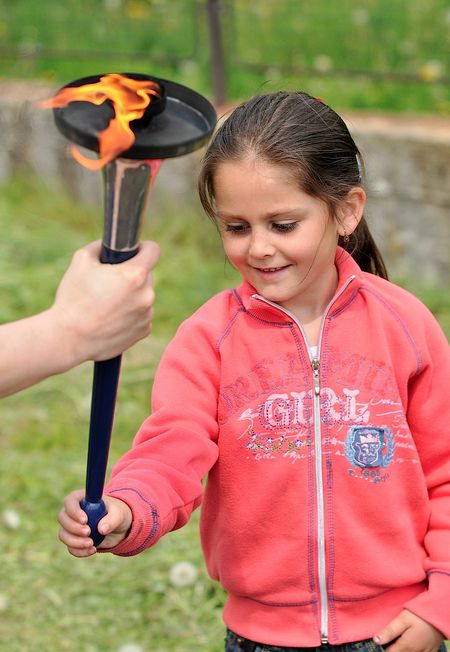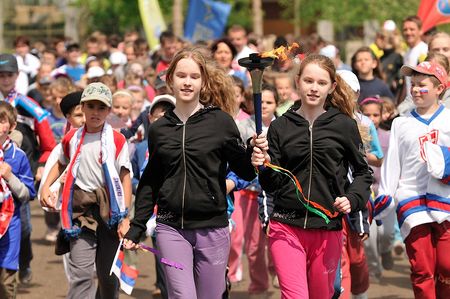 Sisters running in harmony...
Sestry v harmónii...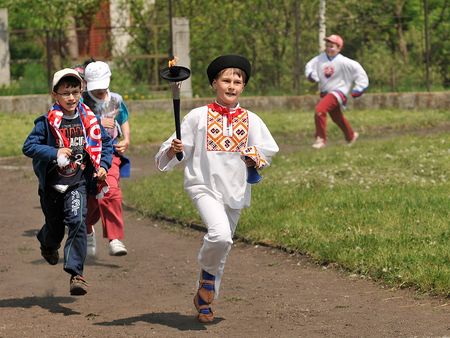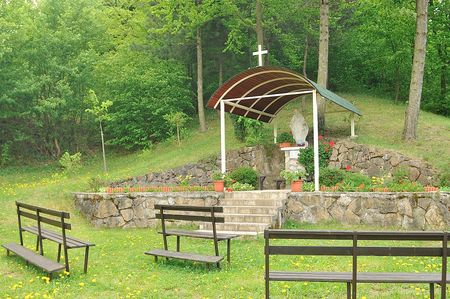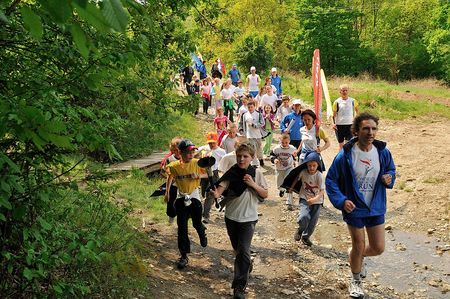 Kids from Horna Poruba run with us in the forest.
Deti z Hornej Poruby bežia s nami lesom.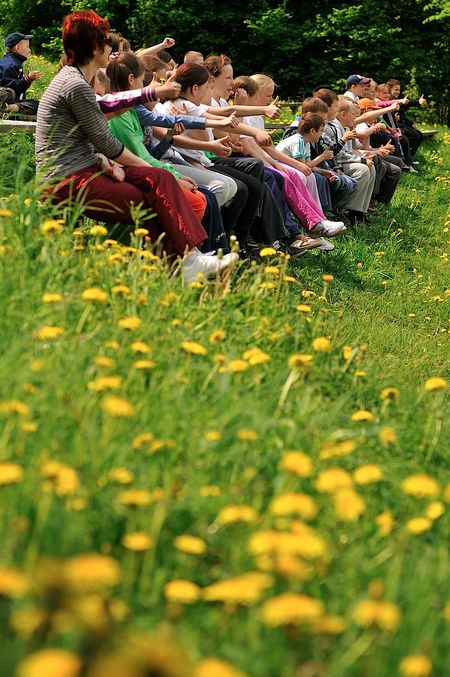 Meeting on a meadow...
Stretnutie na lúke...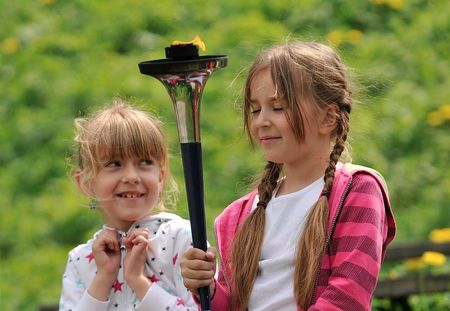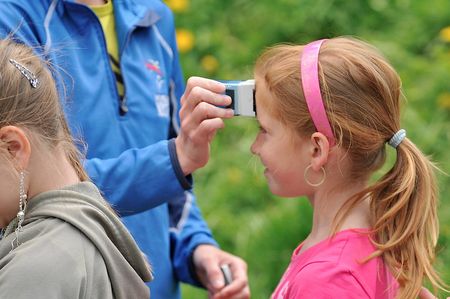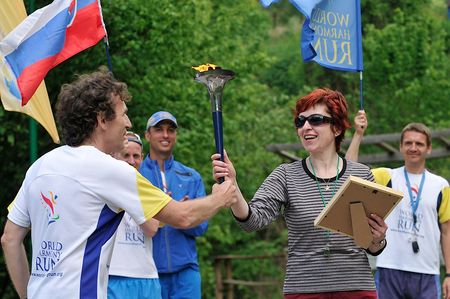 The primary school director in Horna Poruba
Pani riaditeľka základnej školy v Hornej Porube.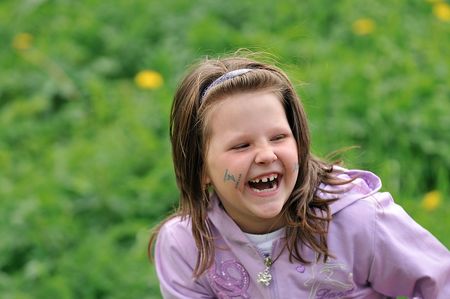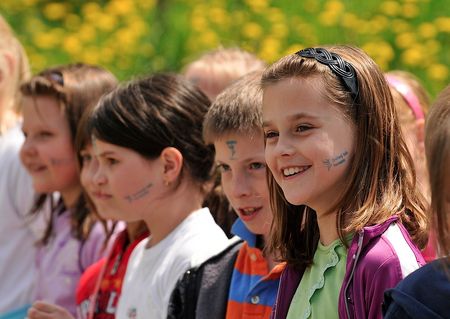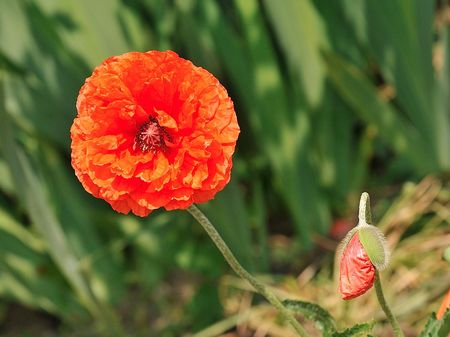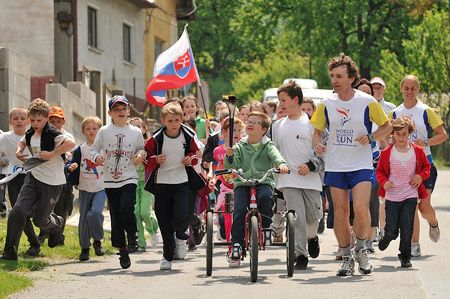 After the meeting we ran and rode all the way to school.
Po ceremónii sme celou cestou do školy bežali (a riadili bicykel :-) ).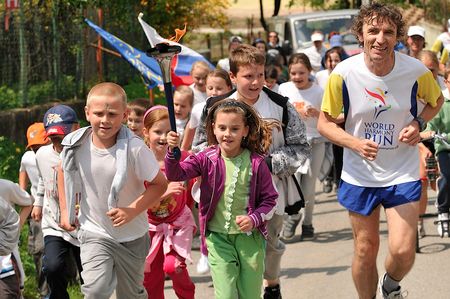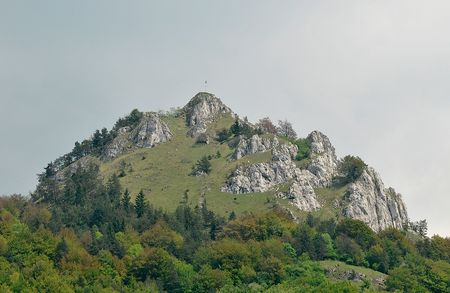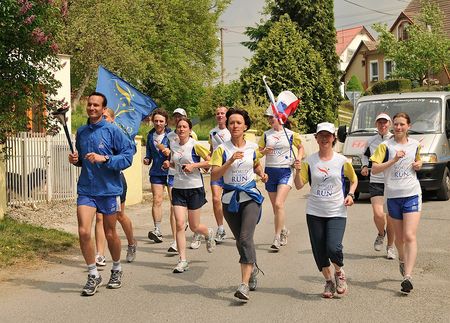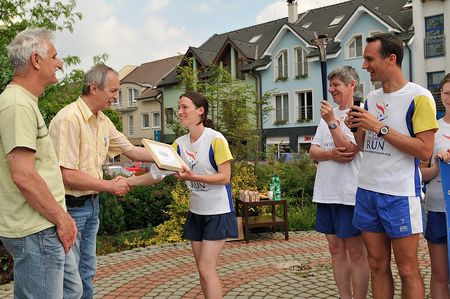 In Ilava we had a ceremony on the main square with the city council members and small kids performing...
Na hlavnom námestí v Ilave sme mali ceremóniu so zastupiteľmi mestského zastupiteľstva a malé deti mali pre nás pripravené vystúpenie...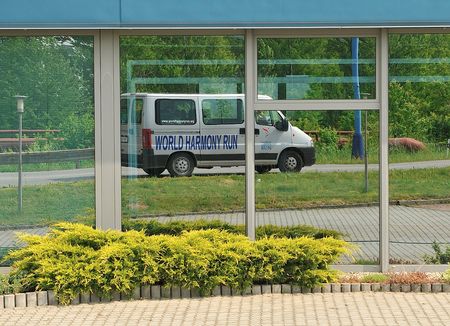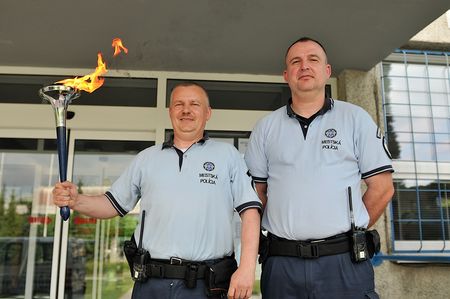 City police standing proud.
Dobrí a hrdí policajti.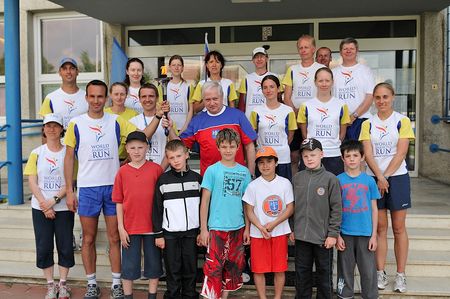 Dubnica nad Vahom - our last meeting in Slovakia. We met with vicemayor and kids from ice hockey club.
Dubnica nad Váhom- naše posledné stretnutie na Slovensku. Stretli sme sa so zástupcom primátora a deťmi z hokejvého klubu.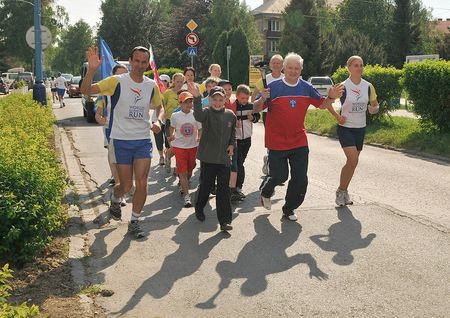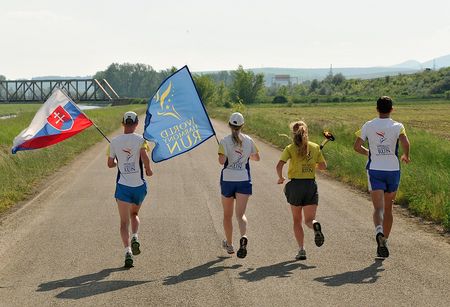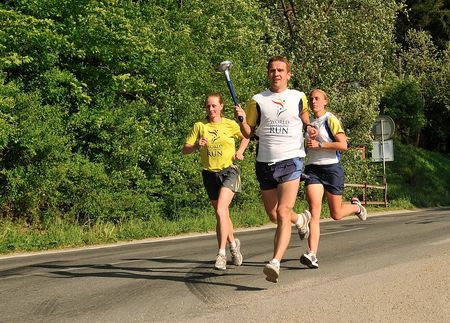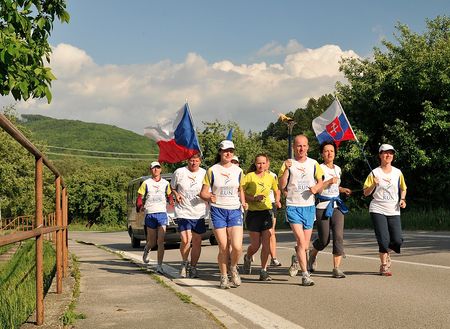 Getting closer....
Blížime sa...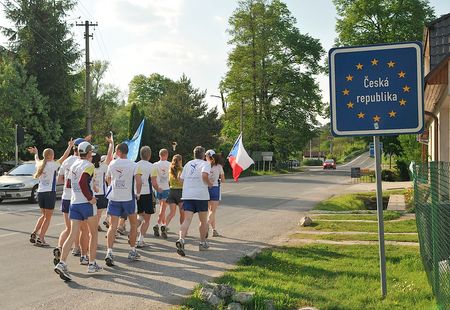 Crossing the border to Czech Republic.
Prekračujeme hranice s Českou republikou.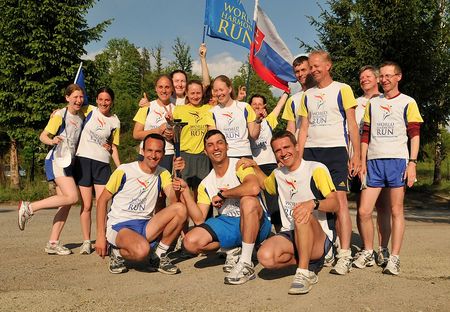 Thanks a lot to the GREAT Slovakian team!
Slovenskému tímu veľká vďaka!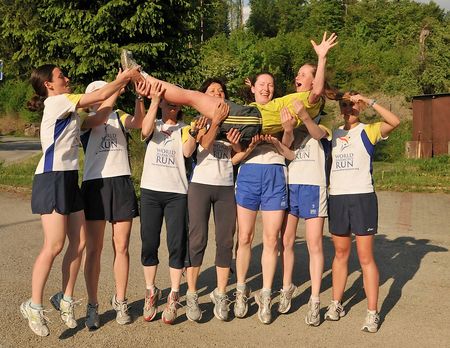 Celebrating Natalya-our best and fastest runner.
Oslava Natálie- nášho najlepšieho a najrýchlejšieho bežca.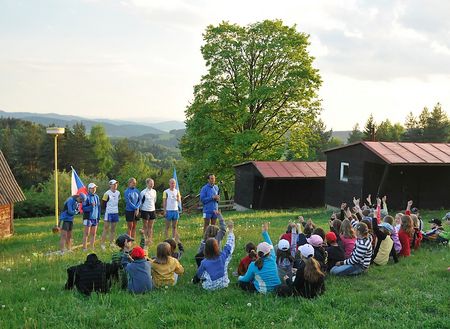 In Czech Republic we still had one more ceremony at the mountain hotel Antarik, where we stayed.
V Čechách sme mali ešte jednu ceremóniu na horskom hoteli Antarik, kde sme potom aj zostali.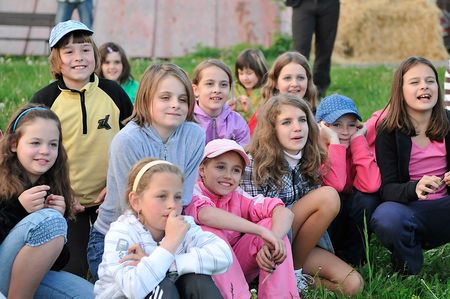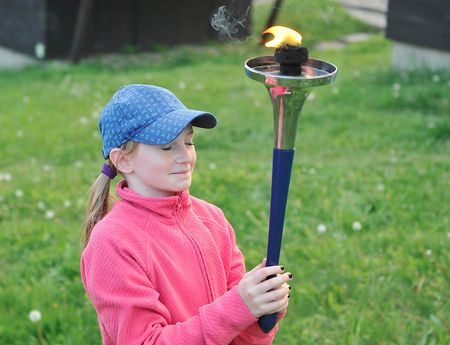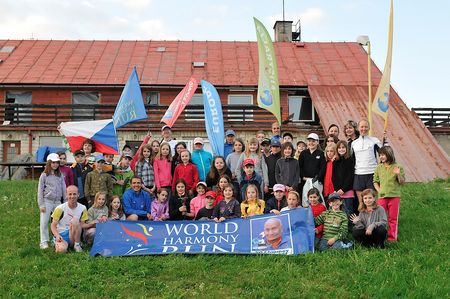 Children from Zlin were one of the best groups we met.
Deti zo Zlína boli jedni z najlepších, ktoré sme na našej ceste stretli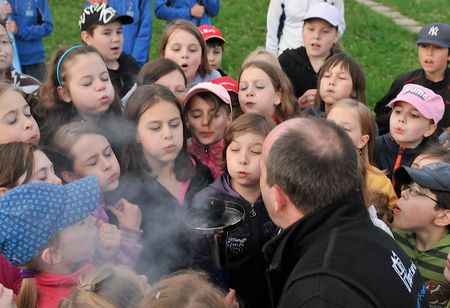 Last blow out of the torch for the the day....
Sfúknutie pochodne na konci dňa...
---

The World Harmnoy Run proudly supports the International Year of Youth (IYY) and the International Year of Forests (IYF) proclaimed by the United Nations General Assembly.
See also recent Youtube video which illustrates IYY slogan "Our Year Our Voice"  International Year of Youth - Zambia World Harmony
---
Distance: 83 km
Team Members:
Apaguha Vesely (Czech Republic), Shobhavati Davies (New Zealand), Nataliya Lehonkova (Ukraine), Ujjwala Mettrick (New Zealand), Josef Sverma (Czech Republic), Ananda-Lahari Zuscin (Slovakia), Danica Cernakova (Slovakia), Petra Kasperova (Czech Republic), Viliam Segeda (Czech Republic), Padyatra Komak (Slovakia), Jan Stanko (Slovakia), Ayodhika Chochlikova (Slovakia), Devatulya Sulekova (Slovakia), Vlado Kulisek (Slovakia), Zdenko Michalec (Slovakia), Kuladipa Babusik (Slovakia), Marek Novotny (Slovakia)
Harmonemail:
You can send a message to the runners or read the messages.
Gallery: See more images!