France 13 Mai : Vico - Porticcio
We began our day at the monastery in Vico; we had a meeting with a small class, there learning to forage for vegetables and herbs and then cook delicious food with them.
Nous avons commencé la journée à VICO au couvent de Saint François, où un stage de cuisine apprenait à cuisiner à partir de la récolte des herbes sauvages.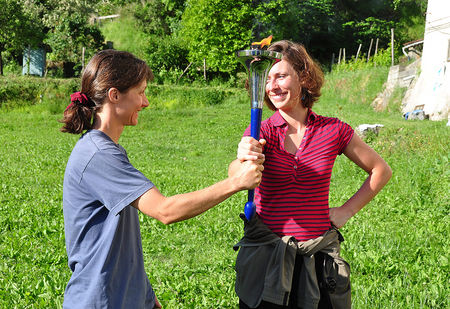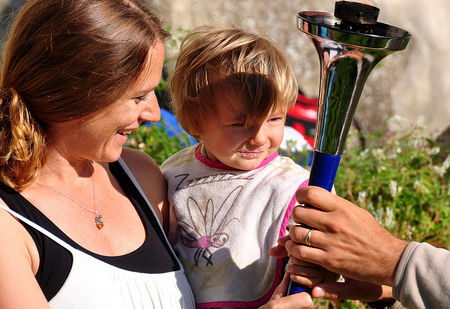 People from many different places were attending this cooking school, including this woman from the United States and her son.
Des personnes de différentes nationalités faisaient parti de cette classe, y compris cette femme et son enfant venant des Etats-Unis.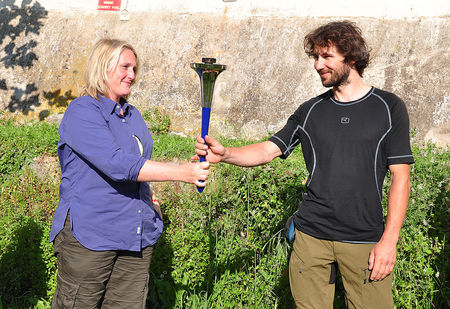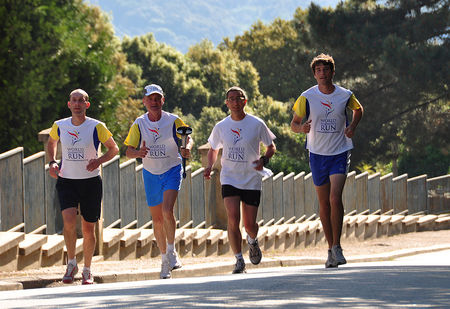 A quick run uphill to warm up.
Une petite course en côte pour se mettre en bouche.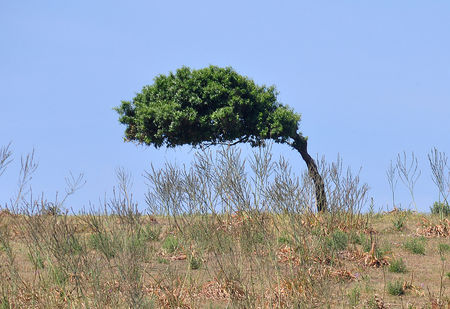 Corsican Road Sign! Guess from where the wind blows....
Accrochez-vous sur les routes Corse! Devinez d'où vient le vent...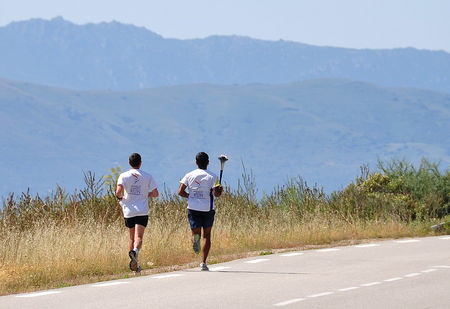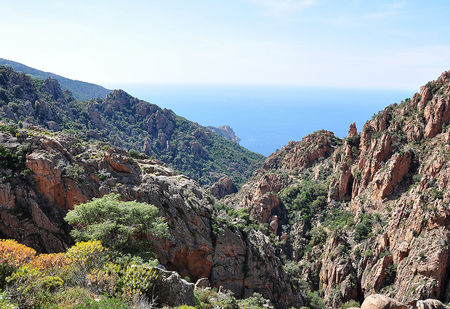 The cliffs outside Piana are a magnificent sight.
Les Calanches de Piana, site classé d'intérêt Mondial par l'UNESCO, un des plus beaux site de Corse que nous chérissons dans notre coeur....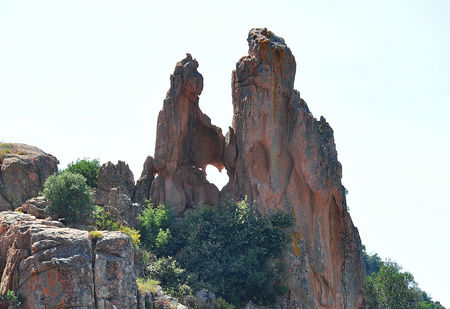 See anything interesting about this picture?
Cherchez et vous trouverez...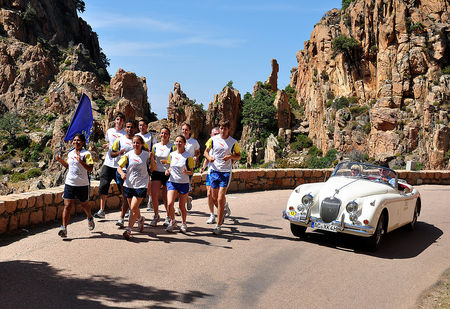 A classic car rally was happening on the coast.
Et le Rallye des 10 000 Virages passait sur la Côte.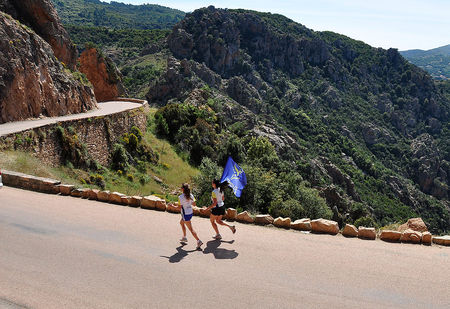 It looks empty now, but there are hundreds of tourists right around the corner.
Cela parait vide mais des centaines de touristes attendaient à chaque tournant.

The drop behind us was pretty long.
Vive La France !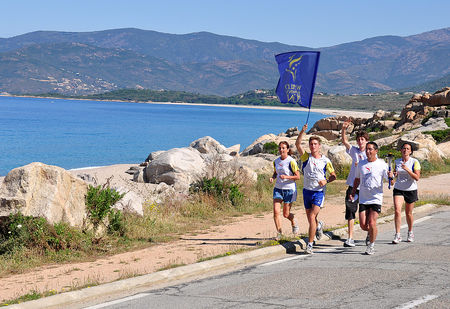 Back at sea level, we reached Tiuccia and visited the primary school.
De retour sur le bord de Mer nous partons vers une école primaire à Tiuccia.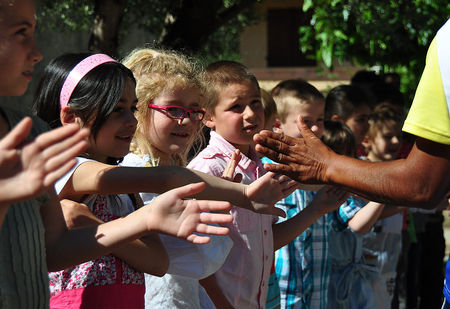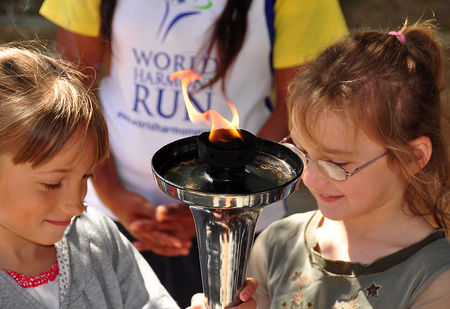 Next we had a meeting with some very excited children.
Un rendez-vous très enthousiaste avec les enfants.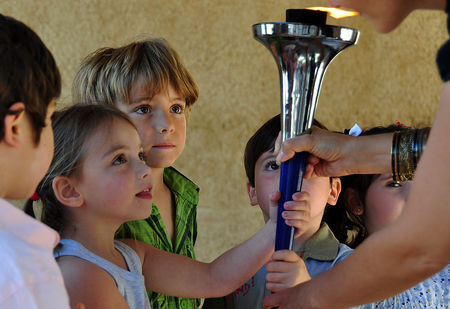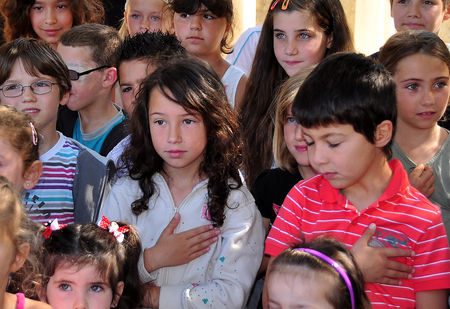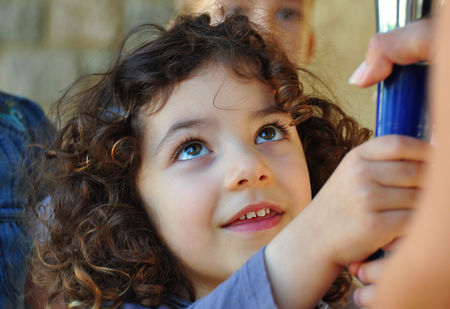 Such bright faces...
Des visages si rayonnants....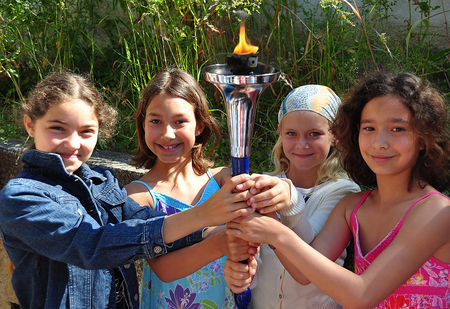 ...and great friends...
...et de bons amis...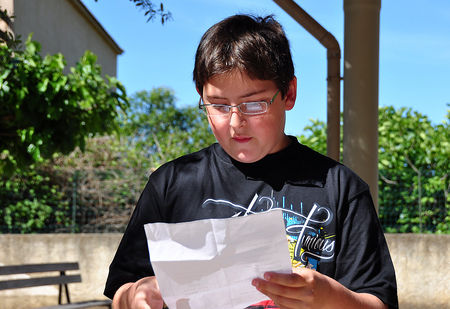 This young man was quite brave and sang a solo without rehearsing.
Bravo, Nicolas! Courageux il nous chanta en solo un chant à capella.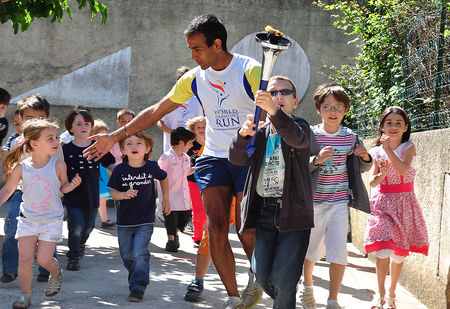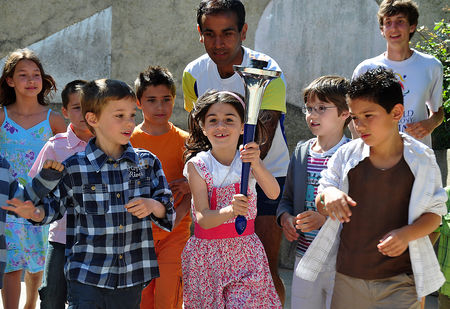 The kids loved running; they were so joyful and didn't want to stop.
Les enfants ont tellement aimé courir qu'ils ne pouvaient plus s'arrêter.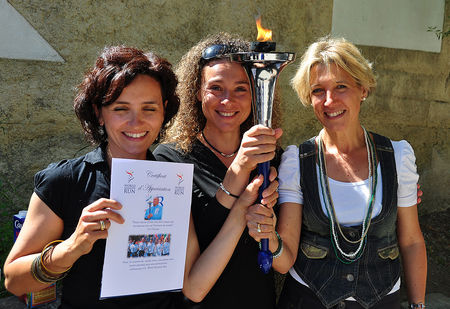 Thanks to the principal and teachers.
Merci beaucoup à la Directrice et maîtresses.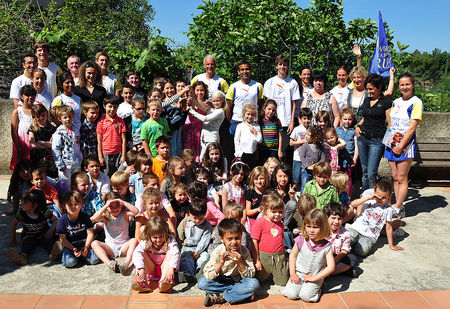 A nice, big, global family.
Une merveilleuse photo de famille du Monde.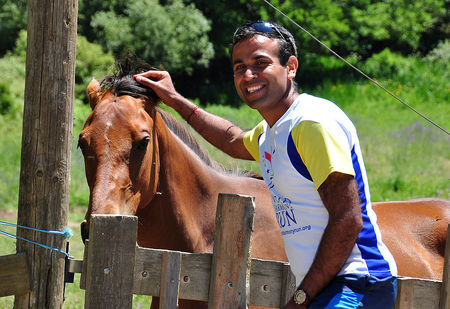 Sometimes it might be easier to have this guy with us for the big hills!
Ce serait bien d'avoir ce compagnon pour monter les côtes Corse!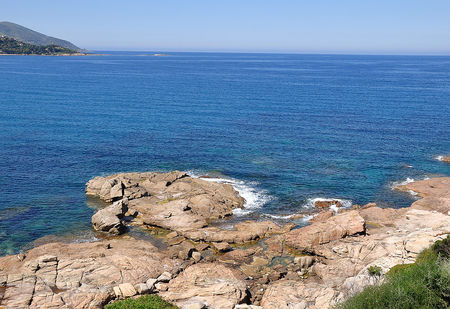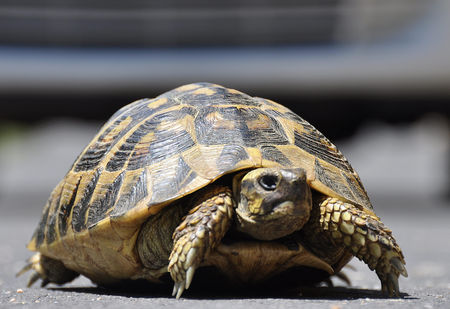 ...when the days are really hot, sometimes we feel like this turtle, especially uphill...
...les jours où il fait très chaud, ,nous nous sentons un peu comme çà!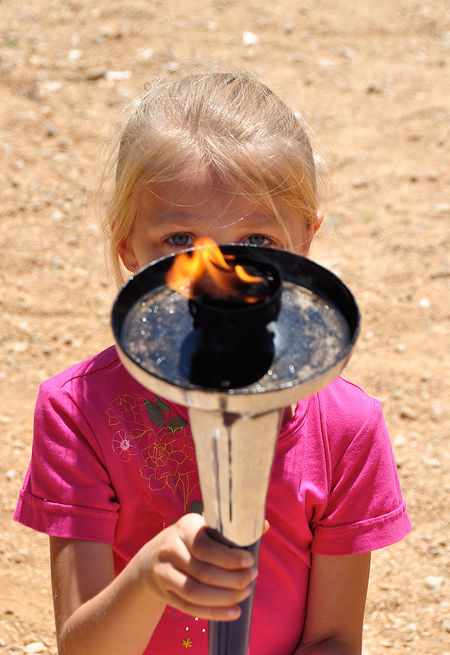 Our next school, in Afa, greeted us very enthusiastically.
L'école d' Afa nous a reçu avec beaucoup d'enthousiasme.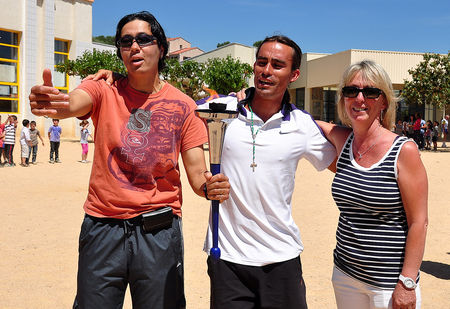 The teachers loved the torch too!
Les enseignants ont aussi apprécié la Torche!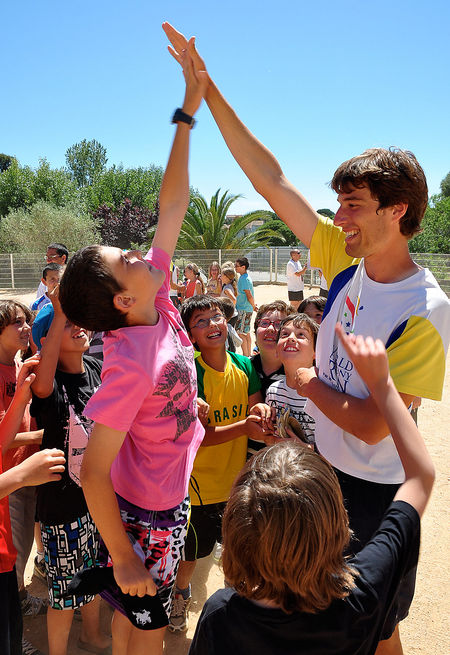 Very high five!
Allez tape là!!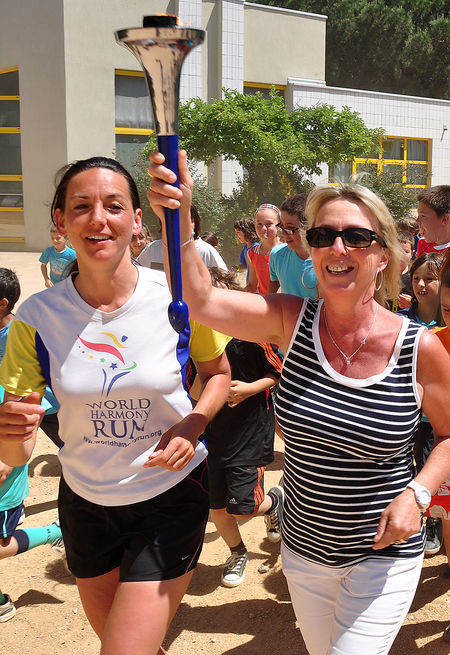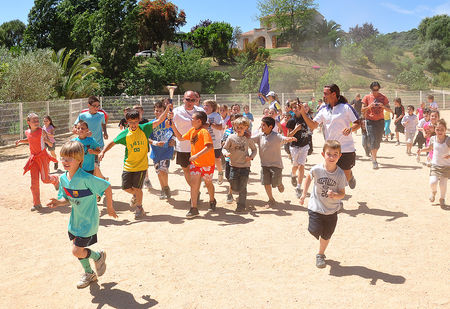 After, we went for a dusty run...
Allons y pour une course au Flambeau...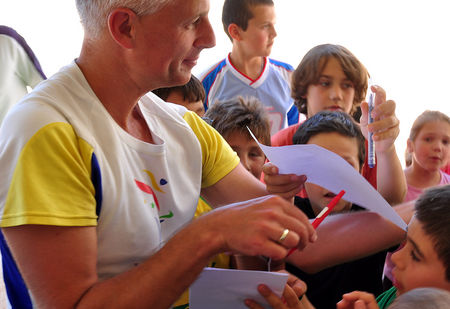 ...and some autographs...
... et quelques autographes...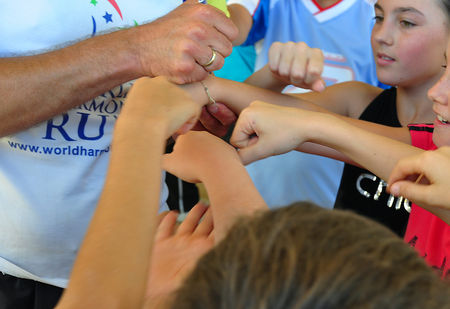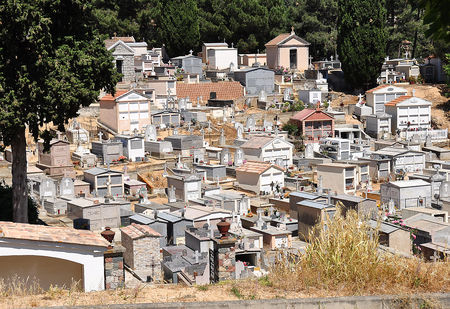 On our way out we passed a beautiful cemetery; it reminded us to be grateful to be alive and to be around so many children who are so full of life.
Ce magnifique cimetière nous rappelle comme la vie est belle et courte!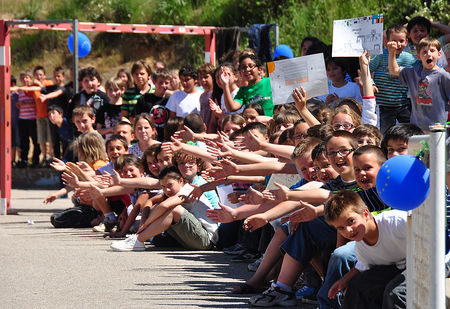 Our last meeting of the day brought us to the primary school in Mezzavia.
Notre dernier rendez-vous nous emmena à l'école primaire de Mezzavia.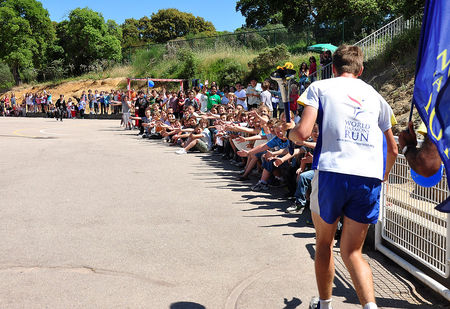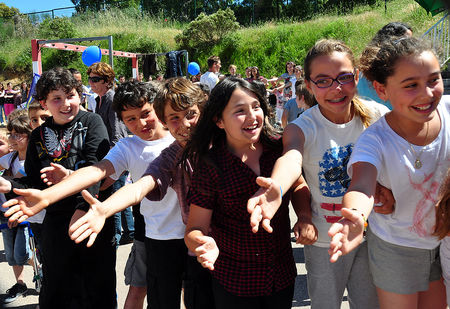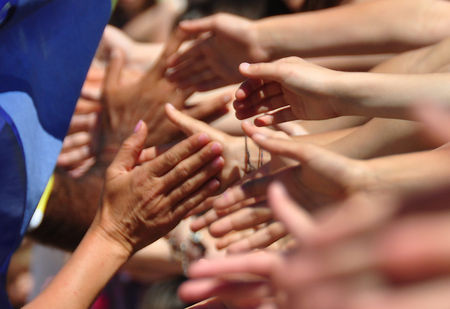 Hands were stretched out waiting...
Que de petites mains nous attendaient impatiement...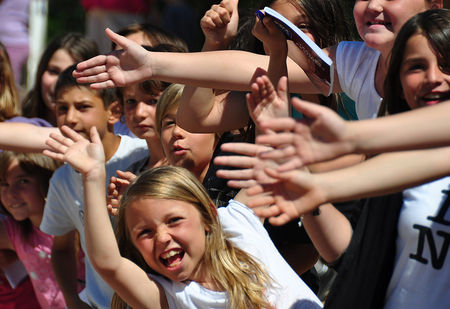 ...and cheers were in the air...
...et des cris de Joie!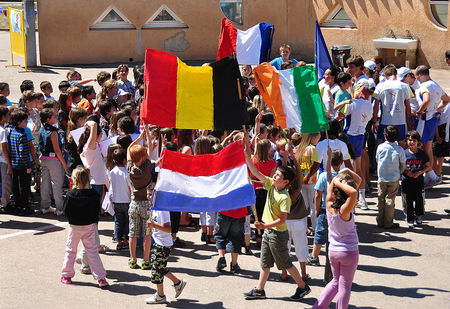 The kids represented many different countries.
Les enfants représentant les différents pays.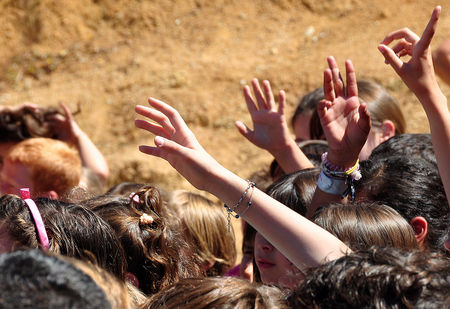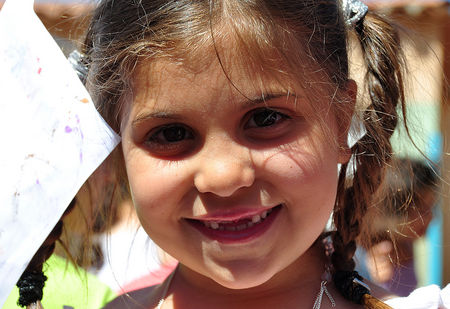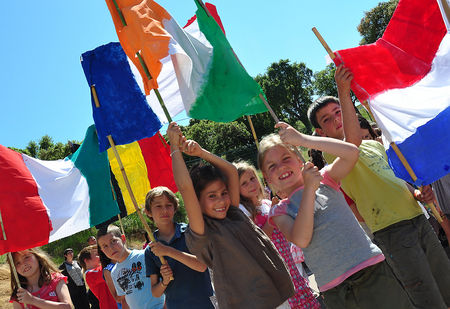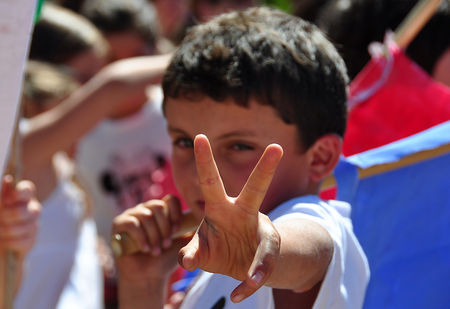 A very fun school!
Salut Enzo!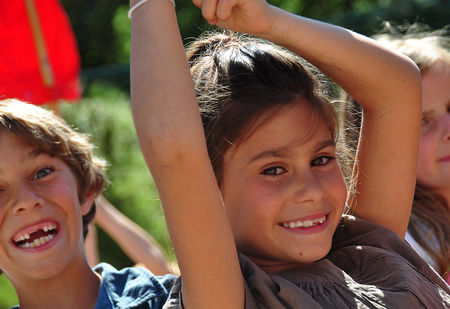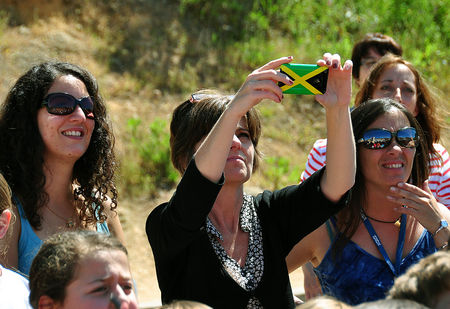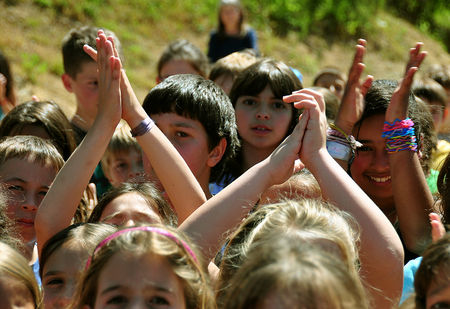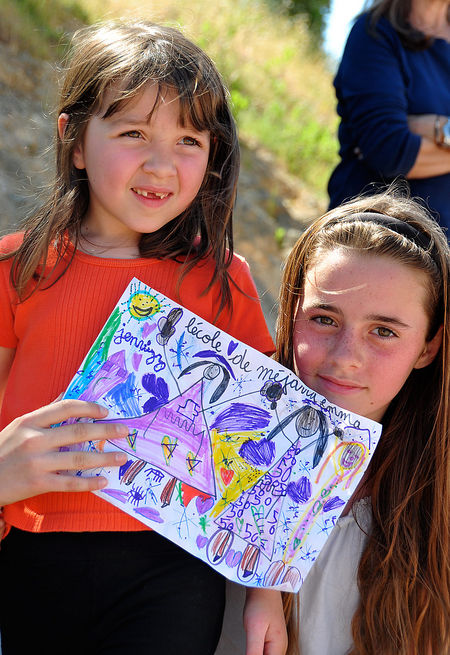 The kids drew us pictures for peace and harmony!
De beaux dessins d' enfants pour exprimer l'harmonie!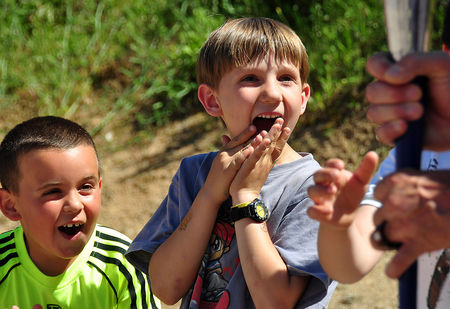 Amazing!
Incroyable!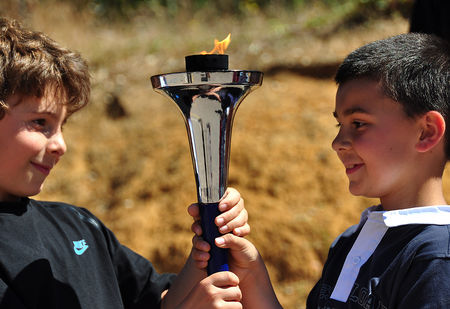 Friends passing the torch...
Des amis se passent la Torche...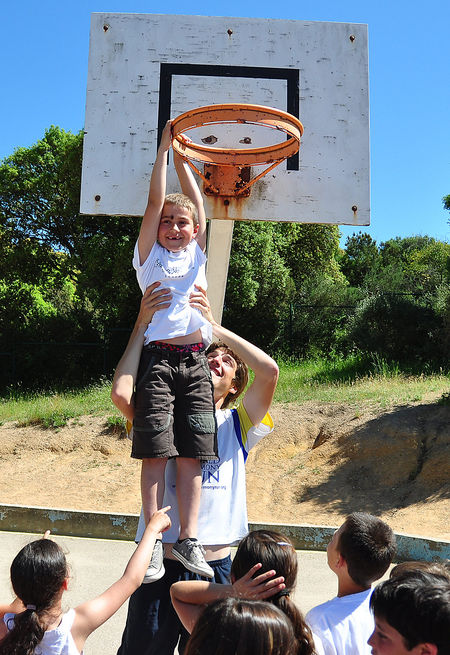 Future basketball star...
De futur champion de Basketball...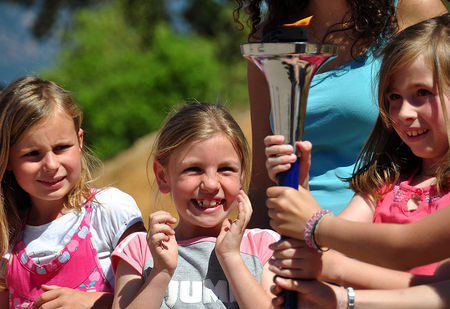 Excitement begins!
C'est si excitant!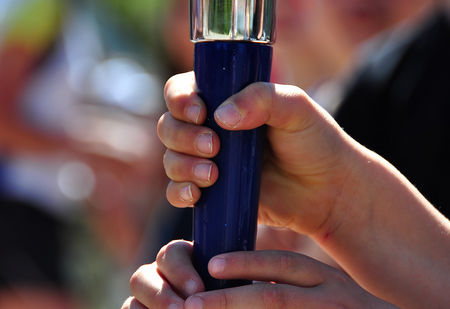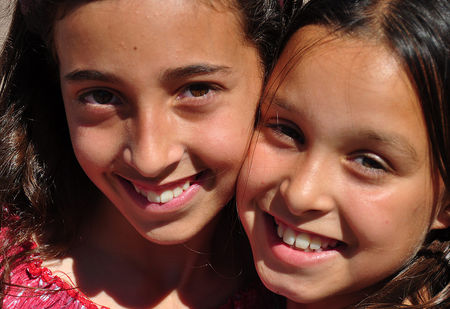 Beautiful smiling faces.
De jolie sourires de Corse.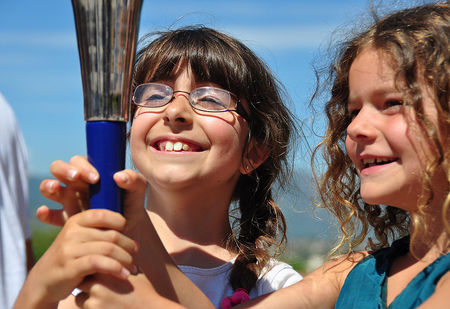 Sheer joy...
Pur Bonheur...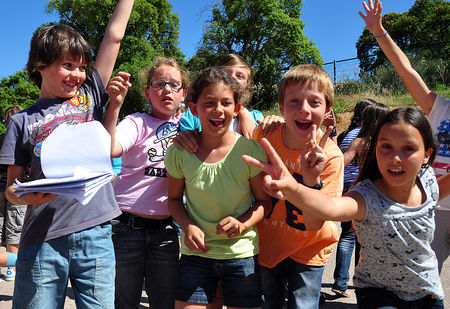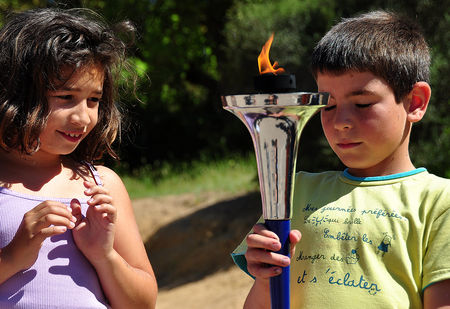 ...and wishes for harmony.
...et que de voeux pour l'harmonie.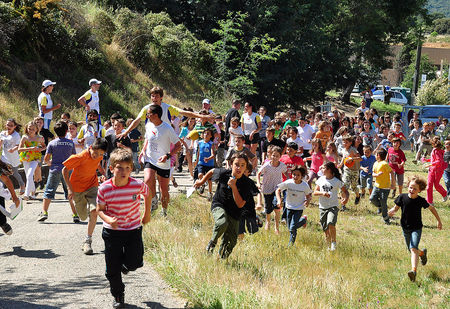 We went for a wild and crazy run!
Et nous voilà partis pour une course éffrénée!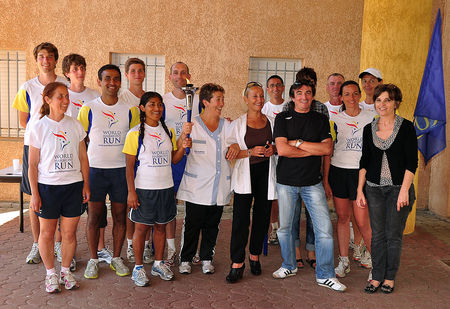 Thanks again for the wonderful opportunity to meet you all.
Et merci encore pour cette merveilleuse rencontre.
---
---

The World Harmnoy Run proudly supports the International Year of Youth (IYY) and the International Year of Forests (IYF) proclaimed by the United Nations General Assembly.
See also recent Youtube video which illustrates IYY slogan "Our Year Our Voice"  International Year of Youth - Zambia World Harmony
---
Distance: 130 km
Team Members:
Dipavajan Renner (Austria), Zach Saltzman (USA), Atul Arora (India), Olivia Lopez Cortes (Mexico), Daniel Spiro (Norway), Marc Schrader (Germany), Srecko Rajh (Slovenia), Manjula Lecordier (France), Francoise Mena Seguy (France), Adelino Prabala Carvalho (France), Padmasini (France), Natashira (France), Adrian (France)
Harmonemail:
You can send a message to the runners or read the messages.