Albania/Macedonia 2 May: Elbasan - Ohrid
It seems like yesterday's hope for sunshine and warmth was fulfilled. Whoever is responsible for the weather, we'd really like to thank him. Our day started wonderfully; sun,sun,sun - yaaay!! We took off for a 95 km stretch that would lead us over hilly roads all the way to the Macedonian border. The Mayor of Elbasan greeted us and joined our team for a few meters when we were running out of the city. Very soon the mountains were in sight and we found ourselves on a very narrow road, enthusiastic about another opportunity for a little hillwork.
Изгледаше како вчерашната надеж за сончево време ни се исполни. Кој и да е одговорен за временските услови навистина би сакале да му се заблагодариме. Нашиот ден започна извонредно: сонце, сонце, сонце - супер!! Тргнавме на етапата од 95 километри која не носеше низ ридести делови се до Македонската граница. Градоначалникот на Елбасан не поздрави и ни се придружи неколку метри додека трчавме низ градот. Многу брзо се појавија и планините и се најдовме на еден тесен пат полни со ентузијазам за новата можност за трчање на угорнина.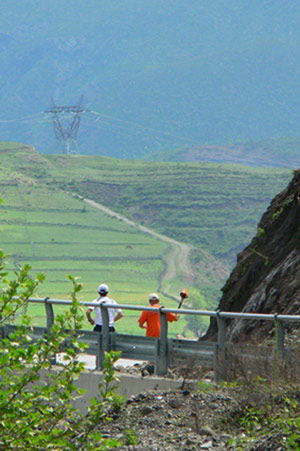 While we were waiting for a runner to arrive, we enjoyed ourselves relaxing in the sun. Our boys started to play football and since their was no other place and the traffic wasn't too bad they simply played on the road.
Додека чекавме да пристигне тркачот уживавме релаксирајќи се на сонцето. Момците почнаа да играат фудбал и поради тоа што немаше друго место а сообраќајот беше слаб, тие едноставно заиграа на патот.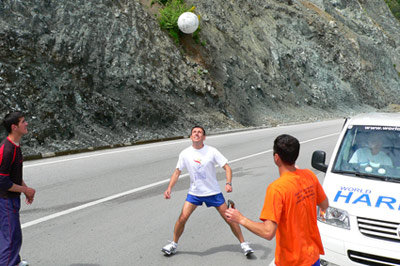 All the way to the border we were surrounded by beautiful scenery. On one stop, Dipavajan, our team leader, discovered a tortoise which we had great fun to play with. We shared our last strawberries with it and also put a World Harmony Run sticker on its back. (which we of course took off before we set it free again..)
Бевме опкружени со убави слики околу нас се до границата. При едно застанување, Дипаваџан, нашиот лидер на тимот, виде една желка и си поигра со неа. И ги дадовме нашите последни јагоди, а исто така и залепивме и налепница со знакот на Трката за Светска Хармонија (што секако пред да тргнеме и го извадивме и ја пуштивме на слобода...)
Just before we reached the Macedonian border, Lake Ohrid revealed its beauty to us. It was a wonderful sight to see the lake embedded in the mountains and forests. In the distance we could already see the city of Ohrid - our destination for today.
Almost everybody joined the last few km downhill to the border. Our Albanian TV team shot their last roll of film and bid us farewell as we set off for today's last 30 km. In the next few days the national TV station will broadcast a 30 minute documentary about the Run in Albania.
Пред да стигнеме до границата со Македонија, пред нас својата убавина ни ја откри Охридското Езеро. Тоа беше прекрасна глетка - езерото беше опколено со планини и шуми. Во далечината го видовме и градот Охрид - кој беше дестинацијата која требаше да ја стигнеме денес.
Скоро сите ги трчаа последните километри по удолнината до границата. Нашиот албански ТВ тим ги сними последните кадри и ни посака добар пат во нашите последни 30-тина километри за тој ден. Во следните неколку дена националната ТВ ќе имитува 30-минутен документарен филм за Трката за Светска Хармонија во Албанија.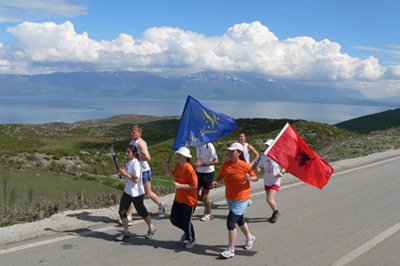 All of us were really impressed by Albania - we really enjoyed its hospitality and receptivity. Thank you for this great experience!
Hello Macedonia!
Right before entering Struga we were greeted by local runners who accompanied us all the way to the city centre were we had some girls showing us traditional Macedonian folk dancing. Two of our girls joined their dance and I have to say the performed quite well. Afterwards the city representative gave a short but nice speech.
Сите бевме импресионирани од Албанија - навистина уживавме во гостопримството и приемчивоста. Ви благодариме за ова прекрасно искуство!
Здраво Македонија!
Токму пред да влеземе во Струга бевме пречекани од локални тркачи кои ни се придружија се до центарот на градот, каде едни девојки одиграа традиционално македонско оро. Две наши девојки им се придружија во играта и морам да кажам дека добро се покажаа. После тоа претставник на Градот одржа краток, но убав говор.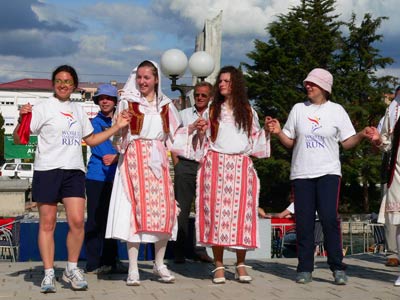 Running the last stretch along the lake (a beautiful sunset promised another great day...) we finally arrived in Ohrid.
Трчајќи ја последната дистанца покрај езерото (убаво зајдисонце ветуваше добар ден...) конечно пристигнавме во Охрид.
---
Distance: 95km
Harmonemail:
You can send a message to the runners or read the messages.