Bosnia 1 May: Travnik - Banjaluka
The Team headed northwest from Travnik to Turbe, 7km away, where the road rose steeply and steadily. The runners ascended through the cloud level to encounter the challenging Vlasic Mountains (highest peak at 1933m) and had once again to contend with some cold and wet weather conditions.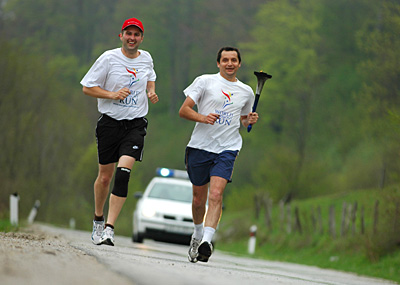 For the next 50km the mountain landscape was truly spectacular, with deep ravines, pine forests, fast flowing streams and rivers, and the terrain rising steeply from the hare-pin roads with evidence of many rock falls on the road. Heavy rain persisted until we reached the town of Knezevo, where the sun shone for us for over an hour. At the town hall be met with the secretary for the mayor.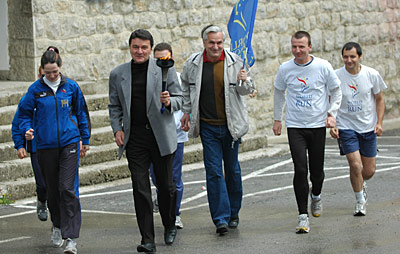 He generously gave us pita (pie) that we heartedly consumed and he also offered us a shot of classic brandy, but we had to refuse this as we all wanted to run straight for the further 50 km to Banjaluka.
From Knezevo the countryside was stunningly beautiful with coniferous and deciduous forests, rolling hills and great views down into the cloud covered valleys and snow-capped mountains far off on the horizon. Over the next 35km we encountered many animals. We saw a fox dash across the road, and we gave a friendly tail wagging dog one of our cheese sandwiches. At first he turned his nose up at it, but then he took it in his mouth and walked off down the road.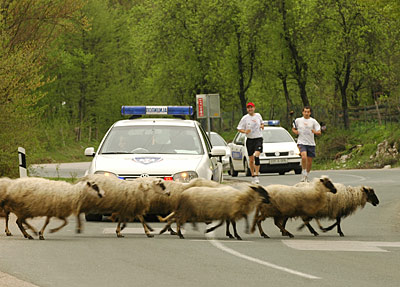 Later on the runners encountered cows and sheep blocking the road - the Team duly stopped to give the torch to a farmer herding his cattle along the road.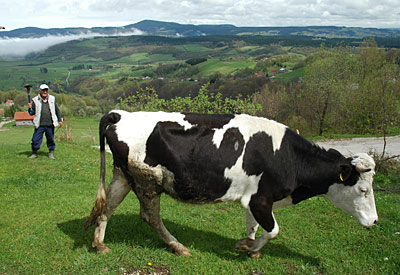 Roberto, our German runner caused mayhem as an old lady was trying to steer the small cowherd up the road into an adjacent field. They scattered everywhere and four cows ran off into someone's backyard to nibble at the clothes on the washing line - much to the annoyance and fury of the owner. Our Roberto kept running.
By late afternoon we arrived 10 km from Banjaluka to give an interview to Bosnian national TV who filmed the Team running onwards to Banjaluka.
A few kilometres from Banjaluka students from the University's Sports Faculty, and children from the orphanage where we attended our final ceremony of the day, joined the Team.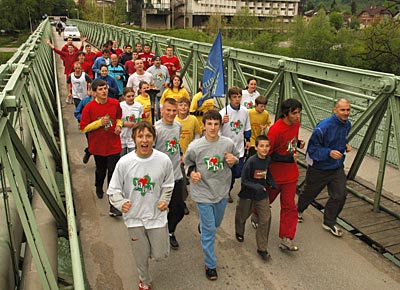 There we sang the World Harmony Run song to the children, who cheered and clapped us. In return the children gave many musical and recitation performances for us.
The younger children especially loved running with the torch. One young girl who held the torch was so full of energy and never stopped smiling the whole time we were there.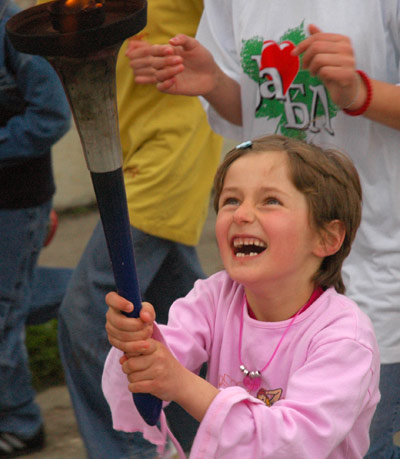 It was especially uplifting to see the joy of these children after a hard day's running. Moments like these make the World Harmony Run so special and cannot fail to touch the hearts of everyone.
---
Distance: 107km
Harmonemail:
You can send a message to the runners or read the messages.