Slovakia 7 June: Nitra - Bratislava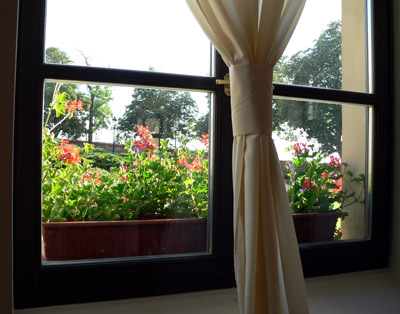 Today the destination was Bratislava; after five days enjoying the beauty of the countryside, we were nearing the majestic capital.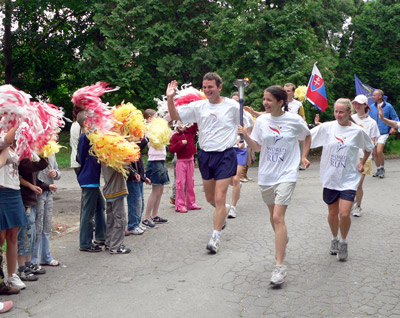 We left Nitra early in the morning, so that we could visit Tulipanova Elementary School .
We answered many questions like this one: -Do you run at night? -Sometimes in our dreams, said our captain.
The deputy headmaster, Mrs. Daniela Jancuskova and her staff received us. In her speech, Mrs. Jancuskova expressed her joy in the goals of our run. During the school performances, some girls from our team intercepted and twirled the majorettes' batons.
Mr Alfoldi, the mayor of the city of Sala, not only ran with us to one of the city schools, but did so with a smile.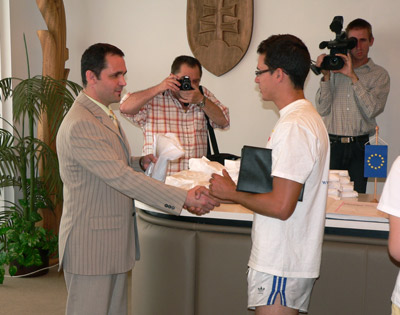 A mayor with dynamism and spirit.
After receiving us very officially at City Hall and presenting us with city symbols, he show up again in no time in running gear and with the torch, waiting for the police escort.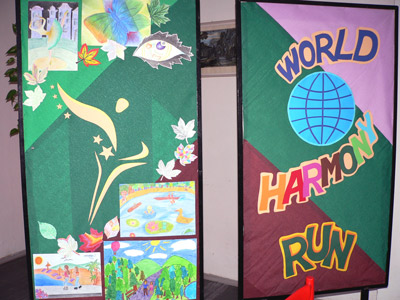 The head of the school came to the city hall and the mayor ran to the school.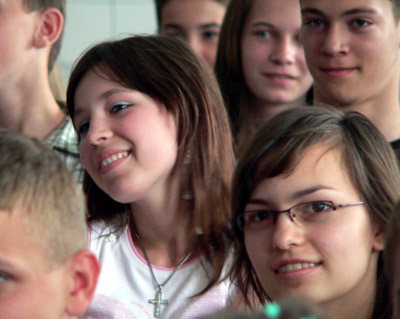 Every runner was asked to share his most unusual experience on the roads with our 16 - 17 year-old listeners. Sahara, Turkey, running with the winds, smiles…
Galanta's boys and girls, dressed in bright blue came to share some miles with us in the scorching heat. In the main square, the vice mayor, performers and observers had come with a great degree of enthusiasm, to celebrate together and hear about our harmony relay.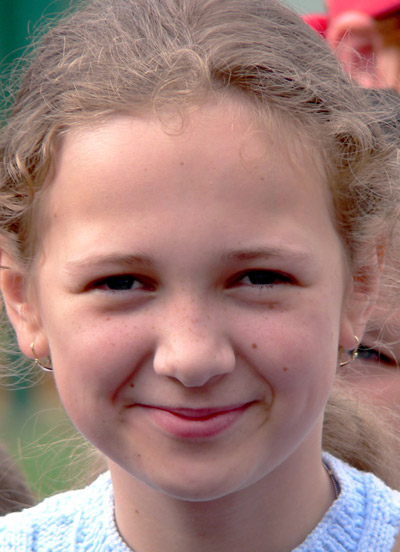 The athletic school in Galanta invited us to play some harmony games with the little children there, and we would like to thank the staff for offering us such a nice lunch. Here, everyone was heartful and joyful.
Dusan from Slovakia told us later what happened to his team during this ceremony:
''Due to a tight schedule, we had to send two runners ahead while the ceremony in Galanta was still in progress; Peter and I decided to go. The next stop was 25 km. away in Senec, so there was plenty of road to cover and quiet running.... at least, that was what we thought.
A big surprise was waiting for us in Sladkovicovo, where we literally ran into a cheering crowd of 30 kids, their teachers and the mayor. We had only seconds to decide what to do - face the challenge or retreat.
I took up the challenge! I offered a one-man ceremony, doing all the talking; those kids didn't mind just one guy and his breath-catching pal talking about crossing Europe, running 27,000 km. etc.. They then joined us running till we reached their school, and even without the main team all the action it was great!
Yup. It's true. It is the spirit of WHR that drives it forward. And the people who carry it. No matter how many or how few they are.
I joined the event only for this one day. But I know I now carry some of it too.''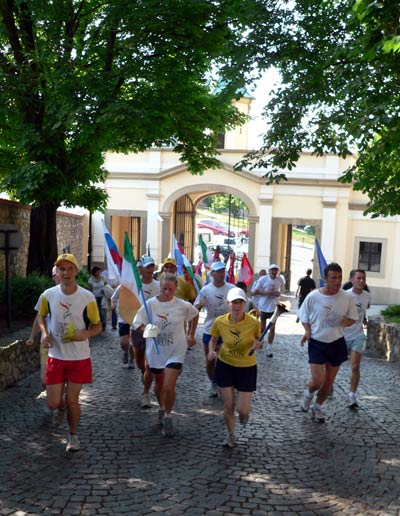 We had a final uphill run towards the fortress of Hram, accompanied by the trainer of the most famous Slovakian tennis player.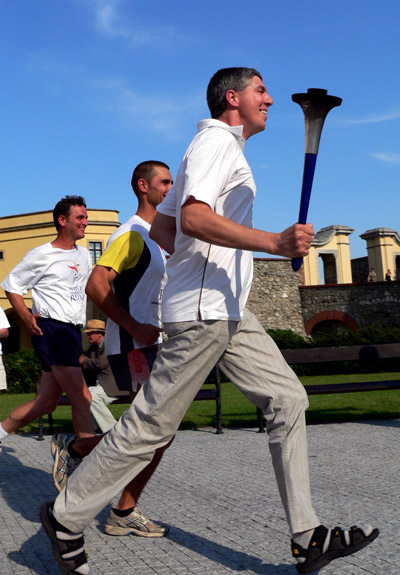 We were honoured to meet with Bela Bugar, a member of the Slovakian parliament.
He ran with us and said, that he knows what harmony means in politics.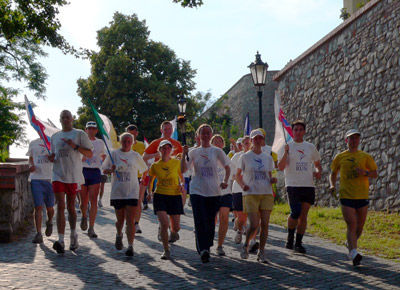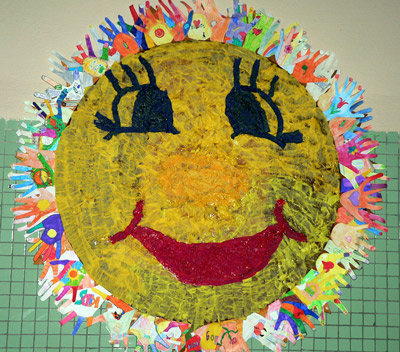 Final destination for today - Japaka's orchestra!
---
Distance: 92km
Team Members:
Pedja Knezevic (Serbia), Rosta Vagner (Czech Republic), Pierre Lantuas Monfouga (France), Valentine Bebik (Ukraine), Jaromir Horejsi (Czech Republic), Nataliya Lehonkova (Ukraine), Maria Latinova (Bulgaria), Franz Hinteregger (Austria), Anita Borics (Hungary), Svetlana Gorshkova (Russia), Dusan (Serbia).
Harmonemail:
You can send a message to the runners or read the messages.