Tunisia 10 March: Gabes - Sfax
We started the day in Gabes with a visit to the Waha school. We were warmly received by the director, Hedi Haider and the children had prepared quotes on sport and brotherhood for us.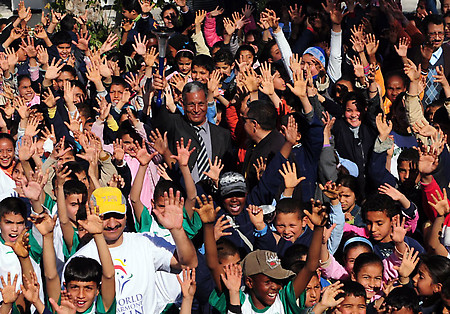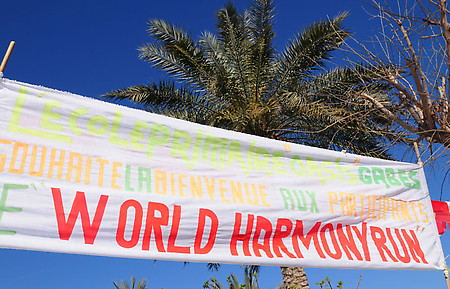 The school organises chess competitions for the children and the children also learn to do handcrafts after school hours. During our visit, the torch was passed to all the students hand by hand so they could each make a prayer for harmony.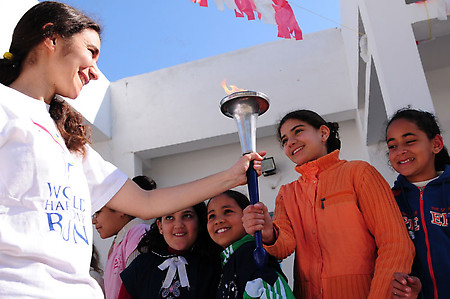 A team of 24 young athletes joined us as we were running to the city hall.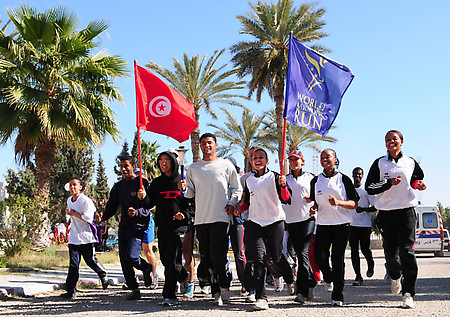 We were also joined by a children's football team and a girls handball team and we ran all together, in the streets of Gabes.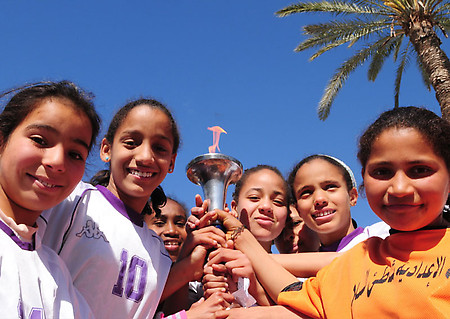 As we arrived at the city hall, we were received by the Mayor of Gabes, Mr Haouat Batita; the regional delegate of the Ministry of Sports, Mr Kilani Ben Aissa was also present.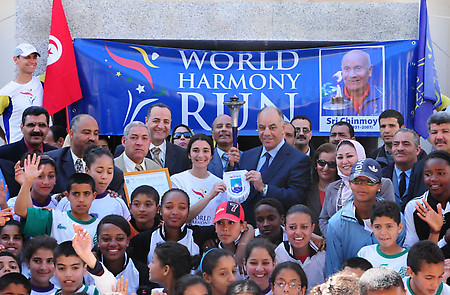 The same group of young athletes accompanied us until we left the city. The children's football team was particularly enthusiastic.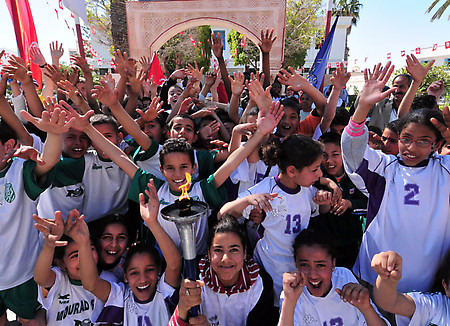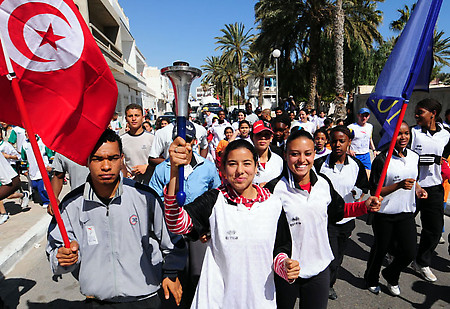 The team would like to give special thanks to our dear friend Ezzedine Bechraoui, who organised our stay in Gabes. We had a wonderful time here with Ezzedine and Adel Mahfoudh, that we will never forget.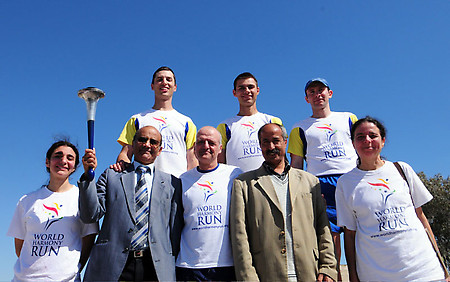 In Sfax we visited Ain Filet school. All the members of the team had learned the World Harmony Run Song in Arabic and we sang it for the children. We are getting better every time!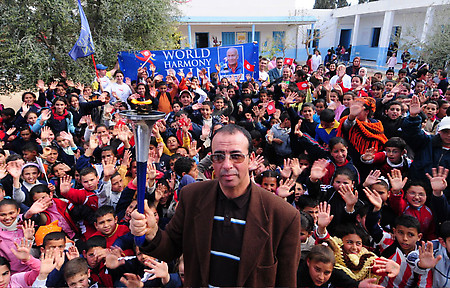 We then ran with children from Ain Filet school and the C.S.S. soccer team, to Hay el Moez school.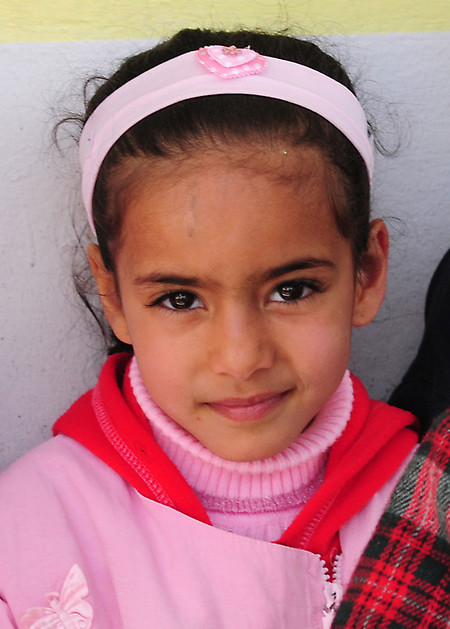 Beautiful landscape of Tunisia.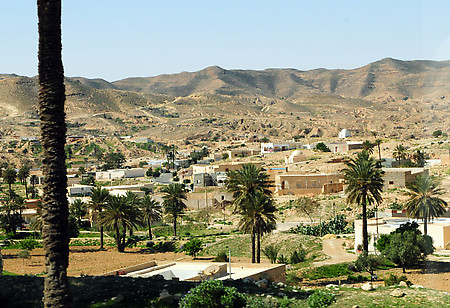 The students of Hay el Moez school had drawn flags of different countries to receive the runners and offered a short dance performance.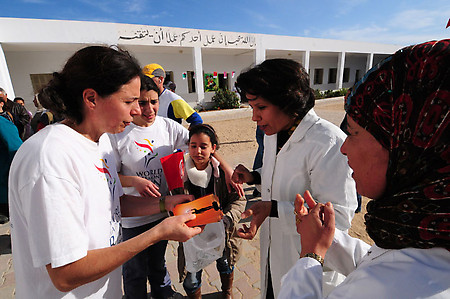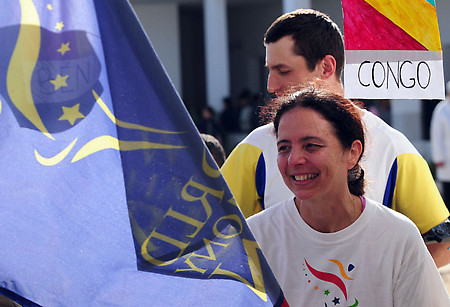 Sfax is the economic centre and the second biggest city in Tunisia. The area is also well known for its olive oil.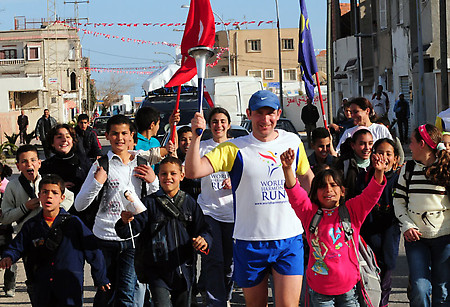 The city hall is a beautiful building with amazing ceilings.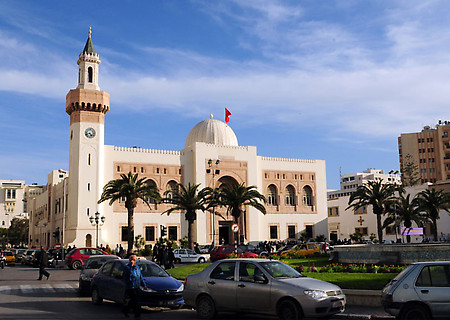 The mayor, Mr Mohamed Hadj Taieb gave us a beautiful reception, with the members of the municipal council, a representative of the governor and Mr Mohamed Thameur Koski, the regional delegate of the Ministry of Sports also present. As we were leaving, Mr Hadj Taieb walked a few metres with the torch in front of the city hall.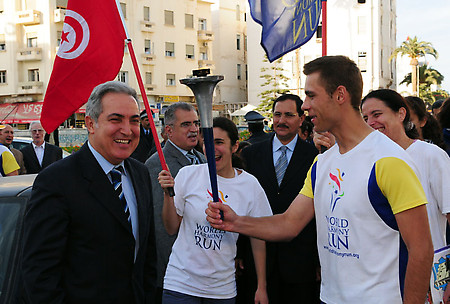 We will always remember this warm welcome at the city hall and the delicious sweets from Sfax.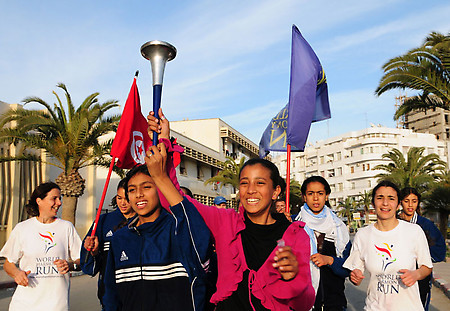 Magic of sunset.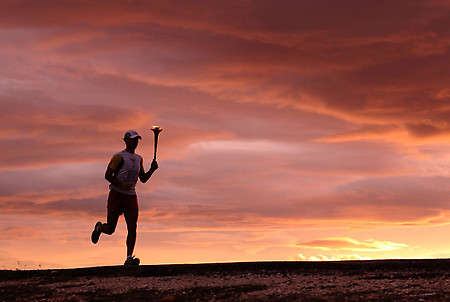 ---
Distance: 120km
Team Members:
Meriem Ait-Ouyahia (Algeria), Utpal Marshall (Canada), Ondrej Vesely (Czech Republic), Ashani Pluchino (France), Mario Komak and Rasto Ulicny (Slovakia), Vladimir Balatskyy (Ukraine), Moez Baklouti and Achraf Mensi (Tunisia)
Gallery: See more images!