Tunisia 13 March: Tunis - Carthage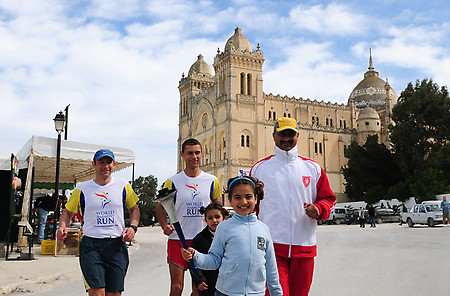 The spring flowers are blooming now on Carthage Hill. On this, our last day in Tunisia, great meadows of yellow blossoms sway in a steady, warm breeze blowing in off the Mediterranean.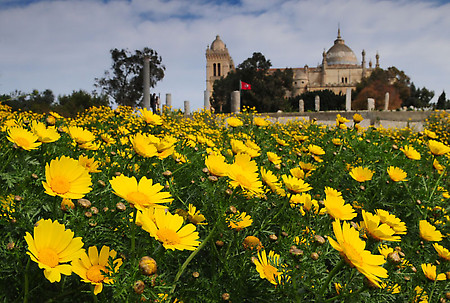 Below us, the modern buildings of the bustling city of Tunis spread out beside the windswept green sea, as far as the eye can see in either direction .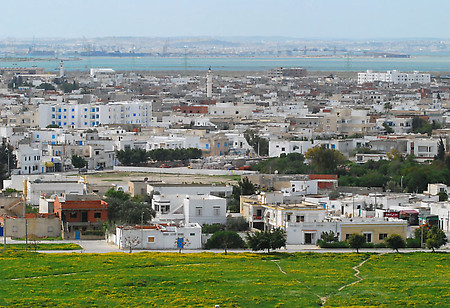 There are many other kinds of flowers growing here too.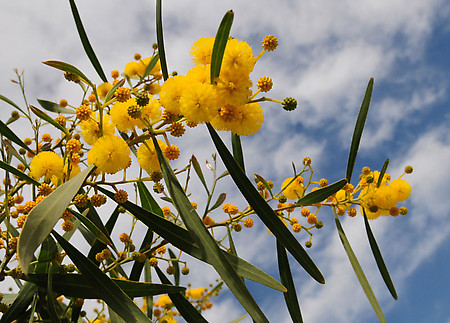 They are delicate, colourful and abundant and have taken root here on patches of bare earth amidst the ruined buildings, columns and fragments of civilizations built one on top of the other, over a thousand years.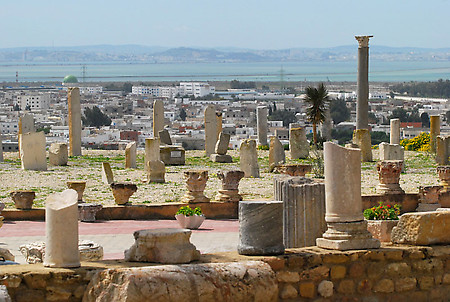 There are red poppies, many shades of bougainvillea and lots of other flowers, all blooming right now and at their flowery best.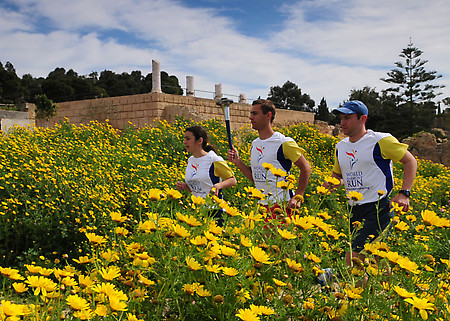 Here, on this most historic site, the World Harmony Run had a last ceremonial run in this country.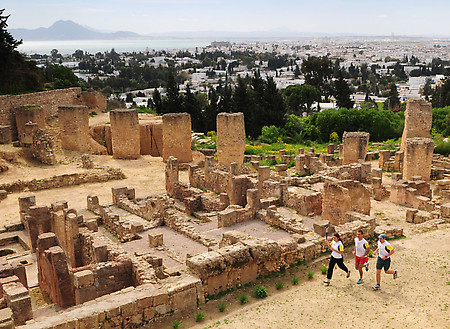 The torch is carried in a place that has seen armies battle, churches and mosques built, and the flame of peace burn bright and also flicker cold for many dark nights.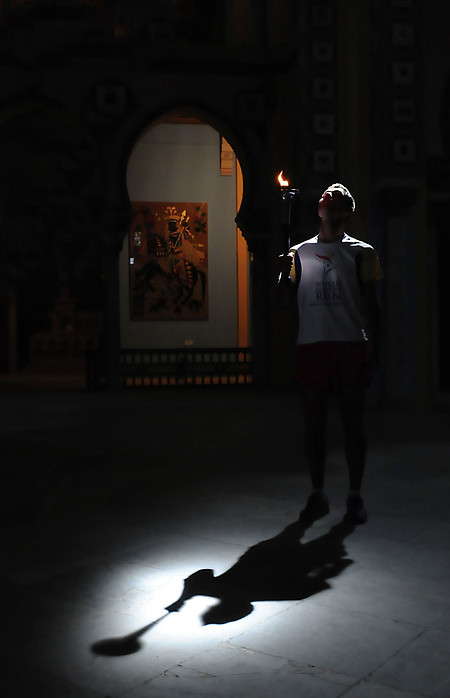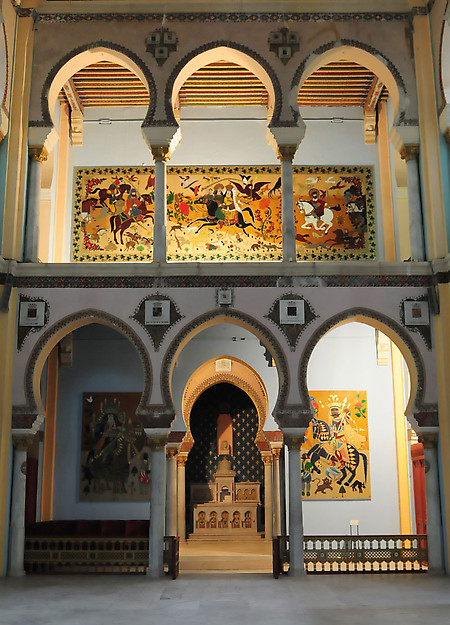 We have traveled to many parts of the country of Tunisia over the last 5 days. Our experience has been much different than that of an invading army. We have come here humbly as invited guests, and have been made welcome beyond our hearts' dreams.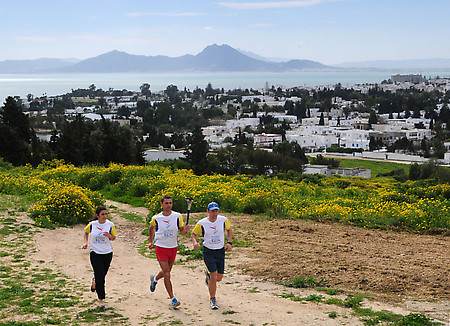 We have passed our torch into the small hands of school kids, sports club teams of all kinds, city officials, and ministers at the highest level. We have been made welcome in schools, in official buildings and now here, where there are but the remnants of many great civilizations.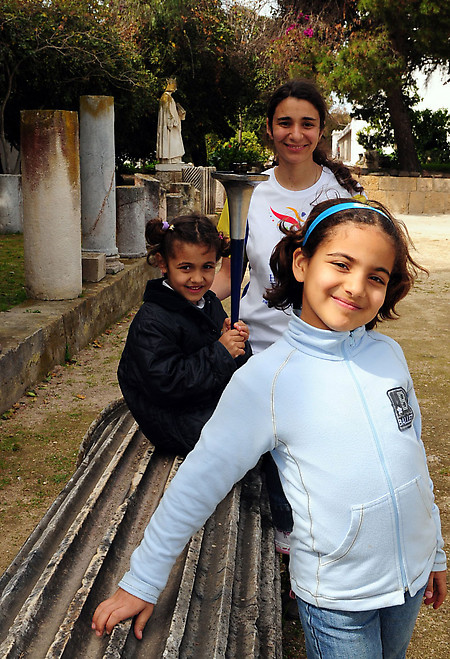 Our steps have taken us down paved roads and on dirt paths, and even out across the empty sands where there was no sound at all - nothing to hear but your own breath and the sound the flame makes, rushing through the still, hot air. We have learned much from this dear and ancient land.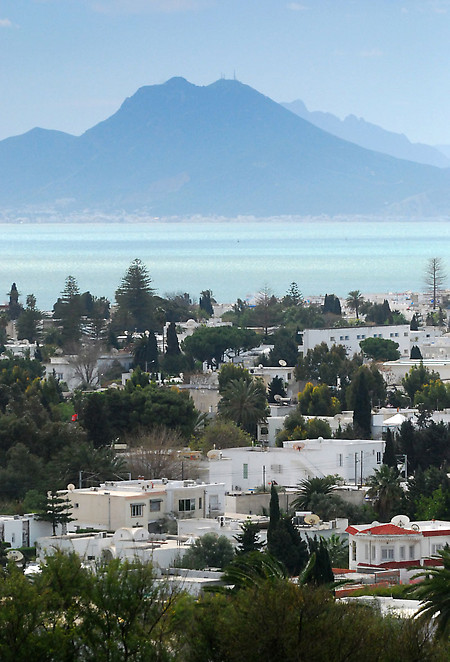 In and around Tunis the ground is lush and rich, and flowers, crops and trees crowd the hillsides. In the nearby countryside, olive groves spread for mile after green mile. As you head south to the Sahara, however, the land becomes drier and drier; vegetation becomes weedy and sparse. You can sometimes see cloth tents, homes of Bedouin families out on the plain. Shepherds still wander out on the plains with their small flocks, looking for sparse bits of greenery to eat.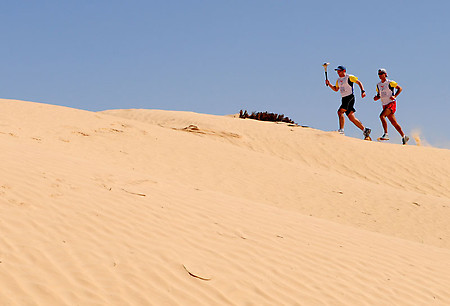 For all of us on the team this has been a great new adventure - not just in the dramatic change of landscape in the many miles between Tunis, Gabes, Sfax, and Kairouan and not just in encountering an Arabic culture, which can make strangers instantly feel welcome and at home. The World Harmony Run team was continually embraced, from the crowds of excited children and on up, to Ministers of State.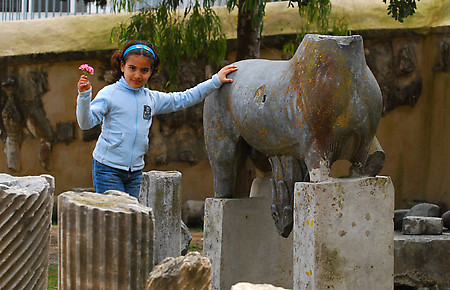 I might add, that besides all the permissions we received and all the care and expense that was provided by officials and sports clubs, our journey throughout Tunisia would not have been possible without the tireless assistance of our two very special team members, Achraf Memsi and Moez Baklouti.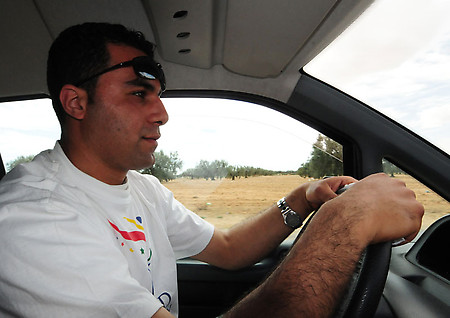 Achraf, the driver of our little van, loves driving and Tunisian techno music, but also loved us more. Moez, our team manager, knew everyone and everything and worried when schedules were not kept and when team members fell ill, and celebrated with us the success at every event and ceremony.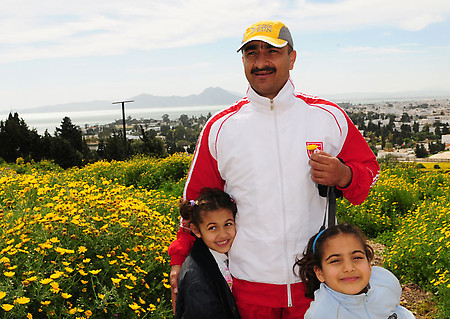 For me personally, Tunisia was previously just a name on a map, a bit of earth perched in the middle of the great expanse of North Africa. I did however know of and admire one great Tunisian sportsman and that is the runner Mohammed Gammoudi. He is a 3-time Olympian who won 4 medals over his career, starting at the 1964 Olympics - one gold, one silver, and two bronze. He was the first African Arab to win an Olympic medal and in this country, even today his name is revered.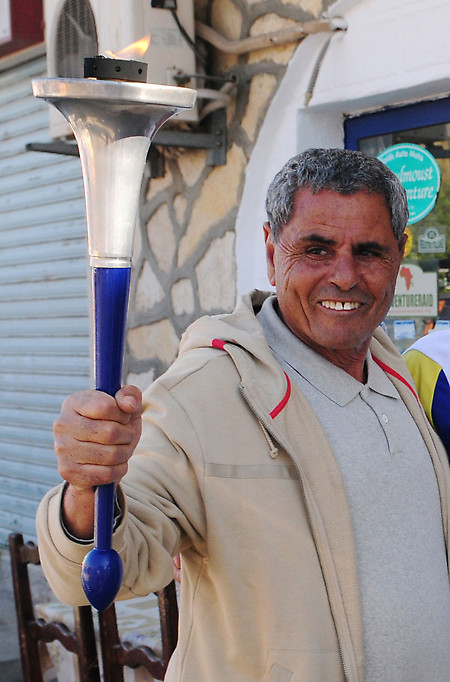 Somehow, by the magic of fate and perhaps the grace that follows the World Harmony Run itself, we got to meet him in a small village called Douz, perched on the edge of the Sahara. We met him by chance at a small café and he gladly held the torch for us and smiled for our photos. He said, "Sports is the best way to gather people together. With God's help I hope all the world lives in peace and all the wars and problems stop."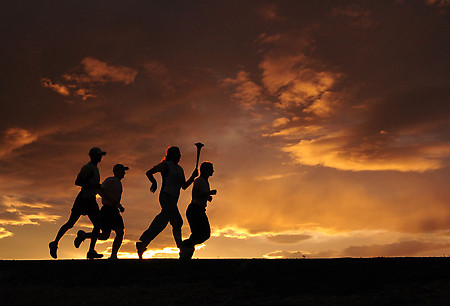 For me, the most touching moment came a short while later. In a break from our hectic itinerary, we had stopped briefly for a cup of Tunisian mint tea. A small boy had seen our torch, our uniforms, and that we were obviously foreigners. He stopped his bike beside us, and asked Moez what we were doing here in Tunisia. Moez explained briefly to him that we had come from many countries, and that the World Harmony Run torch was traveling to many more lands. The boy paused for a moment in deep thought. Then just before he pedaled away he said, "Ask them to stop war."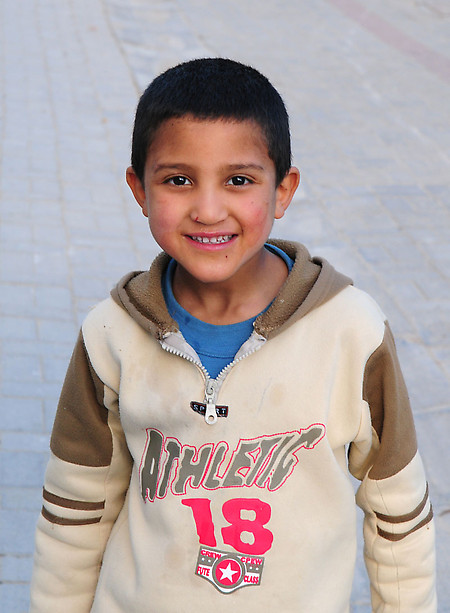 ---
Team Members:
Meriem Ait-Ouyahia (Algeria), Utpal Marshall (Canada), Ondrej Vesely (Czech Republic), Ashani Pluchino (France), Mario Komak and Rasto Ulicny (Slovakia), Vladimir Balatskyy (Ukraine), Moez Baklouti and Achraf Mensi (Tunisia)
Gallery: See more images!