Belarus 3 August: Vilnius, Lithuania - Lida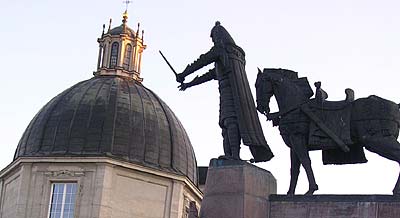 We start the day with a very good breakfast at a local restaurant. Through a light haze the sun lights up the plaza beside the cathedral, where a majestic silence reigns. From here, the heart of the city, we begin today's journey.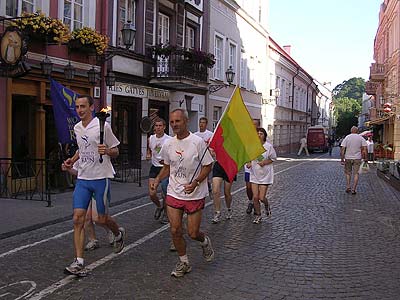 We run through cobbled pedestrian streets, passing many churches and other stately buildings. While running towards an arch we see above it a magnificent icon of the Mother Mary. We are told that this arch is one of the most holy places in all of Lithuania. Through the arch a great square reveals itself with a plethora of great architecture. Young runners join us for 15k into the quaint, clean, and sharp city of Salcininkai.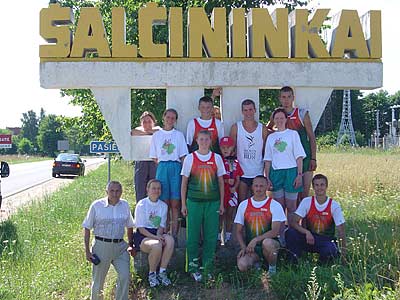 The sun is now shining brightly and it is quite hot. In the city we are invited for a good lunch, after which we have a ceremony with the city representatives together with the children, who then continue running with us.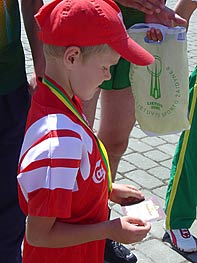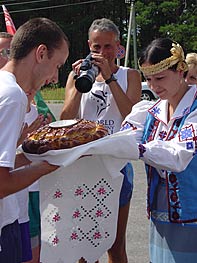 Through forests and fields we run our last kilometres in Lithuania towards the Belarusian border. At this point we would like to thank Lithuania for welcoming us so enthusiastically, treating us so warmly, and allowing us to feel its tremendous heart. And there is one person to whom we are very, very grateful and whom we appreciate enormously. This is our Lithuanian coordinator and very good friend Romas, without whom the Lithuanian run would not have been possible. He organised everything and even sponsored many things for us on his own. Thank you so much our friend!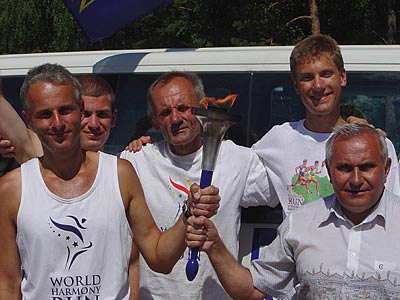 We look forward to seeing you next year! Here, we also want to say goodbye to our extremely enthusiastic Lithuanian friend, Bronius, who accompanied us through the whole of Lithuania, running a distance of well over 100k in three days.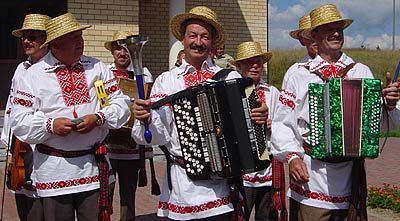 The Belarusian border: three passport checks and we are cleared. Members from our Belarusian team are already waiting for us. After a happy meeting, we together stride down the wide black road, dense forests towering alongside, towards our first meeting in Grodno. Vibrant, cheerful musicians strike up a jolly tune as they see us in the distance. Hello again bread and salt, offered by women in traditional dress! We're back to the traditional Russian way of greeting.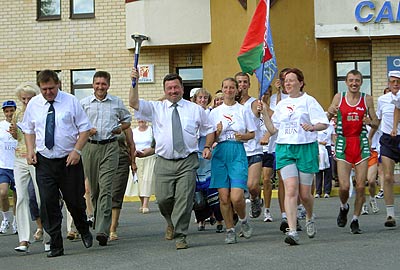 The Mayor and officials are beaming, breaking out into many a smile. We then have refreshments, media interviews, music, and some of us are even invited to dance. Then out we go, with plentiful souvenirs, and an excellent local runner. His best marathon time: 2:19. Needless to say the 15 kilometres he runs with us to the border of Voronovo are all fast!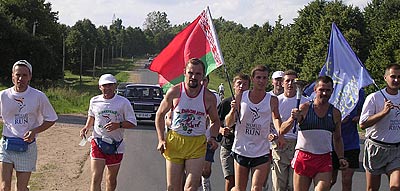 Belarus really shows us its athletic capacity today. In Grodno alone we receive a thick book of local Olympic champions, and from the border to Lida, 57k, we have local runners running with us for practically all of the way. These included little children running for 5k, in flip-flops!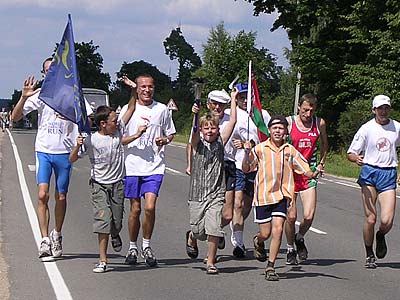 Also into Lida for 7k, locals accompany us. Here we run through an alleyway of cheering, wonderful, bright-eyed children. The very nice city representative runs with us around the square, a volley of enthusiastic children at his tail. This time the brightly clad maidens offer us a sweet bun-cake.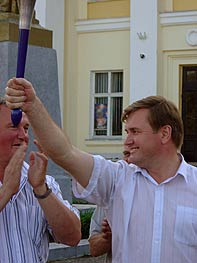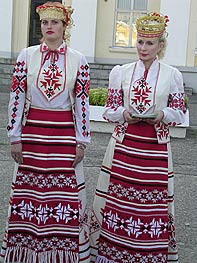 The city accommodates us in a really great children's hostel: clean and pure, prettily furnished with good facilities. For dinner they serve us brown potato pancakes with sugar and smetana.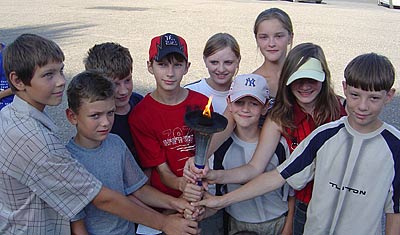 Then we are invited to an aircraft museum. We get police guidance to and fro. The police even make their beds outside our rooms. In Belarus the service of the police is very thorough. Thank you!
---
Distance: 105km
Harmonemail:
You can send a message to the runners or read the messages.